A Visit to the High End 2018 show in Munich
Visitor: Carlo Iaccarino
The show took place from May, 10th through May, 13th, 2018 at the M.O.C. facilities, in Munich, Germany
Originally written: May, 2018
Website with plenty of resources: High End Society

Foreword
Wow! As I started writing this piece, I realized that this is my fifth visit in a row to the High End Show in Munich.
The general aspects of the show have not changed, so I am as much confident as lazy in pointing you to the forewords of my 2014, 2016 and 2017 pieces.
Main news from this year's press conference: the works of construction of the buildings in front of the MOC - of which I wrote about last year - are still developing, but the projectd spaces appear not well suitable for audio demonstrations, especially considering acoustic insulation. H.E.S. don't consider re-locating in another region, and, for now, they plan to remain at the MOC, that proved itself as the best place for holding the show since they moved from the Kempinsky hotel in the woods of Frankfurt. Although every year they fill up the space available, they also don't consider to expand to further spaces, because the show has gained its right dimensions. Increasing exhibition spaces would make the show too big and fragmented. And this could compromise the main goal of all this machine: engage the visitor and let him enjoy music.
Finally, H.E.S. is still going under renovation; after Branko Glisovic's "retirement", this will be the final year of Mr. Kurt W. Hecker as longitme President of the board. It's clearly time to make room for new - and younger - faces, and that may lead to changes. Yet, until now, I can confirm that any transition may have occurred, it was really smooth, as the show took place and worked with the usual Swiss clock (should I say German?) precision
Well, as I always stated clear, I'm not a professional journalist, and my due respect for the real ones makes me stop here. You'll find more and deeper infos on all the magazines and websites professionally covering the show, that will surely be much better than my musings. By the way, I saw lots of international press faces, coming from every corner of the world, so you'll find plenty of "real" reports. Anyway, as I tried to do in my previous articles, I'm going to pass you my thoughts strolling alongside the aisles of the Halls and the Atriums, just like we were a group of friends attending the show.
Exhibitors
I want to start with something that struck me, this year: the strong attendance of exhibitors from Italy.
Among the traditional names, there was also plenty of new or young producers of audio gear who decided to exhibit at the show, so I think it's good to start my report with them. Moreover, it must be noted that most of them succeeded in re-creating what was the real force behind the worldwide appreciated "Made in Italy" thing: a network of suppliers and labour providers, all placed in real proximity within the company. So that the men that "have the ideas" can easily realize them under their strict control and in the most economically efficient way.
Almost all these companies are not guided by an anonymous board of directors, but are driven by the personal efforts of single, real persons. So I think it's fair to show the people who are behind the names, people that in many cases are just normal guys like you and me, but with a talented (and a bit mad...) mind.
RIVIERA AUDIO LABORATORIES
Ok, keeping a tradition, here, also this year I'm going to start with my dear friend Luca Chiomenti who designs all the Riviera gear.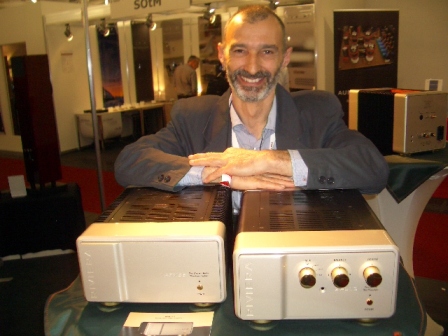 Now he, Silvio Delfino and the other foolish people who founded this company were exhibiting their new amplification models: the APL-10 stereo integrated amplifier and the AFM-25 monoblock; each of them should come for about Eur 13.000 at the selected shops where you can arrange an audition by appointment (see their website). Of course, all their initial models are still available, included their AIC-10 stereo Headphone Integrated Amplifier, that so intrigued me last year.
Much more is on Luca's work bench, but for now their producion efforts concentrate on the actual range. It's expensive gear, with a nice, luxurious - but tasty - touch, that also sounds very well (at least, to my biased, flawed and incompetent ears...). I asked Luca to think of something less demanding in price, but he told me that his gear's performance is the result of a balance in all its component, from the design to the mechanical realization of the cabinet. The latter, in particular, is labour demanding and is one of the biggest voices in his cost list; but, in his opinion, is not disposable, because of its influence on how his machines sound.

TRINAUDIO
Moving on, we meet Mr.Martorana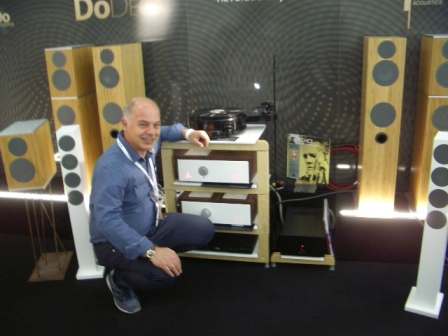 Here he proudly shows his latest baby, the new Fysis 70 Ti integrated stereo amplifier. For Eur 8.000, it sports Martorana's usual different design and typology for the voltage and the gain amplification sections, and comes with its own external PSU. It's a single input amplifier, but it can be completed with a four-input board, for Eur 600.
Of course, Trinaudio still has available all the models from last year, incuding the Gyros 33 turntable, now sold without arm, for Eur 4.000 (suited for 9-inch arms) or Eur 4.400 (suited for 12-inch arms); a custom-drilled tonearm base can be had for Eur 220.

NEW HORIZON
Here is another Italian brand that is becoming a buzz in this little audio world.
They produce an entire range of turntables, with two specific goals in their mind: being affordable and make a product really made in Italy.
Well, they succeeded in both.
Their belt driven turntable range starts with the GD1 (hint for decoding the moniker: in Italian this is a GiraDischi...) model, single-plinth with aluminum arm and pre-mounted mm cartiridge, for Eur 399, goes through the GD2 model, double-plinth with carbon fibre arm, for Eur 699, and finishes with the GD3 model, triple-plinth with 9-inch aluminum arm, for Eur 1.499. They use a synchronous motor. That, imho, is a smart choice, because its speed consistency relies upon the stability of AC frequency, usually much more stable than the AC voltage. Speed change is made, as usual, moving the belt along its pulley; but, if you want to avoid this unconfortable move, for Eur 349 they offer their Ale - a solid one, you must provide your liquid one of choice... No, seriously, the Ale is an external power supply (again, in Italian, this is an Alimentatore esterno...) that improves upon the normal power supply and sports an electronic switch for the motor speed (33,3 - 45 - 78 rpm). Keep in mind that all those written above are the end user prices...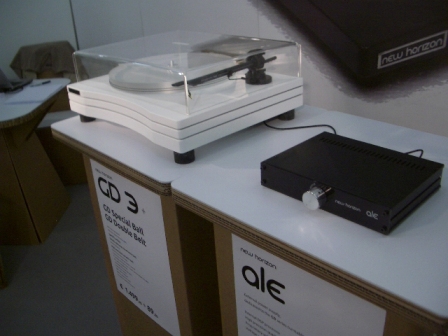 I won't lose myself in technical things, that escape my limited competence. I can simply tell you that all three turntables are of the rigid-plinth type, basing their insulation on the efficiency of their feet and, as you climb the range, on the insulation among the plinths. I found it strange that, in the two- and three-plinth models, the armboard and the spindle bearing are not mounted on the same plinth, but they told me that the very strict tolerances of parts and their tight mounting don't provide any relative movement, thus avoiding the risk of any unwanted signal that could be generated.
The fit 'n finish of New Horizon's products is remarkable, expecially considering their price. Sure, they can be had only in black or white, but it's not a lacquered, rather an embossed finish, which is also scratch-resistent (pun intended, speaking of turntables...) and, of course, more difficult to produce. To me, the aesthetics of their gear is very simple, yet elegant, with no trace of ostentation, typical of the best Made in Italy designs. Yet, the look of their gear was not conceived forgetting its main acoustical goals: in this sense, I liked the idea of providing the dustcover in the usual squared top version, but without hinges, to force you to play records keeping it off (an open dustcover connected to the cabinet could transmit airborne vibrations to the cabinet, thus compromising a turntable's oh-so-important insulation).
Speaking of their second goal, this is really Made in Italy gear; almost a zero-km production. This company is based in central Italy, in the pretty, little, historical town of Todi, and they told me that all their suppliers are within 150 Km. This allows them both to keep down costs and have a strong control over parts and labour.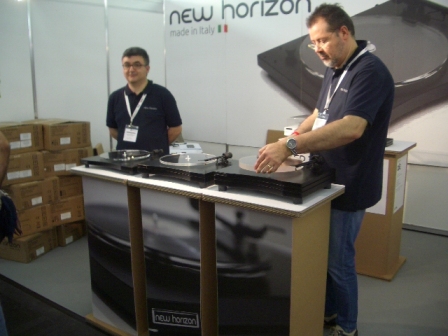 The two guys that run this company are well motivated and very dedicated; they have their own ideas, too, on how things must be done. For instance, their stand, at the show, was basically made of cardboard, and totally recyclable, as I saw browsing their website's page dedicated to the show. I suggest you browse their site also to discover other aspects of this new company, that, in my opinion, deserves attention.

AUDIODINAMICA
Found in the Newcomer stand, it's a new company from the northern Italian city of Turin, Piedmont.
Their main idea is to provide easy-to-use classic audio gear, but with a different style, so that you can bring home a good-sounding thing that you are not forced to hide because someone else in your house thinks it's ugly. So, after a lot of hard work to find how to make their gear sound at best, using high quality parts and keeping prices at a reasonable level, they directed their efforts to study personal aesthetics with a professional design firm. The result is, as noted before, simple, yet elegant, classy, in a non-ostentatious way. I think that this is a clever way to go; after all, "Made in Italy" is not only the wonderful woodworking of Sonus Faber :-)
Here is an example of the gear they were promoting at the show, with their proud dad.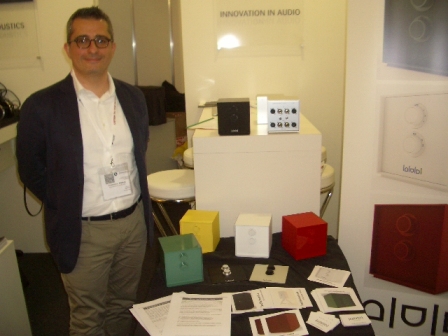 The first cube ready to be sold is their SUT N.3, a transformer-based step-up for MC phono cartridges, easily adjustable with rotary controls placed on its front, for about Eur 1.000. In the same "cubed" range, they plan to make available for this summer a DAC, a line-level FET preamplifier and a FET phono preamplifier, all comprised in the Eur 2.000-3.000 price bracket. A more expensive tubed phono preamplifier is under development. Moreover, in September they are going to start a kickstarter campaign to fund another model: THESMA, that is THE Smart Mobile Amplifier. It's a can amp designed for driving even the most difficult headphone, that can be adjusted according to the customer's personal tastes in different ways: the look can be changed, placing it horizontally or vertically and choosing the veneer; the sound can be changed swapping tubes inside; the features can be changed, too, adding DAC and phono preamplifier internal modules.
This company, too, has it suppliers and labour facilities all within 150 Km from Turin. I can't avoid seeing a trend, here...
This year, alongside the High End Show, the first Munich CAN JAM show was held, and a single ticket gave admission to both shows.
It took place in spaces outside the MOC, an old industrial building revamped and used for exhibitions. It was, though, in an area still under development, so it was quite tricky to find and not so attractive, at least until you walked into it. Anyway, the strangest things, at least for someone like me, who never attended a can jam show before, was to enter an audio show that was... silent!
Here are some pictures of the wide area where the exhibitors were.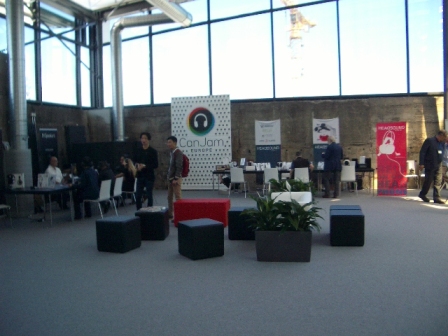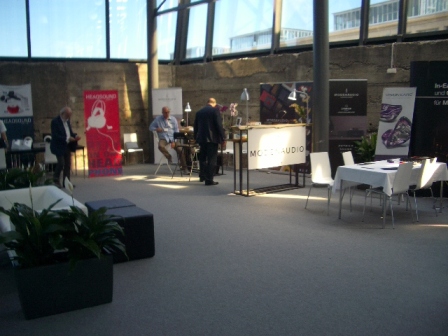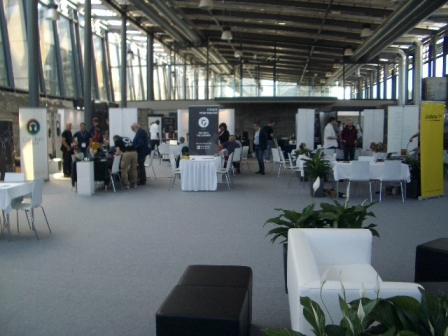 There, I found two more newcomers from Italy, that also showed the business model of having almost all suppliers within reach (and control...).
MODENAUDIO
As its name suggests, it's a company based in Modena, a northern Italian city famous for its wonderful gastronomy and for the nearby town of Maranello, the hometown of Ferrari. It's a land where the entrepreneural spirit was always present, and where people are always passionate in what they are doing, be it automobiles or... headphone amplifiers :-)
They showed their Lympha model, that thay say can drive even the most demanding headphone, and works as a line-level preamplifier, too. Its look is very personal, and it really distinguishes itself among the competitors. They offer several combinations of wood & metal casework; moreover, being neighbours of Ferrari, they were showing also really attractive automotive finishes.
Its price is Euro 1.960 (end user price): not cheap, but also not as excessive as other things could be easily found at the show. And the quality, in this case, too, was really self-evident; maybe the look, in this case, was not so understated, but it screamed "Made in Italy", too. It's nice that it reflected the passionate character of Modena and its People :-)
Here is Modenaudio's soul: real people, proudly smiling and as passionate about sound and music as you and me...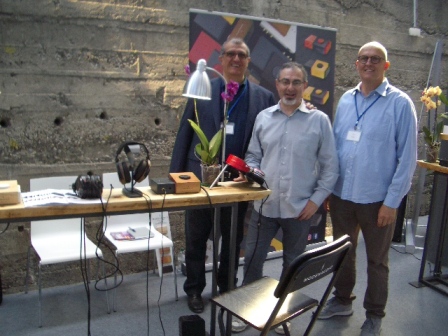 The second italian company I found at the Can Jam show was SPIRIT
They, too, come from the northern Italian city of Turin, and are making headphones.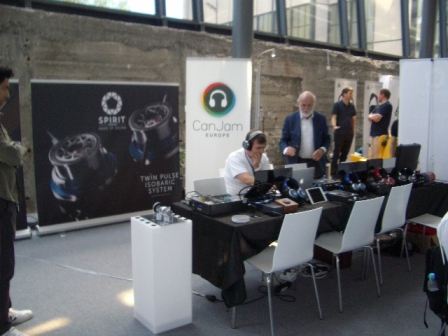 They declare to be inspired by the designs of the well-known Grado models, but then they moved along their own design, that finds its pinnacle in the development of an unique and patented design, called Twin Pulse Isobaric System, a particular double diaphragm load, that can be found in their top models, around Eur 2.500. Their range includes models of simpler design, starting with their MMXVIII (it's Roman numerals for 2018...) SL (it stands for SuperLeggera, an Italian automotive word meaning SuperLight) model, for Eur 1.350.
Once again, I invite you to browse their website. You'll discover also the origin of the real people that are behind the company and drive them with the clear passion I could experience meeting them in Munich.
At the Can Jam show I also found the big exhibition space of SONOMA. You may recollect them from last year's show, where they shared the booth with Playback Designs, both being in the rather exclusive DSD club :-)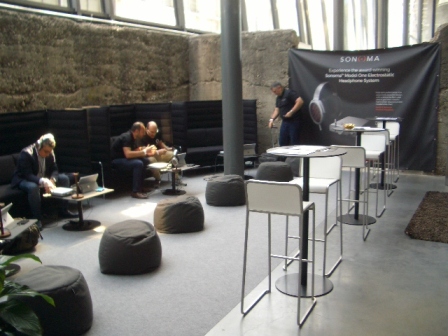 They are still exhibiting their "system" made of a special planar-diaphragm headphone and its dedicated "energizer" amplifier. This year, they prepared several laptops, full of DSF files, each digitally connected to their amplfiers and headphones, and placed in front of a very confortable seat, where each visitor could relax and enjoy his favourite music. A really nice exhibition space setting.
The real news here was that Sonoma products are now available in all of Europe; other, less pleasant news concern its price, now climbed to Eur 5.700.

WING ACOUSTICS
From the newcomer stand, here is a company that developed a brand new idea for transducers.
They were not happy with the behaviour of traditional cones attached to a voice coil sunk in a magentic field, because of their inability in getting rid of the unwanted vibrations they produce, especially after the signal has ceased its force. So, they studied another type of vibrating device; it is light and stiff at the same time, and can easily be moved even with a small amount of current, thus being also efficient. All qualities that an ideal transducer must have. They ended up with a sort of paddle that rocks on its base while pushed or pulled by an electromagnetic force, with a pendulum movement. This new devices vibrates with a much better behaviour than normal cones, or even normal planar drivers; while I was there, they provided me oscilloscope figures of very well damped and clean waterfall plots and of non-resonant impedance/phase plots (at least, that's what I could understand...).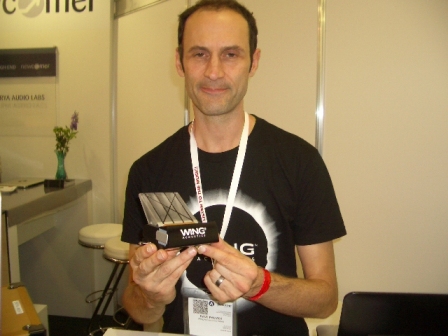 They called it acousticWING, and it actually looks like an airplane wing. They can build those transducers big enough to make a subwoofer and little enough to make an headphone, both showed as prototypes. I think they should be kept on the radar, because this could lead to something new in loudspeaker and headphone design.
VIMBERG
More news from the loudspeaker world.
This is not a new company, rather a new brand. We all know the wonderful Tidal Loudspeakers: they sound and look very good, but are really, really expensive. Wouldn'it it be nice if they produced something playing and looking as well, but costing much less?
Enter VIMBERG. Same design as Tidal, same sound research, same care for sound reproduction, and for less. No magic, here. They simply used normal off the shelf components (not customized), more common material for the cabinets, automatic painting (not hand painting with hand polishing), normal coating (not multi-layered coating), etc. Plus, they offer them only in black or white (forget Tidal's gorgeous finishing and veneers). At present, the range comprises only two floorstanders, the Tonda and the - slightly smaller - Mino. Unfortunately they are still in the high price range: Eur 28.000 for a pair of the bigger Tondas. Think of a way having a Tidal-style sound while still not compromising anything, soundwise.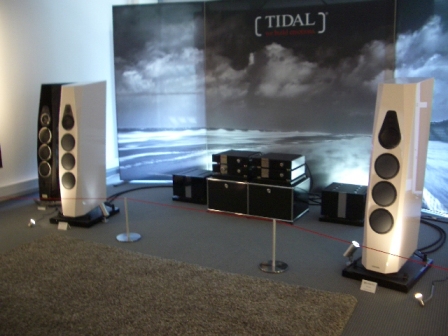 Tidal was so confident about those loudspeakers, that in their room they played music only via the Tondas, giving the Tidal models just a static, silent exhibition.
LAB 12
I could not write ANYTHING about the show if I didn't include a visit to our Greek friends of LAB 12, for the traditional group picture. It's just that, this year, the result would have been even worse than last year, so I decided to show you just the Company's boss, sadly missing the past composition of their group :-)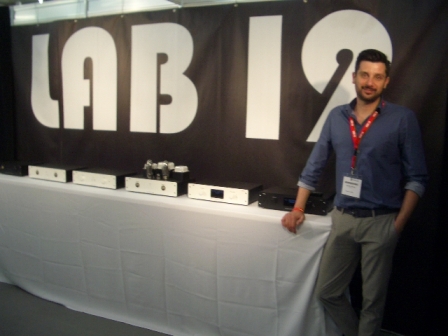 They told me that their business is going very well, with strong demand, especially from the Far East, where customers seem to be very fond of things Made in Greece.
Here are the new models for this year. First, the Melto 2 phono preamplifier, completely adjustable on the fly by the end user, for Eur 3.500.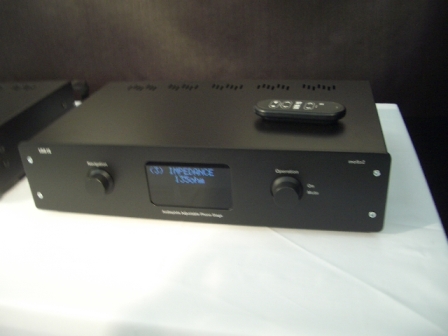 Then, the Suara, a 50 W/ch stereo power amplifier, whose projected price is Eur 3.800.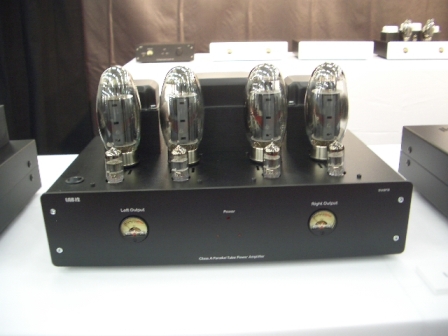 A partial finale
I think that I can stop here, for now.
But, before I leave you in anxious wait for the next part, let me tell you about three more things.

First, a new, celebrative series from MARANTZ
It's the KI RUBY series, made of the SA-KI RUBY SACD player that can work also as a USB DAC (accepting digital input signals in PCM or DXD up to 384 kHz / 32 bit, and in DSD up to 11.2 MHz), and the PM-KI RUBY 100 W/ch stereo integrated amplifier with phono MM or MC input. Each of them will have a price of Eur 4.000, and Marantz will make only 1.000 of them worldwide, 500 black and 500 silver. They will be available in September, but if you want one, you should reserve it at your local distributor.
I shot horrific photos of those machines, so your curiosity will have to be satisfied with a web search. I can tell you that their aesthetics is not unusual for modern Marantz gear, except that, near the front edge of its top, there is a little red ruby encapsulated within Ishiwata's signature. A nice, distinguishing touch for a collector's item; and it sounded good, too :-)

WESTERN ELECTRIC is back!
After a series of acquisitions and intellectual property negotiations, it seems that the worshipped maker of the legendary 300B triode tube is back on its feet again, and ready to produce 300Bs entirely in their plants established in Rossville, Georgia, USA, with refurbished or purpose made machinery.
This caused a big buzz among showgoers, especially the DIY type of people, (wich I am not), always eager to play music with a vacuum tube in theyr system (again, don't count me in). Unforutunately, not all was competely clear, and some well in-the-know are not completely sure a real production line is ready in America. Moreover, I was told of some fake 300Bs, allegedly coming from China and Eastern Europe. I couldn't recollect more news about it, so I cannot tell you that all doubts are dissolved; yet, catalogues were distributed, and personnel related to the company were officially present at the show. I guess that everything is going to become celar, especially when the anticipated amplifier models will start to be seen around.

Finally, another important piece of news came from WILSON
This company showed their new loudspeaker. Not the usual big boys, but something more back to the origins, a two-way little monitor, with its - mandatory, as far as I understood - isolating/coupling base called ISOBase.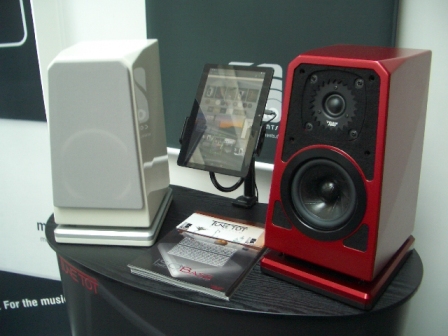 They are called Tune Tots, a moniker clearly reminiscent of the earlier Tiny Tots, or, as you may be more familiar with, WATTs.
They look really nice and are gorgeous in their accurate finishing, something that Wilson Audio has always cared a lot for, and their projected price is about Eur 13.000 (maybe with the ISOBase: their people at the show were not sure about it). Unfortunately, there is not much more I can tell you about them. More details were surely diffused during the reserved press event, but, as I wrote many times, I'm not a professional journalist, so I must point you to the official press for more detail. If you want, here's the link at the official press release present on Wilson Audio's website.
Unfortunately, while writing this piece, Wilson Audio announced the passing of its founder, David Wilson. You can read lots of comments about this news in all the websites and magazines devoted to this hobby, and for a good reason. This community definitely lost one of its pillars. His products gained an iconic status: just the act of looking at a Wilson Audio loudspeaker made (and still makes) people think "High End". Such an icon Wilson Audio's loudspeakers have become, that CEA (that's how the present CTA was then called) choosed a stylized Watt/Puppy figure to symbolize the (back then, highly regarded) whole "High Performance Audio" section of the Las Vegas CES!
Dave Wilson, too, was highly regarded both as a designer and as a kind person, a gentleman. It's fairly possible that some of the commentators may diverge on the importance and the role of this relatively little company, but itís not common to see them all agree on the fondess with which they all say Mr.Wilson will be missed. As you may guess, I didn't know him personally. But I, too, can add my little and episodic memory of one of the early Top Audio Shows in Milan. There, I had the chance to meet a tall, kind and smiling gentleman, who urged its personnel to make room and set up an audition for a young - and definitely not looking like a potential customer of his highly expensive loudspeakers - showgoer drooling over his loudspeakers (it was me, just in case you could still have doubts ;-) ).
It's more than one year, now, that the company has been led by one of his sons, Daryl, who has also already overlooked some of the latest models Wilson Audio produced. No legacy will be lost, and the brand is set to continue with a new generation of Wilsons at the helm - I find it comforting that it remains a sort of family business.
Stay tuned for the next episode(s)
Go to [Part II]

© Copyright 2018 Carlo Iaccarino - www.tnt-audio.com
[ Home | Staff & Contacts | HiFi Playground | Listening tests | DIY & Tweakings | Music & Books ]