[ Home | Staff & Contacts | HiFi Playground | Listening tests | DIY & Tweakings | Music & Books ]
Roma Hi-End 2004 - 2nd edition - Rome - Italy
[Italian version]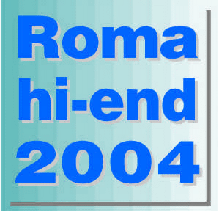 After the very good success of the previous Shows organized in Milan (more than 4,000 visitors last year) and of the first edition of the Rome HiEnd Show in 2003 the organizers decided for setting up a second, bigger edition of the event.
The organizer, Mr. Stefano Zaini, believes that there is still "life" in 2-channel audio and refuses to accept everything will be transformed in multichannel/Home Theater. Simply put, he still believes the REAL listening experience can be achieved by means of a traditional 2-channel HiFi system. A true supporter of our Real Stereo campaign, indeed!
The second edition of the Rome HiEnd Show will take place the 6th and 7th of November, at the Congress Center Jolly Hotel Midas, Via Aurelia 800, Rome. Opening hours from 9:00 am to 7:00 pm, free entrance. At the moment the organizer has prepared a dozen of listening rooms, placed at the 0° e 1° floor of the Midas Hotel. A list of partecipants will follow.
Considering the experience with the Milan HiEnd Show, the organizers have taken care of the quality of the acoustics, so that reasonably good demos should be allowed. The absence of Home Theater demos will prevent disturbing rumours expanding from one room to another.
49 HiFi Companies and distributors will display products from coming from 170 different brands, for a complete list please have a look at the page www.thesoundofthevalve.it. As for "events" both Velut Luna (room Topazio) and Fonè (room Cristallo), two leading Italian audiophile record companies, will be demoing high quality vinyl pressings of their own.
For more infos (partecipation, logistics etc.) don't hesitate to contact the organizers: Stefano Zaini of The Sound of the Valve - Tel. - Fax. ++39 0382 - 71428, mobile: 338 - 2584737 - E-mail: info@thesoundofthevalve.it - Official Show web site: www.thesoundofthevalve.it
© Copyright 2004 Lucio Cadeddu - www.tnt-audio.com
[ Home | Staff & Contacts | HiFi Playground | Listening tests | DIY & Tweakings | Music & Books ]