[ TNT | Who we are | Listening tests | HiFi Shows | Sorgenti | Tweakings | Inter.Views ]
SoundVision HiFi and Video Show - Vienna - Austria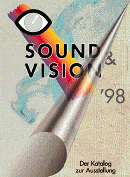 [Italian version]
It's all happening between the 26 and 29 of March in Vienna.
There in the capital of good old Austria the high-tech of today and tomorrow will land.
Plenty of Audio-Gear (and Video yummiest) will be there to ogle about. What, who, where? Tell me more!
It is the SOUND & VISION '98 Show in the Marriot Hotel.
For four days the Sound of Music (and probably of the latest loud Hollywood Blockbusters coming from the Home-Cinema Demo's) will fill the halls and rooms of the Marriot.
As the date in march follows closely on the CES in Vegas a lot of the novelties shown there should get their first outing in Europe. Some of the Highlights promised by the organisers of the event will include 96kHz/24Bit Demos that compare the new media with the trusty (and dusty) old CD.
Workshops and Live-Concerts are also being promised. The list of Brands present read certainly impressive.
Not only will be all of the usual Suspects be present (read the American and Far-Eastern majors and the good old Brit-fi) but plenty of names I have recently noted as having very interesting Products turn up.
With Vienna conveniently located smack centre in Europe, many European companies show up of course. I noticed Burmester (D), Fase (IT) and Shahinian (UK) as VERY interesting.
The more esoteric dezeniens of audio (read tubes, single ended amps and turntables) are also out in force.
So if I where not bogged down here in good old Blighty (England) you sure would meet me there.
As it is, this show seems to be the one not miss if you live in and around Vienna.
Even if you are in South-Germany, Switzerland, North-Italy or Hungary, the trip may very well be worth your while.
And if you go, make sure to visit some of the Cafe's in Vienna and do see some of town and not only the Hi-fi. Hope for good Weather and take stroll.
Vienna is beautiful in the Spring.
© Copyright 1998 Thorsten Loesch/TNT-Audio
[ TNT | Who we are | Listening tests | HiFi Shows | Sorgenti | Tweakings | Inter.Views ]