[ TNT | Who we are | Listening tests | Factory tours | HiFi Shows | HiFi topics | Tweakings | Inter.Views | DIY tubes ]
Top Audio & Video 99 reportage - Milan (Italy)
Part 2
[Back to Part 1]
[Italian version]
This second part is mainly devoted to Italian HiFi Companies, some already well-known, some other just new (promising) kids on the block.
Since the wild and the weird from the Show has been already covered in Part 1 of this reportage, I'd better stick to plain, pure and semplice HiFi stuff here.
Not every Italian Company will be represented and since nobody pays us for being cited here, we are free to decide exactly what we want: we're just giving you an idea of the most interesting (to us) things we've seen and listened to at the Top Audio & Video.
Italians do it better?

Sonus Faber Signum, the new baby
Well, it seems the Italian HiFi crowd is definitely doing just fine: many Companies, cool products and a large choice of components: from solid state to valves, traditional or high sensitivity loudspeakers, digital sources, accessories, cables etc.
The main reason why we at TNT-Audio insist on Italian stuff should be clear: Italian products are normally cheaper (for a given quality level) than imported competitors. Alas, we know the converse is true if you live abroad :-)
Also, we'd like to give you an up-to-date idea of the Italian scene, which is rarely covered by other publications (online or in print) overseas.
So let me start with Sonus Faber, certainly the most famous Italian HiFi Company in the World. So, there's no need to spend many words on it: this year they were showing the new babies Signum (3.5 million liras, more expensive abroad), driven by a faithful Sonus Faber integrated amp, the Musica which was receiving pretty good tunes via a Marantz CD player.
The large room was crowded as usual with dozens of audiophiles trying to find a good seat to carefully evaluate the Signum. These small loudspeakers were hence playing into a large and overcrowded room, but, despite of this, very positve comments could be heard from the crowd.
As for me, it's hard to judge anything in such a far-from-being-ideal environment.
I've spent some time chatting with Mr. Cesare Bevilacqua instead, now President of Sonus Faber and it seems (I can't promise anything!!!) we will be going to visit the Sonus Faber plants in Arcugnano for a factory tour anytime soon.
And, of course, we will be in the position to review some of their new hot products.
By now, you can just virtually tour the Sonus Faber...site which has been presented at the Top Audio & Video as a premiere. The address is, of course, www.sonusfaber.com) and the site is just in English as the 80% of their products is being sold abroad.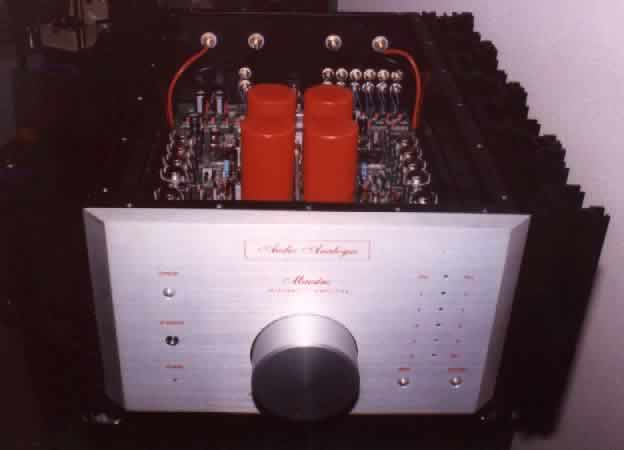 Pretty please...with sugar on top: new integrated from Audio Analogue
As announced during our recent Audio Analogue factory tour the lively Italian firm is now introducing a brand new integrated amp of the Maestro series, which is meant to be the perfect match for the Maestro 24/96 CD player.
Here you can see how this integrated will look like: a big, heavy, nicely overbuilt amplifier with a claimed output power of 100 + 100 Watts, an active line stage (no passive preamps, thanks) and a massive power supply section: have a look at the four Coke-size red caps to get an idea...
Price? Well, at least here in Italy, it should be less than 5 million liras (3,00 $) which puts this integrated into a league of its own.
It was certainly the eye-catcher of the Audio Analogue/GM Audio room: everyone was just staring at this beautiful unit so that it was even difficult to find the right place to take good pictures of it :-)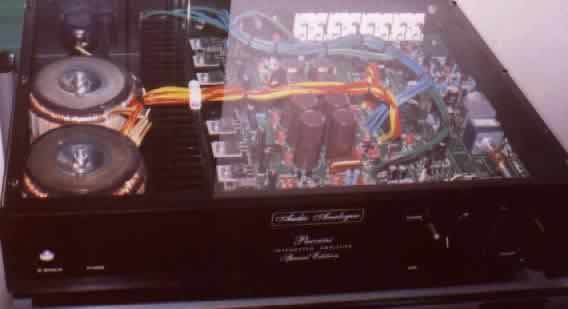 Good things...done better
So, while the Maestro aims to become the reference integrated into its price range (mid-budget) the Audio Analogue guys had -already!- two champions into their production line: the Puccini and the Puccini SE. Both have been improved: all IC's have been terminated as the two amps now make use of passive components only. The power output of the Puccini SE is now higher (60 watts per channel) and you can easily argue this fact from the added heatsinks near the twin toroidal power transformers.
Both the Puccini and the Puccini SE are now entirely (and cleverly) remotely controlled. The list price has increased a little bit, too but you can rest assured these two campioni will be still fighting against the very best budget-oriented amps out there...
If you're wondering which CD player could be the best match for this amps, look no further than the Audio Analogue Paganini player.
Into the room a new Puccini SE was driving a pair of French Triangle loudspeakers, imported in Italy by GM Audio.
Expect to find these new versions of the Puccini at a dealer next to you anytime soon.
A pair of Puccini SE has been promised by the A.A. staff for us to review. Stay tuned.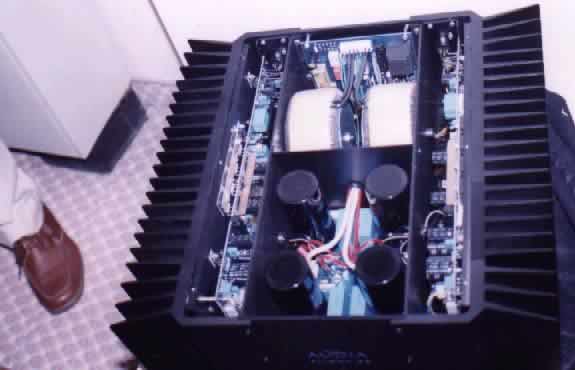 A/B test: oversized audiophile foot versus Audia 50 watts amplifier
If smallish and diminutive integrated amps don't suit your needs or if your loudspeakers need more current than your personal hair-dryer don't forget to add these simply gorgeous Audia amplifiers into your fave list (Web site: www.audia.it).
Audia is a new Italian Company (located near Rome) which is quickly (VERY quickly!) earning an unbelievable good reputation among Italiani audiophiles. Even Mr. Marco Lincetto, sound engineer of the audiophile label Velut Luna, has chosen an Audia power amplifier for his monitoring reference system.
Into the Miroir de la Musique room (a small importer and dealer) the whole Audia production could be seen, admired, touched, caressed and...tasted: a very cool solid state preamp and two power amps, the Flight 50 (50 + 50 watt, class A) and the Flight 100 (100 + 100 watt, class A).
The picture above refers to the smaller (ugh!) 50 watter: the oversized foot near the amp should give you a pale idea of what this amp looks like in real life...here are some technical data: pure class A amplifier, 50 + 50 watts @ 8 ohms that become 100 + 100 @ 4 ohms and so on. Size: 47 x 19 x 44 cm, weight is 30 kg (more than 60 lbs!) while price, in Italian liras, should be somewhere around 7 million liras (4,500 US $). Of course, it could be far more expensive abroad.
The bigger brother, the Flight 100 is quite similar, though far bigger and heavier: 47 x 25 x 54 cm and 48 kgs (100 lbs)!!!
Both make use of revolutionary circuits with zero negative feedback, a very sano layout and cabling (Van Den Hul) and a very high level of craftsmanship, like the best competitors available worldwide. A look at the picture should clarify this a little bit more.
The Flight 100 should cost around 12 million liras (7,000 US $), slightly more than a Fiat Cinquecento and slightly less than a Fiat Punto :-)
But then please consider the Fiat Cinquecento doesn't have air conditioning while the Audia amplifiers have it: just keep them on for a couple of hours inside a cold listening room and you'll forget the heating system :-)
The only problem could be experienced during hot Summer Italian listening sessions :-(
More seriously, the Audia power amplifiers are meant to offer hi-end sound quality and excellent craftsmanship still at competitive prices, considering the foreign competitors cost twice as much when they are imported here in Italy.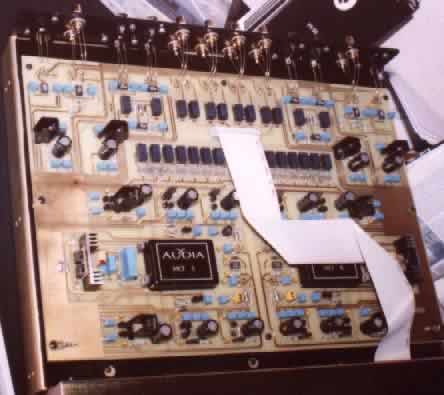 Wiring...say what? Audia preamp inner naked beauty...
This Audia preamp is a pure work of art: there's no need to spend many words about it, just have a look at the inside, Virginia, please my dear.
The preamp and the Flight 50 power amplifier were connected to a Mark Levinson CD player and to a pair of Etalon large floorstanders.
A more budget oriented system could be tested into the same listening room: CD player, preamp and power amplifier from Atoll (you may have read a review here on TNT-Audio) and Etalon floostanders again.
It was possible to switch from one system to the other very quickly so everyone could experience the real difference between a good budget-oriented HiFi chain and some pretty hi-endish stuff.
Though the Atoll system sounded pretty good, the difference with the Audia set-up was astonishing...as it should always be.
Many audiophiles complain because of the outrageously high prices of some hi-end component. And they are mostly right. BUT! As long as the difference between an expensive and a budget system remains this HUGE, we can stop complaining and start saving some money for a good reason instead :-)
So, was it a suicidal-tendencies kind of demonstration? Certainly not, because audiophiles need to know which is the REAL difference between a GOOD HiFi system and an excellent one! So they know they CAN upgrade!
In other words, the Atoll chain was applauded for sounding "bearable" even when listened right after the expensive one.
So let me thank the guy behind the whole didacting experiment, Mr. Jair Wahl, deus-ex-machina at Miroir de la Musique, dealer in Padova and Italian distributor for Atoll, Audia, Etalon and G-Flex.
He is exactly like a HiFi business-man should be: passionate, clever, kind and friendly. And Music-addict, of course! The two Audia designers have been very friendly too.
The listening room wasn't really special but he has been able to correctly tune it up, making it sound pretty good (no resonances, no extra-brightness etc.).
A room this good allows even for critic listening tests. Let me tell you a curious fact: two days after my first listening experience inside this room, I returned to listen some good Music again.
After the record was over, I asked Mr. Wahl what he had done to the room or to the system because it sounded pretty different. Well, he confessed me the loudspeakers had been moved 10 cms (less than 3 inches!) away from the rear wall. He was quite astonished that I had been able to tell the difference, after two days of intensive listenings in dozens of different rooms :-)
With a poor sounding room I wouldn't have been able to "tell" anything :-)
This should teach you (us) a lesson: before buying new components, accessories etc, make everything you can to make your listening room sounding good: carpets, pillows, tube traps, long-haired cats etc. Try just everything. Then buy new components :-)
Another breaking news into the Miroir de la Musique (French for Mirror of the Music) room was a brand new Italian-French Company, named Kabale, a project aimed to the budget-conscious market where Jair Wahl has put something of his own (experience, Passion and money, I guess).

Chrome, wood & glowing Pathos tubes
Proud to be different: you can detect Pathos HiFi components at a glance...the cool mixture of wood, chrome, tubes and transistors makes them pretty unique. The Italians do it better, again! While tubes seems to be all the rage in the Nineties, the Pathos guys have chosen a different approach: put tubes just were they are really useful and trasistors elsewhere.
Hybrid HiFi components are no novelty, they've been around for 30 years or so, but Pathos stuff uses proprietary schemes and unconventional looks to stand above the competition.
A Pathos whole set-up was driving a pair of nice Klipsch KLF 20: the power amp was the InPower, the preamp was the InControl while a brand new DAC was also available: it is the InTransfer.
Thanks to the cool looks, quality of the craftsmanship, finish AND sound, the Pathos components have quickly earned a good worldwide reputation and many TNT-Audio readers start to ask for listening tests. We're working for you, guys :-)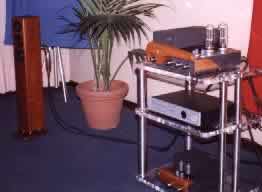 Opera & Unison Research
Could I forget the UKD room filled with Opera loudspeakers and Unison Research tube electronics? You probably know Pavarotti, the...er...fat Italian opera tenore. After the Callas, the designers at Opera have decided to call their brand new loudspeaker...guess what?....Super Pavarotti!!!
So you'd expect a larger-than-life floorstander...and you'd be wrong! The Super Pavarotti is a diminutive tower with two smallish 11 cm (4") woofers loaded into a twin asymmetric cavity that allows for a very deep and powerful bass response.
Everything else is Opera as usual: preciously finished wood cabinets and cool looks.
Then there's also a standard Pavarotti with just one woofer (same size) into a more common bass-reflex load. And what about the new baby from Opera, the Mini?
Take the same drivers of the Pavarotti and put them into a tiny cabinet (26 x 16 x 19 cm) and you get the new minimonitor from Opera. The front firing reflex port suggests an easy installation even near the rear wall...though I suggest to avoid this if you want to preserve the depth of the 3-D stereo image.
The drivers used for the Mini and the Pavarotti, which appear to be new, are magnetically shielded so both the loudspeakers can be used near a TV screen for Home Theater entertainment.
The listening room, while pretty classy, was very noisy (people chatting all the time, Italians chat a lot, ya know) so I couldn't seriously have a listening test of the full Italian system that was playing: Audio Analogue Paganini CD player, Unison Research preamp and amps, Opera Super Pavarotti loudspeakers.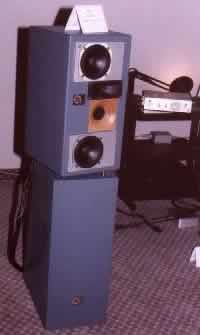 SAP, Nagra & Simon Yorke
And finally let's visit the SAP room. This Italian Company, maker of drivers and high efficiency loudspeakers, now makes also tube electronics and imports Simon Yorke turntables and Nagra hi-end components.
On listening: Simon Yorke belt driven turntable, Nagra tube phono preamp, SAP Anniversary tube integrated amp and SAP loudspeakers.
These loudspeakers make use of the well-known 13 cm full range drivers from SAP plus a 5 cm horn loaded tweeter and a Motorola piezo horn supertweeter.
The bass range was reproduced by two large subwoofers (the drivers seemed Westlake) that worked also as stands for the loudspeakers.
The cables were by the new Italian cable Company Woodson. Let me spend just few words on these cables. The Company claims them to be made out of a fancy metal alloy called Musicalloy with black natural silk as dieletric, chosen after several accurate listening tests.
Now, if the silk gives us a silky sound, the PVC gives us a gummy sound, the air (used as dielectric) gives an airy sound...if I ever need a sparkling kind of sound, which kind of dielectric should I use... Sprite or Pepsi Coke??? :-)
As the Sprite Italian TV spot says: Listen to your...thirst!!!!!!! :-)
Anyway, the room was quite dark so that even the seats were hard to find, I nearly fell over a very nice girl...ok, just an excuse, ya know :-) while the sound was pure analogue good stuff. It seems Ian White from Soundstage! has fallen in love with the sound of this room.
Eng. Vincenzo Fratello - the man behind SAP - and the guys at Woodson - dressed with sexy black silk socks...no, just kidding! - were very friendly and ready to give explainations and infos about their products.
The new SAP Anniversary series products ('speakers and amps) should arrive at the palatial TNT-Audio headquarters anytime soon, or so we've been told.
For more infos on SAP products you can read the recent Interview with Mr. Fratello we published some month ago.
The second part of the reportage ends right here, but your trip into the Top Audio & Video doesn't!!!
Now you can browse the third part of this reportage, with more Italian stuff, more live shows, naked...components :-) and reviewers :-D
© Copyright 1999 Lucio Cadeddu - https://www.tnt-audio.com
How to print this article
[ TNT | Who we are | Listening tests | Factory tours | HiFi Shows | HiFi topics | Tweakings | Inter.Views | DIY tubes ]