[ Home | Staff & Contacts | DIY & Tweaks | Listening tests | HiFi Playground | Music & Books ]
Arcam Alpha 5 modified by Avondale Audio
All the A's: Aaaah, it's the AAAA5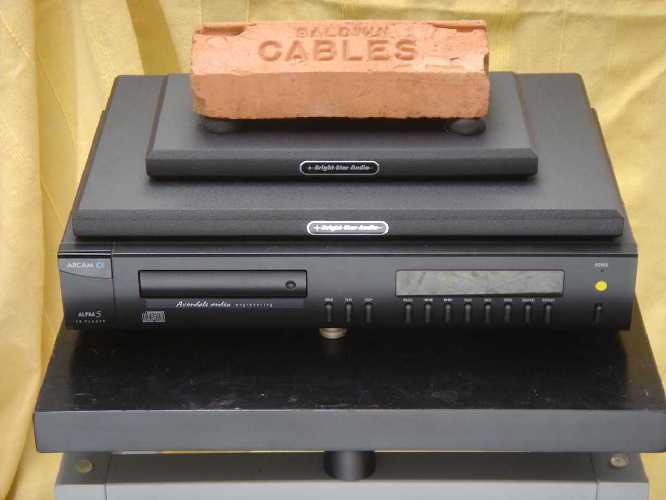 [Italian version]
Product: Avondale Audio Arcam Alpha 5
Manufacturer: Avondale Audio - UK
Approximate cost: UKP 375 + donor player (donor~100-150 UKP?)
Mains lead: Avondale Mainline 6 75 UKP
Feet: Avondale basis 15 UKP 49.95 per trio
Reviewer: Mark Wheeler - TNT UK
Reviewed: January, 2005

English local newspapers have sections devoted to classified advertisements where one might dispose of an old item of furniture for a few pounds or buy that first rust-heap of a car. At the top of each list are the dealers' adverts, often coining fictional trading names to be first on the alphabetical list "A.A. AABAAC buys bric-a-brac" was a regular in one provincial paper.
Les Wolstenholme has topped the lot when his Avondale Audio Arcam Alpha 5 inevitably gets abbreviated by this author to AAA5. Les has more sensible reasons for his choice of donor player, they are plentiful, they are cheap used-buys and above all they feature the CDM9 transport and the 1541 DAC, both of which Les regards as the cream of the crop. I admit I was very sceptical at first as my previous experience of the original Arcam was not favourable, but that was at a time when all my cd experiences were unfavourable.
When new recordings, especially classical, began to be released only in cd format I stepped up the pace in my search to find a cd player I could enjoy alongside the Linn LP12/Ittok/Karma that fronted my 80s system. I didn't think the red-book cd standard was good enough as years previously a friend & I once whiled away a long train journey working out how music could digitised (as ones-&-zeros binary code) so it could be recorded using "bubble-memory" technology we'd just read about.
We were just schoolboys with very limited knowledge and we decided that an 80kHz sampling rate would be necessary to preserve approximate phase at 20kHz and 21bit word length to attain classical-music dynamic range. Recollection of that exercise left me with the suspicion that cd was rushed to the market before the technology was ready.
Nevertheless I made a special journey to hear the legendary Cambridge with the error counter on the front, to hear the Meridian Pro and the Cal-Tempest and assorted others. One that nearly worked was the NVA Emotive Statement multi-box player (a contender for the most pretentious equipment name award) but nothing tipped the scales for me in the price-performance stakes compared to my Linn and Revox analogue sources.
Then suddenly vinyl got scarce; HMV ceased stocking vinyl in its national chain of music-stores, which sounded the biggest clarion-call to the industry to STOP BOTHERING WITH VINYL. I took the pragmatic decision not to seek high-end cd to compete with my Linn but to find something around £500 that I could tolerate as one does a car radio. I borrowed several players including the Arcam Alpha and never actually managed to finish listening to a whole disc. There was nothing obviously wrong with the Arcam sound (my father bought one along with the matching Arcam amplifier, where it sounds OK driving his LS3/5a's), it just did nothing for me except gradually develop a sense of strain as if waiting for something to happen that never comes. Shortly after that Arcam experience I borrowed a Rotel RCD965BX discrete that seemed to bounce along nicely with its timing intact, so I bought it.
When HiFi-Choice subsequently tested clock modifications on a group of cd players the Rotel was one that did not benefit as its unmodified jitter rate was lowest in the test. The Rotel is a Bitstream player which would seem prone, theoretically, to higher jitter, due to the sampling rate two orders-of-magnitude higher than red-book. The NVA was also bitstream and being multi-box too, theory would implicate it as even more jitter prone. This did lead me to check on the published jitter results of as many of the players I'd heard to see if there was any correlation and I remain convinced that jitter is a significant factor in a satisfactory experience of music from cd. This very lengthy introduction is justified by my findings with the AAAA5, and that it's main competitor in my system turned out to be that old Rotel (now modified) rather than my recently bought Shanling CDT100c.
I am spending a morning happily enjoying Lee Scratch Perry's 3cd box set Arkology, skanking around my ground-floor performing the usual weekend chores. I was recommended this set by Martin Clark of "The Twisted Pair" responsible for Acoustica.org.uk, who've recently signed up to our Campaign for Real Stereo, and I bought it from avalanche records of Edinburgh via Amazon. It arrived with damaged jewel cases so I phoned the store in Edinburgh who immediately put 3 replacement jewel cases in 1st-class mail to me without any quibbling; this is good service so give 'em your business. I played the first disc on my Shanling CDT100c then plugged-in the AAA5 (Yeah, colloquial parlance abbreviates the abbreviation to AAA5). The Shanling is superficially OK on rhythm, but similar to most small reflex loudspeakers that slow down when the going gets tougher-than-tough (thanks to rude boy Derrick Morgan for the analogy).
By contrast the AAA5 is as lively & musical a digital source as I have ever heard in domestic audio. The change is like going from a tiny-driver in a small reflex-box to a big sealed-box with a big paper-coned driver with Bessel (Qts~0.5) alignment. A clumsy analogy, but it's the best way I can express this rhythmic leap forward. This is a player that does flat-earth PRaT (Pace Riddim an Timin') most excellently. Some of the versions on Arkology disc2 I heard in the 70s cut on dubious dub-plate prereleases and on the AAA5 this cd transfer is just as danceable.
The original Arcam 5 & the AAA5 is cursed with the kind of clunky-jangly tin-box that regular visitors to TNT-Audio know is my pet-hate. So most listening has been done with a house-brick sat on 3 upturned Isonode on top of the player, a brief try without it sounded so obviously inferior that it lasted less-than 5 minutes, but then the Little Rock damping block arrived (watch out for the review) and has stayed there ever since. I have tried the player on its standard-feet and with the Avondale Basis 15 feet supplied by Les. These are complex isolators with carbon-fibre nipples supplied in sets of three (hooray, 'cos four is dumber dan'dumb). I also tried various of the test isolation products I have to hand. Any soft support (eg sorbothane) slows the rhythm, which is becoming a predictable experience with cd players that I do not understand. The Avondale isolators were as good as any I tried, making buying decisions on this combo very straightforward. The 3 Avondale Basis 15 stand on an old Mark Orr prototype platform that is very light and inert. This is supported by 3 Polychrystal Reference isolators on an inexpensive "Wilko stores" steel frame damped by BrightStar Isonodes.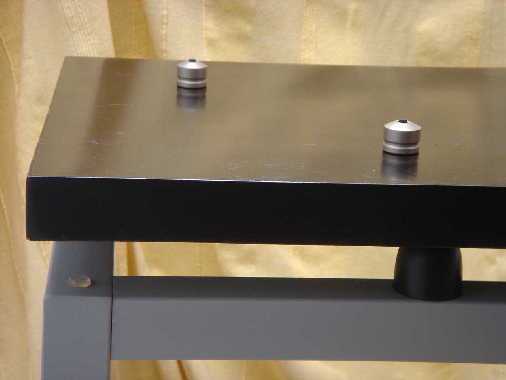 How does the modified player compare with the standard player? It can't be compared; there is simply no comparison. There is no point in my even bothering to try to describe differences. I have borrowed a typical standard player of similar serial number (so presumably similar vintage) and again I have been too bored by it to finish a single disc. Listening to the standard Alpha 5 my feet don't tap, I soon begin flicking through yesterday's newspaper, jump up and change disc, sit down and 5 minutes later the ennui sets in again. Les thinks it's a good-enough basic donor player and this man was involved in developing the first iteration of Voyd turntable power-supply and is therefore very familiar with the fleetest-of-foot rhythm performance. His modifications certainly achieve top boogie-factor with the AAA5 so his skill and experience clearly recognise some potential in the old Arcam that I missed.
The Arcams were designed with the same transport and chipset as the Naim CD3, according to Les, who has also been hot-rodding these Naims with notable success according to the flat-earth Pink Fishermen (I suspect very few Fisherwomen contribute to Pink Fish, but I am prepared to be corrected). Les applies some similar circuit modifications and power supply refinements as to the CD3. He is something of a fanatic with zero-feedback shunt regulators and also fits a new clock and dispenses with upsampling. Les describes various problems attributable to upsampling that introduces its own non-linear errors through the necessary algorithms, proprietary or otherwise, needed to make these non-integer changes of rate (96kHz is not a whole number multiplier of cd sample rate). Les's changes begin with a cleaner power supply (fast-recovery diodes, better capacitors, better regulators etc) to enable everything else to work less hampered by noise and variation under load. Les says that its not the ingredients that make the difference, but the recipe. The recipe stops at the point when the whole player costs £550, like a new Arcam did 15 years ago.
Les gave me a cd of blues guitarist Derrin Nauendorf recorded locally. This is a good recording that displays all the bite of a live performance in a smallish venue. The AAA5 excelled portraying the macro & micro-dynamics of powerful acoustic guitar playing and natural voice.
Apparently I heard Derrin perform live at the Off The Tracks festival but real-ale was involved and my memory's very hazy so I had to wait until the chance to hear him again in December '04 at the Mail Coach in Newark (Nottinghamshire not NJ). The sound from this cd in my room was as close as it gets to a close-up live performer through a nearfield PA system. There are some in the hifi chattering-classes who believe this is all that typical flat-earth systems can do, Eine Kleine Naim-musik as I've heard it described. Even if this were true of the AAA5, it does it so well that no other source would be needed for the jazz/folk/blues enthusiast used to a regular diet of live performances of small ensembles.
Classical music enthusiasts have long favoured cd over vinyl for its more neutral voicing, but I have often found that the flow of large orchestral works remains better via vinyl. Janacek, Bartok and Arvo Part manage to touch a part of my psyche that grips me to my core, but not usually when listening to cd. Sadly Arvo Part is not regularly performed in my area and I've never found any on vinyl. On purely vocal pieces like Part's O Adonai (7 Magnificat Antiphonen on Beatus) I did find the 3 times more expensive Shanling extracted something extra in the humanity of the voices and the scale of the stage.
Regular readers know how moved I was by Janacek's On an Overgrown Path performed by Ivan KlŠnsky of the Guarneri Trio in the excellent Djanogly Recital Room in Nottingham and although my cd (Supraphon recording SU3287-2-111) is neither the same piano nor acoustic, the AAA5 managed the complex timing with aplomb, recalling that evening better than Proust's cake sniffing aide-memoire technique. The attack & decay of each note in a chord structure, together with pitch problems, are notorious with piano reproduction, placing maximum strain on source components (analogue & digital sources do suffer differently, but suffer they do) and the AAA5 showed its abilities here better than the Shanling.
Conclusion
So the AAA5 is like the Linn LP12 in the days when they were more interested in hifi than Harrods & multi-room lifestyle: what it sets out to do it does with aplomb and makes no claim to anything else. It drives rhythm along like the best of the flat-earth heroes, but it doesn't do this at the expense of any other musical qualities. Notes stop and start as they should, pitch is readily identifiable, timing relationships are the best I have heard from cd.
Compared with the Shanling, the soundstage is diminished in height, width & depth, which can mar the experience of some performances. This is a wholly different matter from "stereo imaging" (the precise positioning of location of sound sources); I've never found precise stereo imaging relevant to music anyway and I do listen to live unamplified performances where no-such-thing exists. The ambience portrayal is a bit lifeless compared to some, but they don't do the tunes like the AAA5.
My time with the AAA5 reminded me of the joys of my flat-earth Linn-Naim bi-amped system of 10-15 years ago, but without some of the drawbacks. That system could do rhythm & timing and micro-dynamics brilliantly, especially with rock, reggae, jazz & classical small-ensembles but it used to fall down with complex passages of large orchestras or recordings in rich acoustics that tended to implode into the performers. The AAA5 manages rich-ambience by tending to ignore it, allowing the performance through unimpeded, but it does succeed in portraying large complex orchestral passages. The AAA5 is that rare beast, a cd player with PRaT.
Price comparisons are irrelevant because so little on the market does what this does so well. It looks, dated & clunky because the donor player was just that. Your friends won't impressed by walk-in soundstage or its appearance (it looks identical to the ten-year old mid-price donor player) so anyone with any visual-aesthetic-taste will want to hide it somehow. Now that cheap fancy phone-covers are bought in their thousands there must be a similar way of making this prettier. There is an obvious upgrade path with mains cable (I used the Avondale Mainline 6 throughout), isolation feet (The Avondale Basis 15 worked well) and damping (three Isonodes & a brick worked wonders). I cannot think of an equally musical player at the £500-£550 (£375+donor) that this costs, but I'm open to offers.
The Avondale Audio Arcam Alpha 5: flawed but funky. WELL FUNKY!
Music heard during this test:
You wanna list? Just read the text then consider I have a pile of about 30 more on the floor in front of the player including Gil Evans, Pink Floyd, Toots & The Maytals, Keb Mo, Sly & Robbie, more Arvo Part, Janacek, Stravinski, Mahler, Lou Reed...need I go on?
© Copyright 2005 Mark Wheeler - www.tnt-audio.com
[ Home | Staff & Contacts | DIY & Tweaks | Listening tests | HiFi Playground | Music & Books ]