[ Home | Staff & Contacts | DIY & Tweaks | Listening tests | HiFi Playground | Music & Books ]
Audiomeca's Analogue Comeback
The Belladonna Turntable and Septum Arm break cover - Part 1
[Italian version]
Products: Belladonna Turntable and Septum Pick-up Arm
Manufacturer: Audiomeca - France
Cost, approx: Belladonna 15,000 Euro, Septum 5,000 Euro
Reviewer: Geoff Husband - TNT France
Reviewed: January, 2007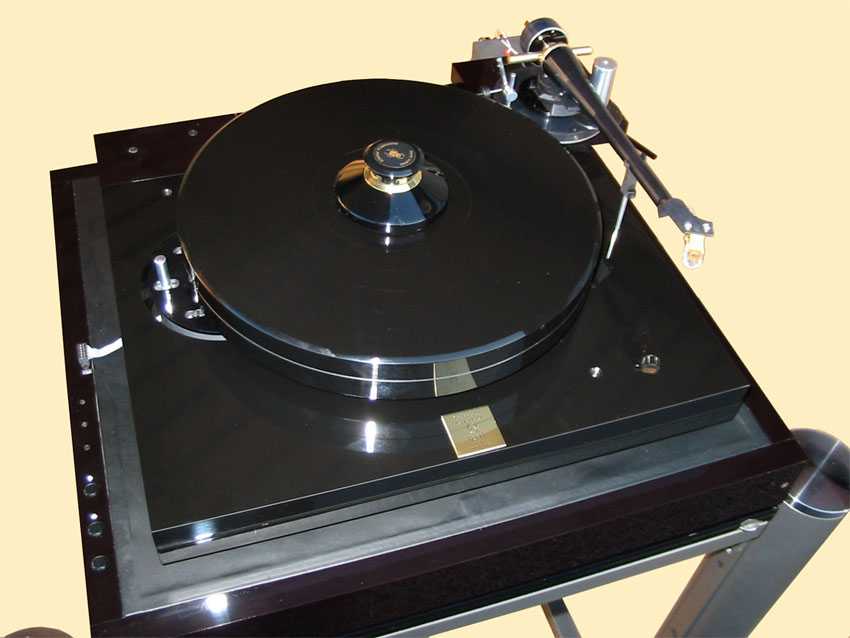 Author's note
This has been a difficult set of articles to write. Why? Because for me it breaks one of the basic tenets of TNT-Audio in that we, all of us, remain separate and independent of any manufacturer. It's what Lucio set out to achieve when he began TNT, an internet magazine that took no advertising, that took no kick-backs and where reviewers remained independent of the industry. We all take this very seriously and know we will be out-on-our-ear if we do otherwise, it's what makes TNT unique and I know Lucio is looking over my shoulder to keep me honest.
The problem is that there is a human element, one that is very hard to overcome. Manufacturers are human beings, they worry about their babies, they contact us, they ask us for advice, argue their case and so on. In doing so they break the barrier between the manufacturer and us. Does this influence reviews? I hope not, but speaking personally the hardest thing to overcome in writing honestly about a component, isn't the promise of review samples, a bribe or the threat of litigation - no, it's the fact that many of these people come across as honest, knowledgeable and genuine in their products and it's hard to tell them and a wider public that it's junk.
Then you look at the instructions written in "Japlish" and spend 5 minutes fixing it and sending the copy off. Then you see a hopeless page on their website and end up telling them where it could be better. Something has a simple fault and we let the manufacturer know and he fixes it. Many of us do this - all this is done for nothing but it is a relationship with a manufacturer when all is said and done.
Then there is the next stage where you ask a manufacturer that you know for help with a review - often a technical point, or advice over a technical question - again the barrier between myself and the manufacturer is blurred. Am I uncomfortable about this - well yes, but I tell myself that if a customer gets instructions that they can understand, or a technical article I've produced actually makes sense, or an operational fault in a component is fixed before it reaches a buyer then it's for the common good. And in the final analysis I still try to ignore all those links when writing a review. Does the fact that I told Opera Audio they couldn't call their top turntable "The Waterdrip" compromise the review - I hope not...
But in this case I have crossed all those barriers and much, much more. In fact I have been intimately involved with both Belladonna and Septum since the very beginning. Not only have I translated a press release for Audiomeca's Pierre Lurne*, I have also played the part of Pierre's "practice wall".
I take no credit for the design of Bella, and lord knows I'm not qualified to give advice on the subject, but I have sat back as Pierre has bounced ideas off me. You ask why? Pierre is one of the old masters of analogue, and yet over the last 5 years he's answered stupid questions, written reams of explanatory notes and diagrams, and generally taught me a lot of what I know about turntables and arms, and that in turn comes to you. I'll add that after 8 years and over a hundred reviews he's still the only manufacturer ever to have complained that I was too generous about one of his products. That makes him special.
When it became apparent that Pierre was going to produce a new vinyl front-end I hung onto his coattails, as I knew I could then follow the process of design and production from first principles. This was a unique opportunity, not just for me, but also for you readers out there. What follows is a detailed record of the process of bringing a new High-End turntable and arm to market. I'll also, within my limits, be explaining the theory behind all the design choices that Pierre has made. And in this I'll put away my normal cynical nature and swallow Pierre's theories whole, because to do otherwise would make for a very clumsy and argumentative article that would be impossible to read. I am painfully aware that another designer might well spend a month convincing me that another approach is far better, but Pierre Lurne's approach is logical and based on solid engineering and physics. In every case he made sure I understood exactly what was the physics behind a certain design feature. Whether his is always the best solution is inevitably open to debate, but Pierre's ideas are certainly not "fairy dust" or PR waffle. There is an old proverb - "there's more than one way to skin a cat", forgive me if I ignore the others.
So does this compromise my position? You bet! I've spent too much time over the last 18 months being Pierre's confidante to be anything other than totally biased, no-one having this much contact with a manufacturer could say otherwise. The advantage is that rather than regurgitating some press release, I have a much deeper understanding of what is going on and the thoughts behind it. The downside is that my comments the sound of Belladonna and Septum will be limited to the most basic observations on the sound of the prototype that I had here for a few weeks. I could have kept my distance from Pierre and did the first listening test of Belladonna. I chose to sacrifice that for what follows, I must leave others to give their honest opinions on the results. Remember always that readers must read what follows knowing my relationship with Pierre Lurne. All I will add is that I have done all this for love, TNT and my own insatiable curiosity - I have received no payment for my "help" with Bella, and will accept none in the future.
History
In 2002 (good grief! That long ago!), I was in the middle of my series of turntable reviews. A few years before I'd read a review in some UK rag featuring half a dozen turntables, the most expensive of which was the Audiomeca Romance turntable and arm. It looked fabulous and unusual, was made in France where I lived and so I wrote to Audiomeca to ask for a review sample. Thus started a correspondence with the founder and designer, Pierre Lurne that continues to this day. The turntable arrived on time, unusual in itself, and it duly went through the test process. I don't want to repeat myself so you can see my impressions here. But what came with the turntable was a non-stop stream of photocopied articles, scientific/engineering papers and piles of hand written letters from the man himself. Any tiny aspect that I didn't follow would be answered immediately and in full. When I sent the rough of the review to Pierre he insisted that the arm was certainly not "as perfectly finished as my SME" and he made me add that he disagreed with the statement in the review! What I didn't say in the review, and I should have, was what a complete and professional product it was. There followed an interview with Pierre where he explained some of his ideas.
But what I didn't know was that the Romance I had was one of the last turntables Audiomeca ever made, production had already been stopped so all that help had been given without any hope of sales. From that date Audiomeca was forced to concentrate on digital - as Pierre put it "it was CD or die".
We kept in touch, Pierre sending me rose cuttings (his other passion is the preservation of old rose species) and me continually saying "why don't you do another turntable" - I couldn't resist it and it seemed such a waste!
Then we wind the clock on 18 months to find me reviewing both the Audiomeca Enkianthus DAC and Mephisto CD player - once again I was showered with notes and papers (most of which lost me this time!).
Disaster!
14th November 2003
"I am Christiane, I have to advise you that Pierre is in hospital after a car accident."
Christiane is Pierre's wife. Pierre was lucky to be alive and to this day still suffers from his injuries. Though still in hospital it didn't stop him emailing two months later from his bed to correct a mistake in the CD review...
Then at the end of March 2004, Pierre, still using crutches, sent a very significant email, and I jumped on it :-)
"Last point, I'd be quite happy with an Analog come back but I see this as a marginal possibility. I told you before that I think to a new arm from time to time. "
So with four months in a hospital bed the bug had just started to bite - I pointed out how many new turntables were coming out and the falling interest in CD.
But he fired back
"When I told you about a new arm from me, first of all the decision is far away and does not includes any turntable nor any stand. If I had time and money...It is a pity for the turntable because long time ago I came up to a pretty and elegant idea which broke for me the limits of what is possible to make."
But at least he was talking about it
2004 found me ruffling a few feathers with my VTA articles, and here Pierre was one of several manufacturers who gave me help with technical details (and honesty) that I couldn't otherwise have found, I like to think it also concentrated his mind on analogue...
I also had a project where I built a turntable that would take two arms for review purposes - Pierre stopped me making a few basic errors and sent me an old Romance platter he had lying about to make my life easier.
So what with one thing or another we swapped emails most weeks, before in July 2004 Pierre wrote
"Hot news: we probably shall make a Romance + Roméo"II". After 15 years!!...Please keep it secret for now. Final decision is not yet taken."
There the subject rested for nearly 12 months and then...
"would it be worthy to design and produce new Analog products today ? A new arm, and a turntable later."
"Does Dolly Parton sleep on her back???" Go go go!
From that moment on things changed - very quickly it was decided that here was the opportunity to use that "pretty and elegant idea" and build, not a Romance Mk11, but a new, state-of-the-art combination. So Belladonna and Septum began their slow gestation process. Pierre was finally back in Analogue, 15 years after his last designs, the Romance and Romeo. This was going to be fun...
---
*Who is Pierre Lurne? Born 1948, discovered a love of music as a student and being depressed by the way his old Teppaz grammophone shredded his records, he began to use the skills learnt at university to make his own arms.
Soon this became a way of making a living (though he denies what he does has ever made a "living"!) designing for other companies then setting up Audiomeca in 1979. As well as several turntables and arms for Audiomeca, he was also responsible for the design of turntables and arms for Goldmund, Jadis and Vecteur. Afterwards he designed a series of digital products including one of the very few CD transport mechanisms from an independent manufacturer. It all adds up to over 30 years of designing and building commercially successful turntables and arms - I don't know anyone else with as much experience.
Go to the Birth of Belladonna - Part II
© Copyright 2007 Geoff Husband - www.tnt-audio.com
[ Home | Staff & Contacts | DIY & Tweaks | Listening tests | HiFi Playground | Music & Books ]