[ Home | Staff & Contacts | HiFi Playground | Listening tests | DIY & Tweakings | Music & Books ]
Pairing budget cartridges with The Wand Plus tonearm MKII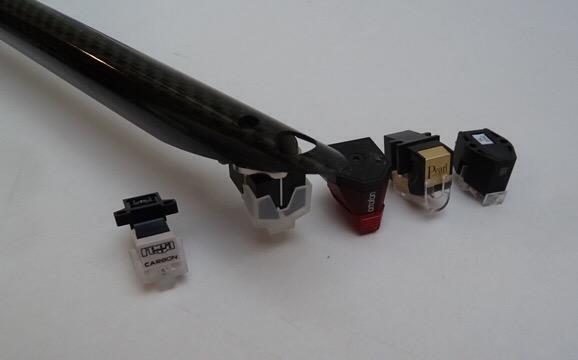 In search of the perfect partner - Part 1
[Italian version here]
Reviewer: Richard Varey - TNT New Zealand
Reviewed: June, 2016
HTML version: Stefano Miniero

Introduction
Some audiophiles agonise long and hard about matching a cartridge to a tonearm. In my recent survey of New-Zealand-made equipment, a remarkable award-winning tonearm came my way for review, accompanied by an interesting proposition about cartridge performance. I was excited to investigate.
In this comparison, I played records with a range of budget cartridges mounted on The Wand Plus. As a career writer (with 20+ years as a scholar and educator, and more years in consulting and marketing), I could not resist checking my etymological dictionary for the meanings and origins of the term "wand". This turned out to be "lithe twig or peg", and symbol of a Magician's power: a magical tool. I asked designer and maker Simon Brown why he chose this name for his carbon-fibre tube tonearm.
He told me that The Wand to him conjured (pun alert!) the orchestral baton as well as musical magic and is also descriptive of the simplicity of his product.
This choice of name, and previous highly favourable reviews, as well as several awards, was strongly whetting my appetite, and then this comparison project turned out to be even more enlightening than first anticipated. The winner in my ranking of cartridges by listening pleasure experienced wasn't even available when I began my project.
Living with The Wand Plus
The genesis of this tonearm-cartridge pairing experiment was my recent overview of the New Zealand hifi manufacturers. Simon Brown from Design Build Listen Ltd contacted me with an intriguing proposition. He asserted that a cleverly designed tonearm could elicit outstanding performance from a budget cartridge.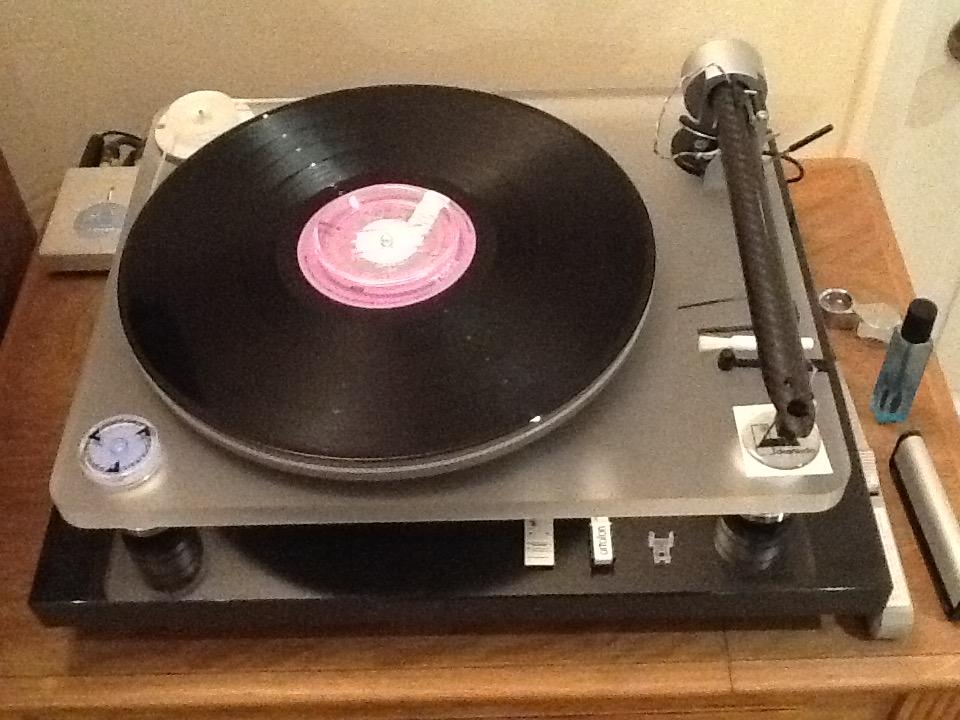 To test this, Simon offered an extended loan of the updated version of his tonearm and some cartridges so that I could audition a range and compare the listenability of the pairings. So, several cartridges were shortlisted and the arm was fitted to my Clearaudio Emotion turntable in place of the original Satisfy arm and Aurum cartridge. As an unexpected bonus, during latter part of the several months of my experiment, Design Build Listen was appointed the NZ importer of the Hana range of cartridges from Japan, and two models were duly added to the list for audition.
The Wand designer Simon Brown's premise was that a carefully designed tonearm could bring out the best performance in a budget cartridge, making the package particularly cost-effective and not the sole preserve of big spenders. If he was right, I thought, then outstanding musicality could be affordable on the kind of budget that most enthusiasts could aspire to without busting their piggy bank. Only in trying out several options could I determine if he had a realistic promise for prospective users of The Wand Plus.
So, once fitted, I began listening to my records with cartridges in turn. I set out to find out to what extent I could realise communication of the full musical expression intended by the artist, in this case by pairing a 'budget' (that is, relatively modestly priced) cartridge with The Wand Plus. This is a high-fidelity notion adopted by The Windham Hill label to be accomplished by playback on a high-definition audio system. Is The Wand Plus paired with a budget cartridge such a system? Could The Wand Plus realise an oft-claimed but also often ignored or discounted truth that quality is not always determined by price?
My criterion set for ranking arm-cartridge pairings was simple. How engaging and absorbing was the listening and how well did I feel the artist's expression? My keywords would be musical lucidity, expressed in timbre, clarity, fullness and dimensionality of imaging (often referred to as spatiality), excitement, believability, musicality, dynamic range in terms of delicacy with bass and percussion punch and kick.
Overall, how much did I enjoy the experience of, and get absorbed in, listening to my records with this pickup? I wasn't interested in specifications on paper or even price (except to qualify 'budget' candidates) and this was noted only after listening.
Out of the box
My first impressions on unpacking the award-winning The Wand Plus was of fresh wood aroma of the practical and stylish 'winebox' it is presented in, and there was no superfluous or plastic packaging. On laying all the parts out it was immediately evident that they are finely engineered. The substantial steel precision setup protractor is especially impressive and so easy to use, which is extremely helpful when repeatedly swapping and resetting cartridges and it addresses inner groove geometry very practically.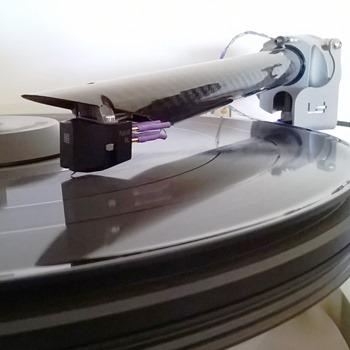 The arm bearing is something special too and solves the problems of cartridge mounting and transportability, as well as crucially accomplishing very low friction and stability. A Sumiko Pearl cartridge was already fitted courtesy of Simon Brown, so I only needed one other tool, a Philipshead screwdriver to tighten the spindle mounting onto the plinth.
I was playing music just 30 minutes from unpacking, although more time would be needed to cut a mounting hole, install the mounting plate, and to fit and adjust the cartridge.
I did the clever thing, so often overlooked in the rush to get going with a new piece of kit. I took the time to read the instructions through more than once, as recommended by Simon. I discovered a very simple installation procedure.
The instructions work well and are clear with none of the ambiguity or illogical process often found in deciphering translated user manuals. Steps are discrete and components make sense when looked at laid out for assembly.
In search of optimal tone, I set the arm at a 2 degree tilt downward towards the cartridge as suggested by Simon, and this was easily accomplished using the protractor. Next was adjustment of the arm lift/rest.
Because the arm tip overhangs the front edge of the Emotion plinth if parked parallel to the right edge, the suitable position was over left towards the platter, accomplished by simply rotating the arm rest.
Subsequently, Simon patiently responded to my various queries over the several months that I ran my experiment as I swapped cartridges in and out of use, and during that time he put up the first of his instructional videos on the Design Build Listen website, which proved helpful and reassuring.
I found the setup very easy to perform with only one small snag. Routing of wires from the arm to the amplifier will depend on turntable plinth design, and I know that the installation instruction sheet is being improved to make clearer the options, as it's crucial to avoid the cable interfering with the free rotation of the arm on its pivot.
The original version of The Wand has been reviewed by TNT-Audio previously. This audition is with the Plus model that has been upgraded to "v2" including a new bearing with lower friction (while maintaining the same bass performance) plus several cosmetic and functional improvements, including the addition of the hydraulic lift/cue device.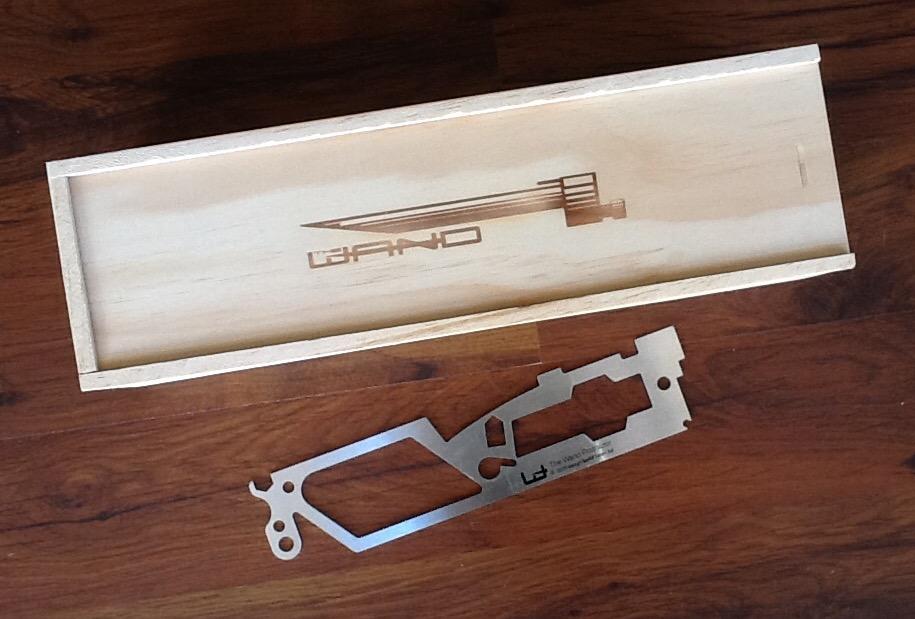 Supporting a budget cartridge: A tale of record playing delights
And so to matching a cartridge for excellent music playability. I pulled out a range of favourite records that have been played many times on my original Linn Sondek/Linn Basik with Sumiko Bluepoint 2, then on my Clearaudio Emotion SE/Satisfy with Aurum Classic Wood, and now with The Wand Plus and firstly a Sumiko Pearl fitted.

These records were to be at the centre of my testing ground for the next few weeks as I listened with budget models from Sumiko, Rega, Grado, Aurum, Ortofon, Denon, SAE, and finally Hana. Out came my special edition half-speed master of Dire Straits' debut album.

There was the immediate sense of weight, depth, detail, and delicacy, calling forth a very engaging musical experience. I am not casting cliche in saying that after playing this album dozens of times over many years, I now heard instrument, voice, and mix effects details for the first time. It was an exhilarating revelation, and a great way to kick off my project!

Next, out came my original copy of Rush's Moving Pictures which is another special goto for dynamics and punch. The sound was open and layered with exciting weight in the drums and bass. Geddy Lee's voice was even not shrill (a real bonus, truly). Surface noise was suppressed on my 1981 discounted cutout copy which has been played many many times.

Yet here it was sounding fresh, and better than some recent new pressings that have appeared in the rush (oops, another pun) to reinvent vinyl appeal! I particularly enjoy Rush's complex instrumentals and YYZ was heard with satisfyingly good separation and resolution of instruments. The album sounded even fuller-bodied and satisfying with the Sumiko installed than I had heard it many times before. I succumbed to the often-felt compulsion to turn it up loud when first listening to a new system component.

Lonestar's Firing On All Six album excitingly combines orchestra and classical keyboard, with pumping bass and thunderous and complex drumming on the song Rivers Overflowing. In the past, I've had the stylus jump out of the groove at a certain point when the drum kit comes to the fore, so what would The Wand Plus do with the Sumiko Pearl at 2g tracking weight? All was well, and thrilling with bombast, yet elsewhere delicacy and smooth detail.

Then on to It Bites and the title track from The Big Lad in the Windmill album. This is another complex multi-tracked song with captivating vocal harmonies and a slow build to a magical guitar climax, backed with some stonking drumming. Stirring stuff with detail and power climbing from subtle melodic phrasing.

Then my first disappointment. Gary Moore's Back On the Streets has been played many times and was now sounding raspy and a bit dull. It looked generally clean with no coffee, mould, fingerprints or chocolate. However, on cleaning it thoroughly with the GEM Dandy record washer (see my user report), it was literally sounding like a different record. Again, power with subtly, showing dynamic range, spatiality, and timbre well superior to previous listening.

Well, no surprises that Al De Meola's Elegant Gypsy was next. It was immediately apparent that the bass lines are to the fore, and placing of instruments is wide and distinct. With the Sumiko cartridge, the sound was bigger and not just louder, if that makes sense! Some keyboard sections were of a different tone than I've heard previously.

The recent 180g reissue of Led Zeppelin's first album was next on the platter, and in Black Mountain Side the simple acoustic guitar and tabla drum were rendered with obvious clarity and dynamics. Turned up, this was quite mesmerising.

Another favourite is Level 42's World Machine. That was a staggering surprise, with Mark King's bass almost in my face! That is a sensational recording with superb tunes, driving drumming, and King's bass guitar taking the lead over Boon Gould's rhythm guitar. A really sensational musical experience, especially at "realistic" sound level!

Then I deliberately chose a noisy record to see how the Pearl on the The Wand Plus would handle it. Out came a record that has visibly seen some action and was acquired second-hand. Did it sound more tolerable than previously? My copy of Herbie Mann's Stone Flute album (an original pressing from 1970) was on loan by a public library for 7 years, before I bought it at a book fair for $1. The surface looks ok, but is obviously a little worse for wear. Actually it played rather well, with only minor intrusion of clicks from the more obvious surface damage.

Enough of that, so back to a new copy of the recent Fleetwood Mac Rumours album boxed set reissue. This sounded so very 'present' with an enveloping sense of players contributing to their rich sound. Donald Fagan's Night Fly was also rendered in a very 'present' presentation with a wide soundstage. Delightful listening. By now, my assessment was that all of my listening had been musical, and not the sound of a record playing.

I think that Simon Brown may just have solved the problem of inner disc groove tracking. I feel sure that I can hear more detail and none of the mushiness that some of my records have sounded on the final track at side end. A case in point was my Manfred Mann's Earth Band Solar Fire album which I have owned since it was issued and played many many times. I was able to play all the way through both sides of the disc without sensing that it didn't sound right. That record has been played on quite a few turntables over the years, beginning with a Connoisseur BD1 kit turntable around 1972, through to a Garrard 401, a Linn Sondek LP12, and now the Clearaudio Emotion. Tonearms have included the classic SME 12", and cartridges have included everything from Shure, to Ortofon, Sumiko, to Clearaudio.

Further listening included Gordon Giltrap's Perilous Journey, James Newton Howard's direct-to-disc "and Friends" album, and Ian Hunter's first solo album from 1975 (featuring the brilliant Mick Ronson). By now, I was wondering what had happened to the surface noise on my records?

More will follow in Part II

© Copyright 2016 Richard Varey - richard@tnt-audio.com - www.tnt-audio.com
[ Home | Staff & Contacts | HiFi Playground | Listening tests | DIY & Tweakings | Music & Books ]