[ Home | Staff & Contacts | HiFi Playground | Listening tests | DIY & Tweakings | Music & Books ]
Clearaudio Emotion SE turntable (vs Linn Sondek)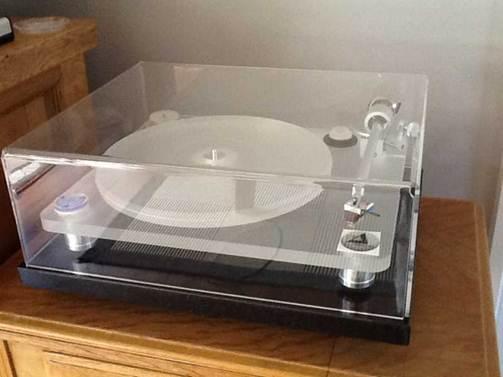 Clear audio emotion?
[Italian version]
Product name: Clearaudio Emotion SE
Manufacturer: Clearaudio - Germany
Cost: NZ$2,100 ((in 2011). Current version NZ$3,995. (Currency conversion)
(YMMV)

Reviewer: Richard Varey - TNT New Zealand
Reviewed: June, 2014
Does the name ring true?
Back in 2011, after more than 20 years running an unmodified Linn Sondek, with a succession of cartridge upgrades, latterly with a Sumiko Bluepoint 2, it seemed time to look for a contemporary turntable for my ever-expanding vinyl record collection. The Sondek was renowned for its high mass, balanced platter on a spring-suspended sub-chassis in a wood plinth. For me, feedback and external vibration were often a bugbear with the Sondek, so despite the exalted reputation, the Sondek was a frustration at times and despite many experiments with isolation and stone slabs and so on, I was never relaxed when playing records as I always sensed some external disturbance from foot falls and acoustic ringing when the plinth was tapped with a finger. On some records and listening sessions, rumble was all too evident.
Could a Clearaudio product be my holy grail? Ever vigilant for a bargain, the Clearaudio Emotion Smart Start package came up on a very special offer at the local dealer and an initial audition showed much promise, so off I went back with my Linn and my wife and we spent a couple of hours switching between the Emotion and the Sondek with some favourite records.
Now Pat is a hifi skeptic - she's heard most of the tales about upgrades and improvements and "you can really hear the difference, and it's only $XX,XXX", but there it was, plain to all in the listening - the Clearaudio was going to rejuvenate my entire vinyl collection with more clarity, more punch, and much less surface noise. I was smitten. Now three years on, is the emotion still there (here)? Indeed it is, and my record collecting continues apace as I relish the listening experience on every play.
Clearaudio was not a name I was familiar with back then. They have been designing and making cartridges and turntables in Germany since the late 1970s, and now have a range of turntables, tonearms, cartridges, phonostages, preamplifiers, class A power amplifiers, connectors, cables, audio racks and accessories including a record washing machine. The company also creates their own audiophile recordings and re-releases recordings originally produced for the Deutsche Grammophon label. Quite a pedigree. Something appealed to me - the European origin, the German reputation for precision. The proposition seemed to be that I could sell on my Linn and for the money recouped I could get both new and different. Worth a listen, I thought, and I was so right.
My NZ$2,100 purchase (in 2011) brought me a neatly packed box containing the Emotion Smart Start kit, comprising a white frosted acrylic body and platter, a Satisfy tonearm, the stand-alone (isolated) motor drive unit, two drive belts, an acrylic dust cover, three aluminium feet, a Clearaudio Aurum Classics Satine-wood (wood bodied) moving magnet cartridge and mounting kit, a pair of white cotton gloves (for handling everything!), a Clever Clamp, a really neat spirit level, and last, but certainly not least, the Smart Phono preamplifier.
A lot for the money, it seemed. The assembly and setup instructions are quite detailed and clear, although oddly nowhere does the booklet mention adding the bearing oil before first operation of the turntable. The Smart Phono is something else! A sealed block of shiny metal with micro-switches for function selection between moving coil and moving magnet, this diminutive slab of shiny cool design easily saw off my Cambridge Audio phono stage and is a very significant part of the punch-above-its-weight performance from this system.
For some reason I haven't fathomed, the input and output connections are not adjacently paired but alternated, so there can be some initial confusion in connecting the unit to the tonearm and amplifier. Once all is installed, it is striking just how elegantly simple this turntable is and Clearaudio are to be congratulated on design-for-performance with a minimum of fuss. As Jimmy Hughes said in a review of the package, "it looks way cool, and does what it says on the tin"! Enough said. Except there is more to it than that. I fell in love with this product from the moment I saw it, and especially from the moment I heard it. Much more clean, open, crisp and smooth, delicate and dynamic yet relaxed sounding than the aged Sondek it ousted.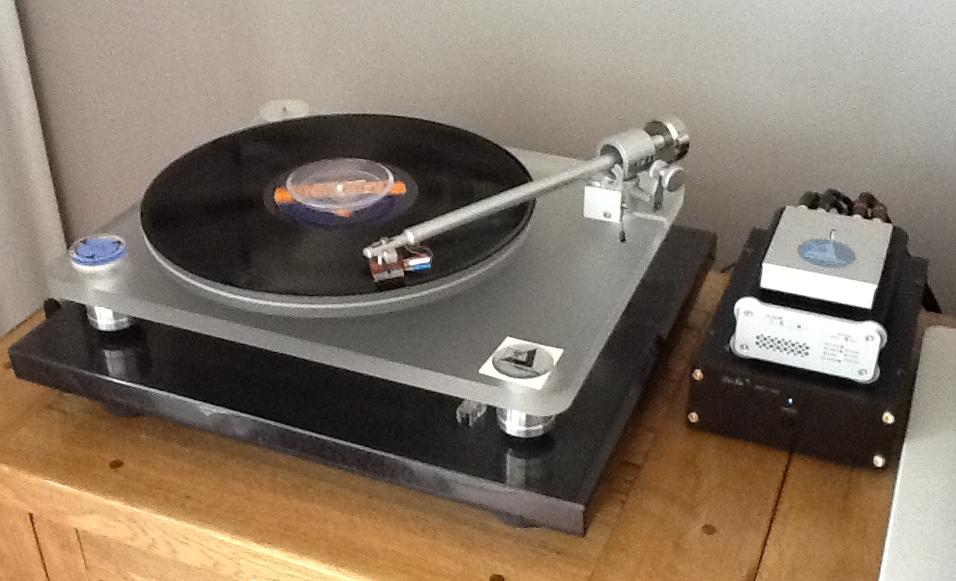 My feelings about the Emotion
Today I enjoy my listening much more with this fresh youthful and neatly elegant and unassuming machine. Three years on, my vinyl playing is very different from the Sondek experience in its latter days. The design ethos is different, the execution is precise without complication, and the musical engagement is just lovely - what I have strived for in my more than 40 years of countless upgrades and substitutions. Musical nirvana? - well, certainly musical emotion, and smart with it. The Emotion sits easily on a repurposed lightweight old sewing machine table with no evidence of that frustrating interference problem and annoying background rumble.
The simple light body and light platter standing on machined aluminium feet looks and sounds really nice. I'm no longer afraid to play at a high level for fear of background rumble and feedback. Dynamics are very solid with punch and weight. Yet, there is subtlety and delicacy, making for a very engaging musicality. The crackles of my older records, some now more than 40 years old, are no longer right upfront, so whilst audible, are less intrusive. I now find myself playing vinyl albums for longer sessions without tiring - a sure sign of an effective turntable/arm/cartridge combination. In fairness to the Sondek, it was more than 20 years old and was never modified. So, clear audio? Emotion? Yes indeed. When I started using the Emotion Smart Start kit I found my new record collection. Money well spent.
The current Emotion SE offering
A quick look at the Clearaudio website confirms that the Emotion SE package is currently available with a few updates. Familiar is the satin clear semi-transparent chassis with 30mm acrylic platter, but now riding on a magnetic ceramic bearing (this was an expensive upgrade option in 2011). Included is what looks like a remodelled Satisfy carbon tonearm, a Clearaudio moving magnet cartridge, and the unit's feet have been redesigned. Technical specification here.
I also just spotted the Concept model with Verify tonearm and Concept MM cartridge on offer in New Zealand for NZ$1,995 – more temptation to be resisted, at least for now.

© Copyright 2014 Richard Varey - richard@tnt-audio.com - www.tnt-audio.com
[ Home | Staff & Contacts | HiFi Playground | Listening tests | DIY & Tweakings | Music & Books ]