[ Home | Staff & Contacts | HiFi Playground | Listening tests | DIY & Tweakings | Music & Books ]
Dodocool DA106 portable audio player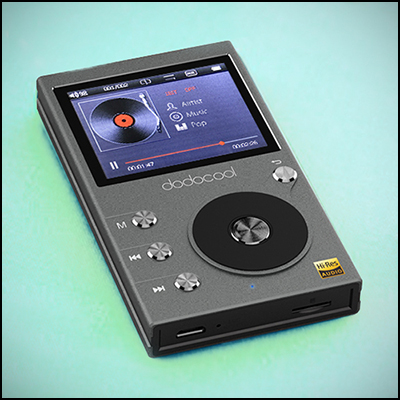 Portable music gets serious
[Italian version here]
Product name: Dodocool portable audio player
Manufacturer: Dodocool - HongKong
Cost: 45.99 euros (Currency conversion)

Reviewer: Nick Whetstone - TNT UK
Reviewed: December, 2017
It is hard to believe, but it is now 36 years since I was sitting in the lounge of a traveler's hostel in Malaysia during my two and a half year trip, backpacking around the world. I was making up my diary while some fellow travelers seemed to be amused by a small cassette player and a pair of headphones. Being a typical hi-fi snob, I smiled, and continued writing, but when they offered me a chance to listen, I had to eat some humble pie. It was a Sony Walkman WM1, and I was so impressed, that a few weeks later, I purchased a WM3 in Singapore, and enjoyed some great listening experiences for the rest of my trip. I had a couple more 'Walkmans' after my WM3 was stolen from my van, and then a portable CD player that I never really took to due to the size, and bother of carrying around the CDs. Still, a hi-fi snob, I avoided the iPod and its many alternatives, as I didn't want to listen to MP3. But about five years ago, I discovered the minute Sansa Clip that would play FLAC files, and bought one so that I could again enjoy music on the move. The Clip is tiny, and plays uncompressed music. What could be better? Well, by the look of the specifications, the Dodocool DA106 is head and shoulders above the MP3 type players that many of us are used to, so when TNT-Audio was offered one for review, I jumped at the chance.
The DA106 arrived in its own rather smart black box, protected by a foam insert. Even before opening the box, I was impressed by the weight of the package. Inside the box I found the DA106, and taking it out of the box, I noted that it was substantially larger and heavier than my Sansa Clip. Despite that, it will still easily go into a pocket. Constructed of metal (aluminium), it feels solid, appears to be very well constructed, and looks rather nice in an understated sort of way. Perhaps it's my age, but I like understated, as opposed to bright primary colours for this type of product. Also in the box is a lead to connect the DA106 to a computer, and a leaflet describing the controls, but there are no headphones supplied.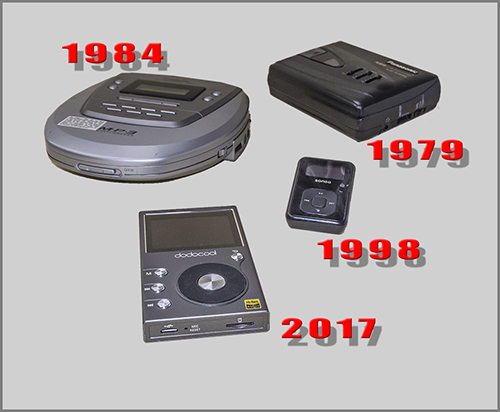 The DA106 is a lossless player. But apart from being able to play FLAC files, it can play any type of file including the hi-res types. That is not only hi-res WAV or FLAC files, but DSD (64, 128 & 256 - DSF & DFF), AIFF etc (up to 24bit/192kHz). In other words, it is a no compromise music source that should be on par with the kind of equipment that we use in our home systems.
This player employs an ARM Dual Core M3 Cortex processor, and I can remember using computers with processors massively inferior! Part of its weight is also due to the substantial battery that it uses, that gives a very generous 30 hours of playback time between charges. In addition to the headphones socket, it has a line out socket for connection to a hi-fi system, or docking system, or of course, to an in-car system. Apart from playing audio, it has a radio player, and can also be used for voice recording (although you are limited to the internal microphone). It is equipped with a 2-inch QVGA LCD display screen (320*240 resolution). Thoughtfully, the operating system can be configured for 21 different languages. It has the usual features found on modern portable audio players, so you can shuffle tracks etc, and do a bit of basic equalizing, but there is no means of streaming from the likes of Spotify.
Specifications (from Dodocool website)
Brand: dodocool
Material: Aluminum alloy
Color: Grey
Display screen: 2.0 inch QVGA LCD, 320*240 resolution
CPU: ARM Dual-core Cortex-M3
Audio format support: DSD64, DSD128, DSD256(.dff & .dsf), FLAC 192kHz/24bit, ALAC 192kHz/24bit, APE 96kHz/24bit, OGG, WAV, MP3 and more
Voice recording: High-fidelity 192kHz/24PCM
FM radio: Support FM stereo radio and high-fidelity FM radio recording
SNR: 105dB
Distortion: ±0.05% with 32mW
Internal storage: 8GB
TF card slot: Support TF card up to 256GB (TF card NOT included)
Power source: Built-in 3.7V 1400mAh rechargeable lithium battery
Charging time: Approx. 2.5 hours
Playback time: Up to 30 hours
Built-in microphone: Yes
Language: English, Korean, Japanese, Spanish, French, German, Italian, Portuguese, Russian, Swedish, Thai, Polish, Danish, Dutch, Greek, Czech, Turkish, Hebrew, Arabic, Simplified Chinese and Traditional Chinese,
Interface: 1 * Micro-USB port, 1 * TF card slot, 1 * 3.5mm headphone jack, 1 * Line out port
Item size: Approx. 3.82 * 2.17 * 0.51 in / 97 * 55 * 13 mm (L * W * H)
Item weight: Approx. 3.81oz / 108g
Package size: Approx. 5.12 * 3.62 * 1.81 in / 130 * 92 * 46 mm (L * W * H)
Package weight: Approx. 6.70oz / 190g


Package includes
1 * dodocool 8GB Hi-Fi Lossless Audio Player with FM Radio and Voice Recorder
1 * Micro-USB to USB Cable
1 * Instruction Manual (English, French, German, Spanish, Italian, Japanese)
I started by referring to the enclosed leaflet, but apart from telling me what the control buttons were for, it didn't give me any information on actually using the DA106. I was confused that the player appeared to shut down completely after a few seconds, and I could only get it running again after powering down, and then back on. It turned out that I only needed to press the power button momentarily to bring the player out of the sleep mode. I do feel that many buyers will need, or at least, appreciate, some instructions to make their initial experience of using the DA106 less frustrating. In fairness, we live in a world of electronic gadgets where one button has multiple functions, and the DA106 is far from being unique its initial complexity. And I have noticed that the younger generation tend to learn how to use their gadgets by trial and error, while those of us of an older generation are more used to relying on instructions.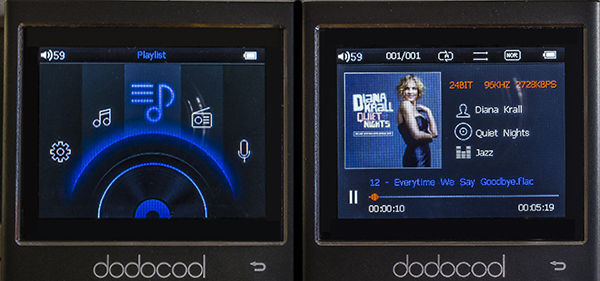 One thing that I did find very easy to do, was to get some music copied across from my computer to the DA106. It is a simple matter of connecting the DA106 to a computer using the supplied cable, and then copying and pasting the music files or folders. The DA106 has a slot for a micro SD card (also known as a TF card), and I was pleased to find that taking the one that I used in my Sansa Clip,and inserting into the DA106 meant that all the music on it was instantly available. The DA106 has 8 GB of internal memory, so a card is going to be pretty much mandatory for most users, more so if you want to include a lot of hi-res music.
As I hope everybody knows, a hi-fi system, like any chain, is only as good as its weakest link. In the case of something like the DA106, the other link in the chain is the headphones. Actually, there is another link, and that is the listening environment which will have quite an impact! In my case, I don't own exotic headphones, and I will explain why. Apart for the cost issue, my experience with portable audio players over the last 36 years is that headphones/earphones, are delicate items, and don't tend to last long. I was out once for a walk listening to a Walkman, when a dog, friendly, but over exuberant, jumped up at me, and ripped the wires clean off the earphones that I was wearing. Even without such experiences, it is all too easy to damage these rather fragile items, so I prefer to stay with something less expensive to replace. That said, the two pairs of 'phones that I currently own are of decent quality, and having used them with the Sansa Clip for the last few years, I knew that they would give me a good idea of how the DA106 sounded compared to the Sansa Clip.
So, to the listening test. I had put plenty of my favorite music on the DA106, together with a selection of hi-res tracks, and even some MP3s! From the first track the DA106 made the Sansa Clip sound very average. The clarity was particularly better. It actually made me want to listen to it, rather than just have music for passing the time on a bus trip etc. I must admit, that it also made me look at one or two more expensive earphones on-line. When I played the hi-res tracks, the increase in sound utility was quite audible. This was sound quality that a hi-fi system of the 1970's would be pressed to equal through decent headphones.
I also tried the built in radio function. Reception was much better than it was when using the radio function of the Sansa Clip. That is almost unusable, but reception on the DA106 is 'loud and clear'(although much will depend where you are when you use the radio). I tuned into BBC Radio 4, and found myself listening to a play. It is the first time ever that I have heard the sound effects in a radio play creating a 3D image of the scene.
Once I had got used to using the DA106, I found that I could quite easily use most of its functions. The buttons are slightly raised making them easy to press, and I did like the wheel that surrounds the main button, making it very easy to scroll through the lists of options. I don't know if it is intentional, but that wheel and button look like a miniature LP! My main problem at times was seeing the display. It is a decent display with adequate resolution, but the text is so small that I found it difficult to read. OK, I am in my sixties, and my eyesight isn't as good as it once was, but I can read 'normal' text without glasses. In situations with bright light, the reflection off the screen made things even worse, but again, in fairness, this is a problem for all display screens, not only the one on the DA106. Of course, once you have music playing, it is not often that you need to refer to the screen, but I would have preferred a less 'exotic' display, and larger text to help me select my music. While the display on the Sansa Clip is almost primitive by comparison, the text is slightly larger, and easier to read. I felt with the DA106, that I would happily have done without the nice graphics in the display, if it meant that the text could be more readable. Those with better close sight may disagree of course.
For reasons unknown to me, one or two albums that I tried to play on the Sansa Clip caused the player to lock up at the end of some tracks. I deliberately put those albums on to the DA106, and am very pleased to say that it played them without the same problem. In fact I didn't have a lock-up with the DA106 in the whole time that I auditioned it.
To further assess the sound quality of the DA106, I connected it up to a hi-fi system. It is probably the first time that I have wondered about a more exotic connecting cable with a 3.5mm jack plug, but thinking about it, there isn't a lot that you can solder to such a small plug. Anyway, I soon forgot about the cable as I sat down to listen. The first thing that I noticed was that I needed to turn the volume control on the amplifier up significantly. This was no surprise as the diminutive DA106 runs from a small 3.7 volt battery, and I wouldn't expect it to have a high output level. With the volume adjusted, the DA106 sounded more than capable of creating a decent sound. Of course it wasn't up to the quality of the iFi iDAC, with its dedicated power supply, and preamp, and I didn't expect it to be. But over all, I enjoyed listening to the DA106 through my amplifier and speakers.
So what is my verdict on the Dodocool DA106? As portable audio players, go, it is clearly the best that I have listened to. What sets it apart from most other portable players, is its ability to play hi-res music files. The question arises, will the listener be able to fully appreciate these hi-res files? Apart from the choice of earphones, the listening environment will play a big part too. I have found that many times when I have used a portable audio player, the background noise is the major factor in how much I enjoy the listening experience. But if listening at home, or somewhere else where it is quiet, the DA106 will provide amazing sound quality, and make playing hi-res music more rewarding. I suppose that many people will also use their portable audio players with a docking system, and the DA106 is obviously going to excel there too.
So in short, the hi-res playback of the DA106 is more likely to appeal to people who use it as their main listening device, rather than somebody who uses it only as a means of having music 'on the go'. For the former, the DA106 is an excellent option, and should satisfy the more demanding listener. And, at home, the screen display reflection is less of an issue. If you have a penchant for hi-res music, you will need one of the larger capacity micro SD cards, but memory seems to get cheaper as our demand for it rises, so that is not a problem. Coupled with a good set of earphones or headphones, or a capable docking system, the DA106 will provide real hi-fi for those who, perhaps for reasons of space, can't enjoy a larger system. And to make it clear, the DA106 is a also a very good portable audio player for use away from home.
But I have deliberately left the best until last. At the price, the DA106 is (IMHO) one of the great hi-fi bargains of all time. In fact, the price makes my niggles about this product seem almost petty. The price is why I haven't even mentioned the alternative top-end portable players, because they simply cannot compete with the DA106 on price. This player only costs a bit more than my Sansa Clip, but looks like a Bentley compared to home-built kit car, and blows the Clip away on audio performance. My advice would be to buy one of these while you still can, even if you only want to enjoy music while out for a walk.
Almost unbelievably, Dodocool are offering TNT-Audio readers (in the UK) a 11 GBP discount! So, if you want a DA106, click here, and then enter the code 9BCM8MJH when you check out.

© Copyright 2017 Nick Whetstone - nick@tnt-audio.com - www.tnt-audio.com
[ Home | Staff & Contacts | HiFi Playground | Listening tests | DIY & Tweakings | Music & Books ]