[ Home TNT-Audio | Staff & Contacts | HiFi Playground | Listening tests | DIY & Tweakings | Music & Books ]
Reiki Audio Limited announce Superswitch Master & Servant range
Exclusive First Listen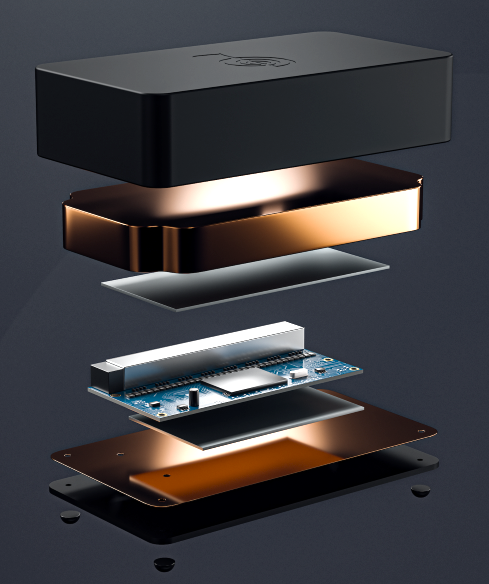 TNT-Audio strikes again with a world exclusive first listen
Product: Superswitch Master & Servant audiophile ethernet switches
Manufacturer: Reiki Audio - UK
Price: from £649 for a standard Superswitch Servant to £2999 for a Master & Servant PRO bundle (2 switches and 2 linear PSUs)
Currency fluctuations mean that YMMV in your part of the world
Author: Mark Wheeler - TNT Scotland
Reviewed: Summer 2023

How on earth can we hear the effects of ethernet switches?
"Ones and zeros are just ones and zeros innit?" challenge objectivist Plebs, stage left in a Mockney styley

Who knew there was either a need or a market for an audiophile network switch? Until very recently such an idea would be in the realms of fantasy but there is now a burgeoning market as streaming becomes the norm for high quality audio. Your old scribe last investigated any kind of switch back in 2008 when questioning the audibility of selector switches and reviewing an audiophile selector switch from DACT.

"What is an audiophile network switch?" enquire Plebs, stage left

It is a misleading term outside of the context of ethernet LAN's. The best summary was offered by the designer of the Reiki Audio Superswitch, that it is fundamentally a galvanic isolator. Your old scribe recalls the potentially floating ground of transformer coupled balanced analogue connections. And like those transformer coupled balanced analogue connections, rejection of noise and interference are the big advantages.
So what's the story?
The key to understanding the technology is that it is entirely passive in the signal domain (despite being powered). In the audio context the design intention is fundamentally different from other ethernet contexts.
Network switches are usually festooned with ports and LED's because their purpose is to network. Thus the usual network switch looks like a junction box for ethernet connections. Nigel Bell has rethought the network switch to suit audiophile use. For this purpose, the typical 6 or 8 ports are superfluous, as are the LED's. In the world of audio streaming, these superfluous ports are just holes in the screening. The LED's simply double the number of these holes in the screening. These are not tiny perforations to let flavour flood out (British tea bag slogan) but they are gaping orifices (fnarr fnarr - quoth gutter oriented Plebs) to let noise in.
While such features serve a purpose in the IT network world, from which primordial swamp such switches emerged, in audio contexts the ports serve no purpose, but impede a switch from performing at is best. At least they either allow ingress of external RFI (Radio Frequency Interference) and at worst the LED's generate additional RFI noise themselves.
So Nigel Bell founded Reiki Audio Limited, a British startup company, expressly to create and sell a range of high performance audio-optimised Superswitch Master and Servant ethernet switches. Like many start-ups Reiki Audio Limited hope to disrupt the burgeoning market for audiophile network switches. Is this a why-didn't-anyone-else-think-of-this? moment...?
"Or what snake oil is this?" challenge Plebs Chorus, stage left, Another brick in the wall of audiophile wire, magic crystals, smoke & mirrors?
This is another TNT-Audio exclusive first listen to a new product from a new company.
Your Old Scribe is a sceptical listener, neither wooed by marketing spiel nor persuaded by freebies & advertising budgets. As yet to join the streaming community, your Old Scribe travelled one beautiful Summer day to the stunning landscape of the Lake district to visit designer Nigel Bell in his modernist lair. Perhaps nominative determinism led Mr Bell's determination to break new ground in communications and audiophilia, Bell Labs having been a pioneering force behind the invention of stereo and of signal transmission. The two operations share a tendency to limit outsourcing to local manufacturers, eschewing the low-cost labour global markets.
Hence, the Reiki Superswitch range is designed, engineered and hand-assembled in the UK The sleek 3mm milled aluminium case, the presentation box, the packing cases and even the recycled foam enclosures are UK sourced. Two factors led to this commercial decision. The UK is blessed with a huge number of small specialist manufacturers. From the Little Mesters&apos workshops to the SME's (Small & Medium Enterprises, not the pickup arm manufacturer Scale Model Engineering) of light industry that survived the slaughter of the 70s & 80s. In 2023 established custom & practice has been to outsource manufacturing to countries of questionable worker welfare but if a new company wishes to disrupt the market, this can apply to every aspect of the business.
The local supply chain has benefits in quality control too. Nigel could see and touch the every part (including the packaging) before committing to manufacture. Reiki Audioalso appreciated faster comms by dealing more locally. Smaller manufacturers work in smaller batches so if Reiki Audio grow as planned, the onus is on their suppliers to keep up. This does mean customers may have to forego the instant gratification of the 21st century. From the trend for artisan everything, from bakery to bespoke training shoes (sneakers in transatlantic English) we might infer that despite austerity, there are customers for whom all good things come to those who wait with apologies to Violet Fane.
Shielding
The Reiki Audio Superswitch is an almost obsessive pursuit of noise exclusion. The Superswitch Master is dual-shielded by its 3mm aluminium case backed by a copper lining. The Master is for before and close to the streamer. To minimise post Superswitch pollution, the Master should be as close as possible to the streamer, hence comes packed with a 0.5m ethernet CAT6 cable and the1m is a backup for those not blessed with such proximity.
"Why not The Mistress to provoke some difficult to explain browser searches?" ask the more mischievous Plebs, stage left.
The aesthetically identical Superswitch Servant, while a high performance network switch in its own right, is primarily intended to be installed post-router to separate the audio network from non-audio devices like computers, printers & TV screening. There is a hierarchy of options. Both the Superswitch Masters and the Servants are available in three versions:
Standard with a stock low noise SMPS
Plus with an iFi iPower PSU
PRO models which have a custom-designed linear PSU
Thus customers have a clear upgrade path from £649 Standard to full £2999 Pro bundle with two linear power supplies, one each for Master and Servant.
Can we hear it?
All this attention to detail will amount to nought if this makes no difference. Nigel was good enough to refrain from any suggestion of what differences there might be. Obviously past experience of reducing RF interference and minimising ground loops will set up some kind of a priori expectation in listeners.
Your Old Scribe listened to some familiar material to become accustomed to Nigel's system. Your Old Scribe asked Nigel to cue up Pink Floyd's Animals as a familiar go to test of system set up and resolution. Even without the Reiki Superswitch in place, Nigel's system is sufficiently revealing to notice that this was the 2018 remix within a few seconds.
With the Reiki Audio Superswitch in place, two things are immediately obvious. The soundstage becomes deeper and more 3 dimensional. This is a typical phenomenon expected with improved high frequency resolution, so could be an artefact of confirmation bias. It soon becomes sufficiently obvious that the difference is consistent to the extent that it would probably be noticeable in a double blind test.
The second difference is the decay of notes and percussion. It becomes easier to distinguish the natural decay of notes from the subsequent swell of ambience. The phenomenon is similar to the difference between Red Book CD and HDCD, the briefly available back compatible higher resolution CD format. We only had time for Pink Floydand Lhasa de Sela's from the 1997 album La Llorana, a spectacular Latin foray, especially revealing of percussion. The track El Desierto was another example of the difference between the switchless configuration being obvious from the Reiki Audio Superswitch Master set up.
We were listening to the Master and Servant from the middle of the range Plus configuration, so it is not possible to comment on the Standard or PRO versions.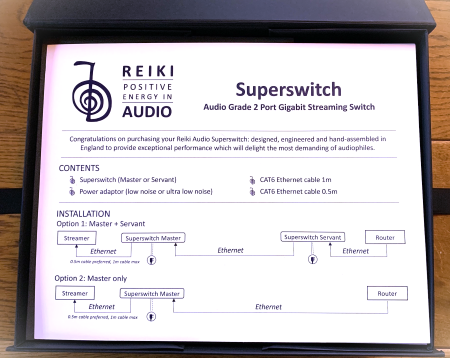 Value
In terms of cost vs benefit, the Plus is the kind of wedge that folk will happily pay for an interconnect based on a favourable review. The sound quality gain is equivalent to a better DAC up one level in a manufacturer's range.
Superswitch Masters and Servants are available in three versions: standard with a stock low noise SMPS; The Plus version comes bundled with an iFi iPower PSU; The PRO models have a custom-designed linear PSU. Prices range from £649 for a standard Superswitch Servant to £2999 for a Master & Servant PRO bundle (2 switches and 2 linear PSUs). Check out the Which Switch tab at www.reikiaudio.com for clarity.
The Reiki Audio Superswitch Pro bundle compares to the direct rival Innuos PhoenixNET at almost £3k.
Ansuz have a range of switches from £2k to £12k and a £20k gold version for those with more money than sense.
Inevitably cable companies like Nordost are bringing similar models to the market too.
If streaming is now your primary source, value consideration will be different from those who use streaming for background. You pay your money and you make your choice.
Conclusion
Reiki Audio hope to shake up the infant but growing audiophile network switch market with the various options of Master Superswitch and Servant Superswitch. These first production units are Artisan audiophile products of fine fit and finish, made in small batches. The high quality audio market is changing fast and Reiki Audio are confident that any customers who do have to wait a few weeks will find the wait was well worth it. First impressions are favourable so a more in-depth review will be appropriate in due course.
Nigel Bell is somewhat design obsessed and these products show it. The designer's IT background ensures that the Reiki Audio Superswitch does what it promises. This product is also evidence that improving the signal path for ones and noughts can be an effective upgrade.
Music enjoyed while writing this review

Reference system

In Nigel's digital system

Pink Floyd: Animals
Lhasa de Sela: El Desiertio

Equipment used in this review:

Bluesound: Node 2i

PSU for above: Sean Jacobs DC3 Linear PSU

Reiki Audio: Superswitch Master Plus & Servant

Audia Flight: FLS10 with optional DAC Board AKM4497EQ

Nigel's system also features a familiar Michell turntable and Gold Note front end for reference.

Posselt: Albatross

REL: Stadium with Studio driver upgradeter deformation)
DISCLAIMER. TNT-Audio is a 100% independent magazine that neither accepts advertising from companies nor requires readers to register or pay for subscriptions. If you wish, you can support our independent reviews via a PayPal donation. After publication of reviews, the authors do not retain samples other than on long-term loan for further evaluation or comparison with later-received gear. Hence, all contents are written free of any "editorial" or "advertising" influence, and all reviews in this publication, positive or negative, reflect the independent opinions of their respective authors. TNT-Audio will publish all manufacturer responses, subject to the reviewer's right to reply in turn.


Copyright © 2023 Mark Wheeler - mark@tnt-audio.com - www.tnt-audio.com
[ Home TNT-Audio | Staff & Contacts | HiFi Playground | Listening tests | DIY & Tweakings | Music & Books ]