[ Home | Staff & Contacts | HiFi Playground | Listening tests | DIY & Tweakings | Music & Books ]
Human Audio Drakit DAC
A blast from the past?
[Italian version here]
Product name: Human Audio Drakit DAC
Manufacturer: Human Audio - Hungary
Sales contact: chris@human-audio.com.
Cost: Approx. 893 euros (Plus specification ready-built), Approx. 583 euros (Standard specification ready-built)
Cost: Approx. 670 euros (Plus specification kit), Approx. 361 euros (Standard specification kit)
(Currency conversion)


Reviewer: Nick Whetstone - TNT UK
Reviewed: November, 2019
Back in January 2011 (and I can hardly believe that it was that long ago) I reviewed a couple of very expensive items from Human Audio, They were both designed as no-compromise hi-fi, and extravagantly finished accordingly. Human Audio have continued producing hi-fi gear aimed at the higher end of the market, but wanted to produce something that was more affordable without compromising the quality. The result is a DAC kit called the DRA KIT, that can be purchased as a populated PCB, or fully built into a case.
In an age where the specification of electronic components sometimes appears to be updated before we have had time to review something, Human Audio have taken the slightly unusual approach of looking backwards in their choice of DAC chip for the DRA KIT project. They have chosen the Burr-Brown PCM56, a 16-bit chip. But if you think that this is a cut-price, or compromised, item for DIYers, please read on. This is not a case of using an older item to reduce costs. Human Audio don't design anything that isn't 100% as good as they can make it. Although only 16-bit, the sampling frequency is up to 384 kHz, almost over specification. The aim was to produce a DAC that does not sound like the most modern DACs, ie with the slightly sterile and flat character. The PCM56 was selected for its dual mono real multibit function without oversampling, noise shaping and digital filtering. The reason that the PCM56 was not previously used more was its cost, making it unattractive for most designers to put into their product.
With the output signals of these converter chips being extremely low, a noise-free power supply is even more important than usual, so Human Audio chose a battery supply for this kit, something that they claim is "unique in the world of kits".
There are two versions of the DRA KIT, depending on the factory-selected converter (PCM56P-J or PCM56P-K) and voltage amplifier chips and other components. These are the basic DRA KIT, and the DRA KIT Plus. So basically, you decide if you want a PCB, and then add your own case and socketry, or purchase a 'finished item'.

Here is the specification of the DRA KIT DAC:
Matched PCM56P-J converters
2 SPDIF inputs can be RCA or BNC (can be ordered separately)
Lithium iron phosphate (LiFePo4) batteries minimize noise with very low inner impedance (can be ordered separately)
Board pin connector for I2S input allow experimenting with USB-I2S modules
fs up to 192 kHz, but 176.4 kHz accepted at I2S input only
Discrete low jitter interface logic
I/V conversion in passive way, with resistor and voltage gain stage
Output voltage: 1.9V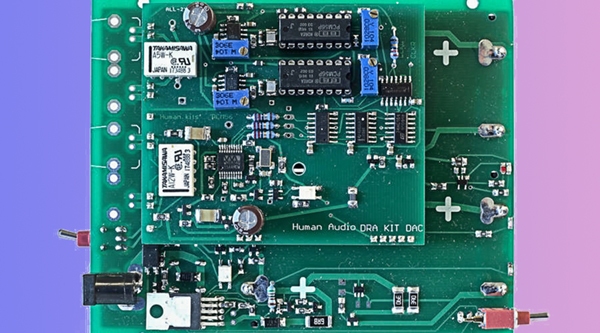 Human Audio supplied me with ready-built (and cased) DRA KIT (the PLUS version), and after I unpacked it, I left the battery on charge to make sure that it was fully charged before I listened. The batteries and charging arrangement appear similar, if not identical, to those used for the Ciúnas Audio ISO-DAC, and I can confirm that in my experience there is no audible difference when listening to these DACs with the charger connected or disconnected. Suffice to say, that it makes life much easier to leave the charger connected.
The review DRA KIT came in an extruded aluminium case with acrylic front and rear panels. The front panel has an on-off switch, and three tiny lights to indicate charging, power on, and signal locked on. The rear panel sports BNC and RCA connectors, and a pair of RCA analogue output connectors. There is also a switch to select between the digital inputs. The top half of the rear panel is transparent permitting a view of the interior. Lastly, there is a socket for the charger to be connected. The case dimensions are 10.5 cm wide, 13 cm deep, and 6 cm high.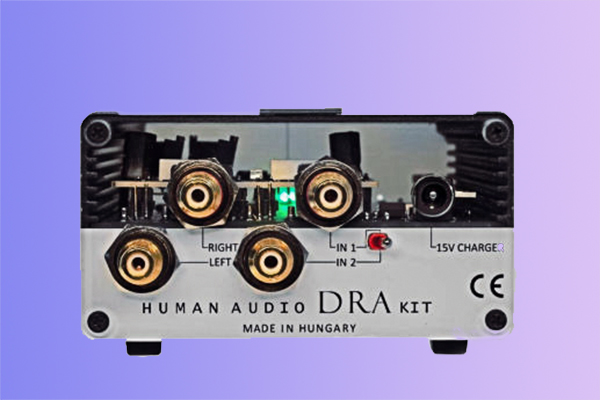 Set-up was straightforward. I played music from a PC running Audiophile Linux, and connected the DRA KIT via an M2Tech Hi-Face SPDIF converter (powered by a Paul Hynes SR1-5 power supply). The DAC was connected to a Clef Audio Soloist amplifier, Speakers were my modified Mordaunt Short Pageant IIs. Mains supply was via a (sadly discontinued) James Audio power conditioner. Human Audio suggest that the DRA KIT needs around half an hour to sound at its best, and I did notice a slight 'thinness' to the sound for the first 20 minutes after powering up the DAC.
Well, I urged you not to stop reading when you read that the DRA KIT utilizes an 'older' DAC chip. From the first sounds coming from the speakers, I could tell that this was one of the better DACs that I had heard, if not the best. There's a similar signature to that of the other Human Audio products that I reviewed in that the music is handled with a gentle and laid-back feel that makes it very intimate and enjoyable with certain genres of music. That is not to say that the DRA KIT won't rock with the best of DACs, but I would suggest that those who would most appreciate the sound of the DRA KIT would be those who favour classical music and/or jazz. But please don't be put off by that statement if you are not a lover of those genres because the DRA KIT plays everything beautifully.
The DRA KIT produced a large sound-stage with plenty of 'air' around the various components, whether they were vocal or instrumental. The proverbial 'black background' was just that. The clarity was superb, and the bass as tight and tuneful as I have heard in any system. The mid-range was fluid, almost flowing over me. The top end never even hinted at any harshness. There was a strong sense or realism demonstrated most clearly by the vocals of artists that I have heard play live. I always use Roger Waters' Amused to Death album for my reviews as the Q-sounds give a good indication that everything is 'right' as regards phase etc. With the DRA KIT, everything was in the right location around the listening room, and portrayed as distinctly as I have heard them on any system.'Timing was spot on, and to be honest, I made very few notes while listening to the DAC because it simply 'disappeared' and did its job so well that I forgot that I was auditioning it. And I didn't once even think about the DAC chip inside of the DRA KIT.
I was later supplied with the standard version of the DRA KIT, again fully built and ready to play. The 'Plus' version sounds clearly better but the standard version is also one of the best DACs that I have listened to. And oddly, given that the 'Plus' version is clearly 'better', there is something about the standard version that made it so enjoyable to listen to that I found it hard to tear myself away.
So, two really top-class sounding DACs, with nothing negative to report about them. I did have the chance to compare both versions of the DRA KIT against the excellent Ciúnas Audio Supercapacitor ISO-DAC, and I did prefer both versions of the DRAKIT although there was little in with the standard version. Of course the DRA KITs cost more, more than double in the case of the ready-built 'Plus' version, and if you are using a computer source, you will also need a (good) USB-SPDIF converter too. But if you can afford the DRA KITs I think that you will agree with me that they are something special. And at under a thousand pounds even the 'Plus' version is nowhere near as expensive as some other exotic DACs that I would find it hard to believe sound better. So I think that Human Audio have got this project right. They are offering two versions of a DAC that sounds incredible, but doesn't break the bank. The enjoyment of hi-fi as we all know is blighted by the law of diminishing returns, and many have paid huge amounts of money to gain a very slight improvement. The kit version of the DRA KIT Plus costs 183 euros more than a finished Supercapacitor powered ISO-DAC, and that would tempt me as I already have a USB-SPDIF converter. The DRA KITs do sound extremely good, but I recommend that it would be best if possible, to audition one prior to purchase, and compare it to something like an ISO-DAC. You could then decide if the extra cost is justified or not. The standard DRA KIT version sells for 583 euros, or 365 euros without the case and sockets, and is a lot more competitive with the ISO-DAC on price.
As regards the choice of kit or fully-built DRA KIT, I should make it quite clear that there is little to building up the kit, The fully populated PCB simply requires fitting into a case, some sockets added, and their connecting wires soldered to the PCB. You won't need to solder DAC chips to a PCB or solder minuscule surface-mount components. So I commend Human Audio for offering that option, and making a superb DAC available to those on lower budgets.

© Copyright 2019 Nick Whetstone - nick@tnt-audio.com - www.tnt-audio.com
[ Home | Staff & Contacts | HiFi Playground | Listening tests | DIY & Tweakings | Music & Books ]