[ Home | Staff & Contacts | DIY & Tweaks | Listening tests | HiFi Playground | Music & Books ]
Music Hall mmf9 turntable and Creek OBH15 phono preamp
Movin' on up…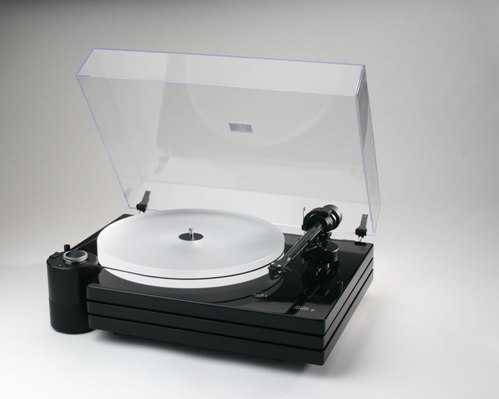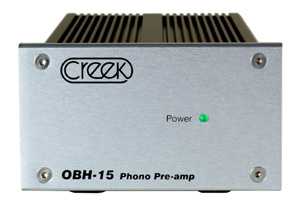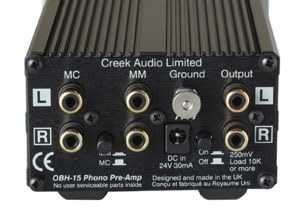 [Italian version]
Turntable and Cartridge
Manufacturer: MusicHall Audio
Price: $1699 USD with cartridge (as tested); $1499 without cartridge.

Phono pre-amp
Manufacturer: Creek Audio
Price: $450 USD

Total package as tested: $2,149 USD
Reviewer: Arvind Kohli - TNT USA
Reviewed: September, 2006
| | |
| --- | --- |
| Speeds | 33 1/3 and 45 rpm |
| Rumble | -70 db |
| Wow & Flutter | <.15% |
| Speed inaccuracy, +/- % | n/a |
| Anti-Skating force | n/a |
| Tracking force | n/a |
| Dimensions (W x D x H) | 18.25" x 13.25" x 7.25" |
| Weight | 40lbs |
| | |
| --- | --- |
| Input Sensitivity | MM 3.5 mV, MC 0.5 mV |
| Input Impedance | MM 47 kohms, MC 1000 ohms |
| Output Impedance | MM < 100 ohms, MC < 100 ohms |
| Output | MM and MC 250 mV |
| THD | MM < 0.03%, MC < 0.05% |
| S/N Ratio | > MM -83 dB, MC -75 dB |
| Dimensions (W x D x H) | 4" x 6" x 2.5" |
| Weight | 13 oz |
Introduction
Onward with my quest to discover the pros and cons of the vinyl format for myself. In this second installment, I step up from the package I tested first in this series (MusicHall mmf 2.1SE, Bellari VP129) to one based on the MusicHall mmf9 turntable. The rest of the setup, provided by the nice folks at MusicHall Audio, consisted of their Maestro cartridge and a Creek OBH15 phono stage.
Products
And what a step up indeed. The mmf9 turntable is the top of the line offering by MusicHall. It features a 2-speed belt drive with an isolated motor. The triple-plinth construction is dampened by four Sorbothane hemispheres separating each of the MDF plys.
From their literature I can summarize the other features as;
- Carbon fiber tone arm
- Optional Music Hall Maestro ($550 value) high-output moving-coil cartridge with VITAL stylus. The cartridge supplied is aligned and mounted by MusicHall.
- Inverted ceramic main bearing.
- Gold RCA connectors with detachable phono cable.
- Adjustable tip-toe feet with anti-scratch cups.
- Dust cover, 45rpm adaptor, and spirit level.
- High-gloss finish. They call it black, but I would say it is a very dark grey instead. Very handsome nonetheless.
The OBH-15 is suitable for use with MM and MC cartridges, and has a separate set of inputs for each type. This would allow you to plug in two types turntables, if you so desired. A switch on the rear panel allows to choose between the two inputs.
The finish matches other Creek products, with a solid aluminum front panel in a silver finish and black chassis.
Listening
Initial impressions were superlative, especially when compared to the mmf 2.1SE that I reviewed a few months ago. I was quite beguiled by this setup and could not stop listening to vinyl. If I was excited to listen to the previously reviewed mmf 2.1SE, then I was absolutely elated to spin a disc on the mmf9.
But I am not sure these initial impressions should be trusted without pause, because I cannot assure you that my mind may not have been biased by the following forces of influence. First, the mmf9 is a beautiful piece of gear, even in comparison to the gorgeous mmf 2.1SE. Secondly, the mmf9 is the top of the line offering by MusicHall and is being compared to their entry level offering, to justify my existence as a reviewer of audio gear I am sure my mind is willing to hear an improvement. At a minimum, I have to be aware and attempt to guard against being biased by such influences; or else I am nothing more than a schlocky copy-writer for the manufacturer.
In order to get a slightly more credible result, I unfortunately had to work a lot harder. To that end, I attempted to conduct some direct comparisons, but there are too many limitations here to consider these tests very reliable. These limitations include; not being able to measure a level matched output from the two packages or being able to repeat/cue up a passage quickly. But what I did do was to listen to the same passages repeatedly as best I could, on each setup. This, of course, is still less accurate than my usual listening method but better than nothing at all.
"First movement"(Symphony no. 5 in e minor, op. 96 "From the new world"; Arturo Toscanini/Dvorak; RCA Victor-red seal; LM1788)
The mmf9 was a fair bit better at holding together dynamic passages. As an aside, I was very surprised at the level of dynamics the two setups displayed as representatives of the vinyl format. My overall impression of the format compared to CD is that the low level dynamics are not as good due to background noise, but high level dynamics are atleast as good and maybe even better.
"Second movement - Largo"(Symphony no. 5 in e minor, op. 96 "From the new world"; Arturo Toscanini/Dvorak; RCA Victor-red seal; LM1788)
Both setups were about even in terms of bass extension, but the mmf9 was better at detail in the lower frequencies. The mmf9 also gave the oboe a more natural voice, whereas the mmf 2.1SE sounded a bit harmonica like in comparison.
"Cartridge/arm resonance test"(Analogue test LP; Hi-fi news)
The resonance peak for the mmf 2.1SE was around 15hz while the mmf 9 was around 11hz.
"Residual system noise"(Analogue test LP; Hi-fi news)
No surprise here, the mmf 9 had a much quieter background. Though I was dismayed by that amount of background noise I head, I accepted it as part and parcel of the format itself [I further crack this nut in my next review in this series, sorry for the cliffhanger - AK].
Another aside for fellow vinyl-newbies; the background noise is significantly higher than a CD player and maybe the toughest thing to overcome when trying out this format. But from an overall prespective, I can already say that the net outcome weighs in favour of the vinyl format.
"Tracking ability – Bands 1,4,8 Side B" (Analogue test LP; Hi-fi news)
Both player passed the first two bands successfully and failed the third (and most demanding) track. There was a discernible difference yet, the mmf 9 was tolerable in the amount of distortion noticed, whereas the mmf 2.1SE failed quite miserably in comparison. Being more specific; what I heard with the mmf 2.1SE was mostly rumble with no more than a trace of of the 300hz tone in the background. Whereas, with the mmf9 I mostly heard the 300hz tone, just slightly masked by a bit of rumble.
Conclusion
I need to refer you back to the article I wrote introducing this series of reviews, in which I set out to discover if I was going to adopt the vinyl format for myself or not. I can conclusively tell you, without going any further, that I will be incorporating a vinyl setup into my audio stable. And it was the mmf9 that convinced me to make the switch.
What remains to be decided, is what system I pick for myself. I will let you know at the end of this series, when I have made that decision.
Another aside to fellow vinyl-newbies; based on this experience it seems to me that the difference in performance levels between $600 and $2100 setups is far greater in the vinyl than the digital format. So I would recommend, that if you are in the market to upgrade your digital setup from a few hundred to a few thousand dollars, then instead plunk that money into vinyl for a much better return on your money.
© Copyright 2006 Arvind Kohli - www.tnt-audio.com
[ Home | Staff & Contacts | DIY & Tweaks | Listening tests | HiFi Playground | Music & Books ]