[ Home | Staff & Contacts | HiFi Playground | Listening tests | DIY & Tweakings | Music & Books ]
Nanomesher Nanosound 2 DAC
Raspberry Pi DAC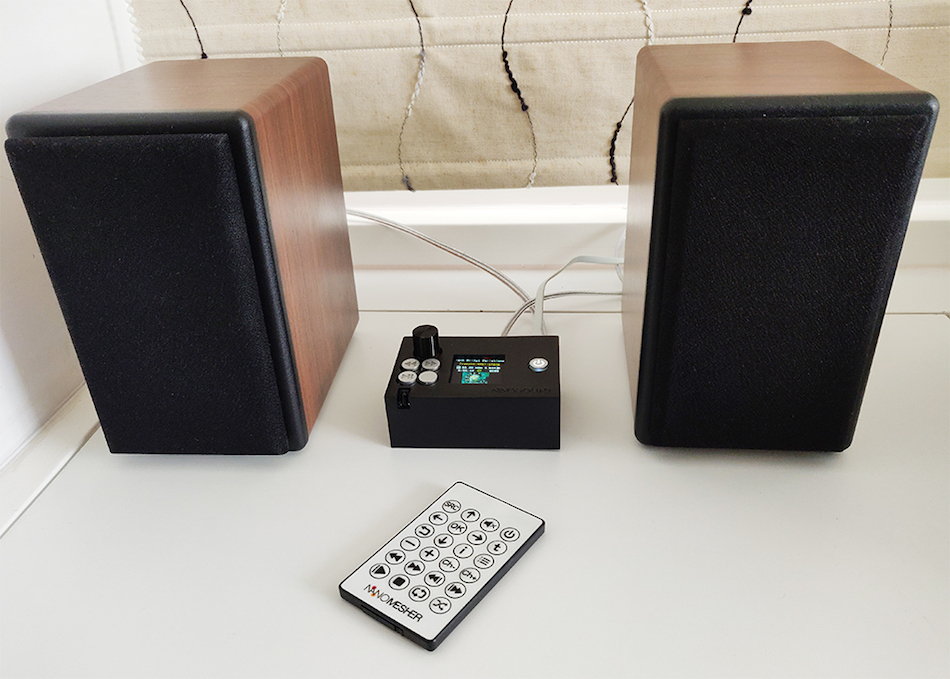 [Italian version here]
Product name: Nanosound 2 DAC - A Raspberry Pi Add-on Board with Hi-Fi DAC
Manufacturer: Nanomesher - USA
Price (approx.): From $ 49.99 - (Currency conversion)
Reviewer: Bevan Court - TNT USA
Reviewed: October, 2019
Introduction
So, this review may well become two parts. I have started writing it and it has become a multifaceted thing that incorporates DACs, Small Board Computers (SBC) for audio, the convenience of digital music, and a review of a software package. On top of that, this DAC board comes with an additional software package that allows you to both play and rip CDs from a USB drive...where to start?
Who ate all the Pis?
I'm going to start with the Raspberry Pi. Trust me, I will review the DAC in time. I will try not to get too technical and boring about these things.
Many people have heard of the Pi, started as a project to get school children interested in computers and now taking a life of its own. I even read an article the other day about how one was used to hack the Jet Propulsion Laboratory network. It costs just $35.
The Pi has many uses, but it has become a favorite of budget conscious audiophiles as a way of getting music into a DAC as it has enough computing power, without needing a massive CPU that requires a fan to cool it.
Just taking a trip around the Roon forum and multiple users swear by it as a Roon endpoint, allowing a server to be run elsewhere, channelling high quality audio to a DAC. For sometime, I was using a Pi with a stripped down version of Linux in just such a role.
However, here we hit an issue with the Pi. It uses the same bus to run Ethernet and USB, so there is a potential for cross talk between the two. This can be improved by using WiFi instead of Ethernet, but there are issues with that being less reliable.
I eventually moved on to the Allo USBridge which uses a different SBC, the Sparky. This solves the issue by having a different bus for USB and ethernet, and also having a USB board that attaches to the expansion board pins (known as a GPIO header) on the board, further isolating the USB. And it sounds great.
However, in the world of computers, things are always changing. The Sparky is not updated to the latest version of the Linux kernel and may not be a long term viable solution.
A growing industry has popped up, building Add-on boards for the Raspberry Pi. Even an on board DAC for the Pi, that uses the GPIO expansion header. What was possible, was to use this header to connect a board with a DAC using the I2S protocol. This is the protocol invented by Philips in 1986 to connect audio devices together. Your CD player in all likelihood uses this same protocol.
There are many of these boards out there. I have wanted to try one for a while, so when Nanomesher asked TNT if anyone wanted to review their latest version, I jumped at the chance while everyone else was making jokes about wanting a different flavour pie.
The Product
So, what does it consist of? At the most basic level it is a GPIO header board with a Texas Instruments PCM5122 - 192kHz Sampling Rate / 24bit Resolution Burr-Brown DAC, with high grade crystals for clocks and other high grade electrical components. It starts at just $49.99.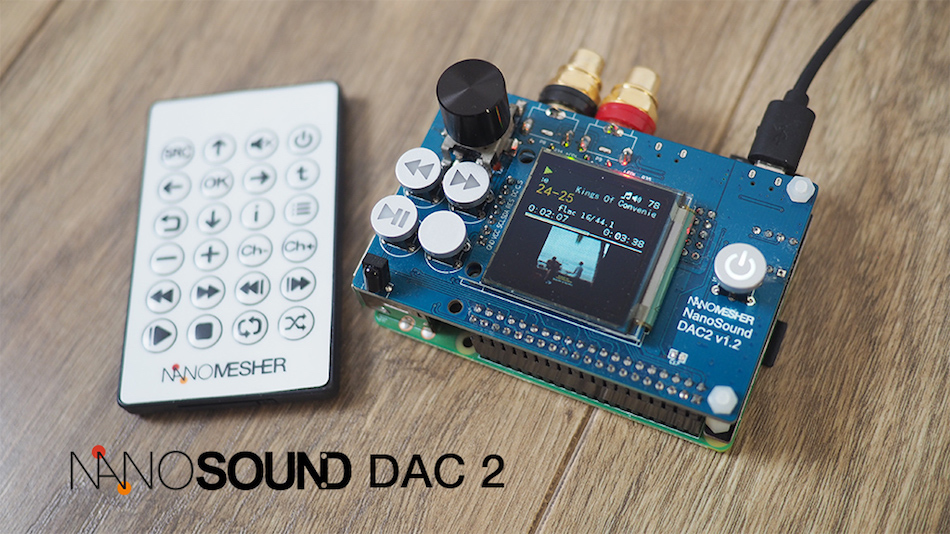 Think of it as a high quality sound card for a Raspberry Pi.
On top of that, it comes in two other versions that includes a screen to display now playing artwork and buttons to navigate track selection. You can purchase it pre-assembled in a case, or like my review piece, it can arrive at your door as just a computer board.
It also has other features, but I will put those off for a later review. Im going to focus on the primary function - getting sound from the Pi to my amp.
So, I dug out my now unused board, etched the Volumio operating system as recommended by Nanomesher. If, like me, you want to enable this as a Roon endpoint, it can be done, but be prepared to learn how to use SSH and do some actual programming. A clear set of instructions on installing Volumio and the Roon endpoint can be found at Darko.Audio This last part is not for your average user and may not be needed as Volumio is an audiophile player in its own right, but is possible if you follow the instructions step by step and want to use Roon.
Listening
So, after my rambling intro, how does it sound? Magnificent. OK, review done, pour another scotch/bourbon/rye and listen to more music.
Oh, all right, I will go into a bit more detail. I have been using the USBridge and Schitt Modi 3 combination for a while now and it has a lovely sound. I have even invested in an Audioquest USB cable and an iFi power supply and iSilencer to get the most out of it. Cost of all this - a little over $430.
The Schitt Modi is astonishing value at $99 - using an AK4490 DAC, it completely trounced the Sabre based DACs in both the PS Audio Sprout 100 amplifier and the Pro-Ject Pre-Box S2, both much more expensive, albeit more complex products.
I found the products with the Sabre DACs to be a little analytical, maybe even cold. The Schitt Modi 3 with its AK4490, came across as warm, detailed and really pleasant. As budget DACs go, I cannot recommend it highly enough.
So how did the Burr-Brown chip compare on this $50 gadget? I popped it onto the Pi, set it up, attached it to the Sprout via some inexpensive Blue Jeans interconnects and gave it a spin.
A couple of hours later, I realized that I had not kept track of anything that I had been listening to, hadn't taken a single note and had a stupid grin on my face. This really wont do, I am actually meant to be reviewing this, not enjoying myself. I tried again.
Over the course of the next week or so, something became clear. The Schitt Modi 3 needed a new home in my office.
It is detailed, the sound stage has good width and depth. But the word that initially came to mind is fluid. It effortlessly copes with complex rhythms, where other DACs that I have heard get a little muddled, trying to keep up with the volume of information and maintain the timing, this DAC just effortlessly delivers everything to you.
In a recent article that Lucio wrote, he described a Yamaha amp as having PRAT (Pace, Rhythm and Timing). Now, a DAC is a little different, it still needs the amplifier to be able to deliver this, but, pace, rhythm and timing, it certainly does possess.
I threw complex music at this, things like the debut Gomez album, Bring it On, that has such complex rhythms, feedback and weird instruments being used, that, on a poor system, it sounds muddy and uninspiring. On this, it fully justifies the Mercury Award that it won back in the day.
Moloko, Morcheeba, even a bit of Page and Plant's Unledded album followed. The wonder that is streaming music, allowed me to go on a little journey of the obscure and less obscure, stopping off at DOROTHY's ROCKISDEAD and heading over to Louis Prima and Phil Harris boogying on through 'I Wanna Be Like You'. After some stops off with some Pink Floyd, I finished on Nina Simone's 'Feeling Good'. A good system will give me goosebumps on this song, the NanoSound delivered.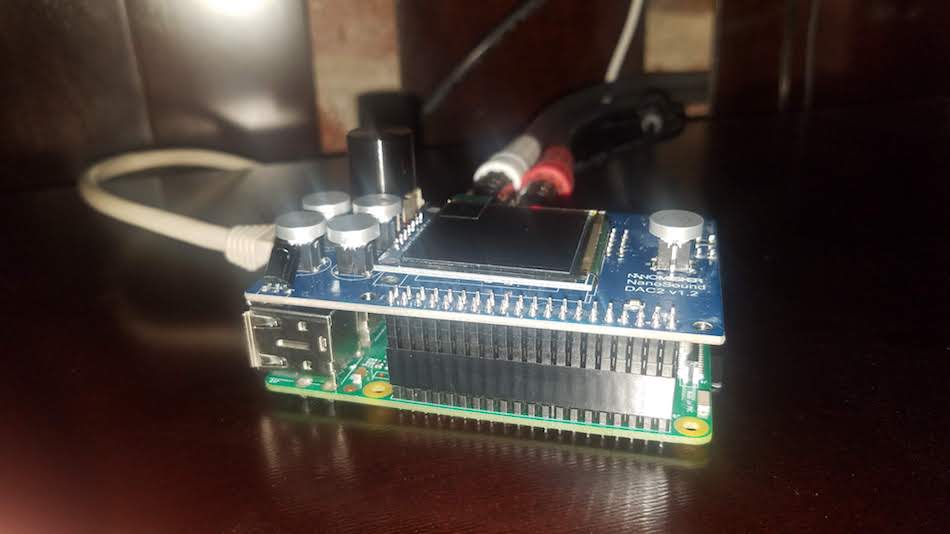 Conclusion
This is not perfect by any means. You do need to be a little computer savvy to get it working, though the more expensive packages may help as they come pre-assembled with a Pi in a case. Getting Roon to work on it is not for the faint hearted either, however, it is worth it.
Please don't get me wrong - I love the sound of this DAC, there is just a learning curve to access the full potential. One that, for me, was well worth the effort.
I have been wondering for a while how much of the sound of a DAC is in the chip and how much is in the electronics needed to connect to the USB, Coaxial or Toslink source. The interesting thing with the NanoSound board and others like it is that they use I2S, the signal path is as short as it can be and maybe that helps.
It has long been suggested that neither SPDIF or USB is ideal as a communication method for audio, both have their limitations and there is no standard for I2S in separate components.
I feel that I now need to compare it against some of the other options that utilize the same architecture. Possibly some that use Sabre and AK DACs. Just to be fair and complete you understand.
Oh, and I need to review the way that this integrates into Volumio, and allows you to connect an external DVD drive for ripping and listening to CDs. Something tells me that I may enjoy this!
DISCLAIMER. TNT-Audio is a 100% independent magazine that neither accepts advertising from companies nor requires readers to register or pay for subscriptions. After publication of reviews, the authors do not retain samples other than on long-term loan for further evaluation or comparison with later-received gear. Hence, all contents are written free of any "editorial" or "advertising" influence, and all reviews in this publication, positive or negative, reflect the independent opinions of their respective authors. TNT-Audio will publish all manufacturer responses, subject to the reviewer's right to reply in turn.

© Copyright 2019 Bevan Court - bevan@tnt-audio.com - www.tnt-audio.com
[ Home | Staff & Contacts | HiFi Playground | Listening tests | DIY & Tweakings | Music & Books ]