[ Home | Staff & Contacts | HiFi Playground | Listening tests | DIY & Tweakings | Music & Books ]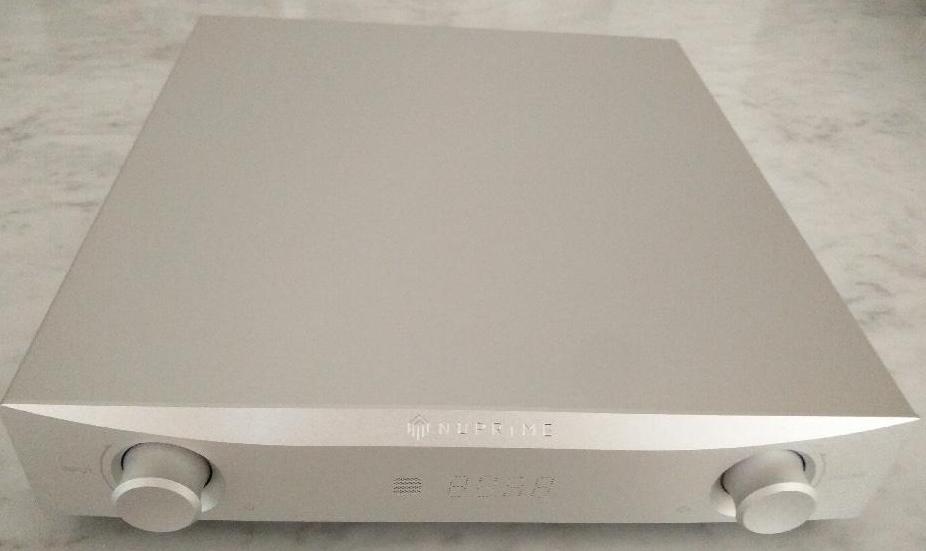 Product: NuPrime CDT-8 Pro & DAC9 - CD transport and DAC/preamp
Manufacturer: NuPrime - USA
Sample kindly supplied by: AudioGraffiti
Approx. price: 795€ (CDT-8 Pro) - 845€ (DAC9)
Reviewer: Lucio Cadeddu - TNT Italy
Reviewed: November, 2018
Foreword
This is the first time we are reviewing a NuPrime product but, actually, we've been following Jason Lim's (NuPrime co-founder) career since his early days at NuForce. In 2014, Jason bought the assets of NuForce's high-end division, and founded NuPrime Audio, Inc. Since then, NuPrime have been developing new products and not only Class D amplifiers: as well as DAC and headphones amps, wireless and home theater components, players and media servers, and, hear hear, even a pure CD transport! Anachronistic as it may be, there's actually some kind of revival of CD players and CD transports, despite the flood of network/media players. I was curious to test a pure CD transport, so I asked Jason (and NuPrime Italian distributor, AudioGraffiti) for a test sample. In order to make the test more meaningful, I asked for their entry-level preamp/DAC as well, the DAC9. Both components retail for ±800€ each. Considering the DAC9 is also a full-fledged preamplifier, this means that for less than 1600€ you can purchase a CD transport, a DAC, and a preamp. Not bad.
A closer look
Let's start with the CDT-8 Pro. Well, it is not a standard CD transport. Indeed, it offers several unique features. First, it is a pure CD trasport. No DVDs, No SACDs, No Blu-Ray. It will play the CD layer of a SACD and that's all. Secondly, the 16/44 extracted from a standard CD gets upsampled to megahertz, using the very same words of the NuPrime literature. Then you can choose to downsample it to standard 16/44 or try different sampling rates: 48kHz, 88.2kHz, 96kHz, 176.4kHz, 192kHz, 352.8kHz, 384kHz, 705kHz, 768kHz, DoP64, DoP128, DoP256, and that's DSD over PCM for short. For more infos on DoP please see here.
Of course, in order to exploit this huge offer of different sampling rates/resolution you need a DAC which is capable of decoding them. And here the DAC9 comes into play. NuPrime SRC IC chip provides FPGA processing where input signals are up-sampled to megahertz before being down converted to the targeted sampling rate. Then the D/A conversion is supplied by the 32-bit Stereo DAC AK4490 by AKM, which supports USB PCM 384kHz and DSD256 as well. Finally, a proprietary NuPrime implementation is capable of decoding DoP formats via coaxial and optical inputs. If that sounds too dark to you, don't worry. Just connect the CD trasport to the DAC, select the sampling frequency you desire with the SRC function on the CDT-8 Pro remote and you're done. Of course, these two components can work equally well as stand-alone units: the CDT-8 Pro transport will work with ANY other DAC, even the oldest ones with a simple 16/44 conversion. It offers many digitals outputs:
Optical: up to 24bits/192 kHz (DoP64)
Coaxial: up to 24bits/768kHz (DoP256)
HDMI (low jitter) I2S: up to 24bits/768kHz (DoP256) [this I2S output is for connecting with other NuPrime products and may not work with other devices]
AES/EBU: up to 24bits/768kHz (DoP256)
Other noticeable features include:
An ARM chip LPC2103F CD that reads, writes and controls error correction
Philips SAA7824HL laser that reads/writes head control and decodes chips for CD transport
Finally, the CDT-8 Pro transport reads CD at single speed (1X) to minimize vibration and deal better with unbalanced discs. It comes with a (pretty ugly!!!) black aluminium remote that controls almost everything (even the selectable sampling rate) but can't give the owner direct access to tracks, as there's no numeric keypad. Just press play and select next/prev.

The DAC9 is a fully-featured DAC with any kind of digital input: USB PCM/DSD Digital (PCM up to 384kHz & DSD up to DSD256), S/PDIF (PCM up to 192kHz supporting DoP format DSD64), optical (PCM up to 192kHz supporting DoP format input DSD64), Bluetooth or WiFi receiver module (available as optional), AES balanced XLR. But, it is also a preamplifier, with an extra analog stereo RCA, intended for connecting a phono preamp, a CD player or any other analog source. It also offer several outputs:
1 x pair of stereo RCA out (max output 4V)
1 x pair of stereo XLR balanced out (max output 8V)
1 x Optical S/DPIF out
As a preamp, it makes use of a FPGA implemented switched-resistor ladder network for controlling volume. This means that just a single resistor is in the signal path at any volume setting. The volume is individually adjustable, for each input, in 99 0.5dB increments.

Both the CDT-8 Pro and the DAC9 are very small and lightweight units: the DAC9 is 235 mm (W) x 281 mm (D) x 55 mm (H) (including feet) for 2.3 kgs, while the CDT-8 Pro is 235 mm (W) x 281 mm (D) x 55 mm (H) (including feet) for 2.1 kgs. Available finishes: silver and black.

For more complete tech specs please refer to the official website.


CDT-8 Pro (above) & DAC9 (below)
Digitally yours
First of all, the transport is a smooth operating unit: it loads the disc quickly, reads the TOC in a snap and accesses tracks nicely fast. The fastest operating CD transport I used was a CDM-1 installed on a Wadia transport and the second one (very close) was the Linn Mekk. This CDT-8 Pro is very, very close. A joy to use. SRC operation, for browsing through different sampling rates, is fast and easy. The unit seems immune from acoustic feedback and it reads without hesitation even non-perfect CDs. Compared to other transports I have at home, it delivers a firm and tight bass, while the rest of the audio range is detailed and precise. When coupled with the DAC9 it helps building a very nice "digital player" combo that can rival with high range integrated CD players.
Of course, the unit responsible for the good sound of this pair from NuPrime is the DAC9. The preamp section is very transparent and neutral, with no trace of euphony. In order to evaluate the preamp section one should use the analog input, which isn't processed by the D/A section. Some other pre/DAC applies an A/D conversion to the analog inputs, then decodes back into analog, adding a pretty useless double A/D - D/A conversion. However, with the DAC9, if you connect a phono preamp, you are sure your precious analog signal from the turntable isn't transformed into digital!
As for the DAC section, I'd rate it as rather neutral, with a slightly forward mid range. Voices are crystal clear, with a full body when required. From time to time they seem to lack some pathos but I believe this is just a desired effect. Do not forget this DAC is claimed to be an "affordable reference class DAC designed for studio professionals" hence some trace of monitor-like sound isn't surprising at all. If you wish to discover hidden details and nuances in the mid range, this DAC will help your investigation! The high range isn't up-front, though. On the contrary, the top end is rather smooth, almost warm. Cymbals, for example, are less splashy then they should be. This is a welcomed gift, as an up-front high range, paired with the monitor-like sound of the mid-range, could have been "too much of a good thing". This way, thanks to a rock solid, tight bass range, the sound is precise but not fatiguing. Bass lines are extremely well articulated and even the lowest octave has plenty of energy and control. Percussions and drums are powerful and full bodied.
Generally, the sound appears as harmonically rich, lively and realistic. Sometimes, with lesser recordings, there's some trace of harshness, but this is the price to pay for that monitor behavior.
Micro & macro dynamics
The sound is dynamic, fast and controlled. You shouldn't expect explosive dynamic jumps but do not forget the DAC9 is a pre/DAC combo that costs 800€! A certain "big sound" is available on higher-end components only. In a word, I'd summarize saying the sound appears "compact", if you understand what I mean. In some sense, the monitor behavior affects (or enriches, if you prefer) the dynamic performance of this component.
The CDT-8 Pro/DAC9 combo certainly sounds lively, involving and energetic. For this reason, it feels at home both on rock and symphonic tracks, acoustic and jazz musical programs. It delivers its best when reproducing drums and percussions, thanks to a fast and punchy performance.
3D soundstage
The soundstage isn't exactly "big", though it is geometrically correct in terms of proportions (width/depth/height ratios). The focus of the 3D image is extremely clear and stable. Sometimes it stage appears a bit forward, and some extra depth of the image would have helped taming this attitude. Generally, the image is free to float around the speakers, a remarkable performance considering the price tag. Despite the monitor-like sound there's no trace of the unnatural "wall of sound" some monitor/pro speakers create, for example.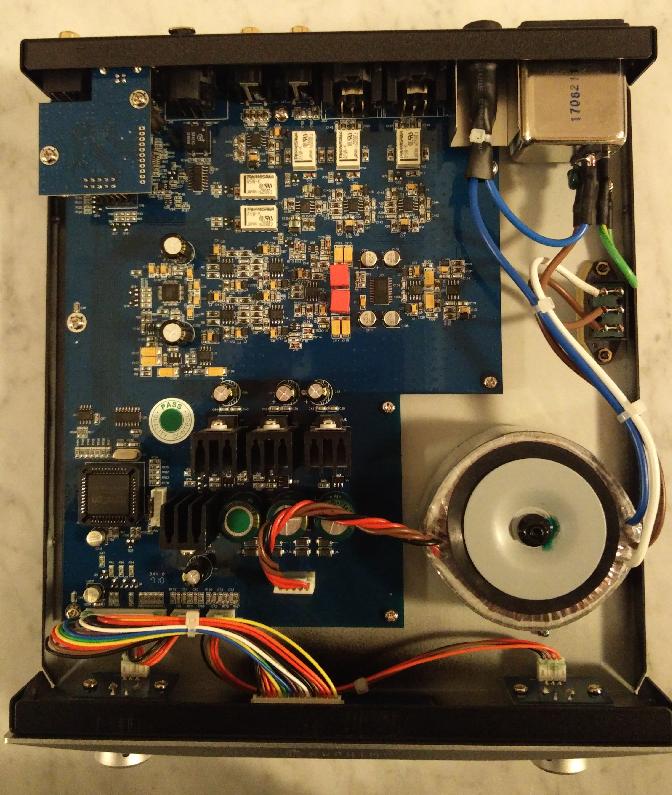 NuPrime DAC9 - inside view
Complaints
Manufacturing & finish.
I have no serious complaint, actually. The quality of manufacturing and finish are adequate to the cost of the components. Being smaller than the usual HiFi rack size they might be trickier to install, but you can easily stack one over the other (DAC above, CD transport below) to save space and add some anti-vibration mass to the top cover of the CDT-8 Pro. The remote of the DAC9 is nice, though a bit "cheap". The remote of the CDT-8 Pro, despite being made out of aluminium, is heavy and ugly. Moreover, its appearance and style has nothing to share with the sleek classy look of the CDT-8 Pro. Gone are the days of the beautiful, hexagonal aluminium remote of the NuForce P-9 preamp! C'mon NuPrime, you can do better :-)
A numeric keypad on the remote might help browsing the tracks of a CD, too. Since the "next" function isn't lightning fast, while trying to skip from track 1 to track 10 you might press the button a wrong numbers of times, if you follow the (slow) progress of the tracks on the display. Generally, I'd rate the quality/price ratio of these two units as rather high: 100% substance and 0% frills.
Sound.
Together, these two components form a pair which is very interesting, gifted, as they are, by a quite high perfomance/price ratio. The sound isn't exactly emotionally involving, but it is precise and transparent. The "warm" tonal balance in the highs might sound inoffensive to some listener, but it helps making any recording highly listenable in the long term. If you are looking for an extremely detailed and bright sound, you'd better look elsewhere (the DAC10, perhaps?). Generally, it seems to lack the natural breath of other digital players, but these units, especially the DAC9, have been designed for studio professionals (as claimed by NuPrime) so precision in the mid range had to be the keyword.
Some advice
Feel free to experiment with various sampling rates, it might be a nice exercise for your fingers and ears :-) Personally, I believe that once the information is lost because of the RedBook format restrictions (16/44) there's nothing on Earth that can recover/improve it. You can interpolate, between bits, upsample and then decode the DoP stream...but it is very hard to detect differences. Perhaps the DSD settings are a bit smoother but how can these be more real than the real thing that has been recorded on the CD in 16/44 format? That's the real question.
Also, feel free to experiment with different power cords and feet, even though the "patent-pending" ones which come with the units seem to do their job quite nicely.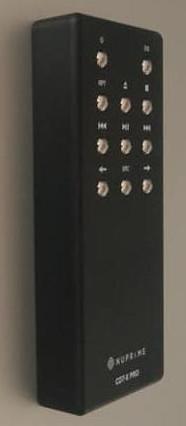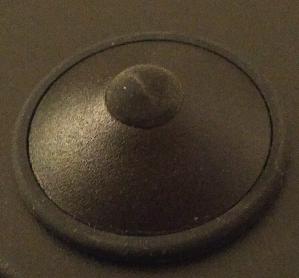 DAC9 remote (left) - CDT-8 Pro remote (center) - sexy nipples...err...damping feet (right)
Conclusions
This pair CDT-8 Pro amp; DAC9 is what I'd call a "high-end" bargain. Wisely priced, they have virtues and features that are uncommon in their price range. For less than 1600€ you get three components: a very good CD transport, a DoP capable DAC and a very nice and transparent preamplifier with multiple digital inputs and one fine analog input, all packed together in a small and sleek combo. Could we ask for more?

© Copyright 2018 Lucio Cadeddu - direttore@tnt-audio.com - www.tnt-audio.com

[ Home | Staff & Contacts | HiFi Playground | Listening tests | DIY & Tweakings | Music & Books ]