[ Home | Staff & Contacts | HiFi Playground | Listening tests | DIY & Tweakings | Music & Books ]
Stanley Engineering - Wood and Carbon Cartridge Upgrades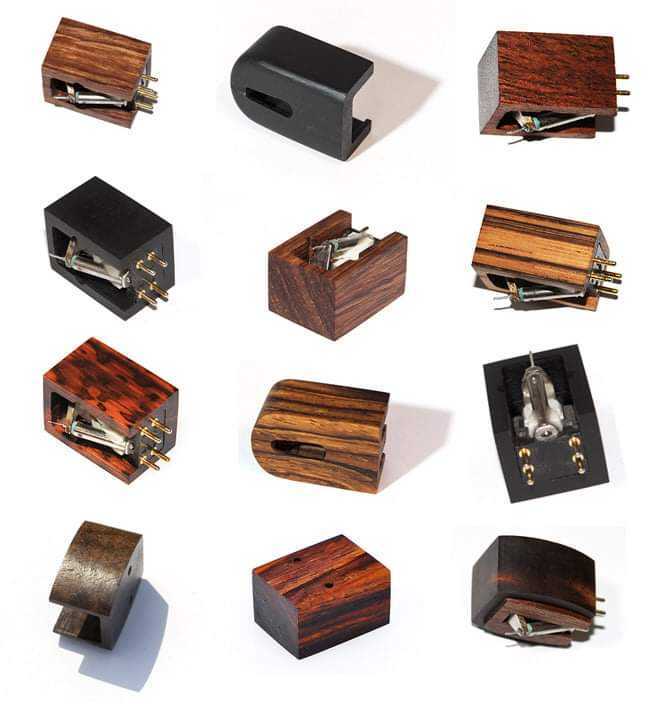 Cool jacket, warm sound
[Italian version here]
Product: wood and carbon cartridge upgrades
Manufacturer: Stanley Engineering - Germany
Price: prices range from about € 37 to around € 129, by cartridge model and wood - (Currency conversion)
Reviewer: Richard Varey - TNT New Zealand
Reviewed: February, 2020
I've been investigating some visually very attractive and reasonably-priced wood bodies for popular pickup cartridges and carbon accessories for high-end turntables. Close inspection of all but the ultra-expensive phono pickup cartridges reveals mass-produced plastic or metal body casings and mounting parts on most. On the other hand, there are exquisite hand-made cartridges with wood housings. I've seen wooden-bodied cartridges from Grado, Benz Micro, Ortofon, Clearaudio, and Koetsu.
How about a wood jacket/sleeve upgrade? All of the exotic wood products made by Stanislav Guk of Stanley Engineering look lovely. He also makes tonearm and cartridge accessories. So what happens when a cartridge is stripped of its plastic mounting and modified by fitting it into a custom-made wood body?
I asked Stan what effect I should expect when modifying my cartridges with his "bodies": «The same as other accessories made of wood for turntables, very subjectively but generally, a superior sound by helping to reduce vibrations and treble distortion, and bass coherence will be drastically improved, as well as the midrange gets more vivid color than before - the whole sound is more musical and "warm".»
I asked Stan how he makes the wood bodies - they are one-piece with no joints or glue, carved from a single block of exotic wood, except the closed type bodies for the Denon DL103: «It's about 60% CNC machined, then 20% sanded, 10% polished, and 10% fitted and adjusted on an original cartridge with a tolerance of 0.05-0.1 mm to get the best result. I would say my products are custom-made (hand-made) because some curves or adjustments can only be made manually.»
Stan has a video on his YouTube channel in which he shows a range of body options.
I was able to borrow a Shure V15VxMR (Stan told me that the M97xE is the same size, and he makes a jacket for that model), and I have an Audio Technica AT95E which he also caters for in his range. Stan supplied samples for these cartridges. The wood used for the V15VxMR upgrade is Cocobolo (€ 52) and for the AT95E it's Ebony (€ 49).
He shows fitting a new body to a Shure V15 III here:
A new body is fitted to an Audio Technica AT95e here:
I asked him to tell me about his products.
«The wooden bodies help to create a warm and organic sound from your cartridges and produce more natural harmonics in music. That's why wood is a better choice in producing beautiful music from guitars, violins, and pianos, and not aluminum or plastic or some other material. Almost all instruments are made of wood. For example, the Denon 103(R) and Shure V15 are iconic cartridges. This inexpensive wood body upgrade will reveal the hidden potential of this timeless line of Denon and Shure cartridges. There is really no other single inexpensive upgrade that yields as much improvement for such a little cost. The same effective upgrade can be performed for most of the popular and favorite phono pickups like Audio-Technica, Nagaoka, Benz-Micro, Decca London, Tonar, Stanton, Elac, and thatís exactly what I do.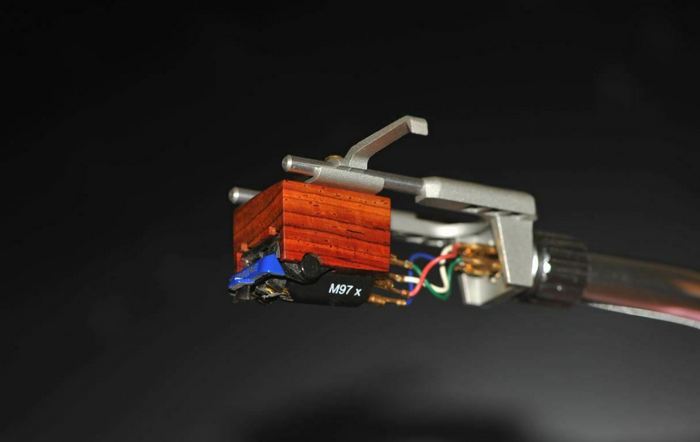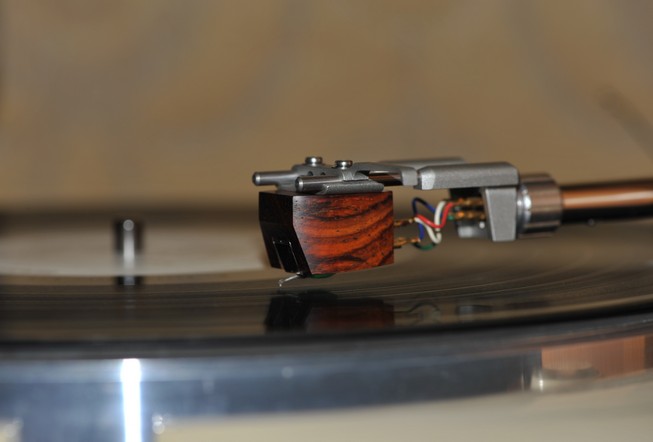 The choice of wood art depends on the music style you like and the design of your whole system. For example, you can choose Ebony or Cocobolo wood, depending on the design you want, conservative black color or beautiful wood figures. Both are perfect and more neutral sounding wood arts, matching with all music genres. In my subjective opinion and based on tests I made, the wood bodies made of Mahogany, Walnut, or Teak would be more suitable for jazz music, because of the lower density of the wood - it animates the bass, makes wind instruments sound more expressive, and keyboard instruments come to the fore. I'm very interested to experiment with the wood bodies, trying to find the wood arts which will best match with your favorite music genres and bring your vinyl listening on to the next level.»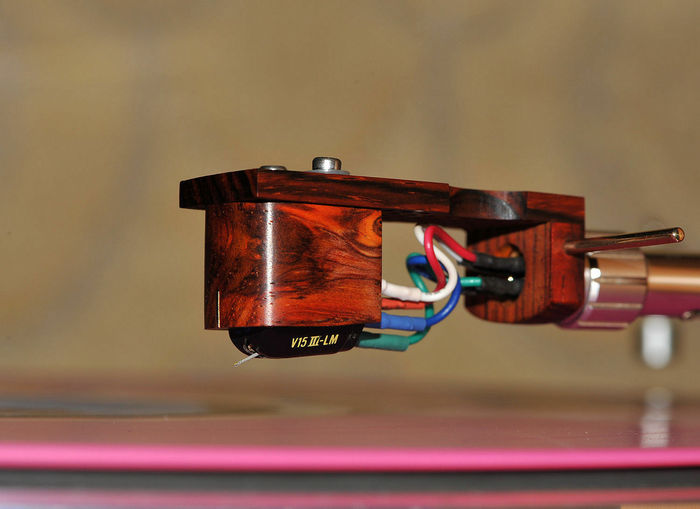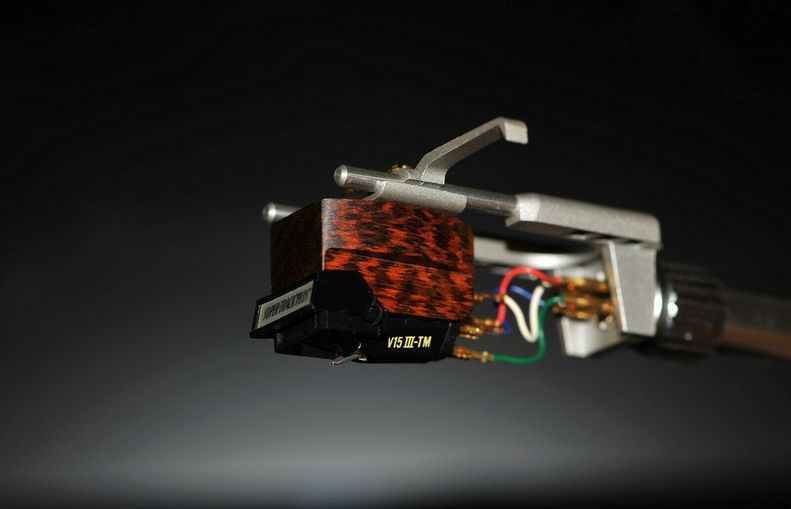 The "bodies" received for the audition were visually perfect and beautiful in appearance, each provided with small bolts for headshell mounting. I approached the modification of my cartridges a little nervously as attacking them with a screwdriver or craft knife seemed a bit brutal for such delicate components, and maybe somewhat risky. However, the demonstration videos show exactly how to remove the original mounts, and I was surprised how easy it was to do this. Stan has several videos showing the fitting of new outer bodies to various cartridges. Most popular cartridges are catered for with several beautiful wood options.
I had a concern that the additional weight might cause mistracking, but at only 2.5 g additional (the "body" weighs just 3.8 g, and the original mounting having been removed), all that was necessary for the AT95e was a minor adjustment to the counter-balance and anti-skate settings on my Amari LP-32S arm/turntable. I forgot to weigh the modified V15 before mounting it to my The Wand Plus tonearm on my The Wand 14-4 turntable.
I've enjoyed listening to records for this audition very much indeed. There's plenty of rich weight and detail, and a general natural tone, with plenty of bass that is easy to follow, whilst drums have heft and clarity, and cymbals sound suitably metallic. Voices sound real. I agree with Stan that the sense of enhancement is subtle.
I'm keen to understand how putting a wooden housing/mount around a metal or plastic casing can affect the sound quality. In forum discussions, a common view is that since phono playback is entirely mechanical from the turntable platter rotation, through the tonearm, to the pickup cartridge stylus, and finally the cantilever carrying the coil, until the electrical signal is carried from the cartridge, any form of vibration other than that of the cantilever as the stylus traces the record groove can alter the output.
The explanation for how these mounts affect the sound quality of the cartridge output relates to such micro-vibrations. I'm surprised by the claim that different woods of various densities/weights are suitable for various genres/styles of music and instrumentation. I love the upgraded appearance of my cartridges, though - both now visually superb. These are creations of beauty, and they are excellently made by a craftsman, and easy to add to a cartridge. For that reason alone, and at the prices charged, they are worth trying if you are looking for an attractive tweak to your record playing setup.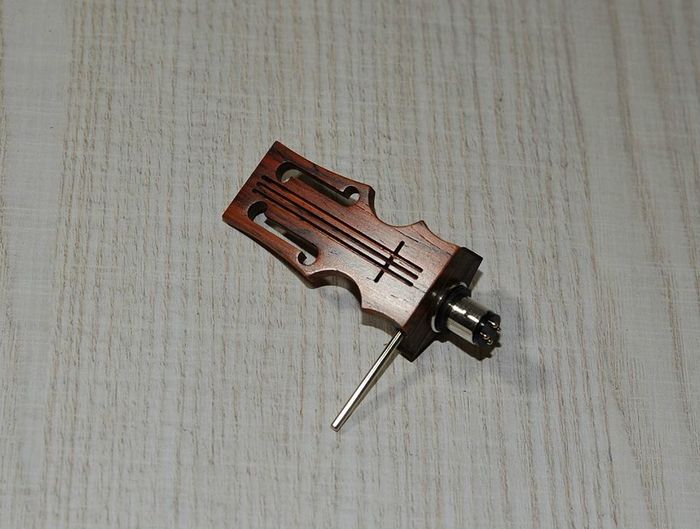 DISCLAIMER. TNT-Audio is a 100% independent magazine that neither accepts advertising from companies nor requires readers to register or pay for subscriptions. After publication of reviews, the authors do not retain samples other than on long-term loan for further evaluation or comparison with later-received gear. Hence, all contents are written free of any "editorial" or "advertising" influence, and all reviews in this publication, positive or negative, reflect the independent opinions of their respective authors. TNT-Audio will publish all manufacturer responses, subject to the reviewer's right to reply in turn.

© 2020 Richard Varey - richard@tnt-audio.com - www.tnt-audio.com
[ Home | Staff & Contacts | HiFi Playground | Listening tests | DIY & Tweakings | Music & Books ]