[ Home | Staff & Contacts | HiFi Playground | Listening tests | DIY & Tweakings | Music & Books ]
Temaad Audio turntable and arm kit 2 – Part I
Funny DIYing!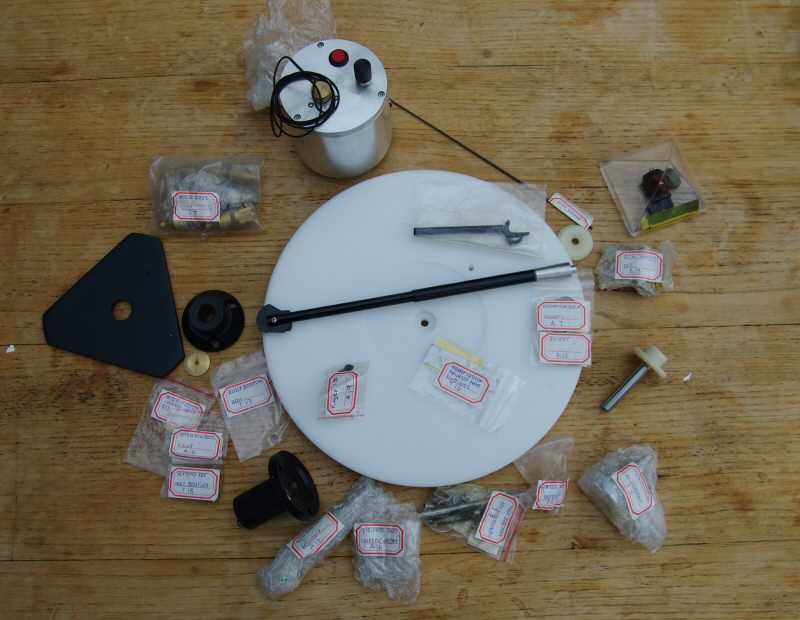 [Italian version]
Product: Temaad Audio turntable and arm kit 2
Manufacturer: Temaad Audio - China
Cost, approx: approx $500 (US) (YMMV)
Reviewer: Geoff Husband - TNT France
Reviewed: February, 2013
Introduction
I've been heavily into turntables for 30 years now and have have tried just about every type on the planet. But something has become clear and that is that the solid plinth turntable, once derided by 'Linnies' has an awful lot going for it. My current favourite turntable being the Blackbird reviewed on here.
One of the nice things about such designs is that they are essentially very simple, and thus simple to set up, though of course the sky is the limit when designing the plinth, both in terms of exotic materials and various damping ploys. But look at many turntables and when you ignore the chrome, or the piano lacquer, or slab of marble, they are essentially a motor, a bearing and a platter attached to a lump of... something...
This simplicity means that such a turntable is relatively easy to DIY and many have tried, and likewise many have supplied components like platters and bearings for the hobbyist. The trouble is that many of these components are pretty pricey – certainly well beyond entry level turntables like a Rega 2, so when I learnt of the Kit supplied by Temaad Audio at a very reasonable price I decided to contact them and see if I could get a kit from them to try.
The result was that not only a turntable kit came, but also their 12" unipivot arm kit – a complete kit turntable and for Rega 2 money – interesting...
What do you get?
As I said, a solid plinth turntable is simple, and in this case Temaadaudio supply absolutely everything apart from the plinth itself. It all looked a bit daunting but really a quick glance at the supplied instructions showed that assembly should be no more difficult than some fully built turntables I've had delivered!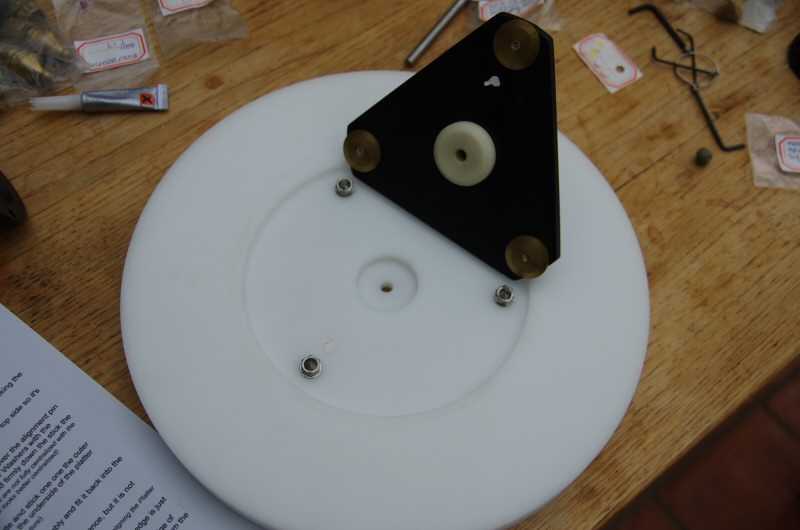 Not only is a motor supplied, but this is ready fitted into it's alloy pod, ready to go. In fact it's an excellent replacement motor for any turntable using a stand-alone motor as it is easily adjustable. It's also nicely put together – not luxury, but well finished and workmanlike.
There's a conventional bearing and housing, but this runs on a true ruby ball-bearing – it's a fine fit and well finished, following Roksan practice of being long and thin rather than massive.
The platter is a white acrylic affair – nicely heavy and well finished - this sits on three adjustable points onto the platter carrier.
The kit also contains adjustable brass feet, the required belts and alignment protractors.
Now I don't exaggerate when I say that you could buy a big chopping board (one of those bamboo jobs would be ideal), drill holes for the main bearing and have the whole turntable built and running in about 3 hours! After all you'd already have something better finished and more sophisticated than most entry-end quality turntables.
But that would be a terrible waste.
You see here we have the opportunity to do something special, or even do quite a few special things and run them back to back to see what works. You could make a 'sand-box' type plinth that would be hugely damped, or a multi layer plinth with layers of different material separated by lead sheet, rubber, Sorbothane whatever. You could have sophisticated cut plinths, or even make up your own subchassis. And perhaps most interesting, if you are making a big plinth why not make a two arm turntable? And of course because you are not doing anything destructive to the kit, you can even start with a quick 'bread-board' and then make different and more complex plinths as time goes by - in effect your very own upgrade path! And whilst on the subject there is nothing to stop you buying extra platters to 'stack' them, or indeed run two or three motors - Temaadio will supply anything you wish and have many examples of such extreme designs. They also seem to be developing a small line in other hi-fi equipment - amps, speakers and phono stages to keep the most obsessive hobbiest happy...
The world is really open to you because the Temaad Audio kit gives you the basic, good quality building blocks.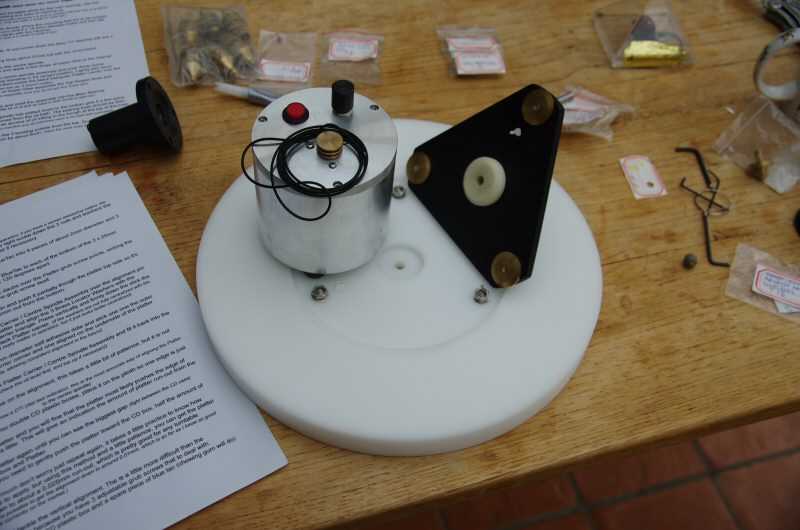 That Arm
Which brings us to the arm. I've long been convinced by 12" arms but they are invariably expensive and need a compatible turntable. Well with this kit you get a 12", carbon fibre armtube unipivot for less than any built up arm. It slots together – again it's an hour's work tops – looks OK in a workmanlike way rather like the Morsiani and has some rather interesting features – not least the use of a glued cartridge mounting rather than bolts. The only remotely technical difficulty is that you have to wire and solder the arm. This is pretty basic stuff and most of us will have a friend who can do it if we're not capable, but other than that both arm and turntable are child's play to build. You'll also need some form of VTF measure, but they are cheap as chips and you aught to have one anyway:-)
Part 2
Of course given the possibilities it was inevitable that I'd get excited about this and so rather than a plank 'my' turntable is going to be something special. Time to get the band-saw and router out I think.
To see how that goes you'll have to wait for Part 2.
© Copyright 2013 Geoff Husband - geff@tnt-audio.com - www.tnt-audio.com
[ Home | Staff & Contacts | HiFi Playground | Listening tests | DIY & Tweakings | Music & Books ]