[ Home | Staff & Contacts | HiFi Playground | Listening tests | DIY & Tweakings | Music & Books ]
Wyred4Sound DAC-2 USB DAC
Digital versatility
[Italian version]
Product: Wyred4Sound DAC-2
Manufacturer: Wyred4Sound
Cost: 1250 UK pounds. (YMMV)

Reviewer: Nick Whetstone - TNT UK
Reviewed: March, 2011
After a run of three CD players, I found myself with the same number of USB DACs to review. I must admit, I do find the world of PC-based audio quite exciting as that's where the real advances in stereo reproduction are being made in my opinion. So I'm always happy when something like the Wyred4Sound (W4S) DAC-2 arrives at Chez-Nick.
The USB DACs that I have reviewed to date are mostly small items, indeed it would be accurate to describe one or two of them as pocket-sized. The DAC-2 certainly won't fit in a pocket (unless you are a kangaroo who doesn't mind an uncomfortable load). On the contrary, it weighs in at a hefty 4.6 kilograms, is 33cm long, 21.5 cm wide, and 11cm high (including the feet). So first off, a big tick to the designers for making it fit on half a standard hi-fi shelf!
As regards its appearance, I find it a little industrial. The grey metal case reminds me of an office filing cabinet, although this is somewhat tempered by the thick aluminium side cheeks that add some character to the front view. Between those cheeks is a small digital display, and three buttons that control the operation of this DAC, including the volume level, and custom settings of its various playback modes. Yes, that's right, modes as in the plural because the DAC-2 is a very versatile beast. Apart from working as a USB DAC, it will accept SPDIF, Toslink, AES/EBU, and I2S. In other words pretty much anything that any current digital source can throw at it.
The back of the DAC-2 is a technophobe's worst nightmare, although even they should recognise the IEC mains socket and switch. Next to that are two small jack sockets, one marked 'HT Bypass, 12v DC Trigger in'. The other isn't marked at all. More familiar are the two SPDIF sockets (both RCA/phono and surely one of them could have been BNC), four more RCA/phono sockets for the audio output, a USB input socket, two Toslink (digital optical) input sockets, an AES/EBU (XLR) digital input socket, and an I2S digital input socket. Oh, and I nearly forgot the two XLR balanced audio output sockets. That's a pretty comprehensive range of socketry, and clearly the designers intended the DAC-2 to be as versatile as they could possibly make a DAC.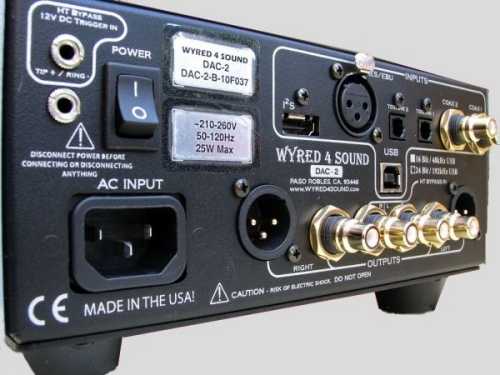 Inside, the DAC-2 has its own very substantial power supply boasting no less than 88,000 microfarads of capacitance. For those of you who are not technically-minded, this is typically four times the amount of power storage that you will find in many power amplifiers, and in theory, a USB DAC will require a tiny fraction of the power of a power amplifier. The DAC chips itself is the ES9018 32-bit 'Sabre', then there is ESS Time Domain jitter reduction, and a discrete output stage, ie no opamps. I'm not going to attempt to explain the full technical workings of this DAC as I hardly understand them myself, and for the most part would be simply quoting numbers that wouldn't mean anything to the majority. What I will say is that the DAC-2 is an asynchronous DAC that simply put means that it controls the transfer of the data between computer and DAC, rather than letting the computer take control. This ensures that the transfer is more accurate in terms of reducing jitter.
After that it all gets very confusing with the DAC-2 referred to as a 24/192 kHz DAC, while the USB input is labeled as 16 bit/48 kHz and 24 bit/192 kHz, with no explanation of the two symbols in the user manual. I'm not one to let that sort of detail bog me down though so I hooked the DAC-2 into the system but without connecting the USB cable to the computer. That's because the custom drivers for the DAC-2 need to be installed on the PC first. Up until this review, I had mostly used Ubuntu for my USB DAC reviews but currently there are no DAC-2 drivers for LINUX based operating systems, so it was back to Windows XP.
Installation is very straight forward, you simply insert the driver CD in the drawer of your optical drive, open Windows Explorer (if it doesn't open automatically) navigate to the appropriate folder for your operating system, and double-click on the install icon. I've found from experience that it is as well to have options for the playback software in Windows as what works with one USB DAC/soundcard may not work with another. For instance, WINAMP with the ASIO plug-in worked OK with the a DiyHiFiSupply CLEO USB DAC but wouldn't recognise the DAC-2.
The DAC-2 was recognised by J River Jukebox, but that doesn't appear to use ASIO, instead offering something called Direct Output that appears to bypass the kmixer output native to Windows that we need to avoid (as it messes up the signal). I also tried Foobar 2000, again with its ASIO plug-in, and that did recognise the DAC-2. If you haven't dabbled with this sort of equipment, you can see how complicated it can be to set up something like a USB DAC to run optimally, although the typical user is unlikely to have the added complexities of trying to run so many different items through the same computer.
The DAC-2 comes with an instruction booklet that covers the installation of the drivers and a few other issues. But it was far from comprehensive, and the user will probably need a bit of trial and error, as well as the guide, if they want to fully explore all the capabilities of this DAC.
For the review I placed the DAC-2 into a system consisting of a PC, and the ONIX A55 amplifier driving some modified Mordaunt Short Pageant II speakers. Once I had determined the best playback system from the PC, I was able to sit back and enjoy the music. The initial impression is that the DAC-2 is a very capable piece of equipment and there is nothing to complain about as regards sound quality.
It produced a large sound stage that was precise and detailed. Bass was adequate, and top end bright and detailed without being tiring. I ran some of my usual test tracks through the system and recorded the following notes.
Ennio Morricone, 'A Fist Full of Dollars' - the sound effects were very clearly portrayed.
Pink Floyd, 'Dark Side Of The Moon' - Deep tight bass. Drum hits more clearly defined. Everything held together precisely when the music gets 'busy'.
Van Morrison with John Lee Hooker , 'Gloria' - bass lines well defined, good distinction between Morrison and Hooker vocals.
Talvin Singh, 'Vibraspace/Monsoon - bass tight and deep, everything better separated, control better at higher volume settings.
Van Morrison, 'In The Garden' - Almost everything better defined, and distinguished from other elements of the music and vocals . Vocals nice and prominent.
John Denver, 'Take Me Home Country Roads' - Firm presentation of this song. Vocals more prominent. Clear lyrics with a 'bigger' backing.
Roger Waters, 'Amused To Death' - Q-sounds very prominent, clearly defined, and where I have come to expect them in the room. In 'It All Makes Perfect Sense Part 1' the piano appeared to be floating in space and further projected into the room, an effect that I have also come to expect with a good system.
Paul Simon - 'Graceland' - Good rhythm and pace, the bass lines bouncing along at speed. Very enjoyable.
Patrick Hawes, 'Tres Amores' - the individual vocalists in the choir much easy to pick out.
Rebecca Pidgeon, 'Fhear a Bhato' - wide sound stage, lyrics clear.
Moving on to listen to some high-resolution recordings, I was impressed by the tighter focus that the DAC-2 produced. The improvement produced from 24/96 and 24/192 recordings being on a par with the Cleo (another USB DAC capable of higher resolution playback). The improvements were particularly clear when comparing 16/44.1, 24/96, and 24/192 versions of the Soundkeeper Recordings 'Equinox' album.
As I said, nothing to complain about. However, I found that with longer listening sessions with the DAC-2 I found my attention waning a bit. For me it sounds a bit too 'neutral' although others may like that type of presentation. I did try the DAC-2 with other amplifiers and speakers but didn't really change that opinion of it. I admit these days to liking a bit of 'colour' in my music, the sort of effect that you get from a valve stage somewhere in the system. I wouldn't go as far as saying that I didn't like the DAC-2, and it's versatility is to be admired if you are likely to want to feed it with different digital sources. And of course it has other strings to its bow like its remote controlled volume adjustment.
At the time of doing this review, I also had a DiyHifiSupply Cleo USB DAC as well, and it was interesting to compare the two. The Cleo is far less well equipped as regards connections than the DAC-2. It is a simple USB DAC with analogue outputs. I don't know whether it was the valve output stage in the Cleo, but I preferred it to the DAC-2 for sound quality, particularly over a longer audition.
As I said in my review of the KingRex UD-01 Pro USB DAC, the choice of this type of item is growing all the time. Not only that but the specifications are growing better, particularly with the asynchronous DACs that will cope with the higher resolution material. The DAC-2 looks like it has been designed to cover all the bases as regards what it may be connected to.
It's also a no-compromise design with a very sturdy case, massive power supply, and very good build-quality. If you need all those connections, and if you want a USB DAC that has remotely-controlled volume adjustment, then the choice is much narrower and the DAC-2 should be high on your list of DACs to audition. But I would urge a longer audition, preferably in your own system before deciding if it is the right USB DAC for you.
© Copyright 2011 Nick Whetstone - nick@tnt-audio.com - www.tnt-audio.com
[ Home | Staff & Contacts | HiFi Playground | Listening tests | DIY & Tweakings | Music & Books ]