Hence a good time to spring clean the back catalogue and expose it to daylight once again. If you like 80s metal you'll love this. Some contemporary critics disliked Psycho Drama but it is a standout track on this collection, great instrument sound and extending beyond the boundaries of typical generic metal; ah, perhaps that's what the heavy metal critics didn't like as they're a notoriously conservative bunch. Produced by Robin George, of Raw and subject to a bootleg release in 2007 while it was off the shelves, demonstrating its enduring popularity. It's been remixed by Robin George, who is increasingly looking like the midwife to every rock rebirth.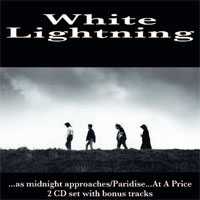 WHITE LIGHTENING: ...As Midnight Approaches/Paradise... At A Price
While photographing the final Stonehenge Free Festival in '84 (the last before free speech and free performance were temporarily suspended in the UK) I recall seeing vendors of LSD offering White Lightening as a brand of acid, allegedly playing upon the name of a legendary '60s strain of the drug that inspired the injunction to tune in, turn on, drop out. I recall The Enid purveying their brand of Aerie Faerie Nonsense (and supplying the PA) on Solstice Eve and veteran space rockers Hawkwind before them and after them too, but the band White Lightening missed a big opportunity for viral advertising as crusties wandered the fields calling out "Aceeeed! White Lite'nin! Aceeed!" to the reclining crowds, the same year this band cut their first 7" vinyl single.
White Lightening is also a brand of photoflash tube and a brand of very cheap but potent corn liquor popular with alcoholic teenagers that same decade. So an altogether Rock'n'Roll pedigree name for a band. especially one that appeared not so much to turn on than to burn out (the photofloods and the corn liquor victims). There was another band, appropriately a psychedelic bunch, using the same moniker in Minnesota who lasted '68-'71, and released previously unreleased material between '95-'97. There's another post 2007 dancey indie band White lightening too, so all-in-all a pretty poor unique selling point name. Shame really as this double cd is a gem. And cover pics show they were at nearby Glastonbury Tor (the famous hill & folly not the more famous music festival held the week after 'henge) at around that time.
Regular readers know I didn't take enough drugs when I was younger to perceive the mystical properties of magic wires coated in pixie dust nor to hear the spectacular differences wrought by micrometric VTA adjustments, so I can't comment on the LSD tabs sharing a name with this band; never being a teenage girl (not even in my wildest imaginings), I have never tried the corn liquor pseudo-cider; I use mostly Metz flash tubes or whatever the hire shop has in stock; and I've never heard before 2010 any of the 3 bands sharing this name. This White Lightening is the real deal, a pukka 24 carat blues based heavy rock band whose lack of exposure demonstrates how important is plain old good luck.
White Lightening's debut album ...As Midnight Approaches, recorded live 4 years after their debut single set the tone for their dot dot dot style album titles. It also set the tone for their commercial struggles by being self-funded (unless you were a red braces wearing stock dealer the eighties were a tough time for getting and financing deals), put out on their own Wild Party label and played from start to finish on Tommy Vance's Radio 1 Friday Rock Show (then as now UK radio was only risk taking and imaginative after dark). HiFi News & Record Review (then the most respected and thorough of the audio comics) gave the thumbs up for "excellent sound quality". Their self funded run of 500 copies sold so a deal was struck with Workhorse records distributed by Pye (one of the biggest and most respected respected valve radio manufacturers in their day and a major British record company by this time) who promptly went bust. How cursed was this album?
Pye Electronics were absorbed by Eindhoven giants Phillips but the record company arm sank without this album reaching the lifeboats. Two tracks were captured and tortured to death in the then trendy Stock Aitken and Waterman style, all drum machines and synths but no soul, leading to Mr Pengilly's exit. If a band ever imagined they'd acquired a heavy blues curse of the kind that so features in so many songs from Crossroads onwards, White Lightening had good reason to believe they're it.
...As Midnight Approaches was released originally in 1988, and combines some post-punk influences, Danger Man, fusion bass (nod to Sting style) Blue Horizon, and too much reverb on the snare, London Nightlife and This Poison Fountain, a viral infection in 1984. Enough tracks regain credibility with good songwriting and playing struggling through the 80s production decisions, if the 70s is the decade that taste (the noun not the band) forgot, the 80s is the decade that music forgot, a bloated industry valuing electronics over craftsmanship; fortunately for White Lightening their craftsmanship is detectable under the 80s electro-flab, to shine dimly through for a new audience in 2010, backed up by the 6 bonus tracks recorded live from 85-87.
Paradise...At A price was completed as that difficult second album 2 years later, but proved so difficult it was never released. Perhaps too talented for 80s commercial success, this is such a shame (twice I've used this word) as it's a killer. In parts classic rock and other parts original songwriting and playing. Guitarist John Storey (still with The Storey Henrit Band, and recruited by the band after former guitarist Simon Pengilly got hooked on computers and drum machines, an addiction incompatible with real rock music) surprises with Mick Ralphs (Mott The Hoople and Bad Company) style guitar work, especially on Everything She said. Bassist Richard Max Goddard is dead on the blues rock groove in Murder in Your Eyes but gets quite funky at times. Drummer & keyboardist Jeff Ward mastered both albums and the bonus live tracks in Co Cork (Eire) last year, the studio tracks are bang on and only a couple of the 6 (yes 6) bonus live tracks suffer tinkly drum EQ that's probably a symptom of the live feed; all else is worth the ticket price.
The individual White Lightening members are all still gigging in different bands and if they're ever in the UK Midlands, the birthplace of heavy rock, they'll be worth the trip.
Conclusion
"The old scribe must be harvesting payola big time now!" accuse plebs, stage left.
'Fraid not; not even a free tour tee shirt or backstage passes these days.
These are tunes to play on your push-pull 6L6 or 6550A output stage, better yet, your NOS GEC KT88 amp. They aren't the last word in refinement so the SET 2A3 crew should stick to lieder and arias to show off their seductive midrange and the boogie PRaTs should choose dance, trance and dubstep. This is music music to heads down no nonsense mindless boogie with bursts of air guitar standing on one leg and grimacing. We've all done it.
The pleasant surprise is that these remasters avoid the current trend to crank the compression to a 6dB window and boost the level to the top on the disc.
I love it when I discover a band I'd missed somehow and this month's intelligent rock discovery for me is White Lightening.
Better yet was the opportunity to hear all three bands through review cd player and amplifier, the Canor CD2 VR+ and Canor TP106 VR+ whose ultralinear push-pull output stage is the perfect rock vehicle.
Music enjoyed while writing this review
Heavy Metal Kids: Hit The Right Button Plus

Marshall Law: Power Game

White Lightening: As Midnight Approaches/Paradise... At A Price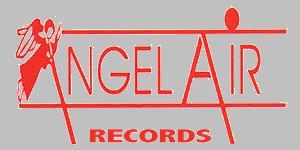 "The old scribe's writing has become pretentious, pompous and utter b*ll*cks", accuse highbrow plebs, stage left
Utter b*ll*cks are needed for testosterone fuelled heads down no nonsense headbanging, replieth ye mid-life crisis scribe.
if your recordings, cds, lps or hi-res downloads demonstrate above average sound quality or interesting performances,
Whether you're a recording studio, label or artist,
I promise I will plug your recordings mercilessly.
Great audio is pointless without great music!
© 2010 Mark Wheeler - www.tnt-audio.com
[ Home | Staff & Contacts | DIY & Tweaks | Listening tests | HiFi Playground | Music & Books ]