[ Home | Staff & Contacts | HiFi Playground | Listening tests | DIY & Tweakings | Music & Books ]
good company for audio: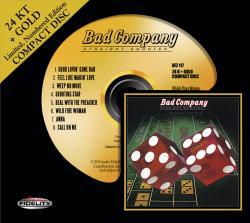 Bad Company's
Straight Shooter
24kt gold CD
Artist: Bad Company: Straight Shooter
Album details: Audio Fidelity 24kt Gold CD reissue
Price: $24.99US (YMMV)
Reviewer: Mark Wheeler - TNT UK
Reviewed: September, 2013
"Mick Ralphs appeared to be in Bad Company"
That line appears on the lyric sheet enclosed with your Old Scribe's copy of "The Hoople" (bought the week of its 1974 release), just below the enigmatic statement, "Lynsey DePaul appeared courtesy of the Triumph Motor Co. Ltd." Bad Company's first album, Straight Shooter, is one of the must have discs in any rock afficionado's Collection. Ralphs' guitar playing and tone on this album is one of the the significant moments in British rock evolution. Mick Ralphs had helped define the heavy/glam guitar idiom on Mott The Hoople's first six albums, Rock & Roll Queen, Mad Shadows, Brain Capers, the Bowie produced All the Young Dudes and Mott. Ralphs left to form Bad Company while Mott the Hoople recruited Luther Grosvenor in his Ariel Bender alter ego.
Although Mick Ralphs is reported to have left because Mott were moving toward a heavier sound, he appeared to have taken the heavier chord sequences with him, Joining the soulful former lead singer of Free, Paul Rogers and Free's drummer Simon Kirke. Meanwhile Ariel aka Luther developed melodic modal approaches to Mott's ultra-glam iteration. For both reasons, rock music would never be the same again. Touring 'Dudes' Ian Hunter wrote the Diary of a Rock'n'Roll Star book (published in 1974) as they toured All The Way to Memphis, where Joe Walsh, also with an AudioFidelity 24kt gold HDCD out soon, joined them onstage at the tour end gig.
No wonder Pete Fame's Rock Family Trees became such essential reading for British rock fans to make sense of the complex genealogy. King Crimson's bassist, Boz Burrel joined Simon Kirke to form a rhythm section that could have sat in a US soul label's house band. While Rogers voice and Ralph's guitar are the signatures of Bad Company's sound, like so many British rock royalty, it is their funky rhythm section that propels. Hence, Peter Grant (he of Led Zep promo) contributed to Bad Co's appearance on the Swan Song label. Their debut album, Bad Company was voted by Kerrang! magazine as one of the 100 Greatest Rock & Roll Albums Ever, so the difficult second album had a hard act to follow. Straight Shooter contains Good Lovin Gone Bad and Feel Like Makin Love and shooting Star, so more hits and rock covers band classics than any album has any right to, although contemporary critics (if your old scribe remembers the dog eared copies of Melody Maker and NME correctly) didn't like the acoustic guitar content. Heard straight after the debut now, Straight Shooter might even be stronger musically.
Sound Quality
Audio Fidelity have been reviewed positively on TNT-audio before and their limited edition CD's, HDCD's and SACD's often sell out quickly, so don't dither. This is another 24kt gold disc so that noble layer is less likely to deteriorate than common aluminium. It plays with a low error rate...
"But what does it sound like?" demand impatient plebs chorus, stage left
This disc sounds fantastic. It's better than your old scribe's original 7inch 45 single of Feel Like Makin Love, better than a late 70s vinyl copy of the first Bad Co album. It has been played dozens of times during the review period whenever a moment of pure rockin out bliss is demanded by life's vicissitudes. Annoyingly, no plans have been announced by Bad Co to bring their 2013 tour with Lynyrd Skynyrd to Europe, while their North American dates include some fine medium sized venues, so go listen.
Conclusion
This is a great reissue. If you like Bad Co or British rock in general, there is no reason not to buy this. It will sound better than any other format you have, even your old vinyl. There, I said it. This does not mean your old scribe no longer believes vinyl can sound better than red book CD, just that this CD mastered from the original mastertape will sound better than any flimsy 70s pressing, even if it's new old stock. Obviously this version is better than any CD version you might own from whatever pressing plant.
Music enjoyed while writing this review
Bad Company: Straight Shooter
Bad Company: Bad Company
Free: Fire & Water
Mott The Hoople: Mott
Go out of your house/apartment/yurt and buy more vinyl/CD's NOW!
Only if your local record store has closed, go to online retailers and buy more records/hi-res downloads now.
Don't waste my time, or yours, thinking about it. Just buy more stuff to play on your hifi NOW!!!
Go to a gig this week, especially if you've never heard of the artist/composer/ensemble.
if your recordings, cds, lps or hi-res downloads demonstrate above average sound quality or interesting performances,
Whether you're a recording studio, label or artist,
this page will plug good recordings mercilessly.
Great audio is pointless without great music!

Copyright © 2013 The Old Scribe - www.tnt-audio.com
[ Home | Staff & Contacts | DIY & Tweaks | Listening tests | HiFi Playground | Music & Books ]