[ Home | Staff & Contacts | HiFi Playground | Listening tests | DIY & Tweakings | Music & Books ]
How Much Power
Can Your Love Show?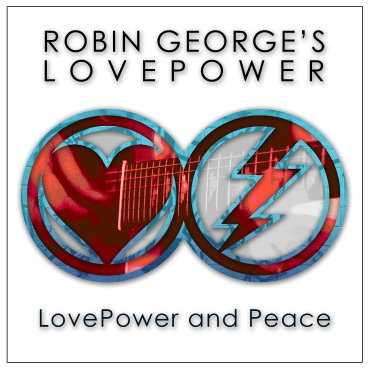 Robin George's LOVEPOWER BAND
Love Power & Peace
Introduction
Things move fast in the Music biz and when guitar legend Robin George was touched personally by the hospice movement and also saw your old scribe's piece about Music therapy and the arts therapies , he went into action. Opening his address book, which looks more like a Who's Who of contemporary music, Robin pulled together the critical mass of talent that now makes up the LovePower project. A clever combination of studio time fitted around everyone's busy tour schedules, with skillful drop-ins from those on the other side of the world, result in a set of masters (you can't call them 'master tapes' in the digital age) of musical excellence and diversity that would add up to a masterful talent showcase even if there wasn't a higher purpose.
This is not the usual feel good, conscience salving, Let's all get together and save the world [while rejuvenating our flagging careers] type outing, as the egos have been left at the door. The diversity of talent is reflected in diversity of styles from riff driven rock infused Alice to sweet soul of Ruby Turner and Jaki Graham. On the Love Power CD the musicianship is impeccable, the performances stellar and the songwriting has teeth. Unlike the gummy efforts of has beens who collect expenses cheques from excursions like this, these folks don't need their careers reviving, they don't need autotune and they gave their time for nothing. The studios around the world gave their time for nothing, the record company are making nothing and the musicians are making great music.
There are bitterseet ballads like Angelsong and Another Lonely Night another ballad, simultaneously both melancholy and whimsical...
"Do all the tracks start with the letter 'A' to keep 'em at the top of the ipod lists?" suggest plebs, stage left.
No. Bluesong begins with a 'B', obviously, although the first chord isn't B, the title just starts with the letter. Sung by Charlie George, not the legendary long haired Arsenal and Derby County player from the 70's (spot your old scribe's cultural references), but the singer/TV presenter who acquits herself well, despite the low expectations we all have of 'personality' crossovers from TV to tunes! Furthermore, Steve Hunter, the triple pick-up white SG wielding axeman from the Alice Cooper band and mid 70s lou Reed, lays down the guitar part with aplomb. This tune is stripped to the bone, minimal drum fills and simple expressive guitar figures.
'C' is for 'Cocoon', one of Robin George's tunes from his 'Life' catalogue. 'Pride', track 4, by Ruby Turner could stand up as a motown great (reminiscent of Stevie Wonder's productions). 'Kings Call' invites comparisons with the Travelling Wilburys; written by Phil Lynott and Robin George, it was an evolution beyond Thin Lizzy and deserved more attention than it got at the time, so this release might do the trick.
Help From My Friends?
Regular readers might expect the old scribe to supremely cynical about yet another rendition of this Lennon/McCartney classic, which is so often cheesily covered. This straight cover avoids dairy product comparisons, sentiments are never cheesy (a bad thing) and guitar solos never yogurty (good or bad depending on context). A singalong classic that gets respectful treatment from
Ruby Turner, Jaki Graham & The LovePower Band: Love Power &Peace
Seven Golden daffodils: Seven Golden daffodils
Sean Harris & Howard Scarr: Cocoon
Ruby Turner & The lovePower band: Pride
Charlie george & The lovePower band: Bluessong
The lovePower band & Friends: World
The lovePower band: Kings Call
David Byron & The lovePower band with Roger Flavalle: Tired Eyes
The lovePower band & Friends: Another Lonely night
The lovePower band & Friends: With A littel Help From My Friends
Pete Goalby & Robin George: Mona Lisa Smile
John Wetton & Robin George: Wasted Time
Damage Control with 'Fast' Eddie Clarke: Alice
Marshall law with robin George: No Justice
Life with Nick Tart: (sounds like a TV show title) Heartline
Robin George & Friends: Next To You
Robin George & Friends: Angelsong
Conclusions
If this had arrived as a compilation showcasing the talents on a record company roster, from Soul greats like Ruby Turner & Jaki Graham, and Jaqui Williams, to a roll call of legendary rockers (including apearances from band members of Asia, Uriah Heap, UFO, Bad Co., AC/DC, King Crimson, Qireboys, Hanoi Rocks, UK Subs, Diamond Head, Trapeze, Magnum, Life, Notorious, Climax Blues Band, Tina Turner, Giorgio Moroder, Manfren Mann, The Who, the God of Hellfire Arthur Brown, Steve Hunter, Robert Plant and Jools Holland) and sax breaks from the man whose solos have graced the Rolling Stones, and your old scribe would have been well disposed to the content. Your old scribe loves a good compilation and this is certainly that, and well recorded despite having to be constructed from components in some places, because of the impossibility of getting this line up in one place at one time.
Add some excellent songwriting and the likelihood of a recommendation increses.
Forget every prejudice you have about benefits gigs and albums. Actually musically most of those are better completely forgotten. Cast them from your mind. This album leaves you wanting more from each foregrounded artist.
One by-product of this album, quite apart from the 3 excellent causes it supports (all close to your old scribes heart) is that you might hear something unexpected that turns you on to an unfamiliar artist. The many musicians, studios and producers involved will make nothing from this album while Three deserving charities will make everything from this CD.
If I didn't like this CD I would not have written a review, to protect the worthy causes, but the CD is worthy of recommendation on sound quality grounds and musical content. So there is no excuse, buy it immediately as it is released on October 3rd 2011.
© Copyright 2011 The Old Scribe - www.tnt-audio.com
Music enjoyed during this review
Love Power Band: Love Power and Peace, Angel Air records
[ Home | Staff & Contacts | HiFi Playground | Listening tests | DIY & Tweakings | Music & Books ]