[ Home | Staff & Contacts | HiFi Playground | Listening tests | DIY & Tweakings | Music & Books ]

Crosby Stills Nash
A Classic Records Re-Issue, on vinyl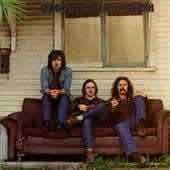 [Italian version]


Album: Crosby Stills Nash - Debut Album
Label: Atlantic 8229 (original) Classic Records SD 8229
Medium: Vinyl, 180 Gram
Released: 1969 (Atlantic) January 2001 (Classic Records)
Genre: Rock and Roll
Reviewer: Scott Faller
Date Reviewed: April, 2001
Trivial Bits
For a lot of us, this album will take us back to our adolescence. Back to the late 60's. In America and much of the world, there was tremendous strife. More than any of us want to remember. The US had 543,000 solders committed to a "police action" in a small country called Vietnam. Students across North America from Berkeley to Harvard were staging sit ins and strikes in protest to the war. John and Yoko held their "lie in" for peace. Walter Cronkite dominated the evening news with horrifying images from halfway around the world. Tricky Dick, carpet bombing, Altamont, my God it seemed as if it would never end.
Amidst all this civil unrest, three seasoned performers found each other. From The Byrds, Buffalo Springfield, and The Hollies comes Crosby, Stills and Nash. Brought together by Mama Cass Elliot and John Sebastian, these three musicians sang together one fateful day at John Sebastian's home by his pool. This album is the result and the rest is history.
May 29, 1969 Crosby, Stills and Nash released this self titled album. Each of us has our own special memories when we listen to this album. Mine are of hearing it for the first time on the radio. They released Marakesh Express as a single. On the flip side was an abbreviated version of Suite Judy Blue Eyes. I still have that 45 around here somewhere. It's worn out though. It gave me hours and hours of pleasure back in that summer of '69. That fall, I bought the album. It's worn out too.
Back in the 80's I bought a fresh copy. This after I had gotten a good stereo. I remember giving it a spin and somehow it didn't sound very good. In fact it sounded awful. Not the music, but the recording. I bet I've only played it a half dozen times since I bought it. It's a shame really, there were lots of great songs on that old piece of vinyl.
Enter Classic Records. Back in January, they released a re-mastered version of this truly monumental record. As it is with each Classic Record release, the album sleeve, cover art, and liner notes are as they were when it was first released in 1969. The only discernable difference is Classic's name on the back cover in small print.
It's 180 grams of luscious virgin vinyl, with deeply cut grooves, so your mega dollar stylus can ride in comfort.
Enough Already, Get to the Point
"So?", I ask myself, I wonder if it's going to sound as bad as my old copy. (See, quite often, I use my old CSN album to demonstrate to the unsuspecting newbie to my listening room how an album shouldn't be recorded.) The original recording is just pathetic. It sounds like it was recorded in two or three different studios by two or three different engineers that were as stoned as the group was. Not to mention the thin, reground vinyl that Atlantic used so often.
Well, I gave it a spin. And then I spun it again....and again......and again. I couldn't hear the music over my own singing. After all these years, I (we) still remember all the words to the songs. Worst part is you can't stop singing. Go ahead, buy it. Then drop me an email and tell me I'm right!
I finally forced myself to really listen (after applying duct tape to my mouth). The guys at Classic have outdone themselves again. This is as it should have sounded when Atlantic first released it.
There are couple of songs that just jump out at you when you play them. When I was playing Lady of the Island, I closed my eyes and I'd swear that the three of them were sitting in the same room playing just for me. That's how improved this record is. You Don't Have to Cry was another. That song is timeless. The lyrics are just as relevant today as it was back then. The vocal and guitar harmonies are just fabulous and it's only gotten better with this re-issue.
>From the first to the last song, I heard details that I never knew were on this album before, literally. For starters, this entire album now has a more open and airy feel to it. On the original release, the engineers dedicated a channel (left or right) to vocal solos. It made you painfully aware of your speakers. It kind of reminded me of those records that came out with the advent of stereo. You know, releases like, Bongos, Flutes and Drums, or Persuasive Percussion. The engineer would make one channel go silent and play music out of the other. I shutter just thinking about it. Here we still have the dedicated channel for the vocals, true to the original mix, BUT your speakers disappear (or mine do anyway).
When it comes to the depth of image you can't ask for much more. Close your eyes, you can reach out and touch the band. On the vocal harmonies, each member is clear and distinct. The old release was extremely harsh, especially at high volumes. I don't know if it was the mix, the stamper or that crappy reground vinyl that made it so bad. This re-issue is Sooooo much better. The vocal harmonies can still be just a bit edgy at high volumes but I tend to listen to music louder than the normal person.
My only real complaint, there is some tape hiss still audible from the transfer. It's not that bad though. The noise floor is still very low. I guess perfection is still all illusive.
So ..........
To sum this up in just a few simple words , BUY THIS RECORD. Believe me, you won't be disappointed, unless you are from another planet :-). Now, if you are a younger person (compared to us old farts around here) and want to hear what real musicians and vocal harmonies are all about, this is a really good place to start.
Let me finish with just a bit more trivia. Just two short months after this recording was released, this trio including Neil Young (playing the organ) appeared on stage at Yasgur's Farm in New York. That's the real Woodstock, not the MTV, Generation Next staged event. After finishing their set, Stephen Stills said those infamous words "This is the second time we've ever played in front of people, man. We're scared shitless." Nothing hits home like reality.
Main System Used
Turntable – Systemdek 2x2, Rega RB 250, Expressimo Mods, Rega Elys
CD Player – Arcam Alpha 8se, HDCD
Pre-Amp – Lazarus Cascade (tubed and hot-rodded)
Tri-Amped, Using Spectro Acoustics Equipment
- Tweeter Amp – 200sr, 135 wpc @ 8ohm
- Mid Range Amp – 202r, 135 wpc @ 8ohm
- Woofer Amp – 500r, 250 wpc @ 8 ohm
Active Crossover – Sony 4300 (discrete)
Interconnects and Cables – Home brew, silver plated copper with teflon insulation
© Copyright 2001 Scott Faller - https://www.tnt-audio.com
[ Home | Staff & Contacts | HiFi Playground | Listening tests | DIY & Tweakings | Music & Books ]