[ Home | Staff & Contacts | HiFi Playground | Listening tests | DIY & Tweakings | Music & Books ]
DFA - "Work in progress live"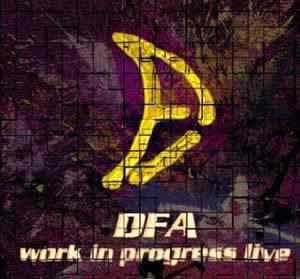 [Italian version]
Author: DFA
Record: Work in progress live (MJR003)
Musical genre: Italian prog-rock
Label: Moonjune Records - USA
Approx. price. 15 USD
Reviewer: Steve Davey
Reviewed: November, 2001
Italian outfit DFA (Duty Free Area) formed in 1991 as a trio: Alberto De Grandis on drums, bassist Luca Baldassari and Roberto Tommasini on keyboards. They became a quartet by 1996 with Silvio Minella on guitar who joined in 1993 and Alberto Bonomi as the new drummer. Lavori In Corso (works in progress) was released in 1997, followed by a second eponymous work. This CD was recorded live in 2000 at NEARfest in the USA and reproduces pieces from their two studio albums. The recording is clean with good sound staging and instrument separation.
As with Finisterre vocals form part of the compositions but again my lack of Italian resulted in my focusing on the instrumentation. Overall the compositions have a greater feeling of modern jazz than Finnisterre. The underlying themes are complex but clean.
The musical accomplishment of the personal is of a very high standard, even startling considering this is a live recording. The music is driven along by a strong drum presence overlaid with keyboard and guitar pyrotechnics, yet grounded by the bass lines that keep it all on the straight narrow.
The style is one of repetitous guitar licks and keyboard runs setting up opportunities for the artists to build independent or Q&A solos. One minute the guitar to the fore and then the keyboards.
Frequent changes in tempo and the occasional change in key keeping one's interest. Best exemplified by the longest track on the CD La Via at over 15 minutes duration.
The closest I can come to a 70s comparison would be The Mahavishnu Orchestra (with vocals) crossed with Yes (minus the vocals). But in truth the compositions are truly original, engaging and emotional.
Copyright 2001 Steve Davey - https://www.tnt-audio.com
HTML: David Lundin
[ Home | Staff & Contacts | HiFi Playground | Listening tests | DIY & Tweakings | Music & Books ]