[ Home | Staff & Contacts | HiFi Playground | Listening tests | DIY & Tweakings | Music & Books ]
Graham Nash - "Songs for Survivors"
Music Review
[Italian version]
Album:Graham Nash - Songs For Survivors
Label: Artemis Records ART CD 132
Medium: CD, DVDA
Released: 2002
Reviewed By: Scott Faller - TNT-Audio USA
Published: Sept 2002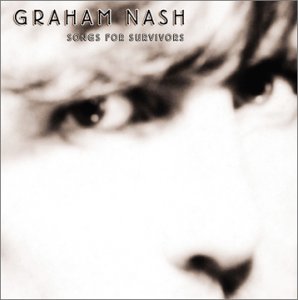 Songs for Survivors
Trivial Bits
If you remember, last year I wrote an article on the Classic Records re-release of Graham Nash's Songs for Beginners on luscious 180 gram vinyl. This album still gets a lot of spin time on my turntable. It's absolutely fabulous and I highly recommend it. For almost six months, Classic Records flattered me by posting a link to my review on the home page of their website so that all could read about the release.
The link (apparently) caught the attention of Grahams record company, Artemis Records. Just a few weeks ago, the fine folks at Artemis contacted our fearless leader (Lucio) with an announcement that Graham is going release a new album. In fact it's his first in almost ten years. The new release is named Songs for Survivors. Rather apropos considering that Graham is one of the (now) old timers in the Rock and Roll business. Think about it, Graham came into prominence as the founding member of the Hollies all the way back in 1962. Before that he played with two other groups, The Fourtones and The 2 Teens which dates back all the way to 1956. I think that more than qualifies Graham as a survivor :-)
The simple fact is, he is one of the very exclusive few that have lasted this long in what can be (literally) a brutal business. Why has he outlasted 90% of his (then) contemporaries? Simple, he is an exceptional musician and composer. There is something very appealing about Grahams music. We can relate to the things he sings about. Most of Graham's songs tend to be uncomplicated, the lyrics fit seamlessly to his compositions. This allows Graham top squeeze every drop of emotion out of each song.
Sometimes we forget that the message that we hear in the lyrics of a songwriter are a rare glimpse into his sole. It reveals who he is, what he is all about, where he has been and what he has experienced. It's almost like a three minute biography. I'd have to say, Graham is a hopeless romantic and still very much and activist (based on his lyrics of course :-) He sings about love and family. Two of the most important things in anyone's life. That's not to say that Graham doesn't still lash out at things that disturb him like in the song Dirty Little Secret.
Graham asked his long time friend, and sometimes cohort in crime, Russ Kunkel (drummer on several of Graham's albums) to produce this release. Russ said that when Graham approached him with the proposition of producing a new album, he went back and listened to Grahams earlier solo releases. They all had a bit if a country flavor to them, so Russ decided to enlist the help of a group of Nashville based musicians to recreate (in a small way) Grahams earlier work. Well, it worked. This album has a very familiar feel to it, but there's more to it than that. Now, that's not to say this is a country rock album, because it's not. Russ has chosen to blend in some steel guitar and harmonica (plus a few other things) on a few songs to add texture to the music. It has a classic yet very contemporary feel to it.
Enough Already ...... Get On With It
The recording quality is top notch. Russ did a great job in production. The promo material that Artemis provided states that during the recording process, the music was recorded directly to hard disk, using discreet Class A analog circuitry and that they bypassed as many stages of amplification as possible, whenever possible. They also placed the microphone preamps close to the mic stand, minimizing the length of the low level signal cables. Speaking of cables, they used Cello and Wireworld high rez cables. Russ even listed all of the microphones he chose for each instrument. That alone doesn't happen everyday. It's more than obvious when you listen to this album, that their attention to detail paid off in spades. The recording quality is extremely good. The sound is clean, natural and unencumbered. This really adds to the presentation of the music.
There are more than a few standout tracks on this release but I'd have to say a couple of my favs are Dirty Little Secret and I'll be There for You.
Dirty Little Secret is an intense song. Graham sings about the night in 1921 that an affluent African American suburb of Tulsa Oklahoma burned. It more than burned, it was set ablaze. In the end, 300 people lost their lives on that fateful night. This song hearkens back to the dark days of segregation, bigotry and hatred. This was a time that none of us want to think about. The abominations that were carried out by our ancestors are disturbing to think about, even to this day. Graham (so aptly) reminds us so we never forget the atrocities that we committed, not all that long ago. Along with compositions like this, Graham is still heavily involved all kinds of social activism to this day. He still plays benefit concerts and makes personal appearances for organizations like Green Peace, No Nukes and children's advocacy groups.
I'll Be There for You is obviously written for Grahams wife and lifelong partner Susan. It shows how deeply committed he is to his wife. Graham has written a beautiful ballad to remind her what love is all about.
For those of us who grew up listening to Graham, this album gives us a brief glimpse into the past. Many of the songs are reminiscent of Songs for Beginners and his earlier works. The other compositions are pure, contemporary and flawlessly presented. In this, Graham's first solo album in over a decade, he shows an absolute mastery of his profession.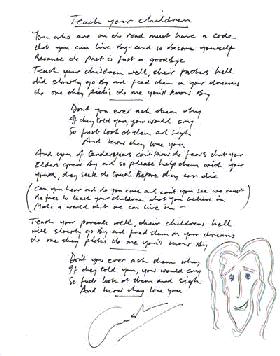 Manuscript Originals
So.....
This album is an absolute must for the Graham Nash or CSN (and sometimes Y) fan. It's not very often that we run across an album that all of the songs are really good. It just so happens, this is one of those rare releases. It will satisfy almost everybody, from the acoustic lover to the hard rock fan. This release has it all.
For you youngsters out there that have only heard his name associated with some ancient group that was formed before you were born, go pick this CD up and see what real musicianship is all about. For those completely familiar with Grahams work, you won't be disappointed in the least. This album musical, full of life and emotion.
Ooops :-)
Oh, I almost forgot to mention. Go to Grahams site and look around. Before you leave click on the Manuscript Originals button. A few (more than) noteworthy musicians have gotten together and have begun selling handwritten original manuscripts of their more famous songs. These are one page excerpts usually with just a few verses and sometimes a bit of artwork. Each one is an original and unique. You can either buy a full blown, handwritten original in the $9500 range or you can do like am going to do and add one of the lithographs that are hand signed by the artist to my Christmas list. These are a bit more affordable at around $450 unframed. These are really cool if you (like me) are into collecting music memorabilia. Oursong is one of the retail outlets where you can buy them, Neiman Marcus is another. Also, if you weren't aware, Graham is a "shutterbug". Over the years he has gotten heavily into photography and received accolaides for his work. Hang out at Graham's site for a while, there's lots of good stuff there.
On a personal note, I'd love to see Graham pay a visit to Mike Hobson at Classic Records with a master tape in hand (actually it would be a disc since this is a direct to digital disk recording). I'd love to own this on vinyl. Well, we can always hope can't we :-)
Remember, our hobby is ALL about the music. New gear and tweaks are well and good, but without great music, it's all for naught.



Main System Used
Turntable – Systemdek 2x2, Rega RB 250, Expressimo Mods, Rega Super Elys
CD Player – Njoe Tjoeb 4000
Pre-Amp – Korato KVP10 with the Phono Stage, Tubbed with Mullards
Tri-Amped using:
- Tweeter Amp – Spectro Acoustics 200sr, 100 wpc @ 8ohm, (heavily modded)
- Mid Range Amp – Rotel RB-981, 130 wpc @ 8ohm, (tweaked)
- Woofer Amp – Spectro Acoustics 500r, 250 wpc @ 8 ohm, (heavily modded)
Active Crossover – Sony 4300 (discrete)
Interconnects and Cables,
- DIY, silver plated copper with teflon insulation,
© Copyright 2002 Scott Faller - https://www.tnt-audio.com
[ Home | Staff & Contacts | HiFi Playground | Listening tests | DIY & Tweakings | Music & Books ]