[ Home | Staff & Contacts | HiFi Playground | Listening tests | DIY & Tweakings | Music & Books ]
The Ionic Originals - CD and Vinyl melted together as a single new music medium
Best of both worlds or hoax?
Author: Lucio Cadeddu - TNT Italy
Published: June, 2022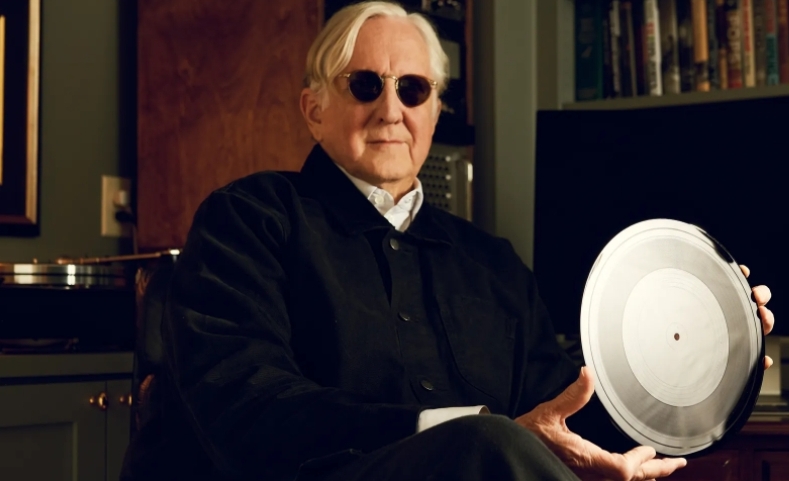 Photo by Jason Myers via Pitchfork
When you think you've seen and heard everything, something shockingly new hits the market. Do you believe CDs are eternal and perfect forever, but sound sterile? Do you think LPs sound cool and warm, but wear out in a snap? If yes, you should be happy there might be a new music medium for you, which combines the virtues of these two formats: analogue sounding like a vinyl and virtually indestructible like a CD!
Introducing you the Ionic Originals, a project by musician and producer T-Bone Burnett, that should allow audiophiles' dream come true: an aluminium disc with a lacquer on it, plus grooves like on a vinyl record.
The inventor stated that:
"It is archival quality. It is future proof. It is one of one. Not only is an Ionic Original the equivalent of a painting, it is a painting. It is lacquer painted onto an aluminium disc, with a spiral etched into it by music. This painting, however, has the additional quality of containing that music, which can be heard by putting a stylus into the spiral and spinning it".
It seems like a mastering disc, the one which is used to press multiple vinyl copies, if I understand correctly, but you can't play a mastering disc on a turntable. Or is it like a kind of NFT (Non Fungible Token) which is...ehm...fungible? It's certainly a mystery to me. Now, you might be wondering who the inventor is. T-Bone Burnett (see his Wikipedia page) is a famous producer and musician himself, who worked with Bob Dylan (as guitarist in the Seventies) and, as producer, with Counting Crows, Los Lobos, Sam Phillips, Gregg Allman and Roy Orbison (plus many others). He won several Grammy Awards: Producer of the Year, Record of the Year, Album of the Year, Best Compilation Soundtrack Album for a Motion Picture, Best Contemporary Folk/Americana Album and many others.
He is not new at attempting to create something revolutionary in audio/music recording. In 2008, he started a new venture called Code, which aimed to set standards that ensured the best possible music quality. This Code audio format created multiple sound formats, thus avoiding much of the processing which happens when sound is converted from one format to another. As far as I know, just one single album has been released in this format: "Life, Death, Love and Freedom" (2008) by John Mellencamp, in 2008.
It seems T Bone Burnett is trying to create something new, again. For this purpose he founded a new company, called NeoFidelity, Inc., which should record and distribute these new Ionic Originals discs. You might have already heard this name, as it was a Korea-based company, now called N CITRON, INC., engaged in the manufacture and sale of full digital audio amplifier solution products.
Now, there's are so many questions puzzling my mind, but the main on is: WHY? Considering the vast majority of music today is based and recorded on digital masters, can't we just rely on these? Ask the music labels to sell the original masters files! You can create perfect copies of the original master files. There's nothing that can sound closer to the original...'cause it IS the original! Oh yes, you can take old analog master tapes and put these into these new discs called Ionic Originals. Well, that could be an idea. But are we sure these masters are still available? And are in good shape? Wouldn't it be better to make a digital copy of these directly from the original recorders that created those master tapes? And, finally, will traditional cartridges and turntables play these new discs?
You see, I'm not convinced. At all. It sounds like an April's Fool. The last thing the market needs is another format, we've already had the SACD and we've seen what happened to it.

© Copyright 2022 TNT-Audio Lucio Cadeddu - editor@tnt-audio.com - www.tnt-audio.com
[ Home | Staff & Contacts | HiFi Playground | Listening tests | DIY & Tweakings | Music & Books ]