[ Home | Staff & Contacts | HiFi Playground | Listening tests | DIY & Tweakings | Music & Books ]
Michael McDonald - "Blue Obsession"
Rhythm and Blues to the Max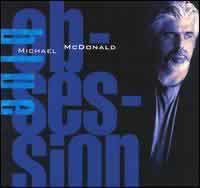 Album: Michael McDonald - Blue Obsession
Label: Ramp RMPD 1005
Medium: CD
Released: 1997 and re-released 2001
Genre: Rock, Rhythm and Blues
Reviewer: Scott Faller
Date Reviewed: May, 2001

Trivial Bits
We all know Michael McDonald from the Doobie Brothers days. Did you realize that was almost 20 years ago? That's right, in 1982, the Doobie's called it quits. I was never a huge Doobie Brothers fan but I always loved Michael's voice. He has one of the most distinctive voices out there. You can hear him either as the front man or singing backup and harmonies on what seems like a million records. He's had quite a career and now has five Grammy's to his credit. Forget about the fact that his is a great keyboard player on top of all this.

The press says this is his fist new record in seven years. Well, that's not quite correct. He actually released this same album in 1997 as a promotional disc but for whatever reason it was never released to the general public. The promo copy has four different cuts on it along with slightly different cover art. I was just watching one on eBay, and it went for over $30 USD. One of these days I'd like to get my hands on one just for the collectors value (not to mention the extra songs).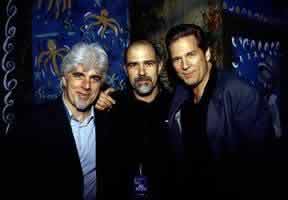 Michael, Chris and Jeff
If you looked at the artist info above, you'd have noticed Ramp records. There are tons of new labels out there now, so what's so special about Ramp. Well, Michael McDonald, Chris Pelonis (producer/songwriter/studio designer) and Jeff Bridges (that's right, the actor/musician/artist/songwriter?) formed the new indie label Ramp. They say that they aren't looking to specialize in a particular style of music but rather to have a stable of "eclectic" artists. So far it's just Michael McDonald and Jeff Bridges with his new release. I'm interested in hearing Jeff Bridges release but that sounds like a review for a different day :-)
Enough Already, Get to the Point
This album is filled with R&B to the max and Michael's voice is just perfect for this style. Over the years his voice has matured perfectly. I can't see how it could get much better. It's deep, soulful and just draws you into the music.
Together with Michael and his piano, he is joined by a host of really talented musicians and singers. Right out of the box on track one, he hits you with a really upbeat, soulful tune co-written and sung by Tommy Sims (co-writer of Eric Clapton's Grammy-winning hit single, Change the World). This song is layered with harmonizing vocals, a string section, horns galore, a chorus and the ever glorious Hammond B3. This tune sets the tone for the rest of this fabulous release.
The next song is just as hot as the first track. No Love to be Found, Michael shares the lead vocals with Wendy Moten. This girl just flat cooks. The lead in is with a keyboard, heavy bass licks and Michael's vocals. It then blends a few well placed tenor sax's. Wendy and Michael sing a short harmony riff, then it's all Wendy out front with Michael trying to keep up :-) Man is that a great track.
Later in the release Michael does great rendition of Neil Young's Down by the River. Stop right there, scowling is not allowed. This version just plain kicks ass. I think it might be even better than the original. Doubt me? Go buy (or borrow) the CD and see for yourself.
Chris Pelonis engineered this one and writes about it on his website Pelonis Sound. He mic'ed the drums a bit differently and it turned out just great. Instead of close mic'ing the drums he used a single Manley Stereo Gold Referenece mic in a figure 8 pattern. It helped to give this song that raw sound. Almost like a garage band. Really heavy bass and drums. It alone could be worth the price of admission.
He also does a cover of the old Marvin Gaye tune "Ain't That Peculiar" that is pretty cool too. It's a completely updated version and kinda cool too. That's another one that just draws you into it.
So……
Again, you can tell I really like this one. Overall the recording is done extremely well. The guys that mixed it got a little heavy handed with the bass and treble, but generally it sounds pretty decent.

If you have a set of mini monitors that roll off the deeper bass and highest treble, you'll find this one to have decent tonal balance. If you have a set of full range speakers with larger woofers, you'll get the full impact of the heavy bass I mentioned. I use the 12" Shiva's in a large vented cabinet. They are down 3 db at 16 hz. and the bass from this release is almost overwhelming. I plugged in my mini monitors and used a single amp and the sound evened out pretty well.

In the end, I'd say go for it. You definitely won't be disappointed. It draws you in early and holds you until the last track.

Main System Used
Turntable – Systemdek 2x2, Rega RB 250, Expressimo Mods, Rega Elys
CD Player – Arcam Alpha 8se, HDCD
Pre-Amp – Lazarus Cascade (tubed and hot-rodded)
Tri-Amped, Using Spectro Acoustics Equipment
- Tweeter Amp – 200sr, 135 wpc @ 8ohm
- Mid Range Amp – 202r, 135 wpc @ 8ohm
- Woofer Amp – 500r, 250 wpc @ 8 ohm
Active Crossover – Sony 4300 (discrete)
Interconnects and Cables – Home brew, silver plated copper with teflon insulation
© Copyright 2001 Scott Faller - https://www.tnt-audio.com
[ Home | Staff & Contacts | HiFi Playground | Listening tests | DIY & Tweakings | Music & Books ]