[ Home | Staff & Contacts | DIY & Tweaks | Listening tests | HiFi Playground | Music & Books ]
August 2010 new CD releases
Was August hotter than July?
[Italian version]
August and older CD releases
Artist: Various Artists: 13 Shades of Blue, Mapleshade 10032
Artist: Midnite: Ras Mek Peace, Wild Child 06552
Artist: Rococo: Run From The Wildfire, Angel Air SJPCD337
Artist: Cold River Lady:, Better Late Than Never
Artist: Various artists: The Best of Homegrown 1968-1980
Labels: Angel Air Records & Wild Child & Mapleshade
Reviewer: Mark Wheeler - TNT UK
Reviewed: July-Aug 2010

Zen and the art of music reviewing
After a rousing performance by Gil Scott Heron on the last night of the 2010 Womad (World Of Music Art & and dance) festival we turned in, not wishing to dilute the lingering aftertaste with anything else. Rising next morning and breaking camp early enough to avoid the car caged crowds, firing up the Ducati and the Suzuki we thread through the fields to the waiting B-roads that follow the original route of the Roman Fosse Way North to our midlands home. The music of the Ducati L-twin chimes with Heather's silky Suzuki four and your old scribe can't resist an extra Micron piped throttle bark as we pass under a low arched bridge, downshifting for the following curve, the weekend's music playing in my head along with the staccato exhaust beat. The slight anticlimax that tempers the exhilaration felt at the end of any motorcycle ride is immediately mitigated by the presence of a package on the back doorstep as we dismount.
"Oh get on with it," urge plebs, stage left, "What place has this odyssey in an audio journal?"
The package on the doorstep was the latest batch of CD's arriving for TNT-audio listening pleasure.
Various Artists: 13 Shades of Blue
First in the toploader Chevron Audio modified Shanling CDT100c is Mapleshade's sampler various artists: 13 Shades of Blue. Regular readers (and there must be some) know your old scribe loves compilations and samplers as perfect vehicles to introduce us all to new music far more convincingly than downloads, DAB radio or compressed for cars FM radio. This is no disappointment and would make a good introduction to the Mapleshade blues catalogue as well as to their rare dedication to top production and recording quality. If this disc does nothing else, it will convince listeners of the downward dynamic range hypothesis by Vacuum State's Allen Wright (the antipodean doyen of high resolution pre-amps) has it; that a system's capacity to resolve the tiniest signals in the presence of large amplitudes is what separates the highest end from the merely adequate
Mapleshade's founder and CEO, Pierre Spray has a clear philosophy from microphone, through analogue tape to digital sample rate and CD transfer, which he explained in an interview with TNT-audio's Arvind Kohli.
Predictably, this compilation is a show reel for Pierre's talents as much as for the musicians mediated there. The pitch perfect Alembic bass on the front cover reinforces this perfectionist zeal even if the opening track features upright bass. And boy what a bowed bass sound it is! Reviewer cohones could be dangled on public display with purple prose describing the smell of the cracked varnish, but the plebs chorus would soon shout "Utter b*ll*x" so we'll move rapidly on to question why artists like Seasick Steve, talented tho he is, become the voice of the moment while Ben Andrew's equally 'scarred by life' renditions (despite iTunes track-by-track availability at 79p a go) and Midnight Blue takes me right back to days of yoof hearing live jazz with my dad.
By track 5's opening bars you'll know this CD was money well spent... until you realise that it's gonna prompt purchase of at least 5 of the Cds it samples. Ho hum.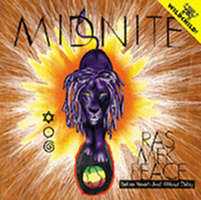 Midnite: Ras Mek Peace: before reverb and without delay
Purest Roots from Washington, never a parish on the island, but sounding like a lifetime's Maxwell Avenue strut up from the yards. The subtitle promises something different from the dancehall echo loops and reverberating rimshots pounding through banks of massive paper cone boxes, piled on the back of a flat truck. Inevitably, a reggae recording from minimalist purist Pierre Spray offers a new kind of soundclash. No wall of muddy bass bins and piezo tweeters ever sounded like this.
This is political rasta, not the predictable paeon to herb, but sophisticated philosophical lyrics riding rootsy riddims, at once both spare and spacious. The words more Shakespearean (as in Will) than the bass (as in Robbie), harking to earlier house band times on the cusp of rock steady. Lyrics loaded with metaphors, sophisticated puns, politics and Rasta sentiments are delivered over the steadiest rhythms, explicitly defined from the lowest growl of bass guitar to the lightest hi-hat flutter.
Brothers Vaughn (vocals) and Ron (keyboards and producer) Benjamin, line up with Tuff Lion (guitar - what a rootsy handle), Joe Straws (bass) and Dion 'Bosie' Hopkins (drums) for 10 original tracks committed to 15ips analogue 2 track in 1999. This is roots reggae delivered like never before, a different technical wizardry than mister Perry, Scientist or the equipment obsessive King Tubby, a new emphasis on subtlety and downward dynamic range, rather than on the traditional Carribean producer pursuit of timbre and density at all costs. All costs except riddim, here aplenty.
From their first visit to check out whether the studio suited them, Midnite knew the philosophy and vibe was right, but couldn't get the sound they desired. Finally after 6 months of experience, everything gelled and the whole album was laid down in one continuous session, each song in a single or second take. By 3AM bassist Joe Straws was drifting off to sleep while maintaining a rock steady beat.
Accepting only 3 microphones in real space for this opus, Vaughn Benjamen, Midnite's vocalist said of the six month struggle, at Mapleshade's Maryland studio, to get the sound they wanted, "I'm telling you, recording that way [without 48trax+fx] forced us to hear our music stark naked. I haven't had to confront myself like that since I was c15"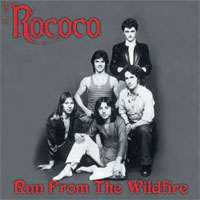 Rococo: Run From The Wildfire
Rococo 1. n. (Fine Arts; Visual Arts; Architecture) fanciful but graceful asymmetric ornamentation in art and architecture that originated in France in the 18th century, characterized by elaborate but graceful, light, ornamentation. 2. n. (Music; Classical Music) an 18th-century style of music characterized by petite prettiness, a decline in the use of counterpoint, and extreme use of ornamentation. 3. n. ornate, florid or excessively ornamental style of speech or writing. 4. n. UK Prog Rock band, active from 1972.
Rococo 1. adj. (Music; Classical Music) (Fine Arts; Visual Arts; Architecture) denoting, being in, or relating to the rococo. 2. adj. Immoderately elaborate or complicated. [from French, probably alteration of rocaille, rockwork, from roc, rock, variant of roche, from Vulgar Latin rocca]
Rococo were among the pioneers of the musical form that became known as Progressive Rock (Prog) that flowered brightly in the UK and Germany, borrowing motifs and complexity from jazz and classical music and attaching them to blues driven rock. As the blues rockers of the 60s became more adept and sophisticated they wanted more from their idiom and delivered it to earnest audiences, spellbound by virtuosity. The distance and envy this invited from other potential audiences spawned punk rock, whose arrival with the slogan "Kill all hippies" presaged prog's immediate demise.
"But that's in the future as far as this is concerned, pop pickers", intone plebs, stage left,
"Not Arff!" replieth ye old scribe.
The excellent riff from 'Wildfire' was used most weeks by Alan Fluff Freeman on his weekly show Pick of the Pops throughout the 1970s. The track was the B-side of Rococo's first single and is a bonus track on this disc. The A-side is also here suggesting this CD is the summary of Rococo's oeuvre. Sound quality of the original masters slightly predates the increasing and eventually overwhelming use of compression later that decade and beyond. Good.
Some of this material shows its age too much, some sounding like feeble early 70's rock musicals and over produced, but there are still people who buy Queen records or attend the London tribute musical so perhaps there is a market for this stuff and Rococo do it better. The tracks your scribe dislikes on this CD are probably those most loved by the majority. Your old scribe can't bear Elaine Stritch style vocal delivery or poncey piano trills but conversely keyboard moments are also reminiscent of Keith Emerson (or it might be vice versa), a soupçon of 10CC, leavened with Curved Air, or possibly a collision between a Caravan and a Camel, this was never going to appear on the Stiff label, and indeed has never appeared before in any other format. Particular cadences and song structures appear equally familiar in Zappa's mid 70s stuff. Despite sell out gigs at the Marquee and tours supporting Ten Years After (rock Brummies who reached Woodstock), Thin Lizzy, and Climax Blues Band who were all REALLY BIG in the 70s, Rococo suffered the sinking fate of so many prog bands and sank, but not without trace as this CD testifies.
Rococo, formed by music press reviewers and ultimately suffering the fickle hand of reviewer fate as reactionary punk put paid to prog's progress, the scribblers' scag of the next moment, failed to comply with pop pigeon holes in the 70s as they still do now. Your bold scribe heard Queen support Mott The Hoople and said "Who were that shower? They'll never get anywhere," a statement repeated back to him with their every successive number 1 hit. Hopefully elderly audiophile audiences have broader minds and half of this CD will appeal to those like me and the other half appeal to those who still hear some relevance in Queen.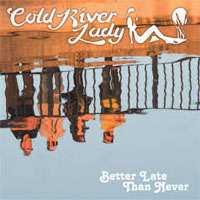 Cold River Lady: Better Late Than Never
Uniquely British whimsical rock-jazz style, Cold River Lady (despite the cheap trucker girlie silhouette logo and henceforth CRL) are the second band to remind your old scribe of Caravan at their best, seasoned with extra prog, especially the song Hereford Girls. Competition for those Hereford Girls in those days included Mick Ralphs (Mott the Hoople and Bad Company)! The late Pete Farndon (later of The Pretenders) was bassist in the original line up that split in '76, the bottom end handled on Better Late Than Never by John MacKenzie and drums by session stalwart Bob Jenkins. October Love also has your scribe reaching for the Camel comparison for the second time on this page, a protracted noodling guitar solo allowing the listener to get as lost as in a Walnut Whip.
"Caravan and Camel twice on one page?" Jeer plebs chorus stage left, "It's like the Birmingham Odeon in the mid seventies all over again (and all over you, too), but what was that about getting lost in a 'Walnut Whip'? What's that all about", they continue to sneer.
A 70s advert for a 70s confection seems appropriate here, counters your old scribe.
Looking at the press release is a shock as the Caravan comparison is made there for CRL, so either great minds think alike... "Old fools seldom differ", counter plebs chorus, stage left
While making no pretensions to audiophile quality, this 1991 recording tests system resolution, with what sounds on the high resolution combination of CD player, amplifier and speakers in the old scribes armory, like a miked guitar combo in a little booth of screens rather than a straight DI, on some tracks but not on others. That this micro acoustic is captured is testament either to good production values or even better emulation, but lost on inferior system playback. Not a nuance to impress non-audiophile friends, but guitar sounds reminiscent of Santana's Yamaha through tubes (well Carlos is American or your old scribe'd have written valves). The years (the 80s were the decade that music forgot) between CRL's 70's innovation and this 90's cut allowing time for woodshedding that makes this CD the perfect combination of old songs and new chops that is unspoilt by familiarity with the earlier versions.
English Graffiti, the opening track with a titel references that Wolfman Jack soundtracked movie American Graffiti that sums up the peak of American pop sensibility, just as this CD should've rode the second (70s) peak of British pop sensibility, but somehow missed the deadline. The band disbanded in '76 (summat else punk had to answer for) but reformed by invitation of Pete Brown (lyricist for 3 of Cream's biggies) to record for his new venture Interoceter Records. Hence the title Better Late Than Never, and indeed it is.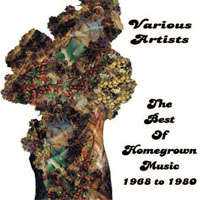 Various Artists: The Best of Homegrown 1968-1980
Homegrown implies a bunch of local talent in the green room, not a bunch of illegal shrubbery in the greenhouse. This month's reviews start with a one label compilation and finish with another.
Like most compilations this one conveys variable performance quality through variable sound quality. Compilations are great because they remind audiophiles of the breadth of available recording and production values while introducing new material that hasn't been endorsed by gurus, unless they're the compilations glued to the front of audio comics or handed out at hi-fi shows.
Ranging from truly weird early Floyd-stylee Factory (the acidic 60s band not the opiated 80s record label) material (5 tracks) to the poptastic One Way Ticket (7 tracks) whose lack of 70s chart success suggests only that Homegrown employed the most lacklustre of pluggers, while being shallow, trite and disposable but ought to have been chartily bankable. Frankly some of the material (e.g. Candy) was out of date when recorded but would have been excruciating in date too. On the other hand some of One Way Ticket's material would have been absolutely brilliant 10 years earlier and now 30 years later doesn't seem as anachronistic anymore and may be enjoyed for its pop qualities if not for its ability to be too late in '75-'76 to chart. Equally Five day rain sound like the tour bus arrived the slow way, but actually were the studio house band and the material predates the recording dates. In 1977, how Carribean way made it onto a Trojan label when they should've been concentrating on signings like U Roy, Big Youth, Dennis Alcapone and I Roy defeats your old scribe.
The Best of Homegrown 1968-1980 is an insight into the mass of creative talent buzzing around the Uk in the mid seventies; talent that rarely made the big time but managed to make some interesting tunes on the way, that must have inspired those names who were in the same studios at the same times recording the anthems still constantly recycled on daytime radio. Brain Carroll, who made these recordings originally with the late Damon Lyon-Shaw, assembled this mixture of material from the 70s; it will not demonstrate your system dynamics,it will not stretch your tweeter resolution and the plebs can't even skin up on the sleeve as it is the usual nasty CD jewel case, but Five day rain's instrumental work (7 tracks), and Factory's psychedelic swinging London ditties are worth the admission alone, a price similar to a pub gig these days.
Conclusion
From Mapleshade's immaculately recorded compilation to Homegrown's historical record, this month hears the full gamut of reasons why we have these monstrous audio architectural carbuncles, that we call audio systems, in our homes.
The individual artist CDs demonstrate that more pleasure is derived from any recording, regardless of recording quality, with greater playback system ability. This review tested all five CDs on systems ranging from in car audio to the full single ended triode thru 97dB 40Hz transmission lines epicurean audiotreat. The better the playback, the less tracks get skipped on third consecutive play. This says it all.
Music enjoyed while writing this review
Various Artists: 13 Shades of Blue, Mapleshade
Midnite: Ras Mek Peace: Before Reverb And Without Delay, Wild Child
Rococo: Angel Air release 2nd August 2010
Cold River Lady: Better Late Than Never, Angel Air release 2nd August 2010
Various Artists:, The Best of Homegrown 1968-1980, Angel Air release 2nd August 2010
"At last!", quoth plebs, stage left, Some newer material among the old scribe's reviews.
In July the review of Gerry McEvoy's Cd mentioned your old scribe hearing him back Rory Gallagher way back in the '70s. Recently a tour programme turned up, wedged between LP's (you can't do that with CDs or downloads) and the picture of Gerry McEvoy in its pages reminds how we used to look and how many years have lapsed.
if your recordings, cds, lps or hi-res downloads demonstrate above average sound quality or interesting performances,
Whether you're a recording studio, label or artist,
this page will plug good recordings mercilessly.
Great audio is pointless without great music!
Copyright © 2010 Mark Wheeler - mark @ tnt-audio.com - www.tnt-audio.com
[ Home | Staff & Contacts | DIY & Tweaks | Listening tests | HiFi Playground | Music & Books ]