[ Home | Staff & Contacts | HiFi Playground | Listening tests | DIY & Tweakings | Music & Books ]
Nada Malanima - "NADA Trio"
An audiophile-non-audiophile recording
[Italian version]
Artist: Nada Malanima
Album details: "NADA Trio" - OM 0018 Olis - 1998
Genre: chamber-pop Music? (voice + bass + guitar)
Label: Olis Music - Storie di Note online distribution
Approx. cost: €/$ 7.50-10 (YMMV)
Reviewer: Lucio Cadeddu - TNT Italy
Published: November, 2003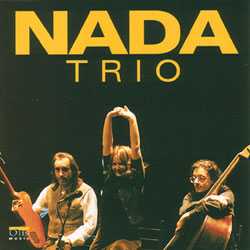 Nada Trio
Are you ready for something completely different? I'm pretty sure nobody, outside of Italy, is aware of the existence of an artist known as NADA. Nada Malanima (her full name) is a popular Italian singer, quite well known to the masses because of some successful singles which hit the Italian charts more than once during her loooong (> 30 years!) artistic carreer.
If you dare to ask who Nada is to any Italian Music lover, chances are you'll get a reasonable reply. Everyone knows her. Yet, not everyone knows this album.
Actually "Nada Trio" is a complete departure from the genre she is so well known for. Just take her voice, add an acoustic bass and an acoustic guitar, a pair of microphones or so and you'll get a taste of what this album sounds like.
The 13 tracks of "Nada Trio" are both popular hits from her classic pop repertoire and covers of classics. Among these: Paolo Conte's "La Fisarmonica di Stradella", "Les Bicyclettes de Belsize" (Redd, Mason, Misselvia, Piancheri), "Maremma" (Tuscany traditional chant) "Luna Rossa" (Naples traditional) and a live version of "Venezia Istanbul" (F. Battiato).
What makes this album so gustoso is the minimalist atmosphere created by the trio. Nada's voice is very peculiar, sometimes rough sometimes sensual, always able to make you shiver. Fausto Mesolella (guitar) and Ferruccio Spinetti (bass) from the Piccola Orchestra Avion Travel prove to be excellent partners and performers, even when asked to create a quick tempo like in "Amore Disperato" (a tough task without percussions!).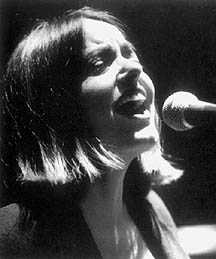 What makes this album so intriguing, at least for us Audio nuts, is the excellent recording. Of course few instruments are easier to capture but there's something special in this work, something that makes it sound so damn real.
If your system isn't able to materialize Nada into your listening room, perhaps you should consider a significant upgrade of some component. It should sound exactly like she IS SINGING into your listening room.
Then you have the soundstage. Oh My, I don't know which technique has been used (perhaps a trio of microphones) but the final result is outstanding in terms of presence, depth and spatial localization. You should be able to SEE the two instruments precisely located into the wide virtual stage in front of you.
No blurred images, here, just razor sharp contours and absolutely realistic geometric proportions! The guitar appears to be sized like a...guitar and so the acoustic bass.
Finally, you have a bass range to die for, extremely deep and able to "surround" you exactly like an acoustic bass played "live" should do.
The "magicians" behind the mixing desk are Massimiliano Nevi (Editing and mastering) and Francesco Fracassi (Production). Hard to say whether they've been extremely careful (and skilled) or extremely...errr... lucky :-) ...certainly this records sounds like NOTHING Nada had recorded before and the quality has to be rated extremely high even under strictly audiophile standards.
No doubt, it is a recording that can be used to "measure" the performance of any HiFi system (or component) in terms of realistic reproduction, precision and size of the virtual soundstage and bass frequency response.
It is NO special "audiophile" recording, usually hard to find and ...pricey. No, this album was originally sold at the newsstands (go figure!!!) at an extremely low price (7 € or so). Now it is available online at 7.50 $/€, a killer deal you can't miss, in my opinion.
Go to Storie di Note to order it online (few MP3 excerpts are available, also).
Of course, understanding some Italian may help appreciating the songs a bit more (the lyrics, I mean) but I'm pretty sure you'll be able to enjoy it nevertheless.
Conclusion
If you're familiar with some Italian cantautore like Paolo Conte, I'm sure you'll enjoy this album. It is sensual and entertaining at the very same time, graced with a recording quality which is simply outstanding.
© Copyright 2003 Lucio Cadeddu - www.tnt-audio.com
[ Home | Staff & Contacts | HiFi Playground | Listening tests | DIY & Tweakings | Music & Books ]