[ Home | Staff & Contacts | HiFi Playground | Listening tests | DIY & Tweakings | Music & Books ]
Vinyl in Naples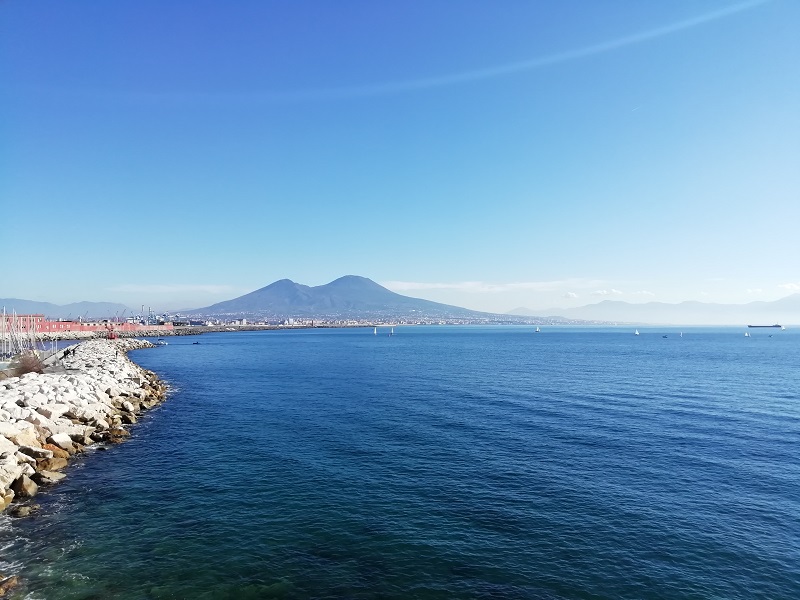 [Italian version here]
Inquirer: Carlo Iaccarino
Written: March, 2019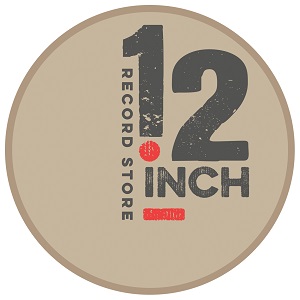 A sudden discovery
"Did you hear the news? A new record store just opened in your neighborhood!"
"Oh, come on... No one buys a CD anymore and everybody downloads all the files they want from the web! What's going on, there?"
"You didn't get it - they are selling vinyl records!"


This was, more or less, the way I became aware of the recent inauguration of the 12 INCH RECORD STORE.
Here we are in Naples, Amedeo Sq.: near to metro and cable car stations, in a very busy zone. The store lies among a series of "shops" opened along a recently refurbished private alley, where now you can find not-exactly-mainstream business: a very refined men's tailor, an artisan jewelry maker, and so on. A further attraction of this alley: it starts with a very good wine shop and ends in front of a very traditional chocolate maker selling point :-P.

At walking distance, when I was young, you could find two of the more important record stores in the city, plus one of the major pushers of what were then called "import maxi-single", for the DJ market: all three nowadays long gone, after having been copiously financed by me (and other foolish people) ;-) Those sweet memories immediately pushed me towards deeper investigations.

Let's immediately clarify that this store is selling only used records.
It's a precise choice made by the two owners, Raffaele and Carlo Manna, hereafter pictured in their entrance hall.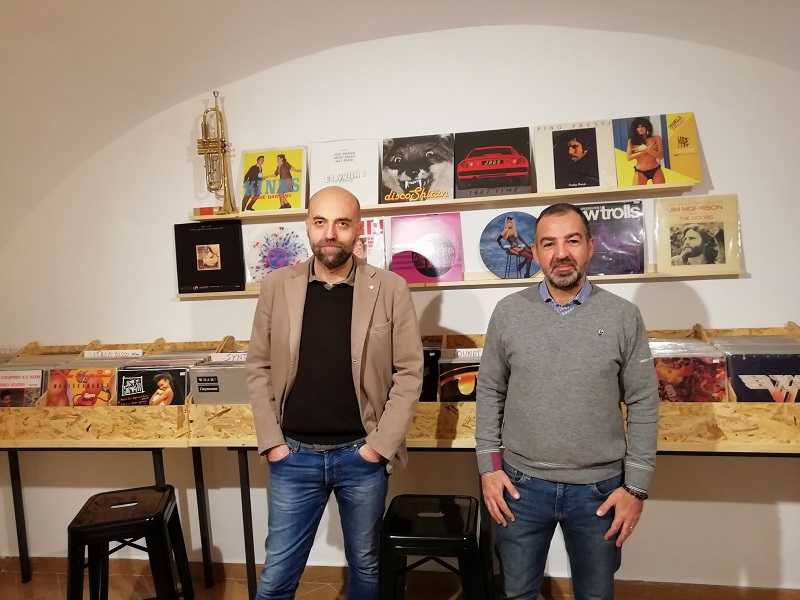 Raffaele and Carlo are cousins and both love music: they started buying records in their childhood. So, they ended up with a quite big collection of vinyl records, that brought to light the idea to start selling some of their pieces, at least to make room for the new arrivals. After little initial occasional exchanges, they developed a more structured selling activity, that was carried on while attending to the "real work" both of them have, so they registered on the DiscoGS website and used also other communication means.
Then, their collection grew up so much (18.000 records...) that they had the need for more storage. Hence, the idea: if we have to pay the rent for a storage room, why don't we pay for something that is not only a "bigger record repository box", but, rather, a place where we can have a real contact with people, to move our commercial relationships from the virtual domain into the real one, to socialize, not to be social?
Enter the new place. From the street, you have access to the first hall, where you can find the main listening console.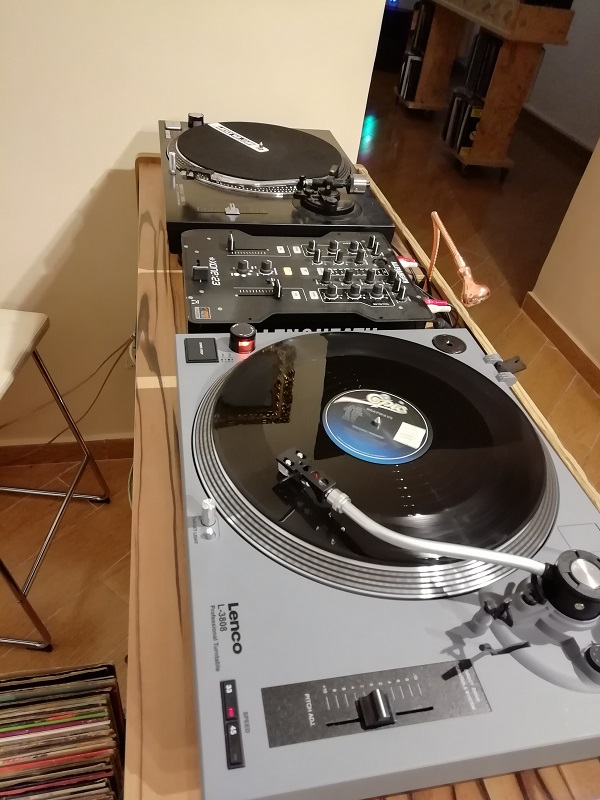 Let me try to heal your audiophile shock :-) by pointing you to the loudspeakers, by region-based and world-famous Eventus Audio.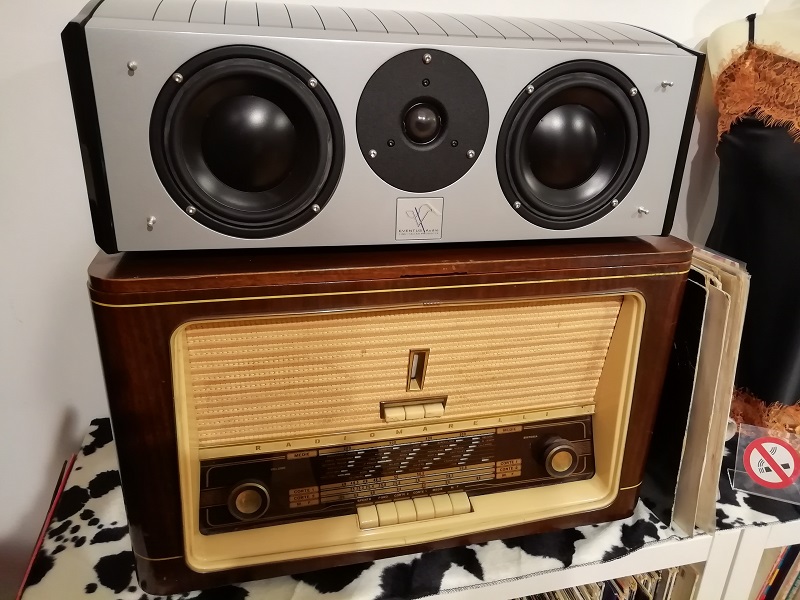 Then you move on to another room, filled with records bins, and, at last, into the final room, where you find even more records, plus a corner with a sofa and a "vintage" stereo system,


where you can comfortably listen to the selected records via headphones.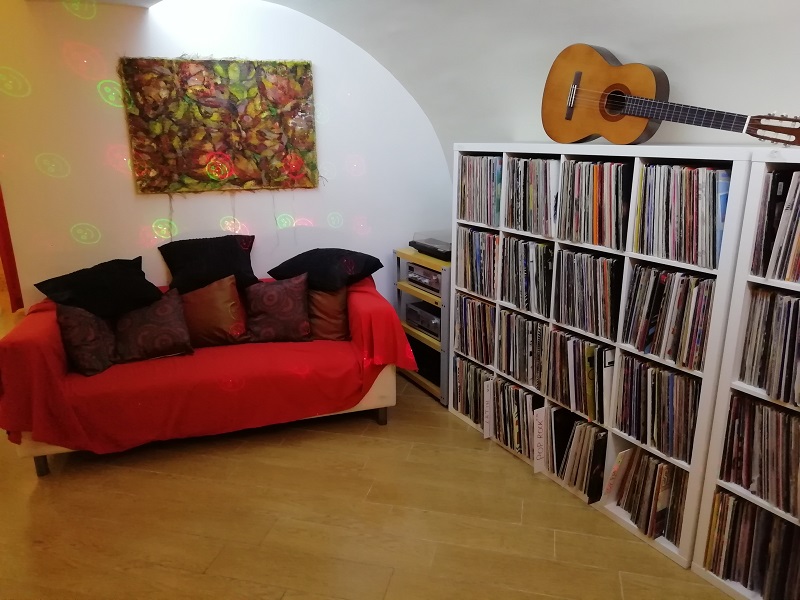 The Manna boys are thinking to use the shop also to host theme-based events, like, for instance, pre-dinner meetings, or wine-music pairing tastings (the wine shop at next door is held by a very competent sommelier), music-themed book launches, and so on. In the final room they could even provide headphone listening via sample gear (can amps, phono stages, you name it...) temporarily left by hi-fi producers willing to promote their brand. This is a good idea, for me - based on the last Munich shows I attended, to me, personal listening is the only audio market that is gaining real success.
What they have
In late 80s, Raffaele was a radio DJ, and, since then, he has loved the music that was played in discotheques. So, he started to accumulate lots of 12-inch maxi-singles (hence the name of this shop...) that eventually turn into a big capital that was heavily exchanged in the DJ market. Then, in 2016 he registered on the DiscoGS website: his username is DJRAF111. This international exposure boosted its selling and buying business; his customers are now all outside Italy and differ from country to country (Germans ask for House and techno, while in UK they ask for also the so-called Italo Disco). His collection includes also lots of Disco records, always dating back to the 80s - 90s period.
A composer's son, also Carlo is an avid record collector, mainly 70's and 80's Jazz and Rock. Here, too, we're talking about not present-day LPs.
The two cousins chose to deal only with used records - regarding Jazz LPs, only first pressing or, at least, "vintage" original re-pressings. So, you won't find any of the contemporary re-pressings or remastering editions that are now invading the LPs market.
There is a soundly based practical reason for this kind of commercial strategy, that, at first, I couldn't get.

The two Mannas want to exchange pieces in their collection, they don't want to become resellers of record companies - they know they cannot compete with those companies' own distribution and reselling forces. They think there's a commercial place for them, too - they think that there is no other record store like theirs, in southern Italy.
According to Raffaele, the 12-inch market has re-gained popularity amongst professional DJs - those same record spinners that joyously transmigrated aboard the digital boat... Moreover, you can't always find digital files of all the many special versions usually found on a single 12-inch record.
Raffaele told me this while speaking about 12-inch records devoted to the DJ market, but the idea works for Jazz and Rock, too..

Sure, this is a topic in which the audiophile TNT readers may not be interested - although I invite you not to disregard all that is produced to make youngsters dance, especially if we're talking of records from 30 or 40 years ago ;-)
Yet, 12 inch is also selling lots of records of Jazz and Rock music, a genre certainly more appreciated by our readers. Moreover - who knows? - a young man "exposes" himself to vinyl for his gigs behind a console and may perceive an actual difference in quality between analogue and digital music, and maybe sometimes he takes a seat in the shop's final room and listens to his first Jazz LP - that Carlo suggested to him - and thinks that, eventually, on his record spinner at home he could try and mount also a cartridge not suited for the backcueing... I know, I'm running too far ahead :-)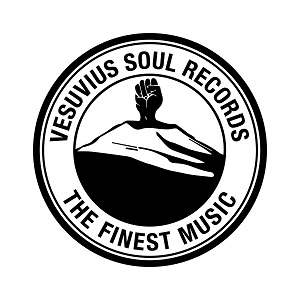 Strolling among Naples' vicoli
This summer the doors opened for VESUVIUS SOUL RECORDS, deeply rooted inside Naples' historical ancient centre, among its typical vicarielli (narrow alleys): it's placed in vico Santa Maria dell'Aiuto, and, in fact, its entrance is in front of this monumental church, one of the many you can find while visiting the streets of the ancient city quarter.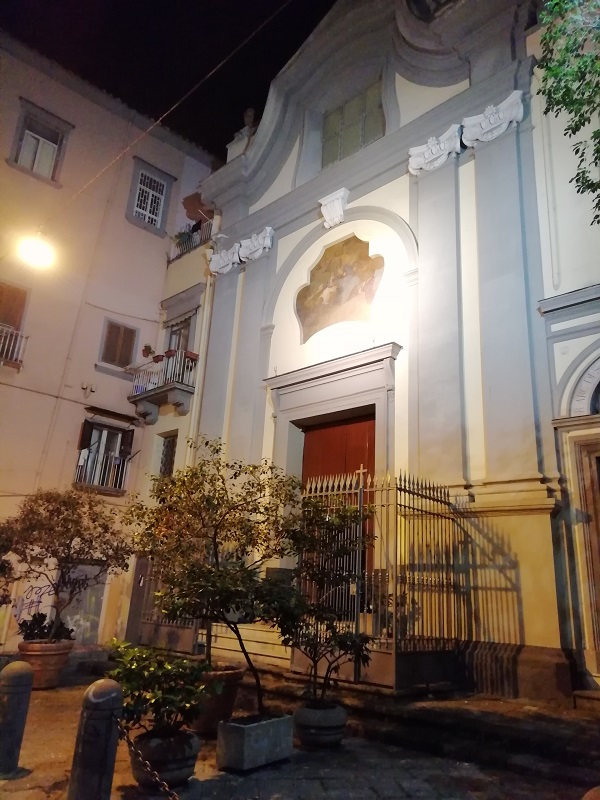 It's the brainchild of Francesco Campobasso,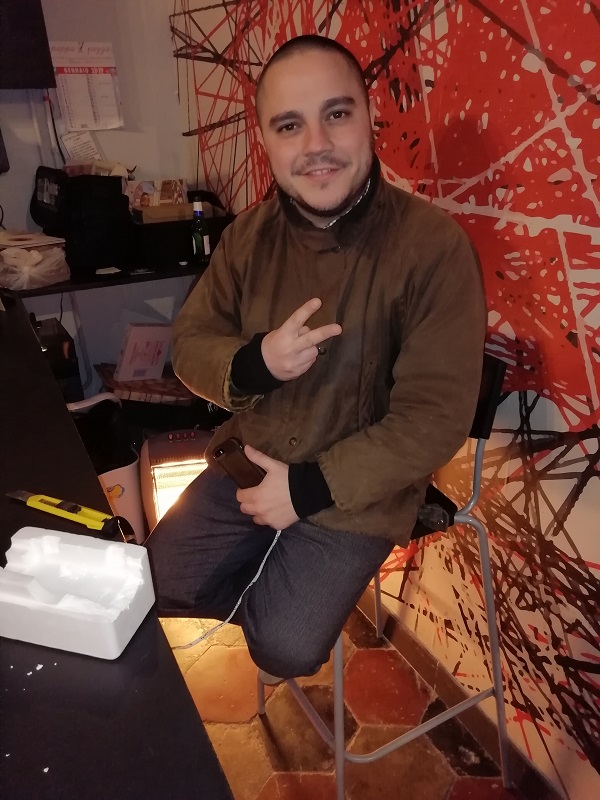 who thought to open a meeting place for music lovers. This is only his starting point, because, as the name may hint, Vesuvius Soul Records aims to be also a record company, that can count on a recording studio outside the city. For now, Francesco set up only a small part of its rooms, where he put up bins full of records for sale.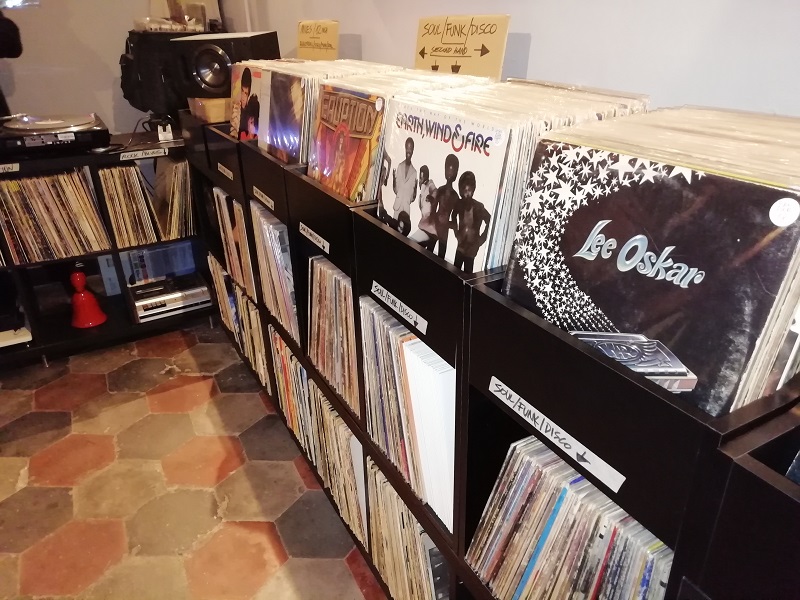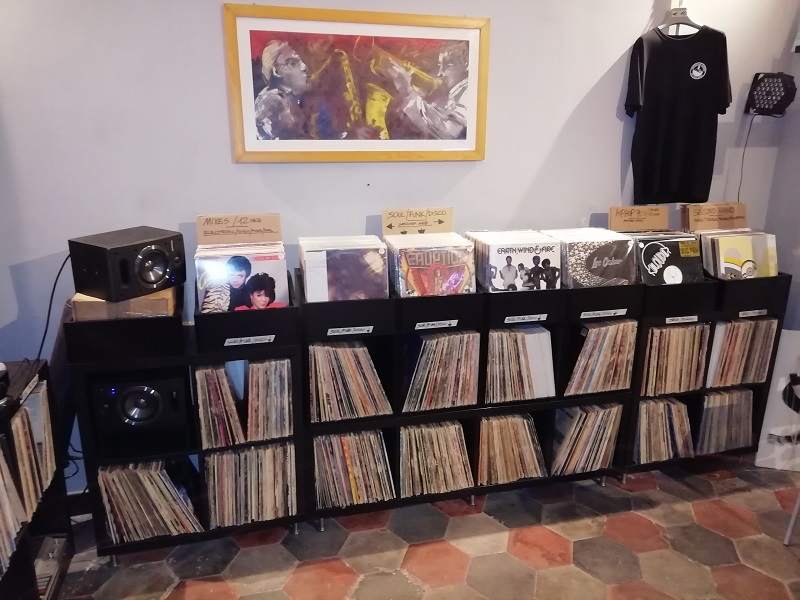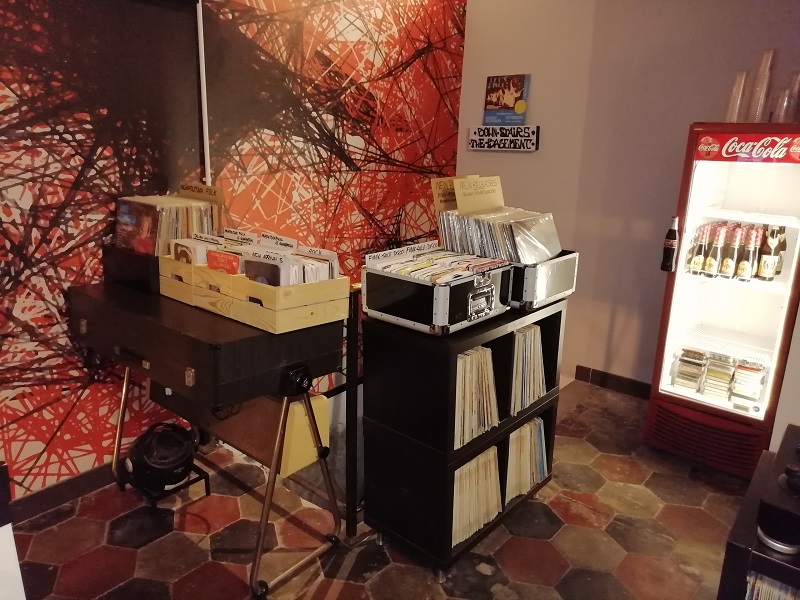 Francesco will sell you only vinyl: the beers are there for himself... and his friends ;-)

What they have
As the name suggests, you can find lots of Soul music, but not only that: there's also some Jazz and Fusion. All those records are original USA pressings, no modern re-pressings (but you can order them). Moreover you can find original LPs of traditional Neapolitan pop music. There's also a console where people, if the crowd allows it, can spin and mix their own records (or the ones there for sale...).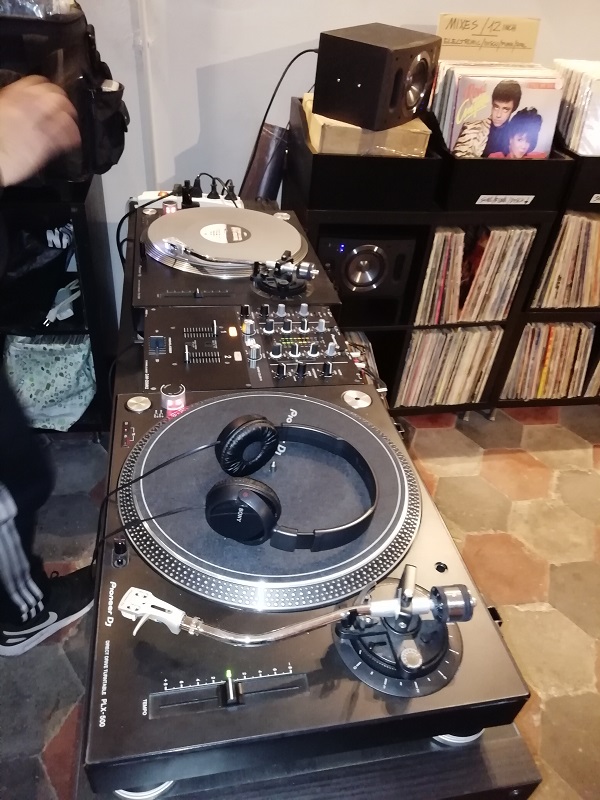 There are also setups for personal listening, where the customers can listen to the records before buying them.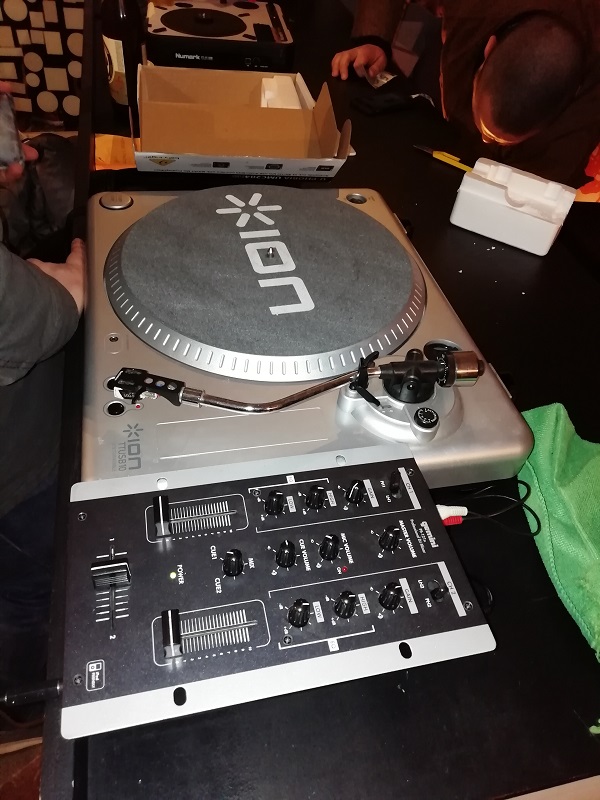 Ad abundantiam
VSR's activities aren't limited to music production, record sale and the opening of a meeting point. Francesco wants to stress the social attitude he wants to create for his enterprise.
This part of the city is actually very interesting, but has also its social and economic problems, and there's often a lack of cultural activities for residents. So, Francesco thought to make something in which the zone's young people could be interested, to provide them a cultural ambience to which they wouldn't normally be exposed.
So, he agreed with a nearby school to make listening session for kids, during which he plays for them some of the records he has for sale. He not only makes them listen to records, he also shows those records to the kids - who may even not realise what a record is, so accustomed are they to see music as a commodity provided by their PC/smartphone/TV - and shows them that there are liner notes there to be read, so they may start to acquire knowledge of the number of people involved in a musical production and the collective effort behind every tune they listen to. He started with Neapolitan traditional pop music, just to show the kids the origins and the authenticity of our city's popular music, trying to make them understand that it cannot be reduced to the contemporary momentary hits repeatedly pushed on the radio or in "heavy rotation" in their cell phones' playlists.
Besides, Francesco thinks to expand his sales also to some professional hardware. He actually also held - again, for the local young guys - a short introductory course to the use of the infernal toys for electronic music production, that are now become really affordable. In this case, also, the commendable "formative" spirit of his idea is evident.
Francesco, too, appeared interested in the possibility of "hosting" sample gear by the producers that want to temporary leave them there for the public to use it for listening to the records they are going to buy. In my opinion, it should be inexpensive gear, something that could pass the information that it is now possible to achieve quality audio reproduction without breaking the bank - something that I think is very close to our Editor's spirit... :-)

So, if you happen to visit Naples' historical centre, and you like Soul music, come to Francesco's: you could find yourself sipping a beer with other music lovers, or listening to an impromptu jam session, or DJ set... and eventually indulging yourself in the guilty pleasure of vinyl shopping ;-)
Conclusions
As you see, both of the City's enterprises are strongly inclined towards the professional fruition of music, both sport a DJ console, and both sell a big bunch of records devoted to the dancefloor.
But, whichever your music tastes may be, I invite you to overcome your audiophile reticence - In fact, I think this is a further testimony of how much vinyl lovers owe to the People of the console, who contributed to keep alive the vinyl business (think of pressing plants, for instance), albeit for a limited category.

Anyway, I think that we all may be interested in knowing that in Naples there are again "record stores", where we can again think of spending some time, taking a pause in our hectic life, and flip through the bins to find (or meet again) a record to bring home, maybe even meeting someone else that is also passing by to take a breath... Sure, there's a strong nostalgic feeling, and, maybe, the risk of pandering to music taste stagnation. But, eventually, instead of gathering with our friends in the loud and crowded central pubs, we could meet at Carlo and Raffaele's, or we could organize periodical listening meetings at Francesco's ... in any case, it's just a matter of reaching an agreement with them ;-)
And maybe we can finally find that special record that we were searching for when we were in our twenties and then forgot because something else got our attention... - one more confession: I did it ;-)

© Copyright 2019 Carlo Iaccarino - www.tnt-audio.com

[ Home | Staff & Contacts | HiFi Playground | Listening tests | DIY & Tweakings | Music & Books ]