[ Home | Staff & Contacts | DIY & Tweaks | Listening tests | HiFi Playground | Music & Books ]
Siri's Svale Band - "Necessarily so..."
An audiophile-non-audiophile recording
[Italian version]
Artist: Siri's Svale Band
Album details: "Necessarily so..." - SONCD 2005 - Sonor Records - 1997
Genre: way coooool Jazz :-)
Label: Sonor AS
Address: Sonor Records, e-mail: sonoras@online.no - P.O. Box 332 - N-7001 Trondheim - Norway
Approx. cost: €/$ 20 (YMMV)
Reviewer: Lucio Cadeddu - TNT Italy
Published: November, 2003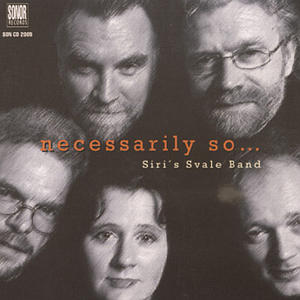 Siri's Svale Band - Necessarily So...
Who the hell is Siri? Siri Beathe Gellein is a Norwegian highly talented singer, with a voice that can simply freeze the blood in your veins. Sweet as a female voice can be, so warm and velvety that she can virtually sing just everything, even a wine list carte, still being able to touch your soul.
Siri's band was founded back in 1987 and released, as far as I know, two albums. One in 1990, titled "Blackbird" and reviewed here on TNT-Audio, suddenly become a "must" among audiophiles in the know (see, for example, Stereophile's list of "Records 2 die 4". J. Scull section).
This "Necessarily so..." is their second (and last, till now) album, still released by the Norwegian label Sonor.
The band, in some sense, has a very unique sound: a cool mixture of soul and jazz...perhaps we can call it "acid jazz" though I'd refuse the idea to put a label on such an artistic and unusual blend of emotions. The band uses two acoustic basses (yes, TWO!), a soprano and a baritone sax plus drums. That's all :-)
As you can imagine, their sound tends to be rather warm and rich in bass frequencies. I'd describe it rather as an interplay between innovation and tradition.
The album contains several covers of old time classics ("Smoke gets in your eyes", "You make me feel like a natural woman", "It aint't necessarily so", "Fire" etc) plus original tracks from members of the band.
The atmosphere is extremely warm and relaxed but, thanks to the emotional Siri's voice, strong emotions aren't lacking. From an artistic point of view, this album is quite interesting because of the successuful blend of modern and classic jazz, something even non-jazz fans can easily understand and appreciate quite easily.
Since you're reading a purely HiFi mag you'd expect this album to be extremely well recorded. You bet! This CD is an absolute masterpiece as it delivers a sound quality hard to find even on "famous" audiophile pressings.
First of all, it is a GREAT test for vocals. Siri's voice - sometimes miked quite closely - is so REAL that you can imagine her singing in front of you between the loudspeakers. Take "You make me feel..." for example. The track opens with a Siri's solo which reverberates all around the recording room. You can hear all the reflections on the walls nearby, giving you the exact perception of the size of the room itself.
Then you have the challenging reproduction of two acoustic basses playing together. Low frequencies are so well captured that this album is a REAL woofer tour de force. If you're using speakers with small woofers...beware with that volume knob, Eugene. Seriously.
The overall distortion level and noise floor are extremely low so the recording excels in terms of micro- and macro-dynamics. The feeling of "being there" is so strong that you can't help but offer a warm Italian caffè to Siri and her band :-)
For example, the opening bass notes of the first track "Smoke gets in your eyes" are simply thrilling, a real challenge for woofers and any vibrating device into your listening room. Window panes and doors will rattle and you will feel the energy of the two basses coming through you spine, literally.
In my opnion, this is one of the best recordings of acoustic basses I've ever heard: powerful, articulated, undistorted and appropriately sized. Not a bass larger than a galleon in full sail, just an instrument (errrr.... two!) which you can imagine playing into your living room, a couple of meters away from your listening (and rattling :-)) chair.
Given the extremely low level of distortion you may be tempted to turn the volume up till insanely high levels. Unfortunately, the amount of deep bass frequencies excites every single resonancy into your room, even those you didn't even think to have :-)
This album, as well as the previous "Blackbird" (same sound quality as this one), is available both on CD (DDD) and 180 grams audiophile LP pressing. What else can I say? A must if you need to test the acoustic response of your room and the verve of your speakers. A challenge for the woofers, actually.
Conclusions
Another purely non-audiophile recording that can leave many "special" discs in the dust. If you like jazz or if you just want to test your system capabilities, this album is a MUST.
Samples of the tracks can be found at Normann Records.
© Copyright 2003 Lucio Cadeddu - www.tnt-audio.com
[ Home | Staff & Contacts | DIY & Tweaks | Listening tests | HiFi Playground | Music & Books ]