[ Home | Staff & Contacts | DIY & Tweaks | Listening tests | HiFi Playground | Music & Books ]
David Peacock - "Grim determination meets the field of sorrow"
Uncompressed rock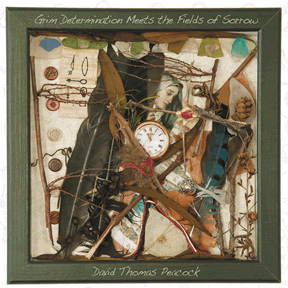 Grim determination
[Italian version]
Artist: David Peacock
Album details: CD "Grim determination meets the field of sorrow" - 2010 - by OddBall Musicworks
Sample under test: Made in the USA
Genre: rock
Price: 12$. It can be purchased directly at OddBall Musicworks
Reviewer: Lucio Cadeddu - TNT Italy
Reviewed: December, 2010
Foreword
This is not the first time we review an album mastered by Barry Diament. He uses very direct and natural methods to transfer the very core of a musical experience into digital tracks. The album I'm going to write about is a standard recording (no Real Stereo techniques were used) but it uses NO compression.
Grim determination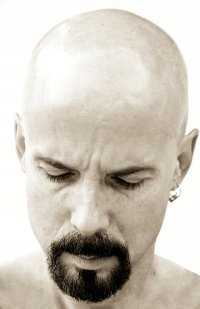 David Peacock
David Peacock is an American composer, singer, musician and producer and this "Grim determination meets the field of sorrow" is his latest album release (Summer 2010) for his own indie label Oddball Musicworks. This work is a very kaleidoscopic mixture of musical genres, though I'd attach the rock label to it for easier and more immediate understanding.
Album details & credits:
Written and produced by David Thomas Peacock
guitars: Dave "Buzz" Ramsay
drums: Marquis Taiwan Champion
bass: Carl Augustine
vocals & all other instruments: David Thomas Peacock
cd mastering: Barry Diament, Barry Diament Audio, NY
Grim determination... contains 13 tracks (actually 11, not counting the brief intro/outro tracks) which are amazingly very different one from the other and each one is quite far from the usual 3-minutes song cliché. As David himself describes this album: "It's a collection of songs about facing the beauty and pain we all experience in our short lives.". This mixture of beauty and pain is elegantly described by the different atmospheres of this album: sad, angry and aggressive (The man who almost was, Retribution), sweet and melancholic (Fall from grace, with a wonderful guitar solo, Love lasts forever and a day, in pure Joe Jackson style) and reflexive (Life's great mystery, I miss you).
David's voice and way of singing somehow reminds me Peter Gabriel, especially that of his solo albums. The album isn't immediate as one might expect, considering the musical genre. You need to listen to it over and over again, since the general mood is so variable from one track to another.
If you wish to get an idea, instead of forcing my to type thousands of words :-) go to the www.oddballmusic.com site and download some MP3 tracks for free.
Before analyzing the most relevant technical aspects of the recording, let me display the screenshot of the DR software applied to this recording. I remind you the DR software measures the amount of (average) dynamics contained in a recording, for more details please refer to our list of records analyzed via this software.

------------------------------------------------------------------
 DR      Peak    	   RMS     	 Filename
------------------------------------------------------------------

 DR7	 -16.73 dB	 -39.62 dB	 Track01.wav
 DR12	  -0.30 dB	 -15.67 dB	 Track02.wav
 DR12	  -1.80 dB	 -19.73 dB	 Track03.wav
 DR12	  -2.22 dB	 -17.83 dB	 Track04.wav
 DR13	  -2.43 dB	 -19.38 dB	 Track05.wav
 DR11	  -0.47 dB	 -14.53 dB	 Track06.wav
 DR14	  -1.74 dB	 -19.53 dB	 Track07.wav
 DR14	  -1.05 dB	 -21.40 dB	 Track08.wav
 DR12	  -1.31 dB	 -17.94 dB	 Track09.wav
 DR16	 -10.25 dB	 -31.17 dB	 Track10.wav
 DR13	  -3.88 dB	 -20.52 dB	 Track11.wav
 DR12	  -2.28 dB	 -18.03 dB	 Track12.wav
 DR8	  -4.26 dB	 -17.49 dB	 Track13.wav
-------------------------------------------------------------------

 Number of files:    13
 Official DR value:  DR12 

===========================================

From the screenshot above you can see the measured average is DR12, which is a very good result even for a truly audiophile recording. There are two tracks that score DR14 and one (Secrets) that reaches DR16! This album is a walls shaking one, indeed. Leaving out of the analysis the Intro (Track 1) and the outro (Track 13) the average DR ranking becomes 13. Amazing, if you consider this is mostly rock. Average DR rankings for modern commercial pop/rock music album hardly exceed DR10!
Technically, this album is quite interesting. No compression means HUGE dynamic variations, hence be prepared to watch out for that volume knob as this album might surprise you more than once: just when you're thinking you've set up a correct listening level you are forced to lower it! For this reason my advice is to firstly play the album at a level lower than usual, learn where the loudest parts are and adjust volume accordingly. This is not a problem if your system uses large speakers and powerful amps but you must be careful if you use small speakers and/or low powered amps.
Bass lines are powerful and tight (e.g. as in Fall from Grace), percussions (be it acoustic or electronic) are fast, precise and full-bodied. Piano and keyboards play a main role in almost any song of this work: notes are clean and harmonically rich. David's voice is clear and reasonably natural, just a bit closed-miked on certain songs, in my opinion. Guitar parts (kudos to Dave Ramsey!) are extremely lively and evocative, a couple of guitar solos gave me goosebumps.
As expected, considering the genre, there's no real 3D soundstage to speak of, though a couple of songs succeed in creating an almost credible virtual image (e.g. I am the night, Love lasts forever and a day).
Secrets is a sweet instrumental track and, perhaps, this is the reason why it has the highest DR score on our test.
Overall, this is a very good recording, especially if you wish to investigate your system ability to follow fast and large dynamic variations, with something different than classical music :-)
Conclusion
This is a very good and lively recording, something you can use to impress friends (if that's your goal) or, simply, to dive into an almost-like-live listening experience. Provided your HiFi system can cope with the dynamic requirements of this recording you'll be enjoying every single minute of this disc. Once again, it is proved that saying NO to compression is the way to go, and this applies to ANY musical genre.
© Copyright 2010 Lucio Cadeddu - editor@tnt-audio.com - www.tnt-audio.com
[ Home | Staff & Contacts | DIY & Tweaks | Listening tests | HiFi Playground | Music & Books ]