[ Home | Staff & Contacts | HiFi Playground | Listening tests | DIY & Tweakings | Music & Books ]
Ray Brown - "Soular Energy"
A Re-issue on Vinyl by Pure Audiophile Records
[Italian version]
Artist: Ray Brown - Soular Energy
Genre: Jazz Baby
Manufacturer: Pure Audiophile Records - USA
Approx. cost: $ 50 USD (don't have a cow....yet)
Reviewer: Scott Faller - TNT USA
Published: September, 2003

Ray Brown - Soular Energy
For those of you that aren't Jazz fans, the name Ray Brown won't mean much but for those who do partake in the fine arts of Jazz, he needs no introduction. Ray has been a mainstay in Jazz for years. He's played with some of the greats. Back in the late 70's and early 80's, Ray teamed up with Norman Granz and his stable of artists on the Pablo label and cut a bunch of albums with the likes of Count Basie, Duke Ellington plus compilations with so many others.
Ray wasn't limited to recording with major composers, Ray recorded a bunch of records on his own. Such is the case with Soular Energy. Ray brought together Gene Harris on piano and Gerryck King on drums to create this Jazz masterpiece. Unfortunately, not long ago we lost Ray to natural causes. Ray was 78.  
I'm not going to give you a full bio this time on Ray. There's loads of information out there if you are curious. Just type his name in Google and you'll have a few evenings of reading ahead of you. What I am here to tell you about is a relatively new vinyl label that is producing some damned fine sounding wax.
The (relatively) new kid on the block is called Pure Audiophile. Dennis Cassidy has teamed up with Stan Ricker (yep, that's right, Mobile Fidelity's Stan Ricker) to cut some classic music on thick, lush, virgin vinyl. Your probably thinking, "Yeah right, just another couple of guys trying to capitalize on the resurgence of vinyl.". Well, I'd like to be the skeptic here too, but after listening to Ray Browns, Soular Energy and Karryn Allison's, Ballads, nothing could be farther from the truth.  
Here's a couple of quick examples that make these guys stand out. First, Dennis and Stan decided to use Blue vinyl to cut their albums on. Their decision to go blue seems to have started a mini craze. Some of the other guys have found out how good this stuff sounds and they are now offering their product in blue also.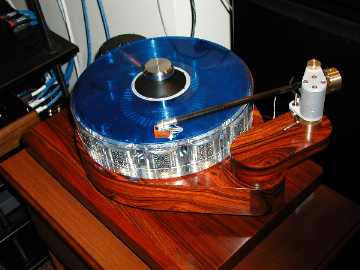 Soular Energy on the Teres Turntable at MAF
Why blue vinyl? Well according to Dennis, it's the only way to insure that you get pure, virgin vinyl (if you can be assured of anything anymore). If you buy the black vinyl (pellets) that we are all used to, there is no way to tell if you are getting reground (recycled) vinyl or not. Any of you that have vinyl from the days of yore can attest that reground vinyl adds loads of surface noise and generally sounds….well, crappy to put it mildly. The other reason is (apparently) their blue vinyl is harder than the standard black. This harder vinyl formulation allows for better, crisper, and more extended highs.
After talking to Dennis, he mentioned that Stan had found some new "trick" (I've been sworn to secrecy) in the mastering process. Believe me, Stan is doing something different. I've got 10 or 15 MoFi's plus a few others of Stan's handy work. Most notably the original issue of the 1812 on Telarc. I'm here to tell you, this new "process" Stan is using, equates to one damned fine sounding piece of vinyl.
So lets talk about Soular Energy a bit. Ray Brown was a prolific bass player with loads of contemporaries but few equals. If you pay a visit to Stan's website, you'll immediately greeted by Stan and his bass. If it's one instrument that Stan knows the sound of it's the bass. Stan absolutely got every nuance of the instrument right on this album. Pure Audiophiles, Soular Energy is loaded with those minute details we audiophiles live and die for. From being able to hear Rays fingers slide up and down the neck to the guys "jawin" in time with the music in the background.  
Rays choice of pianist's was perfect too. Though Gene Harris isn't as well known as say Art Tatum, Oscar Peterson or Bill Evans, he just flat smokes on this release. His sense of timing and rhythm on Soular Energy are phenomenal. Lets not forget the recording quality either. More often than not (or so it seems) pianos are really poorly recorded (or mastered). It seems like the guys in the studio either throw moving blankets over them to stop bleed over to the other mic's or they end up with the wrong mic choice or position or worse yet, they end up EQing the piano out of reality. Thankfully, this piece of work is very well recorded.
As an added bonus to the original Soular Energy release, Pure went back to the original session tapes and came up with 3 'bonus' alternate takes. They took them to Phil Edwards (the guy who mixed the original recording) and had him mix them as he had  the original recording. One alternate take features Emily Remler on guitar. Pure also added a fourth 'bonus' track, CC Rider, to round out the four sides. "Soular Energy" has always been issued as a single LP, but with the addition of the bonus tracks combined with keeping the side times as short as possible, this release ended up being a double LP.
If you're not familiar with Rays work, take a trip over to Amazon. They have Soular Energy listed and you can listen to 30 second (or so) sound bites to get somewhat of a feel for how luscious this release is. This really is Jazz at it's best. A simple trio, bass, piano and drums. Think of Jazz like this as you would your new SET amp or pre-amp. The simpler the better. No bells or whistles to complicate the sound. No gizmos to interfere with the signal path. Just pure music in its simplest form, performed by some outstanding musicians.
One interesting thing about the Soular Energy release, one particular song (Take the A Train) has a hot spot. By that I mean if you have a cartridge that tracks at less than 1 gram, you could have some trouble on this cut. It's only one spot on one song (it's a really heavy pluck of the bass) but you need to be aware of it. My Systemdek using the Rega Super Elys didn't have a bit of trouble but it tracks at 2 grams. In turn, the album comes with a warning label that says "Dynamic recording of bass may cause difficulties at low tracking forces." Kinda reminds me of the 1812 Overture that Stan Mastered way back when. Trouble is, my arm actually leaps out of the grooves on the cannon shots. Actually I make it through the first two shots, then I'm done for.
As I listen to the really, really smooth version of Take the A Train (the old Duke Ellington and Billy Strayhorn classic), I've never heard a rendition quite like this one before. It's a slow bluesy, funked up version that will send you detail lovers over the edge. The bass riff's by Ray are worth the price of admission alone.  
Heres what Stan had to say over at the Phonogram site about that particular track;
SR:  "It's because there's a hell of a pluck on the bass there by Ray, and some  carts / arms combos may not track it at any force. I cut this 3 different ways, and all who listened to the test pressings chose this "do" hands down.  It would be a damn shame to deny the best version to the many who can play it, for the few who can't .
To quote from my earliest QC influence, Audiophile Records, Inc., Saukville, Wisconsin, "This record bears no warranty whatever if played with other than high-grade pickups, mounted in satisfactory arms". And then goes on with examples of the equipment. Both examples I've seen in their writings have been Weathers and Pickering, mounted in the longest arm available for each.
I have a long Grace [757?] on my lathe  TT  [17 ¼" diameter] with Stanton 990 that plays this very well indeed. All grooves are 2.0 mil or larger, so there's nothing "out of spec" here. This album will test every part of your system, I promise you. We worked hard to make sure that this is the best "Soular Energy" on record."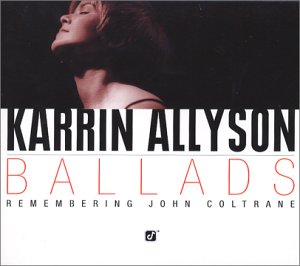 Don't expect any semblance of what you hear on your old MoFi's. As good as those were, Pure Audiophiles releases sound better. So are they worth the 50 clams Dennis is asking? You bet. In fact, I'm on his "must save a copy for" list. I'm gladly going to shell out the bucks for everything these guys do (providing I like the release of course). The next two releases are Gary Burton, Chick Corea, Pat Metheny, Dave Holland and Roy Haines on Like Minds (PA-003). And sometime late this year or early next is Karrin Allyson's In Blue. Needless to say I've already reserved my copies. Once the word gets out I fully expect the Dennis to sell out just on pre-order sales for most of his releases.
If you are interested in the upcoming releases you can drop Pure Audiophile Records an email and reserve a low number issue or you can always pick up copies from Acoustic Sounds, The Elusive Disc, Music Direct, Red Trumpet, or a number of other vendors.  
Oh, by the way. I got the last new copy of Karryn Allison's Ballads that existed, sorry :-)
I'd personally like to thank Dennis Cassidy from Pure Audiophile for the use of these discs during this review. If you're interested, here's a link to my system and the associated gear I used during this review.
© Copyright 2003 Scott Faller - www.tnt-audio.com
[ Home | Staff & Contacts | HiFi Playground | Listening tests | DIY & Tweakings | Music & Books ]