[ Home | Staff & Contacts | HiFi Playground | Listening tests | DIY & Tweakings | Music & Books ]
Record Store Day 2014
Physical media on the rise!


Record Store Day 2014
While CD sales decrease year after year and vinyl sales increase at a steady, fast pace, music downloads have definitely taken off. This, of course, has a series of cultural and practical consequences. First of all, traditional record stores have to struggle to keep their customers interested in records. Why should we spend (waste?) our time searching for new albums at a record store when our favourite music is just a few clicks away?
Well, one of the reasons is that at a record store we can find something we weren't searching for, discover new music, meet other music lovers, share musical insights and, most of all, go out a take a breath of fresh air, instead of sitting at home staring at a computer screen. In my opinion, traditional record stores and online stores can happily live together, mostly because they aim to attract different customers. This notwithstanding, traditional record store should have something to offer that can't be found online, for example special issues, not digitally released titles and so on. Enter the Record Store Day.
This special day was conceived in 2007 by independent record store owners to celebrate and spread the word about the culture surrounding nearly 1000 independently owned record stores in the US and thousands of similar stores internationally. Nowadays, this event is so widespread that there are participating record stores on every continent!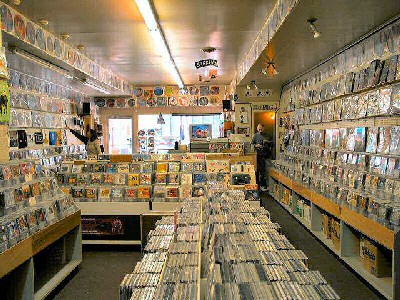 Special vinyl and CD releases and several promotional products are made exclusively for this day and many artists in the World make special appearances and performances. The Record Day Store activities include live performances, meet & greets with artists, DJ live sets and so on. Record Store Day takes place the third Saturday every April. It is managed by Michael Kurtz and Carrie Colliton, with the help of Michael Bunnell and Eric Levin.
As I said, record stores should have something special and exclusive to offer to music lovers, so unique that it shouldn't be available elsewhere. Indeed, there are many Record Store Day exclusive releases. There's a huge list of these on the Record Store Day website. Moreover there are titles, first releases, that you can find on Record Store Day at Record Store Day participating stores only.
If you, music lover or record store owner, are interested in participating and supporting this event, visit the official website and search for a map of participating record stores in your Country. Many Countries have their own Record Store Day website where you can find precisely targeted informations on the national event.
Just a final thought...should we start planning a HiFi Store Day, as these are quickly disappearing as well? Perhaps we can purchase an album with a click, listen to some online excerpts and decide if we like it or not but certainly we can't judge HiFi components online! We need a place where we can listen, evaluate and compare different HiFi gear. If this idea makes sense to you, let's talk about it! We at TNT-Audio can offer free media support to spread the word worldwide.
© Copyright 2014 Lucio Cadeddu - direttore@tnt-audio.com - www.tnt-audio.com
[ Home | Staff & Contacts | HiFi Playground | Listening tests | DIY & Tweakings | Music & Books ]