[ Home | Staff & Contacts | DIY & Tweaks | Listening tests | HiFi Playground | Music & Books ]
Album Review - Saltanah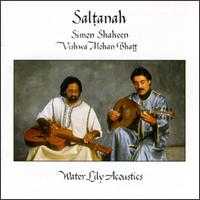 Artist/s: Simon Shaheen, Vishwa Mohan Bhatt, Ronu Mojumdar, Sangeeta Shankar
Genre: Indian Classical, Arabian Classical, Fusion
Record label: Water Lily Acoustics
Serial #: WLA-ES-51-SACD
Year recorded / released: 1994
Format: SACD Hybrid
Reviewer: Arvind Kohli - TNT USA
Reviewed: May, 2007
For those of you not familiar with this label, I direct your attention to my interview with Kavi Alexander.
THE ARTISTS
The artists on this album are representative of the two classical genres presented - Arabic and Indian. Simon Shaheen single-handedly represents the Arabian Classical side, armed with the mellifluous oud (the grandparent to the lute and guitar). The Indian Classical camp is mainly represented Vishwa Mohan Bhatt on his self-designed Mohan Vina (a sitar – slide guitar hybrid); in supporting roles are Ronu Mojumdar on his venerable bansuri (bamboo flute) and Sangeeta Shankar on the violin (tuned to the Indian Classical sensibility). From what I am told, on previous Water Lily collaborations V.M. Bhatt's skill and virtuosity had dominated the sessions (especially when playing with players from Western genres). Reportedly, his streak of dominating a session was ended this time by Simon Shaheen's outstanding performance.
As it turns out Simon Shaheen and V.M. Bhatt had never met each other till they made this recording. The project was instigated by Kavi Alexander who had already worked extensively with V.M. Bhatt on many projects before (including the Grammy winning "Meeting by the River"). Kavi had also wanted to record Simon for a long time, and they were finally introduced by a mutual friend.
There is no question of the virtuosity and credentials of every artist on this album, each of them have trained in their genre since childhood and are at least the second generation to follow in that tradition. I can assuredly say that Kavi spends at least as much care on casting as he does on the quality of the recording.
THE MUSIC
Outstanding! There is not a track that is not my favorite. I have had this album for a few months now, and almost played the protective layer off it in the first few weeks. After a short hiatus, I went back for more...again and again. As I write this, passages are playing in my head and I cannot wait to get back to my rig for another listen.
This album is a rare fusion product in two ways. First, it is a fusion of the Indian and Arabian Classical genres, something I have never experienced to date. Second, the content has complete musical cohesion, something that lacks in most fusion work I have experienced. I generally do not care for fusion pieces; to me, they more often than not are an unblended morass of two or more musical forms with little to nothing binding them together. I come away frustrated, having my senses attacked by an uncongealed mess of sounds; even though I enjoy the participating genres when they are performed individually.
I was further baffled when Kavi Alexander told me that not only had the two principal artists never met, but they also completed the album in one session (as have many other landmark impromptu recordings). He further explained that the two genres have a lot in common; their origins were influenced by Persian music, based on modes, notes are broken into micro-tones, "call and response" is used and the compositions (raag in Indian and maqam in Arabic) are improvised by the musician. These commonalities between the genres combined with the virtuosity and versatility of the musicians has resulted in this tremendous piece of work. Each track is basically a selection of a raag and a maqam that are harmonious with each other, interspersed heavily with "call and response" and impovisation.
THE SOUND
Without a doubt (to my ears), Waterlily belongs to the top echelon of record labels when it comes to sonic quality. I cannot think of an aspect of the recording quality on this album that was lacking in any way. As a matter of fact, I think I have been subjected to operant conditioning, because as I write this a feeling of euphoria is washing over me...the same as when I have a particularly juicy listening session.
What I enjoyed the most when listening to this album, was really getting to appreciate the oud and mohan vina. Not only were they played by folks who are masters of their instrument and genre, but also the recording is of the nth resolution, hence I was able to savor every nuance and tone those instruments rendered.
CONCLUSION
I am not sure if the credit here goes to the artists or the producer (Kavi Alexander), I suspect a bit of both. But I have to admit that there are now several fusion works from Waterlily that have become part of my all-time favorites.
My highest recommendation.
RELATED LINKS
Simon Shaheen - Wikipedia
Simon Shaheen - NPR
Simon Shaheen - home page
Oud - Wikipedia
V.M. Bhatt - home page
V.M. Bhatt - Wikipedia
© Copyright 2007 Arvind Kohli - www.tnt-audio.com
[ Home | Staff & Contacts | DIY & Tweaks | Listening tests | HiFi Playground | Music & Books ]