[ Home | Staff & Contacts | HiFi Playground | Listening tests | DIY & Tweakings | Music & Books ]
String Cheese Incident - "Born on the Wrong Planet"
Don't Let the Name Fool You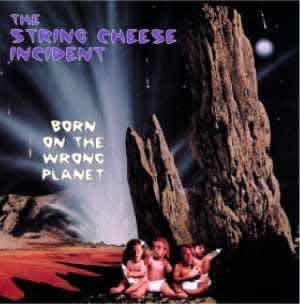 Album:String Cheese Incident - Born on the Wrong Planet
Label: SCI Fidelity
Medium: CD
Released: 1997
Genre: Uuuuh.....
Reviewer: Scott Faller
Date Reviewed: April, 2001

Trivial Bits
Last year a long time friend of mine, Jim and his son Adam, were over at the house. They were out shopping for new acoustic guitars. They couldn't decide on brands but I think they ended up getting a Taylor. Great choice, it's a great sounding instrument. We were sitting around listening to music. Adam, his son, played a couple of tunes for us to show off his musical prowess (which was pretty good BTW).
Anyway, Jim and I were giving his son a musical education on lyricists. I was rolling through some pretty heavy songwriters. I was playing Harry Chapin's, Sniper when Jim said, "I'll be right back" and he slipped off. Jim came back with a CD in his hand and said "Pop this in when this song is finished." So I did.
The group was String Cheese Incident. I thought to myself, "Who?" Jim has always had pretty eclectic tastes in music. All that he's shared with me were really good. I asked him who these guys were and he said they were just a group that he had heard at a local music venue. So I pushed play, sat down and started to listen.
Enough Already, Get to the Point
As you read, I had a hard time putting a label on this music, so I'll quote from their bio on the String Cheese Incident web site "This rock quintet fuses jazz, bluegrass, and world beats into ripe grooves and breezy calypso sounds.". Better yet, here's how they describe it on the liner notes, "a special blend of Funkalatino-afrojazzadelic bluegrass" I think that says it all.

Their first selection on this CD, Black Clouds, shows their roots, Bluegrass. I don't know if I'd call it Bluegrass as much as I would Newgrass. It's a snappy, upbeat tune with really good vocal harmonies. It has what you would expect from a bluegrass song, acoustic guitars banjos, and mandolins. Now, don't let that scare you off. If you are a lover of good music and listen across the genre boundaries, you'd like this song.

The second tune came on, Born on the Wrong Planet. My head turned and my ears stood at attention. Music was coming from that pile of electronics on the other side of the room. Not just music, musicians were playing the songs. Not your typical bar band musicians, I'm talking real live, honest to goodness musicians.

We finished the second song and rolled into the third track, Lands End, and it only got better. I grabbed the CD case and started reading the liner notes, lifting my head regularly to catch the really good spots of the song. The band describes this song as "Just Another…New Age Irish Waltz from Nigeria". This song just flows from beginning to the end. All instrumental, light and airy. Mid-song they change tempo and really start showing off their individual musicianship, filling in with heavier drums and congas, then late in the song they slow it back down to the original beat. WOW, Great stuff!!!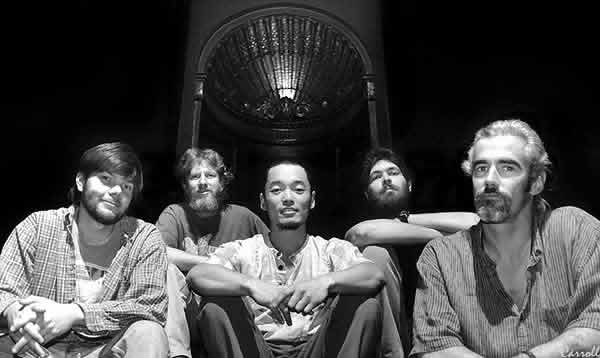 String Cheese Band Members
We let it play through the rest of the album and sat there in near silence just listening to the guys perform for us. After it was done, Jim and Adam commented that they had never heard the "real" details on this CD before. I said to Jim, these guys are good, really good. And the best part, it sounds like they have fun making music.
Thankfully, Jim made a gift of this CD to me. After Jim and Adam left, I sat down and listened again. I thought about their comments on the details and really listened. From to beginning to end the recording engineers at Akashic Recording Studios did a great job. This has turned into one of the CD's I use to show off my system when people come over. Track 6, Elvis' Wild Ride is one of my fav's. Again an acoustic number with several guitars, bass, congas and a dijeridoo. Just a fabulous job of recording and mixing.
So……
Don't let the mix of their musical styles scare you off. This is plain old good music. Well worth a listen. Born on the Wrong Planet is the groups first release. I like them so much I've gone on to purchase their second and third releases and I'm going to get their latest release at their concert in a couple of weeks.

Bottom line, these guys are really good musicians. Inventive, original and most of all fun to listen to. With their unique blend of styles, there is music here everybody will like.

Interested? Try going to their web site and listen to a few samples. Amazon also has a few clips from each of their albums too.

Main System Used
Turntable – Systemdek 2x2, Rega RB 250, Rega Elys
CD Player – Arcam Alpha 7se
Pre-Amp – Lazarus Cascade (tubed and hot-rodded)
Tri-amped, Spectro Acoustics
Tweeter Amp – 200sr, 135 wpc @ 8ohm
Mid Range Amp – 200r, 135 wpc @ 8ohm
Woofer Amp – 500r, 250 wpc @ 8 ohm
Active Crossover – Sony 4300
Speakers, DIY - Tweeter - 30" Carver Ribbons, Mid-Bass - Focal 5K4211, Woofer - NHT 1259.
Interconnects and Cables – Home brew, silver plated copper with teflon insulation
&copy Copyright 2001 Scott Faller - https://www.tnt-audio.com
[ Home | Staff & Contacts | HiFi Playground | Listening tests | DIY & Tweakings | Music & Books ]