[ Home | Staff & Contacts | HiFi Playground | Listening tests | DIY & Tweakings | Music & Books ]
Some Staff Favorites for the Summer Break
Author: The TNT Staff - TNT USA
Published: July, 2018
Every summer, TNT-Audio takes a few weeks' vaction, and that time is upon us again. This year, as we all dash through the door and head for the hills, the beaches, the pools, the open roads, the--oh, all right, let's admit it: to our favorite comfy listening chairs firmly centered in the sweet spot, detouring only to grab a cold one from the refrigerator on the way--your dedicated staff of reporters on all things audio wants to leave you with the parting gift of some recommendations for good listening to tide you over until TNT resumes publishing in August. We hope you'll enjoy not only the music but also the wide range of tastes our diverse team of music lovers brings to the (turn)table. And so, without further ado: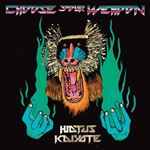 Graeme Budd (TNT France) I'm going to recommend an album that my brother subjected me to on a biking trip to Wales and then bought me a vinyl copy of for Christmas (Thanks Eliot!). Hiatus Kaiyote's "Choose your Weapon" which for those who've never heard of them is what is apparently referred to as Neo Soul. Now despite me getting it in the middle of winter it has a smooth soulful feel that invites you to sit down with a drink or three on your patio and just enjoy it. It's superbly played throughout, quirky enough for you not to get bored and well recorded without being clinical. And if you're still hesitant I would add that the singer goes by the name Nai Palm. What more could you ask for? Those of an analytical persuasion can even try and work out what time signature each song is in...Answers on a postcard please!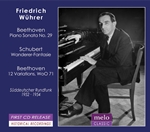 David Hoehl (TNT USA) Choosing a single record to recommend at first blush seemed a daunting task, but in the end the choice was easy: Friedrich Wuhrer, pianist, plays Beethoven's Piano Sonata no. 29 in B-Flat, op. 106, "Hammerklavier," and 12 Variations on a Russian Dance from Wranitzky's "Das Waldmädchen," WoO 71, and Schubert's Fantasy in C, D. 769, "Wanderer Fantasie." (1952 and 1954; Melo Classic MC 1023, mono CD; 72:52). I consider the steadfast refusal of rights holders to make Wuhrer's complete Schubert sonata cycle, the first on record, available in an official release one of the great failures of the digital era, but in its absence, this "Wanderer" gives a good flavor of Wuhrer's knowing way with that most songful of composers. The pianist's account of the "Hammerklavier" is a noble effort with a particularly heartfelt slow movement, and the variations are suitably light and winsome. The disc is a good introduction to this commendable little classical reissue label and, for those who have Wuhrer's LPs, a good supplement to his "official" catalogue. Available direct from the label (http://www.meloclassic.com/)--best of all, at a reduced sale price.
Roger McCuaig (TNT Canada) Last summer I decided that I would try to acquire some of the Neil Young vinyl records missing from my collection. I started by making a list of the ones that I thought should be the top priorities in this search. That's when I came across some pretty spectacular reviews of On the Beach. Comments like "… one of Neil Youngs most underrated and enduring albums", "…cult like status among record collectors". There were many more but you get the picture. This record, released in 1974, went out of production on vinyl in the early '80s and was only released on CD in 2003. I eventually ended up purchasing a reissue on vinyl and it didn't come cheap. This album was the follow up to Harvest and is one of the early instances of Neil switching styles completely. It has been described as dark, morose, and despairing. To me, it was worth every penny, the recording quality is excellent and the more I play it, the more I enjoy it. Every track is a new pleasure. A record very much worth rediscovering.
Richard Varey (TNT New Zealand) My current favourite album on CD is Ronnie Earl and Friends (Telarc, 2001). This is such a special album musically, emotionally, and sonically. Ronnie Earl hadn't played guitar for two years, and this was an effort to get back to his beloved music in a safe place among special players who could empathise. It was recorded spontaneously without much preparation and pretty much live in the studio. It's a very dynamic and thus 'present' album, with outstanding performances. It's a Telarc DSD and you can hear it. It's a blues album with R&B/soul flavours from James Cotton, Luther Johnson, Irma Thomas, and Kim Wilson. Ronnie Earl plays electric guitar supported by his core band, which included Levon Helm on drums. Each song showcases one of the performers taking the lead. Earl wanted a collaboration and it works really well, answering the question of his ability to come back to his blues both affirmatively and unequivocally. It might even be his best album. Recorded at Bearsville Studio in late 2000 and mastered by Bernie Grundman, the sound quality matches the quality of the music. Co-produced by Joe Harley and Ronnie Earl. Highly recommended.
Mark Wheeler (TNT UK) To choose one recording when there are so many that I love is tough. I am familiar enough with many albums to make them useful as reviewing tools, each one being useful to identify certain potential strengths and weaknesses of any particular component. I'd agree with David's use of piano music, which can be very telling, and I'd agree with Roger about Neil Young (who is notoriously meticulous about recording and production quality). I am going to name one of the jazz greats, but an album which was loved and loathed in equal measure by his traditional fan base on it's release. It is Miles Davis' 1986 album Tutu, which picked up a Grammy.
This was one of Miles' direction change albums (as controversial as Bitches Brew before) as he embraced and incorporated new influences from a wider world than modern jazz. It is primarily a collaboration with ace bass virtuoso Marcus Miller, and other jazz-funk-rock royalty like George Duke. The title is not a reference to ballet attire, but to Archbishop Desmond Tutu.

Tutu brings into the jazz domain influences that, on release, reminded your Old Scribe of contemporary Chicago house, hip hop and dance hall. Even the cover photography excites your Old Scribe, being a masterful monochrome portrait of Miles Davis by Irving Penn. Having frequently described the 1980s as the decade that music forgot, this felt like an oasis among the dross at the time. The technology of the electronica does sound dated now, but this is an album that is a supreme test of PRaT and a pleasure to listen repeatedly.
Nick Whetstone (TNT UK) While the remit was to submit a recommendation for a record or album, I am going a bit wider in suggesting any of the Coke Studio sessions albums. I came across this music while browsing You Tube, and find it refreshingly different but still easy to 'get into'. It is a fusion of traditional Asian music with modern arrangements and instruments.
All the examples that I have listened to have been well-performed by some of the best-known artists from the Indian subcontinent, backed up with highly proficient session musicians. There are a wide variety of styles from classical to folk, and even some rapping, so there should be something in the sessions for most tastes.

I find the Coke Studio sessions very enjoyable, and best of all, they can be sampled for free. I am now looking to buy some of the CDs. Here is a link to one of my (many) favourite tracks, from where you can listen to many more.


~ ~ ~ ~ ~ ~ ~ ~ ~ ~
And with that, we go our separate ways, looking forward to some rest and relaxation but also to our reunion come August. Until then, arrivederci!

© Copyright 2018 David Hoehl - drh@tnt-audio.com - www.tnt-audio.com
[ Home | Staff & Contacts | HiFi Playground | Listening tests | DIY & Tweakings | Music & Books ]