[ Home | Staff & Contacts | HiFi Playground | Listening tests | DIY & Tweakings | Music & Books ]
Sun Dog Days - Levels CD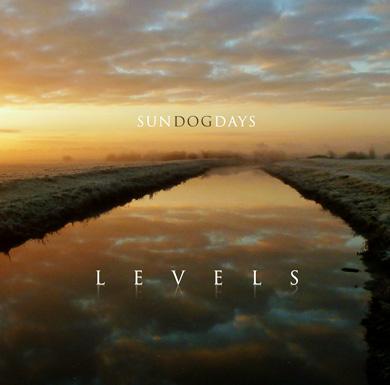 An 'on the levels' review
[Italian version]
Product name: Sun Dog Days - Levels CD.
Artist: Sun Dog Days
Cost: 11.49 UKP (inclusive of delivery to UK address) (Currency conversion)


Reviewer: Nick Whetstone - TNT UK
Reviewed: November, 2014
TNT-Audio takes particular pride in its honest, and unbiased reviewing. The site does not make money from advertising, and is therefore totally independent and impartial. I mention that because the album that I am reviewing in this article features artists who I know as friends, and I felt it honest to state that at the start of the review. But, as this is a review of an album, rather than a piece of hi-fi equipment, you can listen to some sample tracks on-line and make you mind up accordingly. The main purpose of this article is to introduce you to an album that you would probably never hear of otherwise.
For every famous musical artist, there are probably hundreds more that most of us will never hear about. Most of those will be perfectly capable, and talented artists, but will not have been able to break into the mainstream, not because they aren't good enough, but because they have chosen not to commit their whole life to music, or perhaps they don't seek (or want) fame. My friends Joy Russell and Andy Lawrence are two such musicians. They've both been involved with the local (and not so local) music scene for many years. They currently perform together as a duo by the name of Sun Dog Days, and last year released an album called 'Levels'. You can read a lot more about both Joy and Andy on their site.
The name of the album refers to an area called the Somerset Levels. Somerset is the county that I live in here in England, and the Levels is an area that is remarkably flat, hence the name. The low-lying area, stretches inland from the Somerset coast as far as the town of Glastonbury, famous for its ancient connections to King Arthur and Camelot, and more recently, for the famous music festival held at the nearby village of Pilton. The area was once under water, and, as it drained, huge deposits of peat were left behind that were excavated on a large scale for many years. The peat digging left many artificial lakes that filled up with water, and the landscape is now well-known for the wildlife that has developed there. A lot of the area is kept from draining so as to preserve the wildlife habitat, and that may have contributed to the substantial flooding of the Levels last winter (that made world news).
Joy Russell is also a keen photographer (as you can see from her Flickr pages), and spends much of her free time on the Levels taking pictures of both the wildlife and the landscape. So it wasn't much of a surprise that the album she and Andy released had a strong Levels theme, as a quick look through the track list confirms. As they put it "Sun Dog Days debut album inspired by the beauty of and our love for the Somerset Levels". It's difficult to pin this album down as regards genre. 'New Age' to me always conjures up 74 minutes or so of rather tedious harp playing, or something similar, so I would tend to label 'Levels' as more folk-blues, with a 'new-age' flavour.
Joy and Andy were joined in the recording studio by guest musicians including Joy's husband Stuart ('Norm') Russell who added some very tasty guitar to the vocals and keyboards.
The material on this album is original with for the final track, 'Release' a inspired by Pink Floyd. The recording is 'unfussy' and reminded me a bit of the offerings from Soundkeeper Recordings. Tracks like 'Somerset Levels', 'River Brue Blues', and 'Country Living' conjure up the atmosphere of the Levels, while the haunting 'Glastonbury', and 'Can You Hear My Voice' capture the ambience of the the town perfectly. 'Heart of Oak' and 'Dragonfly' (both written by local friends) resonate with the soul, and represent the better examples of spiritual music. All in all, the originality of this album makes for a very enjoyable hour or so of tuneful, well-performed, and thought provoking music.
You can listen to several tracks from the album on the Sun Dog Days music page, together with some of their other work. If you like what you hear, the CD can be ordered on-line from the Sun Dog Days web site using a variety of payments including Paypal. The latest news of Sundog Days can be found on their "Facebook Page.
Here is the You Tube video featuring the track 'Somerset
Levels' that adds Joy's pictures to the music
(full screen mode recommended).
I think that you will agree, she is a very talented lady.

In the clip below, Joy and Andy perform
'Dragongly' from the Levels album.

© Copyright 2014 Nick Whetstone - nick@tnt-audio.com - www.tnt-audio.com
[ Home | Staff & Contacts | HiFi Playground | Listening tests | DIY & Tweakings | Music & Books ]