[ Home | Staff & Contacts | HiFi Playground | Listening tests | DIY & Tweakings | Music & Books ]
Artist: Tricky
Album details: CD "Vulnerable" - 2003 - Anti- 6648-2 by Anti
Genre: Trip hop
Approx. price: 15$ (YMMV depending on version)
Reviewer: Lucio Cadeddu - TNT Italy
Reviewed: July, 2018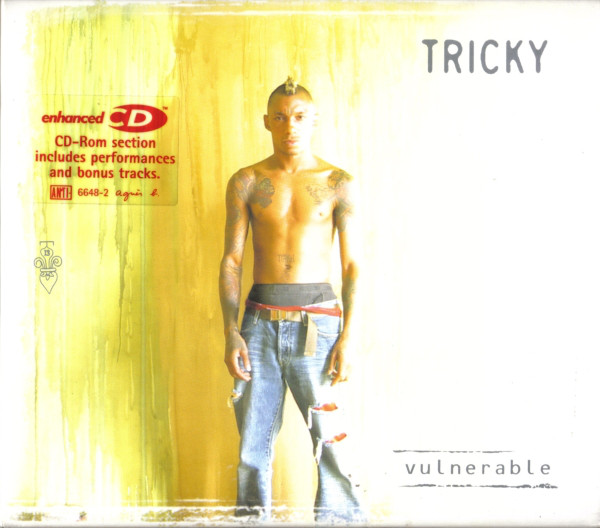 Tricky "Vulnerable"
Perhaps many of you are already familiar with trip hop, because of the renowned "audiophile" recording "Mezzanine" by Massive Attack, frequently cited even in our listening tests. Tricky, a.k.a. Adrian Thaws, is a British musician and producer who began his career as an early collaborator of Massive Attack before starting a solo career with his debut album, Maxinquaye, in 1995. Tricky is considered a pioneer of trip hop music and his albums are famous for their dark and layered musical style. He successfully blends very different cultural influences and genres, including hip hop, alternative rock, electronic music and reggae.
"Vulnerable" is Tricky's 6th studio album, perhaps the sunniest and lightest one. Tricky's aim was to release an album that could show more of his personality, which was kept rather behind the scenes in his previous works. From his official bio we can read "I called this album Vulnerable, because it's my most honest and open record. On this album, I've stopped hiding, and I'm allowing people to see different sides of the real me.". The album earned a gold certification from the Independent Music Companies Association, and this means the album sold at least 100,000+ copies throughout Europe.
Musically, this album is rather interesting, full of energy embedded into dark atmospheres. It also includes two surprising covers, XTC's "Dear God" and The Cure's "The lovecats". If you like trip hop and Massive Attack you're going to love Vulnerable.
Anyway, the album is featured here on TNT-Audio not because of its musical content, which is remarkable, but because the tracks can be easily used as a test for evaluating HiFi systems. The quality of the recording is not uniform, but there are a couple of constant characteristics that can be found in each and any track. As usual with trip-hop, bass frequencies play a fundamental role. Synthetized bass, electric bass, drums and percussions have deep impact, presence and articulation. A good, very good workout for woofers and amplifiers, indeed!
Not surprisingly, the mastering engineer for this album is Brian Gardner, also known as Big Bass Brian! He has worked on many famous recordings since the mid-1960s, including classic rock, funk, disco, alternative rock, R&B, hip hop, pop punk and dance-pop. He has been nominated eight times for the Grammy Album Of The Year Award, winning it once for the Outkast album "SpeakerBoxxx".
You can browse his impressive portfolio visiting his official website bigbassbrian.com.
If you are a bass freak, this album will amaze you. Actually, the quality of the recording is very good. Voices, both Tricky's and Italian singer Costanza Francavilla's, aren't "clear" just because they were intended to sound muddy and dark, sometimes harsh. On the other hand, everything else varies from good to very good. Dynamics, articulation, distortion level etc. You can't expect 3D imaging on such a recording, considering the musical genre, but the wall of sound it generates is enjoyable nonetheless.
A couple of tracks stand out from the rest: the two, already cited, covers - XTC's "Dear God" in particular - and the hypnotic track "Hollow". Generally, the recording invites to crank the volume up until the woofers reach their limit.
This is an enhanced CD (CD-Rom), with extra bonus tracks and performances. It has a rich, foldable case with a 24 pages booklet.
Conclusion
Bass freaks welcomed! If you want bass, dark atmospheres and, as a bonus, some good music, you should give this CD a listen. Musically it can be...tricky (sorry for the pun) but I think it deserves some attention.

© Copyright 2018 TNT-Audio Lucio Cadeddu - editor@tnt-audio.com - www.tnt-audio.com
[ Home | Staff & Contacts | HiFi Playground | Listening tests | DIY & Tweakings | Music & Books ]