[ Home | Staff & Contacts | HiFi Playground | Listening tests | DIY & Tweakings | Music & Books ]
Cosmic American Derelicts "The Twain Shall Meet"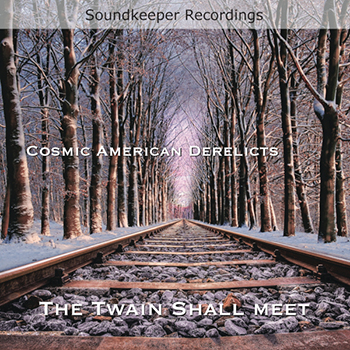 A naturally better recording
[Italian version here]
Product name: Soundkeeper Recordings - Cosmic American Derelicts 'The Twain Shall Meet'
Manufacturer: Soundkeeper Recordings
Cost: 15 USD for CD, 10 USD for download (Currency conversion)
Reviewers: Nick Whetstone - TNT UK and Mark Wheeler - TNT UK
Reviewed: March, 2022
This is the third recording from Soundkeeper Recordings that I have reviewed. While the other two were recorded to the very high standard that Soundkeeper Recordings have become renowned for, this latest recording, 'The Twain Shall Meet' by the Cosmic American Derelicts, is my favourite as regards the musical content. The band consists of George Kapitanelis, Scott Lauro, Danny Pavas. Ed Rainey, and Nick Reeb; not artists that I was previously familiar with, but obviously highly accomplished performers.
The genre of music is American Country/Bluegrass comprising guitar, fiddle, Dobro, banjo, bass and percussion. The reflective and melancholy songs are well crafted, and very well performed. If I say that it is 'easy listening' I mean that the album is a joy to listen to rather than something that could get played in a lift or store. But music is subjective, and what sets the Soundkeeper Recordings apart from most others is the quality of the recorded sound.
With the mainstream music business churning out ever more material that has more to do with technical wizardry than the talent of the artist, there is a small but noticeable backlash with smaller companies like Soundkeeper Recordings producing the equivalent of what we call Real Ale here in the UK. The man behind Soundkeeper Recordings is Barry Diament, who some of our older readers may know, engineered for Atlantic Records, working on albums by Led Zeppelin and Yes. I have come to notice in my old age that the longer that we do something, the better we become at it. Watching artists like Van Morrison, I marvel at how much more polished they have become over the decades, and of course, the same goes for those working behind the scenes. So it is no surprise to me that when I listen to these albums from Soundkeeper Recordings that I can easily hear the difference between them and so many of the other recordings in my music library.
Straight away, I noticed the real impression that I was listening to something that is as close to being at a live performance as we can have from a recording. The instruments and vocals are placed in the sound stage to give a mental image of the performers that made me almost see them. And those instruments and vocals all seem a tad more natural because they are recorded in one take, live, no dubbing or mixing, just as we would hear them in a live performance. There is a great sense of presence providing an intimacy, again heightening the illusion of actually being with the musicians as they perform.As I listened I could feel myself in a wooden cabin, somewhere in the mountains, a wood fire warming the room, and the band playing away in front of me. Not many recordings I have heard over the years, have done that anywhere near as well as this recording.
I downloaded the album from Soundkeeper Recordings site, but it is also available on a CD. At the price, it is an honest bargain. If you love your hi-fi, then having the best recordings available is the best way to fully appreciate it. That said,I listened to this album on my computer, on my portable FLAC player through earphones, and on both my two hi-fi systems, and easily detected the high quality of the recording on all of them. We often recommend something that we review here on TNT-Audio, and you usually have to take our word for it. But at just 10 USD, and a few minutes downloading the album (which comes with full sleeve notes in PDF format), this is one review where you can see what we mean.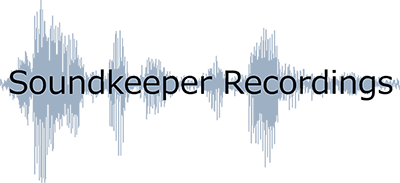 A second opinion by Mark Wheeler
Reviewing this album has been a pleasurable journey prompting distractions & diversions. "The Twain Shall Meet" prompts comparisons with Americana, familiar & unfamiliar; traditional & modern Scottish tunes & other releases in the same month. The review period for "The Twain Shall Meet" coincided with the opening up of gig venues in the UK, bringing the chance to compare amplified live v recorded fiddle & guitar. The simultaneous release of this album in various digital data rates plus traditional physical Compact Disc format enabled comparison between different formats in the context of 21st century playback.
Loading the first set of files into a selection of storage devices, having selected my preferred file resolution, your Old Scribe couldn't wait to play it. Therefore I simply plugged an old laptop's soundcard analogue output into the second system retro classic Accuphase A202 and lounged on the sofa to enjoy. Your Old Scribe only moved to start each fresh track, or pour another craft beer, until the album ended. The music contains some of the expected cadences & clichés of country, nu country, trad, blues and Celtic influences (lyrically & melodically), used with a gentle ironic wink to the listener, to emphasise a point.
Musically your Old Scribe loves a bit of Americana from Mick Byrd a decade ago to recent Springsteen activity. Once again, North America has been rediscovering its voice recently. Cosmic American Derelicts somehow succeed in drawing your Old Scribe's attention to the Scottish, French & Irish influences (direct or via Canadian, Cajun journeys). So it was no surprise, attending a Blazin Fiddles gig, to be reminded of the diverse Hebridean, Orcadian, Shetland, Highland & coastal Scottish musical traditions which were added to by passage through Ellis Island or Quebec & Louisiana to arrive at the amazing diversity of New World music like Cosmic American Derelicts.
Unrequited love, rage & revenge are key lyrical themes, reinforced by musical syntax that invites coherent responses with the key signatures, modes & cadences behind the words & vocal melody. Your Old Scribe declines to adopt the linguistic gymnastics of '70s pop papers reviewing the latest Prog Rock or Punk album because the music of "Cosmic American Derelicts" is more direct and without pretension or posturing. There is a quiet menace to several tracks that audiophiles might imagine would be completely lost on low resolution systems in lo-res formats, but this first listen contradicts that notion.
Obvious contemporary comparisons arise. One band gaining traction in the UK are The Delines whose release of "The Sea Drift" coincides with the Cosmic American Derelicts online release of "The Twain Shall Meet". The distribution values of the streamed version of The Delines' latest (via a standard tariff on the biggest streaming platform in the Anglophone world) sounded significantly compressed & lacklustre by comparison, while the songs, despite much bloodshed & attempted alarm simply lack the combination of authenticity & performance of "The Twain Shall Meet".
Your Old Scribe may be biased, but no amount of cortisol raising descriptive bloodshed & panic will ever substitute for the adrenaline of wide dynamic range & an unexpectedly interrupted cadence. The Soundkeeper Recordings preserve more of the dynamic range than the typical mainstream loudness wars of CD's & radio edits. The arrival of the physical format CD version exemplified this.
Most reviews tend to cut & paste vast swathes of the sleeve notes, especially in the context of recording techniques and the quality they consequently achieve. Knowing that this is a two handed review, your Old Scribe has tried to forget the contents of sleeve & press release to concentrate on the music & transmission to playback systems. Like the Mapleshade recordings loved by TNT-Audio reviewers, when playing CD versions, playback level requires as much as 6-9dB more level to achieve the same level as average typical CD's. This is because much less recording compression is used to allow peaks to pass with less or no compression.
Barry Diament is one of those characters who upended the dominant narrative. While the industry plugged CD as the great new hope (of profits) people with fully functioning ears often felt the opposite. The arrival of folks like Barry Diament, who understood how to use the new technology which was different (as in photography, slides are different from neg/pos & digital us different again). Barry knows how best to exploit the medium & how best to exploit the recording venue. Barry chose the venue for this recording & set it up. It shows.
Your Old Scribe ripped the CD to a hard drive so that the resolution differences can be compared separately from the storage format. The unremarkable entirely predictable difference is similar to those between different CD & HDCD & SACD & DVD-A formats: higher resolution enables more coherent spatial cues & a more relaxed listening experience. The higher resolution download is worthwhile, especially as it better reveals the extraordinary care taken to capture the performance accurately in single takes.
This is a highly recommended recording of fine musicians making an original contribution to the great American songbook.
DISCLAIMER. TNT-Audio is a 100% independent magazine that neither accepts advertising from companies nor requires readers to register or pay for subscriptions. After publication of reviews, the authors do not retain samples other than on long-term loan for further evaluation or comparison with later-received gear. Hence, all contents are written free of any "editorial" or "advertising" influence, and all reviews in this publication, positive or negative, reflect the independent opinions of their respective authors. TNT-Audio will publish all manufacturer responses, subject to the reviewer's right to reply in turn.

© Copyright 2022 Nick Whetstone and Mark Wheeler - TNT UK
[ Home | Staff & Contacts | HiFi Playground | Listening tests | DIY & Tweakings | Music & Books ]