[ Home | Staff & Contacts | DIY & Tweaks | Listening tests | HiFi Playground | Music & Books ]
Work of Art - "Waves"
Waves and soundwaves!
[Italian version]
Artist: Work of Art (Art Halperin group)
Album details: CD "Waves" - 2008 - SSR56 by Sword in the stone records
Sample under test: Made in the USA
Genre: Blazing hot reggae jamming music
Approx. price: 13$. It can be purchased directly for 12.97 USD at CD Baby
Reviewer: Lucio Cadeddu - TNT Italy
Reviewed: November, 2008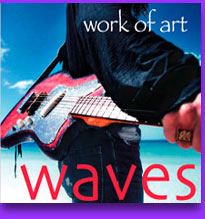 Work of Art "Waves"
Foreword
More than 1 year ago I reviewed Lift, Work of Art's album recorded in "Real Stereo" by Barry Diament, of Soundkeeper Recordings. It was an outstanding example of what can be done with a pure and simple stereo recording, with just two microphones, no overdubs, mixes or multitracking. The music on Lift was a mixture of pop and folk, very easy on the ear and extremely relaxing to listen to. Since then I was hoping for a similar recording of livelier music. And here it is!
Real Stereo gets....hot!
This time, recording and producing duties are on the shoulders of Art Halperin himself at Top of the World Studios, while final mastering has been done by Barry Diament at his studios in NY. The album, like the previously reviewed "Lift", has been played and directly recorded live, with no compressions. Only minor overdubs (adding other instruments) have been applied at a later stage. While recording purely acoustic instruments might be easy, even with just two mics, doing the same with electric guitars and bass is a whole different story. There are not many discs of electrified music picked up this way.
I won't spend words introducing Art Halperin and his group, simply refer to my previous review of his album Lift or to his website for any detail.
The musical content, instead, is worth spending some word of description. Think at "Waves" as to the album Bob Marley never published. It is so fresh, entertaining and powerful that even who doesn't love reggae Music will get involved and hypnothized by it, almost immediately!
Waves contains 13 tracks (70 minutes of music!) and it is very hard to choose a short list of favourites as each one possesses its own flavour and energy. Some of these tracks are unusually long (nearly 7 minutes) though definitely not boring, quite the contrary! The entire album is amazingly entertaining as it creates a relaxing and joyous atmosphere. To get an idea of which atmosphere, have a look at the cover of the CD and/or at the several nice pics on Art's website: an electric guitar in the midst of a beatiful sea (hence the title "Waves"). If I'd be forced to choose the ideal season of the year that matches this music perfectly I'd say...summer! Living in a house by the seaside I'm perfectly familiar with the mood: palm trees, a cool drink and some live music on the beach is all I need to recharge my soul (and body!) after a hard day's work...
Summarizing, this album is worth listening even not considering it is also an extremely good recording! In a word I'd define it groovy!.
MP3's tracks excerpts are available at www.myspace.com/woareggae. Also, for some serious fun, check out Art's Sarah Palin's Song & Video (Dan Quayle with a Ponytail). And, of course, don't miss Art's live performances on his YouTube profile.
Sound....waves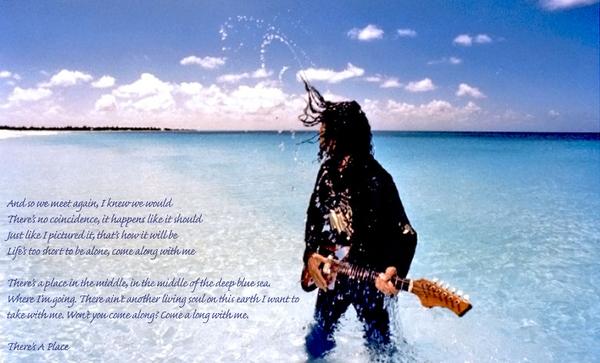 Waves and soundwaves!
Because of the stupid "loudness war" we're somehow getting used to discs that sound everything equally loud so listening to a recording where no compression has been applied might become a puzzling experience. First of all, this CD sounds definitely lower than most of the modern discs, be it pop, rock or classical. With "Waves" you need to crank the volume up, much more than usual. However, since there's no compression, it contains huge dynamic variations so if you're not sure whether your system is capable to keep track of everything or not...please keep that volume pot within' hands reach.
Despite of this, the music doesn't sound aggressive or "spectacular"...it simply plays natural and lively, exactly like when attending to some (good) live concert.
Like a well established tradition with reggae music, bass frequencies are fundamental to get the rhythm right: bass and drums play a key role! Hence, you'd expect deep, articulated and powerful bass. Your system should be able to create a solid "bass base" to support the whole performance.
Moreover, you can use this album as a good test to reproduce guitars: sometimes clean, sometimes slightly distorted by "that" kind of distortion you can hear when listening to a friend playing right in front of you, with no added confusion or compression due to the poor recording. It is a strange effect, indeed: while distortion from guitar effects is rarely untolerable, it easily becomes unbearable when listened from a disc. Added compression during recordings might be the culprit here.
Quite surprisingly, considering this is NOT a recording with pure and simple acoustic instruments, there's also an illusion of a real 3D soundstage, right in front of you and behind the loudspeakers. The usual "audiophile effects" are missing but, this notwithstanding, you still perceive a sense of realism that is really involving.
Do not expect the usual audiophile hyper-perfect reproduction of vocals. Somehow, I feel this adds further realism to the performance! When listening to a real live event vocals don't have that spectacular presence effect we can hear on the best audiophile recordings. Many audiophile recordings are a pure mystification of the real thing.
Conclusion
Real Stereo rulez once again! Kudos to Art and Barry, this is a really impressive album. With this recording younger listeners might discover what it's like to listen to music without compression: a truly live experience. If you wish to enjoy some excellently recorded reggae...this is the disc for you!
© Copyright 2008 Lucio Cadeddu - www.tnt-audio.com
[ Home | Staff & Contacts | DIY & Tweaks | Listening tests | HiFi Playground | Music & Books ]