[ Home | Staff & Contacts | HiFi Playground | Listening tests | DIY & Tweakings | Music & Books ]
Work of Art - "Winds of change"
Real Stereo in a church!
Artist: Work of Art (Art Halperin group)
Album details: CD "Winds of change" - 2014 - SR1005 by Soundkeeper Recordings
Sample under test: Made in the USA
Genre: acoustic pop
Approx. price: 15$ (CD). Also available: CD-R, 24/96 DVD-R, 24/96 .aif, 24/96 .wav, 24/192 .aif, 24/192 .wav
Reviewer: Lucio Cadeddu - TNT Italy
Reviewed: July, 2015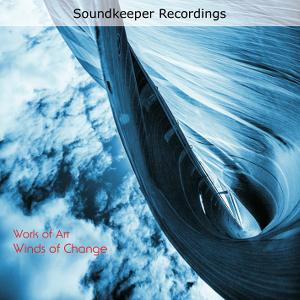 Work of Art "Winds of change"
Foreword
This is not the first time I've reviewed an album recorded and produced by Barry Diament, of Soundkeeper Recordings. Mr. Diament is a master at producing true real stereo recordings, with no dynamic compression while keeping everything as close as possible to the real live event. This new album by Work of art was recorded at Christ Church, Sparkill (NY) and every attempt has been made to preserve the real sound of the venue, an old 19th century church. Incidentally, Barry Diament played the guitar on some track as well.
Real Stereo in a church!
I won't spend words introducing Art Halperin and his group, simply refer to my previous reviews of his albums, for example Lift, or refer to his website for any extra detail.
Winds of change is a refreshing bath of acoustic pop, and the 13 tracks it contains flow effortlessly, making your feet stomp uncontrollably and your spirit fly high. Atmospheres range from jazzy (as in My love for you) to folk, in a joyful blend of variation of tones and tastes. I've also spotted some sweet influence from the earlier Lloyd Cole & the Commotions albums (e.g. I'm not sure).
Musically, this album is worth every penny. But you can judge this by yourself while listening to the excerpts you can find on the Soundkeeper Recordings webpage. There are also some cool videos.
Instead, we are here to judge the quality of the recording. An easy task, my friends, as this is one of the finest recordings of acoustic pop I've ever come across.
First of all, there's a sense of realism that pervades the tracks, as if the band was playing right in front of you. Thunderous bass and breath-taking dynamics simply add weight and drama to this kind of like live experience. We will never know has explosive dynamics and you just can't resist cranking the volume up to insane listening levels! The amount of perceived distortion is so dramatically low that it is easy to reach your speakers' physical limits. Please be careful!
Bass frequencies are deep, articulated and groovy, as in Singing it for you, while vocals (leading and backing) always sound natural and detailed (e.g. My love for you). Moreover, if you're looking for a test for faithful guitar reproduction, look no further than to Another day with you. This recording is also an excellent test bench for other acoustic instruments reproduction (mandolin, ukelele) as well as realistic rendering of voices and choirs.
Being recorded in an old church you might expect to perceive the acoustics of this particular venue. And that's indeed the case! You can easily sense the impressive depth of the virtual stage, for example, in Going vegan: focus your listening on the background percussions, for example. Generally, while one might expect a blurred image, because of the large venue, the 3D soundstage is extremely stable and well focused: each instrument is in the right place, steady as a rock.
Summarizing, this is an outstanding recording. Perhaps not the usual audiophile one, where every instrument is hyper-detailed and precise - as it never happens in real live events - this Winds of change sounds natural and realistic, invites you to turn up the volume and enjoy all the energy this band can deliver on stage.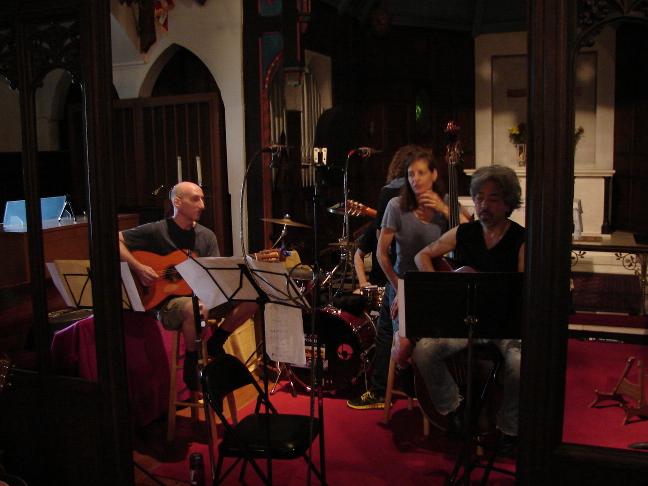 Having fun during the takes!
The production of this album aimed at the best like live result that could be obtained with no artifacts and compressions. For this reason I was curious to analyze the recording via the DR software, which gives an average measurement of dynamic levels. For more details please refer to our list of records analyzed via this software.

----------------------------------------------------------------------------------------------
 DR   	   Peak     	   RMS      	 Filename
----------------------------------------------------------------------------------------------

 DR11	  -0.51 dB	 -13.87 dB	 01-AudioTrack 01.wav
 DR13	  -0.30 dB	 -16.77 dB	 02-AudioTrack 02.wav
 DR14	  -1.01 dB	 -17.62 dB	 03-AudioTrack 03.wav
 DR15	  -0.83 dB	 -19.54 dB	 04-AudioTrack 04.wav
 DR15	  -0.45 dB	 -17.91 dB	 05-AudioTrack 05.wav
 DR13	  -0.30 dB	 -16.02 dB	 06-AudioTrack 06.wav
 DR12	  -0.82 dB	 -17.18 dB	 07-AudioTrack 07.wav
 DR15	  -1.13 dB	 -19.73 dB	 08-AudioTrack 08.wav
 DR16	  -1.25 dB	 -19.84 dB	 09-AudioTrack 09.wav
 DR13	  -1.41 dB	 -17.63 dB	 10-AudioTrack 10.wav
 DR15	  -0.32 dB	 -18.02 dB	 11-AudioTrack 11.wav
 DR14	  -1.61 dB	 -19.10 dB	 12-AudioTrack 12.wav
 DR11	  -0.30 dB	 -13.47 dB	 13-AudioTrack 13.wav
----------------------------------------------------------------------------------------------

 Number of files:    13
 Official DR value:  DR14 

==============================================================================================


As you can see by simply looking at the numbers above, this recording...rocks! The average DR value is 14 (!!!), the lowest value is DR11 and the highest an impressive DR16! And don't forget these results have been obtained with acoustic instruments, with no electronic add-ons or manipulations (have a look at the video below to see mics placement and associated recording gear).
Conclusion
Kudos, once again, to Art and Barry, this is a really outstanding album that I'll use for my HiFi components reviews. This is the kind of recording we music lovers (and hence audiophiles) really need. Say no to the loudness war and learn to record music like Barry Diament does!
© Copyright 2015 Lucio Cadeddu - editor@tnt-audio.com - www.tnt-audio.com
[ Home | Staff & Contacts | DIY & Tweaks | Listening tests | HiFi Playground | Music & Books ]