[ Home | Staff & Contacts | DIY & Tweaks | Listening tests | HiFi Playground | Music & Books ]
Definitive Audio Factory visit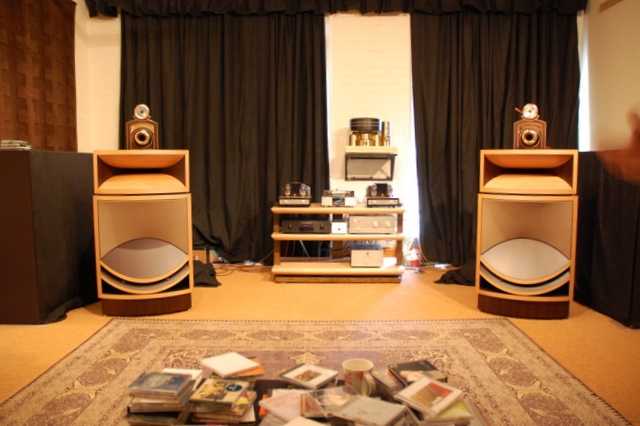 [Italian version]
Manufacturer: Definitive Audio - UK
Reviewer: Maarten van Casteren - TNT UK
Reviewed: December 2009
Definitive Audio are best known, at least by me, for the fact that they manufacture the famous Living Voice loudspeakers. A good friend of mine has had Living Voice Avatar OBX speakers for several years now and I've always liked them very much. They must be one of the best sounding, more-or-less-affordable speakers I know. They have genuine warmth and resolution, are very natural sounding, have good extension and are conveniently high sensitivity, at about 95 dB/watt. Simply excellent speakers, in short. But his needed a bit of servicing, so had to be brought back to their place of birth, Definitive Audio in Derbyshire, UK. The suggestion of Kevin Scott, Mister Definitive Audio, was to just bring them in and 'have a cup of tea and a listen' while he waited for the repair to be carried out. My friend thought this was a good excuse for a little outing and, after checking with Kevin, three of us set of for an interesting day out.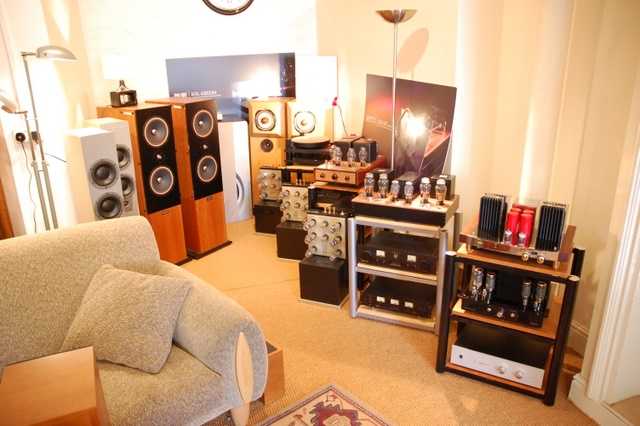 Definitive audio is not only the manufacturer of the Living Voice loudspeakers, but also the UK importer of the famous Kondo valve amps and dealer for brands like CEC and Pure Sound. Definitive Audio is housed in an old cotton mill, which is a very atmospheric building. The moment we set foot into the premises we thought we had died and gone to heaven. There is literally high end audio everywhere you look. Top quality valve amplifiers by the dozens, enormous horn subwoofers everywhere and vintage audio in all corners. This is more like a high end audio museum than a factory!
Before I continue I have to tell you how impressed all three of us were at the level of professionalism and hospitality at Definitive Audio. We expected that we would be there for a couple of hours, but we arrive just before 12 and left just before 6! There was excellent coffee and tea, sandwiches and cake, and, above all, always the insistence of Kevin to listen to 'one more track'. And listen we did.
Kevin still develops the Living Voice Auditorium/Avatar range. These speakers all share the same enclosure, but have more sophisticated drivers and crossovers when you get up the range. The better models also have extra bracing, fancy wiring, and outboard crossovers. One of the two listening rooms at Definitive Audio had a pair of Avatar RW's in them, but the other room seemed even more interesting. This was the room where the latest, ultra exclusive, Living Voice Vox Olympian horn system is being developed. These share some DNA with the famous Living Voice Air Scout speakers, but they are smaller than the Air Scouts and Kevin even described this as a 'compact system'. You would have to be a complete horn speaker nutcase to call these speakers compact! I think they are big by most standards, and extremely imposing on top of that. It is a four way horn system, extended by enormous horn subwoofers in this setup. The Vox Olympians are being developed mainly for the super exclusive market of top-of-the-line yachting. They will be available for the 'normal' high-end market too, obviously, but many will be installed in luxury yachts that are bigger than most peoples houses. This very exclusive market asks for extreme quality, not only in the sound, but also in design, fit, finish and reliability. I dare not mention the price Kevin told us, but rest assured it is a lot more than you are thinking now. An awful lot. Kevin has spent the last 6 years, on and off, developing these speakers and they are now nearly finished. He suggested we should have a listen to them first. What do you think we did?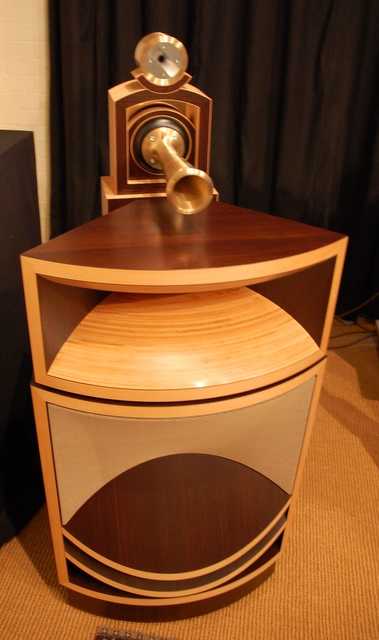 This system with the Vox Olympians must have been one of the best I ever had the privilege to listen to. Electronics weren't shabby too, by the way, with top of the range Kondo amplification and DAC and a very classy CEC transport. But these monsters of speakers were the stars of the show, no doubt about it. The level of detail and dynamics was nothing short of breathtaking. We were completely blown away, almost literally, as Kevin likes to turn the volume up a bit. But this system can take it, and delivered bone shaking volume without even a hint of compression or harshness. The fact that it could do this while being driven by a pair of 18 watt single ended valve amps was amazing. Of course, these speakers have a sensitivity that is around 100 dB/watt. That gets you a lot of sound from 18 watts. And it wasn't just loud: everything in the soundstage kept its shape and sound, whatever happened elsewhere, and things simply refused to muddle or harden up. It was just as good at reproducing very subtle, soft recordings as it was at massive, all-out big band pieces. Such is the resolution and even-handedness of this system that every recording brought us to a completely new place, each one more fascinating than the one before. And Kevin has a few recordings lying around! The whole back wall of the bigger listening room was completely covered in shelves full of vinyl, and there was more in the other room. I've been in record shops with fewer albums! CD's were less prominent, but still numbered in the thousands. This guy doesn't only like his audio, but is seriously into music too!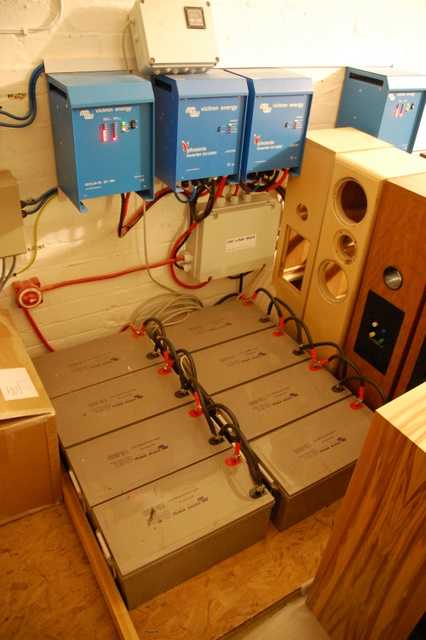 Kevin had another trick up his sleeve, one I had encountered on an audio show once before. He is actually able to run the whole system from batteries! Yes, you read that right. He has a set of 8 huge car batteries in the loft above the room, and two big inverters to generate 240V from these. Normally the system is connected to the mains via the chargers, but it can be completely disconnected for critical listening. He went upstairs to throw the switch, and indeed the sound quality was even better after that. A bit more organic, with slightly better depth. Not an enormous difference, but Kevin told us that just having the batteries in the circuit, even while connected to the mains, already improves the sound as they have a stabilising effect. Disconnecting the system adds the last bit of refinement. Again, this mains system is mostly meant for use on yachts, where mains quality can be a problem, or in places with really bad mains.
But back to the system. For me, this was one of those experiences that redefines what is possible in audio. All of us have ideas about where the limitations of audio systems roughly are, but mine were adjusted by quite a bit after having been exposed to this wonderful system. We did have a few comments about the deepest bass, which seemed to be less controlled. But Kevin immediately made some changes, replacing an active crossover and bass amp for the subwoofers with a passive filter. This solved the problem, even though we still weren't in sealed enclosure/muscle amp territory. We then had some minor comments about the rhythmic abilities of the system and even this was immediately solved by swapping the CEC transport / Kondo DAC combination for a Resolution Audio Opus 21 player. This could be seen as a strange move, as the Opus 21 is only a fraction of the price of the CEC/Kondo combination, but it worked very well nevertheless. Now everything just clicked into place and the sound was perfect, as far as I was concerned. I could have listened to that system forever. But we had only limited time and also wanted to hear the other setup.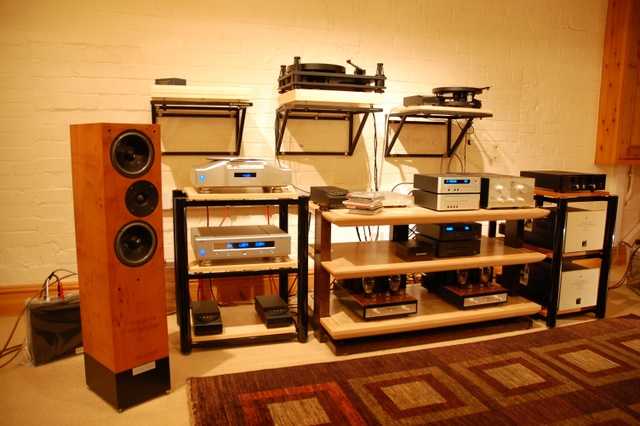 We took the excellent Opus 21 CD player with us to the next room to have a listen to the Living Voice Avatar OBX RW speakers. Again, the amplification was all Kondo, this time a pair of push-pull amps. This system lacked the high level capabilities of the Vox Olympians, but sounded very satisfying nevertheless. Is was more like the sound we are used to at home, especially for my friend with the Living Voice speakers, obviously. This system lacked the scale and power of the big system, but was excellent in its own right. Bass was even a bit deeper and tighter than next door. For the rest the sound was simply a bit softer and smaller. There was still that unforced dynamic range of the Kondo amps, and that natural, lively, organic sound that Kevin seems to specialise in. A few cables were swapped, and a more fancy crossover was installed, but even if this did improve the sound, the overall character remained the same. Kevin calls it comfortable, and it indeed is a system you can listen to for as long as you like without ever getting tired or wanting to turn on the telly. And, even more important, it also leaves you wanting to listen to more and more music and explore your record collection over and over again, without forcing you in any direction. Obviously systems like these, especially the Vox Olympians, will thrive on audiophile recordings. But real musicality in a system will also work with lesser recordings, and with all styles of music.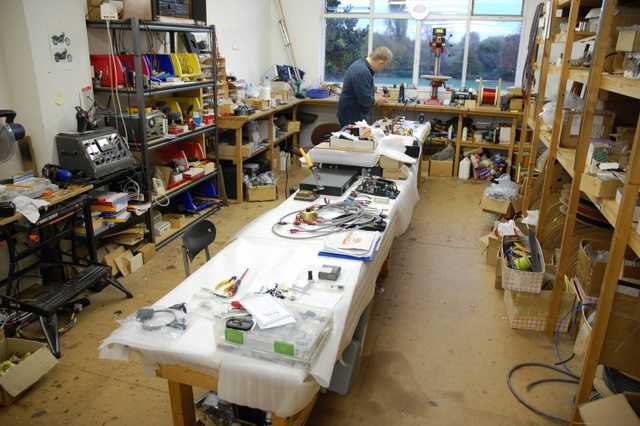 Obviously, it isn't all glamour and luxury at Definitive Audio. It might look like heaven to you an me, but it is just another business at the end of the day. Still, even the stores and the workshop had a certain magic for us, because even there the high-end audio is stacked on top of each other everywhere. You can assemble a pretty good system from every single room in this building! Most people would be proud to have components in their system that are just sitting somewhere on a shelf here. I can recommend a look at the Definitive Audio website, especially the 'definitive stuff list' where you can find many a high-end bargain. Most of it is part exchange and all of it will come with enthousiastic expert advice from Kevin.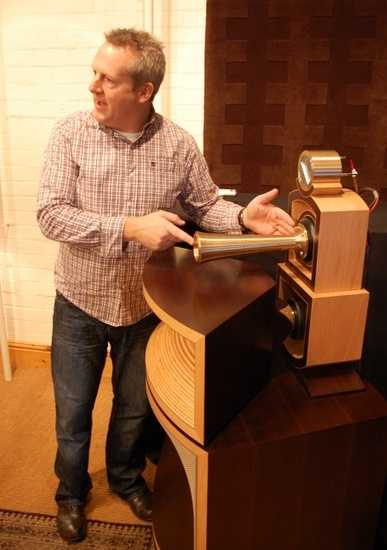 If you want to experience hifi in its best possible form, or are interested in getting a real high-end system, you simply must visit Definitive Audio. It might be a life changing experience. I guarantee you will be impressed.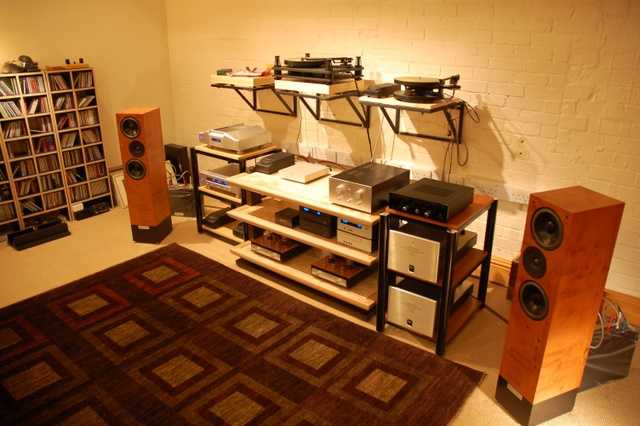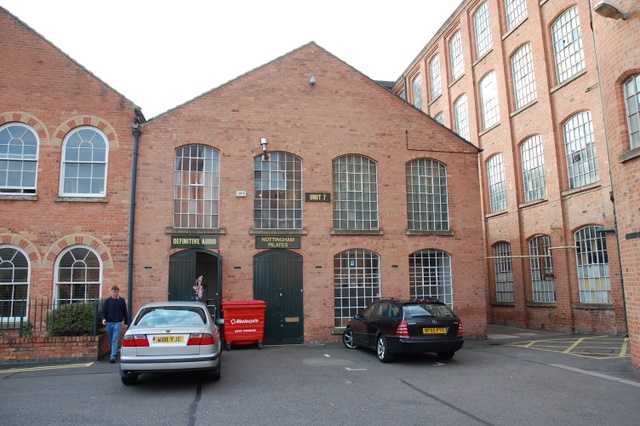 © Copyright 2009 Maarten van Casteren - www.tnt-audio.com
[ Home | Staff & Contacts | DIY & Tweaks | Listening tests | HiFi Playground | Music & Books ]