[ Home | Staff & Contacts | DIY & Tweaks | Listening tests | HiFi Playground | Music & Books ]
Stevens & Billington - Music First Audio Factory Visit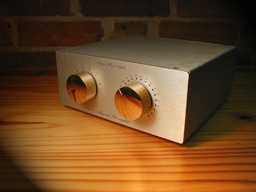 [Italian version]
Factory: Stevens and Billington - England
Reporter: Paul Eros - TNT UK
Report: October, 2007
When I was invited to contribute to TNT audio I had a notion of meeting the makers of the components I use in my own system. I would like to understand more about them, their design philosophy and any ongoing developments that we can look forward to.
Most of my equipment is British (not by design, it just worked out that way when I chose my components) with the exception of my Dynavector cartridge (Japan) and my Bel Canto S300 power amplifier (USA). On reflection I thought that I had better start as close to home as possible. At least then, if the editor didn't like it, I would not have wasted too much money. So a few weeks ago I took a short drive from my home in Hailsham, East Sussex to the nearby seaside town of Hastings. Well known by all English schoolboys as the place, in 1066, that a Norman archer shot the English King Harold with an arrow through the eye, so heralding the Norman period of English history.
Today Hastings is a fishing port, holiday resort and the home of Stevens and Billington, the manufacturers of the "Music First Passive Magnetic pre amplifier". This demure silver box has been lauded by the critics for the neutral way in which it performs the essential functions of a pre-amplifier, adding nothing and taking nothing away in the process. In essence it switches source and adjusts gain. I use one in my home system where it has become the heart around which my system is built. I value its neutrality and faithfulness to the source signal. It opens my ears to the intricacies of the various musicians recorded on LP and CD and enables me to connect with the emotions of the music being played. To my mind it's this emotional connection that sets live music apart from much of the recorded works we listen to at home. Every upgrade we make to our systems should be getting us closer to this emotional connection. At its price point of £1600 (not insubstantial) the Music First pre is such a component and that's the reason that I bought one when I had the chance. Here you can find a review of this preamp.
Stevens and Billington is located on a small industrial estate close to Hastings town centre. They occupy the top floor of a small Victorian looking building. Manufacturing takes place in two rooms and the impression you get is that this is a typically British "cottage" industry. One in which share price comes second to the attention to detail and passion, required to build truly outstanding products. Each unit is lovingly crafted by a small group of dedicated individuals and the managing director Jonathan Billington winds every transformer used in each amplifier.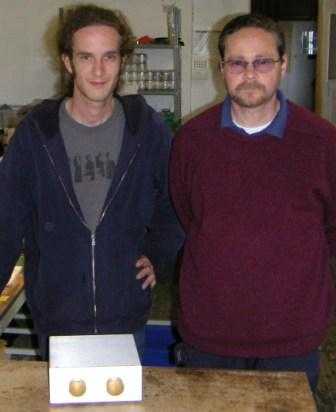 From Left: Harry O'Sullivan and Jonathan Billington
On arrival I was met by Jonathan and Harry O'Sullivan. Both are hands on company executives so no smart suits, smart smiles and jazzy shirts for these guys. I was immediately given my first, of many, mugs of coffee, then we settled down into the back room where Jonathan and Harry started by telling me something of the history of Stevens and Billington.
The company was formed in 1963 by Mr Billington (Jonathans Father) and Mr Stevens. The pair stayed together until 1971 when Mr Stevens left to set up a company that specialised in the manufacture of medieval musical instruments. In 1978 Mr Billington passed away and his widow went back into partnership with Mr Stevens. Throughout this time the speciality of the company was manufacture of electrical transformers and later Switch Mode Power Supply Transformers.
Jonathan Billington joined the company after leaving school, studying for a City and Guilds certificate in electronics on a part time basis. A year later he joined a company manufacturing electronic testing equipment and studied for a Degree in electronics and communications engineering at the Polytechnic of North London. In the third year of his degree he specialised in acoustic engineering.
In 1986 he took over running of the family firm. However, business wasn't great, so to supplement his income he took on a part time job collecting football pools (a forerunner to the lottery in the UK) door to door. During his first year in charge of the company total turnover was just £3800.Jonathan soon discovered that people liked the sound of his transformers and he was asked by well known broadcasters to make them as neutral as possible across the entire frequency range.
Meanwhile Harry O'Sullivan, an accomplished musician, went straight from college to playing in a band. From here he progressed to running the club in which he performed (the Crypt) and became responsible for booking acts and the sound desk. Jonathan's love of live music brought him to the Crypt on many occasions. He and Harry got talking and over a beer or two exchanged stories about their love of music and audio. The two became firm friends.
In 2003 TNT audio came into the equation….well Thosten Loesch, a former staff writer of the magazine, to be precise. He had become aware that an Italian company was using a Stevens and Billington transformer, the 101, in one of their designs. He had an idea and contacted Jonathan to request the inclusion of multiple taps on the secondary winding of the 101, thus was created the 102 transformer. This transformer quickly obtained something of a cult following with DIY amplifier makers. They appreciated its lack of sonic character and the evenness of response across the frequency range.The traditional approach to building passive pre amps has been to use resistive networks. As Jonathan explains
"Resistive networks load the source badly. If you want to avoid this then you can increase the resistive value of the network but this just distorts and rolls of the bandwidth. However, transformers, because they are impedance matched by nature don't' load the source at lower volumes, don't introduce distortion and are capable of driving longer cable runs."
For those interested you can read more about the benefits of transformer attenuated pre amps over resistive network pre amps at www.mfaudio.co.uk/datasheet1.htm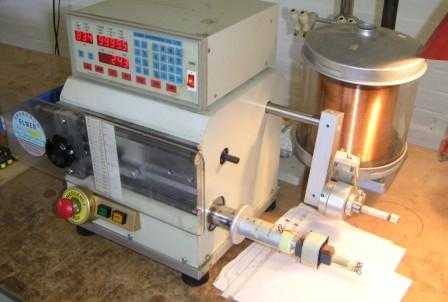 Above:The instrument used to wind the 102 transformers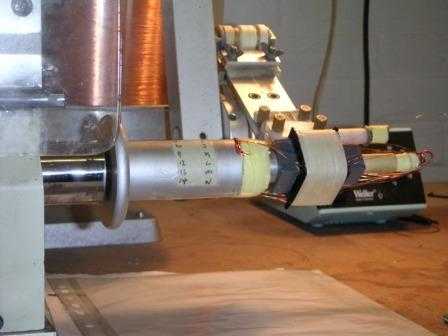 Above: Close up of transformer winding
With so many transformers now being sold to DIY builders, Jonathan started to think about how he could capitalise on this success by designing a pre amplifier that maximised the qualities of the 102 transformer. He spoke with his old friend Harry O'Sullivan who came in to help create a finished product. They needed a new name for their design as they didn't want to confuse their existing Stevens and Billington customer base. They also wanted a name that would encapsulate their design philosophy that nothing should get in the way of the music. As Jonathan says
"When I go to a concert and the conductor takes up his baton and proceedings begin I get a tingle down my spine and the hairs on the back of my neck stand up from excitement. When I play music at home I want to re-create those same feelings. My equipment should let me appreciate this same tingle of excitement, perhaps not all of the time but at least some of the time".
This philosophy is at the heart of their amplifier design. It's a design which, because of its inherent neutrality and transparency, always puts the music first! So they called it the "Music First Passive Magnetic Pre Amplifier". All parts for the amplifier had to be of high quality and they chose individual components only after extensively listening to many alternatives. All switches are from the Swiss manufacturer ELMA. They were also very careful in choosing the Aluminium case work so as not to introduce eddy currents in the metalwork that could impact upon sound quality. The transformers are damped and held in place rigidly in order to prevent microphony. Even the feet were chosen on sound quality benefits.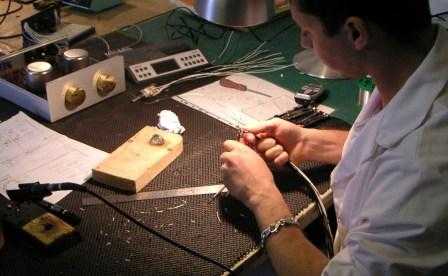 Above: All construction is by hand including soldering of ELMA switches
Since 2003, they have made and sold 300 units. During this time they have been asked by customers for specific modifications to units such as including multiple tape outs. Harry is currently concentrating on developments that will give the amplifier additional flexibilty for use in more home audio situations. One such example is the development of a bi-amping option. He is currently able to give advice to owners of existing amps on how to do this but tells me that they have a unit in development that caters to this need. It contains multiple pairs of transformers (the current amp has only one pair). Additional transformers could also be added for multiple tape circuits. However, there are no plans to produce a power amplifier. As Harry says
"Making power amps is different. We want to concentrate on transformers. We are good at it and we do not want to dilute our quality by getting into areas in which we have limited expertise"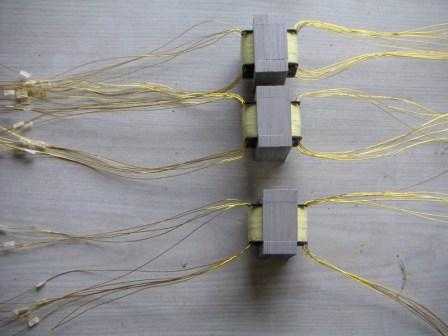 Above: Silver wire transformers
In all I enjoyed my time with Jonathan and Harry and was taken by their focus and attention to detail that goes into each and every amplifier the company makes. They are genuinely surprised at the success of their product but are also justifiably proud of their achievements. In the best tradition of British cottage industries both Jonathan and Harry believe that its quality and not quantity that counts. They want their units to give reliable service to satisfied customers for many decades to come.
I'll leave the final words to Harry O'Sullivan "HiFi is a tool. It's a means to an end and that is enjoyment of music. Music First"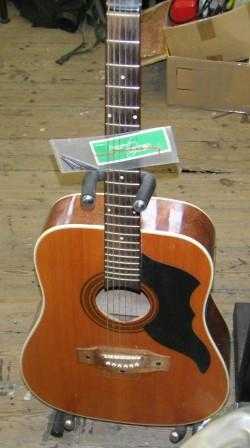 Harry's Guitar takes pride of place. Music First!
© Copyright 2007 Paul Eros - www.tnt-audio.com
[ Home | Staff & Contacts | DIY & Tweaks | Listening tests | HiFi Playground | Music & Books ]