[ Home | Staff & Contacts | DIY & Tweaks | Listening tests | HiFi Playground | Music & Books ]
Naim Audio Factory Tour
You're nobody without a...naim :-)
[Italian version]
Reporter: David Holgate - TNT UK
Pictures: Philip Richter
Visit: 8th October 2003
Naim Audio is a world-class hi-fi manufacturer by anyone's standards. As this report was being completed in late October 2003, reviewers in the British hi-fi press were praising their latest CD player as one of the best ever This is an account of a four-hour visit behind the scenes, guided by Naim's knowledgeable and courteous customer services manager, Richard Dane.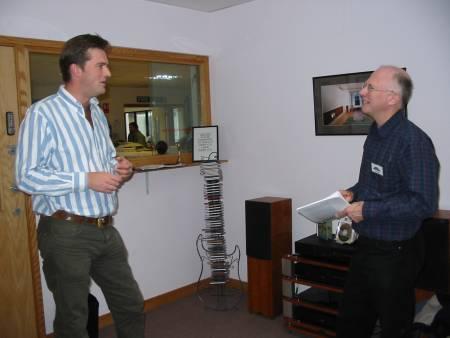 The tour concluded with a half-hour conversation over lunch with Naim's MD, Paul Stephenson.
Arriving at the factory, one is struck by how unassuming it is--just a neat modern brick HQ and associated office and factory space around it, located behind Homebase and MFI off Salisbury's Southampton Road.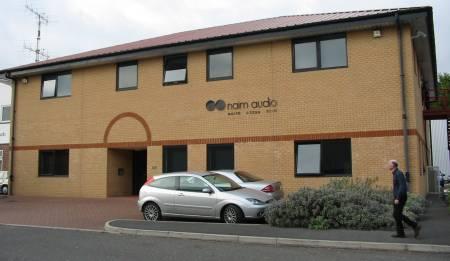 A location map is available for download from the Naim website. http://www.naim-audio.com
After some moments in reception, enjoying music on a Naim system (CDX2, NAC202, NAP200 and Allaes) over a great cup of coffee brought to us by production manager Vic Edwards, we were off. Our first stop was a chat with Doug Graham, who is responsible for sales. We looked at a world map, showing Naim's 26 export markets around the world. Unusually for a British manufacturer, 55% of their market is right here in the UK. This shows that Naim is being successful in meeting the high standards of British audiophiles. In a country that is still seen by many to lead the world in this area, having for example more magazines dedicated to the subject than any other country, this is some achievement. Naim have achieved this in a number of ways, not least by retaining control of all aspects of their manufacturing process. As Paul Stephenson told me later, their mission is to make the best possible equipment for people who are passionate about the importance of music in their lives.
Taking a quick look at some unusual looking Naim products sitting on the window shelves (see below), we left the management and sales offices for the factory floor. First stop was the electrostatic protection point, where we strapped on protective ankle straps. Now that Naim uses chips for many applications, Naim sees electrostatic discharge control as essential to protect components at all stages of manufacture from latent damage. This prevents a situation in which a component is partially damaged, and fails prematurely even when it has passed all the rigorous tests carried out at all stages of manufacture.
I know from the resale market for Naim gear that they clearly build their products to last. How long, we wondered? Well, all units come with a two year warranty from the factory, which some dealers and distributors extend up to five years or even beyond because of their confidence in the quality of the Naim products. They have a commitment to replace or repair transport mechanisms way beyond this, aiming at fifteen years or longer for mechanisms. We later saw evidence of this in the service department, where mechanisms from earlier CD players were stored after they had been substituted for newer components through their upgrade scheme. Naim claims that thus far there is almost nothing that they have made that they can't repair, service or replace.
Right through the manufacturing process, Naim aims for consistency: consistent component quality, consistent matching, consistent assembly procedures, and so on. This doesn't mean everything is extremely hi-tech. The machines we watched populating printed circuit boards with discrete components are old-tech, and they have to work hard to find people able to maintain them Most boards are still partially populated by hand, using kits of components specially compiled for each board. For this, the components are sometimes hand-soldered to tack them on before being fed into the flow-soldering machine.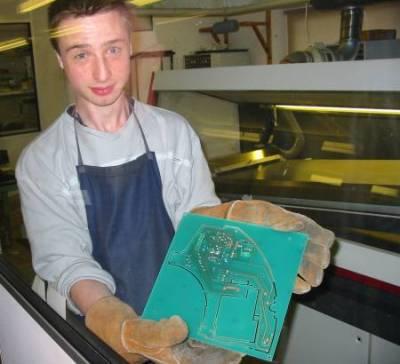 The newly soldered boards look perfect.
However, all are tested for continuity and component function on a Teradyne unit. We watched one 500 board fail this test and be sent back to have a faulty resistor replaced--the tester shows exactly which one needs replacing! In fact, the Teradyne unit itself is soon to be replaced by flying probe technology. We moved on before asking what this would do as well....
The atmosphere throughout the factory is relaxed but busy. People seem happy working there with the consequence being that the turnover of staff is very low. With orders for the new CDS 3 180% above estimated demand, everyone seemed to be working busily, but steadily. Factory space was clearly at a premium.
Developments? While Naim is primarily committed to two-channel technology and 16-bit red book CD-players, it is also moving into the world of DVD. Their first DVD player is to be released early in 2004, and other AV products are in the pipeline. The prototype DVD player was unveiled last weekend at the London show, and the manufacturers of the screen used to demo it liked it so much that they have decided to use it to demonstrate their screens in future. Meanwhile, Naim's chief concern is to make sure that it is the best sounding DVD-player on the market! In fact, AV is not new to Naim. Their AV2 came out two years ago, and we saw an example of the AV1 beside Richard's desk at the end of our tour (see picture below).
Of course audiophiles know that Naim is famous for having a distinctive sound, even if some argue that it has been steadily changing in recent years. So, I asked Richard if Naim would ever think of making a valve amplifier? No, he said, transistors are far more consistent and reliable, and they have designed and built their own transistors (the 007), which, he claims, avoid a tonal greyness that has sometimes been an accusation made at Naim by fans of the valve. These 007s also add greater speed and bandwidth to the fundamental Naim qualities of Pitch, Rhythm and Timing.
We moved onto the PCB stores, where components are selected and matched by testing. We saw transistors being matched as perfect pairs. This close attention to the exact characteristics of components is one reason why it is not easy to build, say, a HiCap clone at home, even if the circuit seems simple enough! As well as stocks of components for current products, we also saw supplies for supporting earlier products; e.g. a circuit board for an early preamp. Elsewhere in the factory, we saw new (NOS) fascias for their first preamp, the NAC 12 still in their protective plastic.
Service department The service department is not a profit-making part of the company, but is designed to support Naim ownership. It does this by only charging for actual work done: they first do the work and then provide an accurate costing for it for the customer. If this is not accepted, then the work is undone! As long as the casework is intact, they can pretty much fix, service or repair everything inside it.
We saw cabinets for the SL2, built for Naim in Denmark, which are veneered inside and out. Inside? Yes, to maintain cabinet strength! As with amps and CD players, Naim can refurbish cabinets and update drivers of many older models, e.g. earlier SBLs can have the original Mordaunt Short drivers replaced with Naim's own units. We saw some IBLs in for a driver update.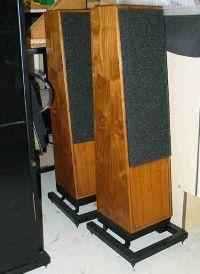 Naim has just found an extra box of grilles for these, so contact them if you need one (stocks limited!). As you would expect, the crossover units for the huge DBL speakers (approx. £11,000 a pair) are also massive.
In this area, we chatted to Clive who is not only involved with the speakers, but has also been hand-building the legendary ARO unipivot tonearm for the past 12 years. He estimates that he has personally made over one thousand. How does he test that each one is up to spec? Simply by using a standard LP12 deck and an Ortofon TC310 cartridge tester. By knowing the results to expect from the cartridge on a good arm, it is easy to see if there is anything amiss with each new one.
Apart from the drivers used in their proposed new entry-level speakers, Naim builds all their own drivers, only buying in tweeters (from Scan Speak or Vifa) and the biggest bass drivers for the DBL (from ATC). We looked at the high-quality purpose-built packaging needed for each speaker, and then moved onto where the Fraims were being cleaned and packed for distribution. Why do supports make a difference? Richard argues that a good support like the Fraim, serves to resist incoming vibrations and channel outgoing vibrations. All the Fraim components are also tested for performance. Surprisingly, mild steel ball bearings work better than stainless steel ones here!
We went on down to the store area. Looking at sealed packs of speaker cabinets, we were reminded that everything is built to order here. Following a model of manufacturing originating in Japan, no money is tied up in piles of unsold stock.
Apart from being well-managed, Naim is also a safety-conscious company. Imagine our surprise then to find a snake handling machine here! Well, maybe not snake handling, but Naim does have a Snaic Shaker. Here is the picture to prove it--the legend on the right of the Naim logo reads: "Come shake your snaic with me".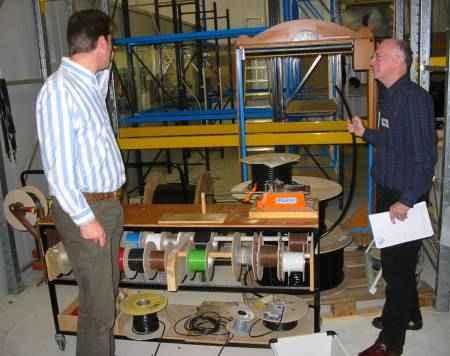 Naim sees their cabling as integral to all their products and every one is made in-house. Having been made, all the interconnects, called Snaics, are shaken 180 times to make them sound better! What does an unshaken Snaic sound like? I asked. It's impossible to answer because all Snaics are shaken before use. Are we in the realm of superstition here? Maybe. But what is attractive about Naim is the way they constantly seek to build on experience, knowledge and practice.
How is this knowledge stored, we wondered. The answer is mainly in the person of its current leaders, Roy George, the R&D guru and Paul Stephenson, the MD. Attention to detail is sometimes mystical and sometimes practical. For example, a very heavy solid brass plate lowers the resonant frequency of the suspended boards in the NAC552 below audible levels, and the transformers are all massively over spec, see the picture of those awaiting service in the 552 preamp.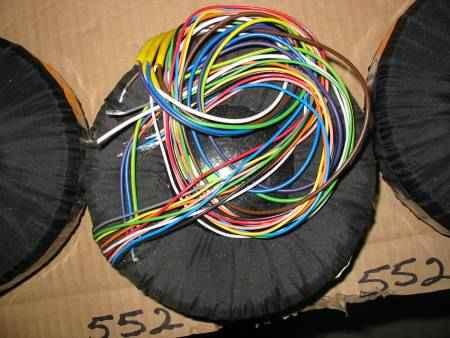 One of the marks of Paul Stephenson's leadership is his commitment to open up the Naim experience to others. Thus, Naim gear now sports RCA sockets as well as the traditional DINs. It gives people who might have been put off by the DINs a chance to do an A/B test for themselves at home. Naim has come up with some clever software to do this via the remote, disabling the alternate input/output to avoid loss of signal quality.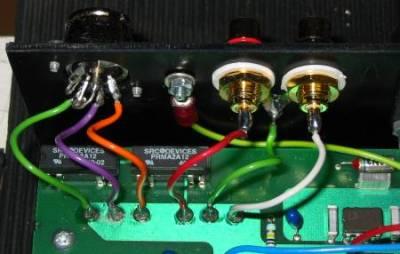 Naim is fanatical about quality control at all stages in the manufacturing process to ensure consistency in their products. When components arrive, samples of all shipments are tested against computer records to ensure that they are still accurately within spec.
Another means of achieving consistency is to supply specialised leads and cables for all their equipment. We saw the machine that cuts and prepares all the wiring required. In the wiring room the PCBs are married up with their transformers and chassis. Although the wiring is done by hand, it is done to an exact pattern, following a template. The room has a library of each template, to guide workers, e.g. we saw the 552 wiring template. Again, through a process of experimentation, Naim claims that performance can be enhanced or degraded by tiny details such as the location of cable ties. We saw the CD5 CD player, NAP 200 power amplifier and Supercap power supply being built here.
How, we asked, does Naim make these discoveries, and then test and store the ones that work? Given the deep commitment of Naim owners to their kit, does Naim get useful tips from Naim enthusiasts? Sometimes, answers Richard, but often these tips make the equipment sound different, rather than better, in Naim's judgement. Naim is not really the ideal brand for tweakers, because it believes that it has already made all the best tweaks.
After the assembly stage is completed, full testing of each completed unit begins. They use Miller Audio Research testing equipment, and Naim claims to have been the first company to identify small timing errors in the digital datastream, now commonly referred to as jitter, as the critical element affecting CD playback. After technical tests, each product is soak tested by being switched on and off every 30 minutes for 48 hours! Failures are very rare, but this is a means of ensuring that no faulty components have slipped through the earlier manufacturing checks and also reduces the time it takes for components to burn-in.
Once soak tested, the products are cased-up. Due to the very tight tolerances involved, special jigs are used to do this accurately for CD players. We happened to check out some CDX2s waiting to be cased up and noted that their analogue output stages are still made of discrete components, and not surface mounted ones.
Finally, there is one more test, that Naim claims is unique to the audio industry: each item gets listened to individually before despatch, with extended listening tests applied to top of the range models like the CDS3 CD players and the NAC 552 preamp.
Finally, the products are boxed up with all manuals, cables and appropriate plugs (cf. the cables for different parts of the world, e.g. Swiss cables.) Naim controls costs by not keeping stocks of any completed goods except their entry-level equipment--all items are shipped out within days of completion.
What about Service? I said earlier in this report that support is an essential part of the Naim philosophy.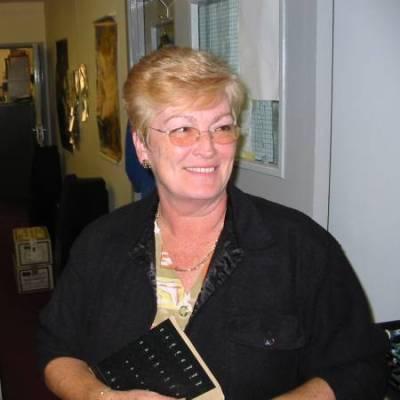 Sheila is the queen of the service department and, along with manager Mark, is the point of contact with all customers who choose to deal directly with Naim for their service requirements, rather than via their dealer. Naim encourages dealer involvement, but recognises that customers may lose contact with the original dealer through resale over the years.
Owners of Naim gear can often have their gear upgraded to the original or better specs for a special scheme price. This upgrade scheme is also one of the ways that Naim is able to maintain stocks of key parts (e.g. for earlier CDS models) when repairs are needed. The service department gives one an idea of what Naim looked like in the early days.
On the way to the dem room to do a bit of listening, we passed by the R and D department. Chief designer Roy George was out at the time, though we caught up with him just before we left. We looked over the prototype of the Nait 5i which is due out before Christmas 2003. We also checked out some of the speakers in the hallway, from giant DBLs, which are still in production after 12 years, to prototypes of the new entry level Ariva speakers.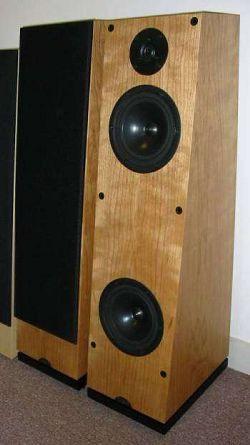 These are the latest in a line that goes back to the IBLs, (see full TNT review), and Naim claim that they are "less of an acquired taste" than the IBLs with more bass from a design that has a similarly small footprint. Again, as with all Naim loudspeakers, these are designed for placement against the wall. All Naim products are limited editions in their own way. So, if you buy the Arivas today, it is likely that they will become classics of the future.
The dem room is a large rectangular space, comfortably furnished but not particularly smart, considering the cost of some of the gear on dem. Again the emphasis is on sound quality, not décor! We listened to Steely Dan's Gaucho on an ARO/LP12 combo. The ARO was fitted with an exotic Ortofon SPU Royal N cartridge that they were testing. The phono stage was a Prefix built into the LP12 plinth, and amplified through a 552/NAC500 combo. The speakers were SL2s (two-way passive).
There was not enough time to do any kind of listening test, so I can't comment on the sound, especially with an unusual cartridge. We were just about to turn our attention to the CDS3 for comparison when Paul Stephenson joined us and we went across to Naim's staff canteen for lunch and a short interview.
Paul was curious about TNT and its interest in the history of some of Naim's older products, e.g. Lucio's enthusiasm for the Nait 1. While he understands that TNT is for the hobbyist and the enthusiast, he stressed that a living company like Naim has to focus on the present and look to the future. Again, I was reminded that Naim is too busy working out its calling to have much time for being a living museum. He has been with Naim since 1980, and took over from the late Julian Vereker three years ago.
Paul is proud to be the head of a company that makes high quality, high performance products. His vision of families happily gathered together listening to Naim systems making beautiful music may be a little idealistic, but nevertheless, the Naim sound is one that is developed and tested through constant use of the products at home. While they are developing products for the DVD market, 98% of their production is still for two-channel audio.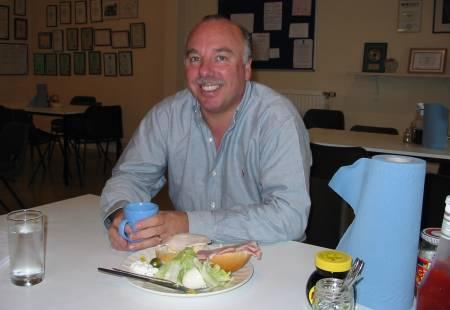 Who are the main users of Naim's two-channel audio equipment? Sales in this area were up 30% last year, and again 25% this year. Whether there are more high-end two-channel enthusiasts out there, or whether Naim is simply gaining a larger share of an existing market, this does mean that SACD and DVD-A are not going to change this focus anytime soon. This is good news for the many people who have invested in huge CD collections. Paul repeats that Naim exists to serve people who are passionate about the place of music in their lives, rather than people interested in "hi-fi". The aim at Naim is still to get the recorded signal out as nearly exactly as it came in during recording. In this respect, he claimed that the "Naim sound" hasn't changed, though Naim has taken advantage of new technologies and new design solutions for meeting this central goal. It would have been good to have explored this further, but time was moving on.
The good news for people with "everyday" incomes, is that Naim's entry-level products benefit from the same technical quality and advances as their higher priced ones, and that their entry-level gear has actually come down in price. This means that the Naim "extended family" of existing owners is likely to continue to grow.
Just before Paul left I asked about the philosophy behind the Naim recording label. In line with Naim's desire to support real music lovers, the idea is to provide an outlet for some of the more demanding, less commercial music which would otherwise not be recorded. The label records music that needs to be listened to attentively, and hopes to make a contribution to revitalising the classical music scene. There are no long-term contracts to tie artists down, and exceptionally high royalties are given to the artists. This sympathy with the artist comes from all Naim staff being "frustrated musicians" at heart. On the technical side, being involved in the recording process is a "wholesome adjunct" to their main business because it helps them to understand more about this stage in the whole recording-reproduction process.
The tour was almost over. We dropped back into the dem room for a quick word with Roy George.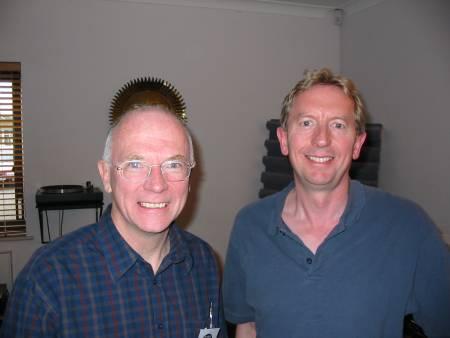 No developmental secrets were revealed, but he did say that Naim would continue to support the vinyl format for as long as demand for this remained and didn't rule out the development of new products in this area.
We collected our bags from the open plan office shared by Paul S, Doug Graham and Richard Dane, and took some pictures of the very rare Naim gear that caught our eye earlier. These were: the NAT 301 AM/FM tuner (a prototype that was never put into production), and the AV1 unit (a full-bandwidth surround sound add-on), a rare example of Naim's first foray into this area.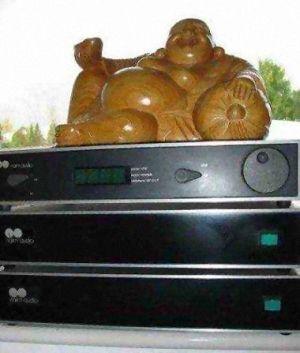 Finally, our thanks to all the staff of Naim for giving time and information for this factory report, especially Paul Stephenson, Richard Dane, Doug Graham, Vic Edwards and Roy George. Richard is always happy to take customers or Naim enthusiasts on a tour of the factory, as long as this is arranged in advance to fit in with what can be a very busy schedule! As the company's main link with customers, apart from factory visits, he also maintains the Naim forum--see their website for details--and answers customer emails, often as many as 100 a day.
© Copyright 2003 David Holgate - www.tnt-audio.com
HTML editing: Tom Browne
[ Home | Staff & Contacts | DIY & Tweaks | Listening tests | HiFi Playground | Music & Books ]