[ Home | Staff & Contacts | HiFi Playground | Listening tests | DIY & Tweakings | Music & Books ]
On an Overgrown Pathé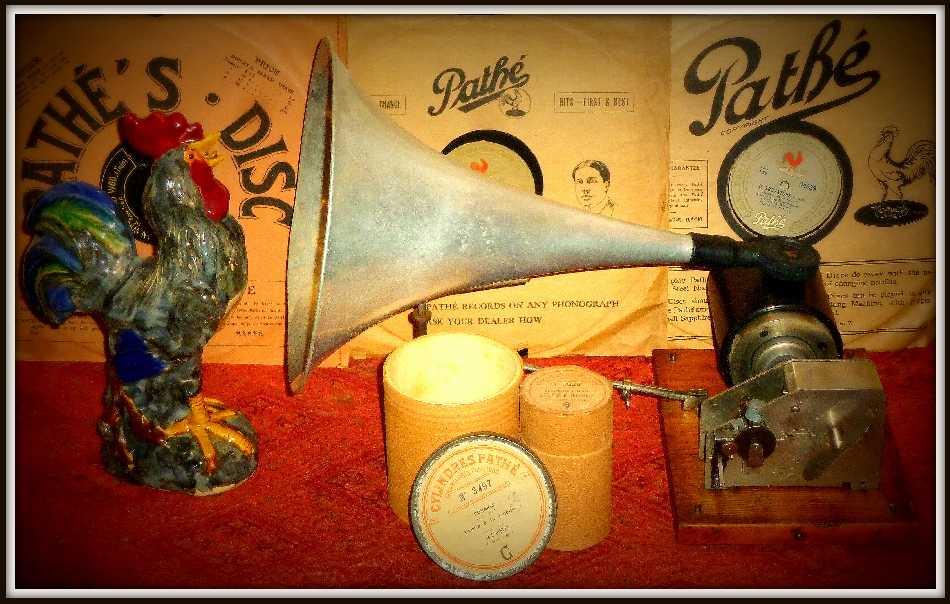 And the Glory of the Lord: An Edison Messiah
[Italian version here]
Author: David Hoehl - TNT USA
Published: December, 2019
Christmas is coming, and, aside from exclamations over obese geese, the season's well-roasted chestunuts--at least for those not exclusively devoted to rock, of the jingle bell persuasion or otherwise--inevitably will include Handel's 1742 oratorio Messiah, never mind that the work's scope embraces the entire life of Jesus, from birth to the Resurrection, and its implications, not just the Christmas story. By the 19th century the work had become a fixture on the musical landscape, with regular gala performances in England by choirs whose members numbered in the hundreds, if not thousands, and orchestras enlarged and augmented by hands as inspired as Mozart's or as mundane as the local kapellmeister's. The work received its US premiere as early as 1818 at the hands of the three-year-old Handel and Haydn Society in Boston, a group active to this day and as such the oldest continuously performing musical organization in the country. The latter day focus on historical performance practices has pared Victorian-era forces down again and brought instrumentation back to something approximating Handel's, but, in presentations agile or ponderous, anachronistic or period-conscious, amateur or professional, Messiah is here to stay.
Needless to say, Messiah's secure place in public affections, and hence its potential as a conduit into the public's wallets, did not escape the notice of record companies almost from their earliest days. For example, the Gramophone and Typewriter Ltd., distant ancestor of what eventually would become HMV, is reported to have issued a "complete" recording in 1906, a mere eight years after its founding, although the side count suggests this set must have been cut by about a third. As far as I know no company came closer to a full performance before the advent of electric recording. Edison, by contrast, offered only haphazardly issued recordings of individual arias or choruses, for the most part recorded in two groups, one around the turn of 1915 to 1916 and the other in 1921-1922. Nonetheless, Edison's Messiah recordings, taken together, aren't a bad collection of highlights, and they illustrate the company's philosophies and the American musical scene in microcosm.
First and foremost, in keeping with Thomas Edison's patriotic bent, this is an American take on Messiah. While certainly not unwilling to record Europeans, Edison liked to choose American artists for his records, and all the singers here were American-born and at least partly American trained, in one Case (pardon the pun--see below) exclusively so. What we hear in these records is the way in which leading American oratorio singers presented Handel and how American audiences would have heard his music a century ago.

Second, exemplifying Edison's belief that records should educate as well as entertain, the backing of "Why Do the Nations" is an "Explanatory Talk" in which the invariably wooden elocutionist and Edison stalwart Harry E. Humphrey (1873-1947) expounds on the genesis and structure of Messiah . Similar monologues appeared on many Edison diamond discs; if today they seem a lost opportunity for more music, at least they gave the buyer a bit more than Victor's contemporary Red Seals, which maintained blank back sides until long after even Victor itself had "doubled" its less exalted issues. (To give Victor credit, the company did for a short while affix labels with brief "program notes" and translated texts to the otherwise blank sides of its Red Seals.) Moreover, although by no means always free of exaggeration, once in a while one of the "Explanatory Talks" will divulge an interesting tidbit about an artist not well remembered or documented today. In addition to these narratives, Edison sometimes included a brief paragraph or two about its records on their otherwise generic paper sleeves.

Third, belying the Edison label's latter day reputation for recording "nobodies" in literature they never would have performed in public, every one of the principal performers represented in the Messiah series had a significant career, albeit usually more in the concert hall than the opera house, and most were well-regarded or even leading exponents of oratorio--the very genre they were presenting on these records. Even the uncredited choristers in the "Hallelujah Chorus" ranged from popular recitalists to singers with operatic pretensions. What they, and broad swaths of the label's remaining stable, did not have was the luster of hailing from Europe and the advantage of Victor's relentless promotional machine, and they had the positive misfortune of recording for a label subject to its owner's quixotic concepts about music; defunct by late 1929; and, thanks to a reluctance to accommodate changing technology, wedded to a format effectively unplayable for decades thereafter.

Fourth and finally, these singers' careers reflect that in the United States of their day, talent was erupting everywhere--not just in cosmopolitan urban centers like Philadelphia, Chicago, and New York, but in rural areas like Iowa and South Dakota--but it found US opera houses inaccessible without first burnishing credentials in Europe and inhospitable even then. (England's native-born singers of the period faced similar difficulties at home relative to those born on the Continent.) Instead, American vocalists, including those on the Edison Messiah records, generally found their most accessible outlets as church singers, as oratorio singers, as recitalists, as teachers. In this way, particularly in those days before radio, they reached a wider audience than did their operatic counterparts, but the lack of glamor in their more workaday career paths ensured their names would not persist long in the public memory after their passing from the scene.
Edison's recording system desrves mention. Edison remained committed exclusively to cylinders for about a dozen years after disks arrived on the market. Eventually, however, the company was forced to meet competition from disks head on, and its answer was the Edison Diamond Disc Phonograph, a complex device with the avowed goal of exactly reproducing sound heard in the studio. Unlike nearly all competing products, it propelled the stylus by a mechanical feed and for amplification relied on a discrete metal horn forming a single hermetically sealed system with the reproducer, mounted on pivots to swing freely in an open compartment behind the cabinet grille, not on the more typical squared-off, approximately horn-shaped chamber designed as an integral part of the cabinet itself and connected to the reproducer via a separate pivoting tonearm. The records were a fuil quarter inch thick, vertical cut, finely grooved, and played with permanent diamond styli instead of steel needles. Unfortunately, they tended to have high surface noise, particularly those pressed during World War I, when materials shortages adversely affected the production process. Edison adopted various label styles, beginning with a process of molding label information into the record surface itself and ending with paper labels that not infrequently have fallen off today. Early records did not list the artists' names, and the catalogue numbers were pressed into the edge, not on the label; later, the company moved to more conventional practices.
Of particular interest here, considering most of the principal singers in Edison's Messiah recordings participated in the program, Edison promoted the new system through so-called "Tone Tests," public recitals held in halls all across the United States in which instrumentalists and singers would perform together with their recordings on Diamond Disc phonographs, challenging the audience to tell the difference. Surprisingly to us today, most audiences reportedly couldn't, although evidence has emerged that the performers were coached to produce a sound matching that of the phonograph.
In music, hearing is believing, and to that end the link at the end of this article will take you to Edison's recorded excerpts from Messiah played on an Edison C-250 Diamond Disc Phonograph roughly contemporaneous to the recordings, built in or about February, 1918. Known as the "Chinese Chippendale" model in company literature, it was designated an "official laboratory model," meaning it had the largest motor and horn fitted to Edison disc phonographs of the time. The C-250 was the flagship of the line, the strongest seller among the top tier machines and the one usually chosen to appear at Tone Tests and in Edison's advertisements, which frequently played off the Tone Test theme by depicting an Edison artist standing or performing beside a phonograph. For copying the Messiah records, I fitted it with a somewhat later reproducer, a so-called "New Standard" or "Edisonic" type, which featured increased tracking force and a spring-loaded stylus bar to generate greater volume than the original Edison design that came with my machine. Although the Edisonic reproducer was intended for the electrically recorded diamond discs introduced around a decade later than my machine, whereas the Messiah records were all products of the old horn-and-diaphragm acoustic recording method, I hope the historical purists among us will forgive me that one anachronism; the original owners of these machines frequently uprgraded to this reproducer, which the company made available to existing customers at a discount, and mine just happens to be the best sounding Edison disc reproducer that I own.
Finally, a note about the orchestrations, for those of you who are not familiar with acoustic (horn and diaphragm) recordings. Edison's claimed "living voice of the artist" claims notwithstanding, in the acoustic era recording companies routinely rearranged accompaniments in classical and operatic literature to suit the limitations of the recording mechanism, usually substituting tubas for double basses and Stroh strings for the others of more traditional sort. (For an explanation and photo of a Stroh violin, see here.) Edison was no different in this regard, and the orchestral scoring you hear in these records will only vaguely resemble what you would hear in one made since the advent of microphones. That said, Edison's recording engineers were skilled at coaxing the best results possible from what was then the state of the art, and the rescored orchestras, as heard through the equipment for which they were intended, more often than not manage to give at least a fair impression of bigger, more conventional ensembles.
The selections included and some brief background about the artists follow. I pulled this information together from various sources scattered around the Internet. Please consider it more for background and color than as academically rigorous!
Reed Miller, tenor (February 29, 1880 - December 29, 1923). "Comfort Ye My People"; "Ev'ry Valley Shall Be Exalted"--Edison 80258, July 21 and 22, 1915. Reed Miller parleyed an early career as a well-regarded New York church singer into one embracing recitals, oratorio, and extensive activity in the recording studio. In this last capacity his voice can be heard on Edison wax and celluloid cylinders and, under his own name and pseudonyms, on conventional lateral 78s from various labels, among them Victor, Columbia, and Pathe. In the recital hall he appeared both as soloist and in ensembles with other well-regarded singers of the period, such as Frank Croxton and Reinald Werrenrath. In 1915, The Opera News, a periodical published by Wanamaker's Department Store in Philadelphia and not related to the current periodical Opera News, wrote of the singer, "Reed Miller, tenor, stands foremost in the ranks of oratorio singers in America to-day. It is his unique record to have sung the Messiah with the Oratorio Society of New York for a greater number of successive years than any other tenor in the history of the organization. Mr. Miller is the soloist at St. Thomas' Church on Fifth Avenue, and the possessor of a remarkably beautiful and sympathetic voice."
Anna Case, soprano (October 29, 1887 - January 7, 1984). "Rejoice Greatly"--Edison 80757, June 7, 1922. Anna Case was born in New Jersey and studied exclusively in the United States. When she made her debut at the Metropolitan Opera in 1909, she was said to be the first person to sing there without European training. During her decade's tenure with the company, she appeared in diverse operas including Lohengrin; Carmen; Aida; Die Zauberflote; and, most notably, Boris Gudonov in its March 1913 American premiere, a production conducted by Arturo Toscanini and also including such distinguished singers as Louise Homer and Adamo Didur. Following her departure from the Met in 1919, Case gave concert recitals throughout the United States for another decade, including on the vaudeville circuits. She retired in 1930 upon marrying wealthy industrialist Clarence H. Mackey, who was also the father-in-law of Tin Pan Alley luminary Irving Berlin. Case recorded extensively for Edison and was known as Thomas Edison's favorite soprano; as such, she frequenly participated in the company's Tone Tests. Following the advent of electric recording, in the late 1920s she shifted allegiance to Columbia, for which she continued to record until her retirement.
Anita Rio, soprano (July 30, 1873 - August 24, 1971). "There Were Shepherds; Glory to God"--Edison 80277, September 17, 1915. Anita Rio was born in Alameda, California, and died at Old Saybrook, Connecticut. After studies in San Francisco and New York, she made her concert debut in Boston, appropriately enough in Handel's Messiah; one online site gives the year as 1897, but her obituary in The New York Times gives it as 1901. Either way, she remained some years as a concert singer in America, then went to Italy for additional study. In 1909 she made her opera debut at Covent Garden, London, as Donna Elvira in Don Giovanni. From then until 1914 her activities included frequent appearances as a guest artist in various Italian houses; she was much admired in the title role of Madama Butterfly and as Nedda in Pagliacci, and she scored a notable success opposite Alessandro Bonci at Rome's Teatro Costanzi in a 1912 production of Bellini's La Sonnambula. In 1914 she returned to the United States, where she continued to perform in recitals and oratorio. Like Julia Heinrich below, Anita Rio had one noted mishap with a railroad train, although happily without the fatal consequences: en route to participate in a performance of Verdi's Requiem in Boston, her train collided with a freight train. She arrived at Symphony Hall after 9:00 PM, not having eaten or slept for some 30 hours, but still managed to sing her part. After her retirement, Rio taught voice in New York.
Christine Miller, contralto (1876 - 1956). "He Shall Feed His Flock"--Edison 80291, December 13, 1915. Not merely another Tone Test artist, Christine Miller featured in the first, which took place in East Orange, New Jersey in February 1915. Like Anna Case, she abandoned her career upon marrying into money, in her case Daniel M. Clemson, who had made a fortune as a partner of Andrew Carnegie, in 1918. As a young adult, Miller, an immigrant from and native of Glasgow, Scotland, worked as a store clerk and sang in the choir of Pittsburgh's Third Presbyterian Church, where an anonymous benefactor, enamored of her voice, offered to underwrite her musical education. Making the most of this opportunity, she developed a significant international career as a concert contralto. When offered the position of soloist at Third Presbyterian, however, she accepted out of gratitude for its having underwritten her start, even though the salary was but a fraction of her earnings as a concert singer. There, she met and, after a time, married Clemson, who later admitted to having been the anonymous benefactor and to having engineered the offer of a church position in hopes of luring her back to Pittsburgh. After her marriage, Miller devoted her time and wealth to various charities and occasional benefit performances.
Marie Tiffany, soprano (July 8, 1881 - April 12, 1948). "Come unto Him"--Edison 82139, February 12 or 13, 1918. Marie Tiffany was born in Chicago. Having been a soloist at the First Presbyterian Church in Pasadena, California, since around 1900, she joined the New York Metropolitan Opera in 1916 and remained a member until 1928, appearing some 208 times, mainly in comprimario roles. She participated in several world premieres, the most important being Giacomo Puccini's Il Trittico in 1918, when she was the sole performer to appear in all three of the constituent operas: as Nella in Gianni Schicchi, a lay sister in Suor Angelica, and one of the lovers in Il Tabarro. During her time as an Edison artist, she participated in the company's Tone Test program. She also recorded for Victor; OKeh; and, by a wide margin most extensively, Brunswick.
Amy Ellerman, contralto (1890 - June 4, 1960). "He Was Despised"--Edison 80662-L, March 28, 1921. Amy Ellerman was born in Yankton, South Dakota. She began as a pianist before turning to voice; among her teachers were Gemma Bellincioni and Herbert Witherspoon. The outbreak of World War I aborted a contract with the Dresden Opera, but she was soloist at the Bethlehem-Bach Festival, the Bach Cantata Club, the New York Oratorio Society, and the Chautauqua Lake Festival and with the New York Symphony Orchestra under Walter Damrosch. As a recitalist, she appeared at New York's Town and Aeolian Halls, and she was another participant in Edison's Tone Tests. Ellerman also sang with Betsy Lane Shepherd and Gladys Rice as "The Homestead Trio." In 1917 she married a fellow concert singer, Calvin Coxe, in Lead, South Dakota, where her brother was State Mine Inspector. (The next paragraph in the Lead Daily Call's column announcing the nuptuals recounted how someone had driven a Ford car "filled with carp and suckers from the big dam" into town and "cleaned up a bunch of money" by selling the carp at from 10 to 35 cents each and the suckers at two for five cents, offering "persons trying out the war ration scheme an opportunity to save on a good dinner"!) Although her recording career was brief, she remained an active performer for years after her time with Edison: for instance, on January 16, 1931, she participated in a joint recital with the Gloria Trumpeters sponsored by the Epsilon Chapter of Sigma Alpha Iota (of which she was an honorary member) at the Ithica Conservatory, and in 1936 she sang at Town Hall. For more than a quarter century until a few years before her death, she was contralto soloist at the First Presbyterian Church in New York City. In later years, she was voice coach to film stars including Irene Dunne.
Julia Heinrich, soprano (1877 - September 25, 1919). "I Know that My Redeemer Liveth"--Edison 83042-L, November 12, 1915. Julia Heinrich was born in Philadelphia. Her parents were both professional singers, her father, Max Heinrich, being also a composer and noted voice teacher. Her studies were mostly with her parents, and she made her first public appearance in Boston in 1897, but she also studied for a year in Berlin. She performed with German companies for several years from 1910 until her return to the United States to join the Met in 1915; there, her debut role was Gutrune in Gotterdammerung. She was especially successful as a recitalist, in which capacity she concentrated on German literature and sometimes sang with her father or even accompanied him in performances of his compositions. Like several other artists detailed here, she was a participant in the Edison Tone Tests, but in her case with disastrous results: she died in a freak accident when a railroad engine struck a baggage cart obstructing the tracks and hurled it, or parts of it, into her as she waited on the platform in Hammond, Louisiana, following a Tone Test concert. Her accompanist, standing next to her, was unscathed.
Arthur Middleton, bass (November 28, 1880 - February 16, 1929). "Why Do the Nations?"--Edison 82538, October 20, 1915; "The Trumpet Shall Sound"--Edison 83042-R, January 21, 1916. Arthur Middleton was born in Logan, Iowa and studied with Alexander Emslie, presumably in Iowa (Emslie would be named president of the Iowa Music Teacher Association in 1899; by 1915 was Director of the Conservatory of Music at Colorado State College), and the distinguished American tenor Charles R. Adams in Boston. Middleton had a brief, inconsequential career at the Met from late 1914 to early 1916 and one only somewhat less minor with the Chicago Opera Company thereafter; its high point was a principal role in the premiere of American composer Henry Hadley's quickly forgotten opera Azora, the Daughter of Montezuma. Middleton fared far better on the concert stage; in oratorio (a writer for the City of London Phonograph and Gramophone Society has described him as "the voice of oratorio in the Mid West of the USA"); and, with promotion of his association with the Met all out of proportion to its reality, on Edison records, for which he took on the role of de facto house bass. Like most of the other "principal" singers here, he was a Tone Test artist. Middleton died of Bright's Disease in 1929.
Oratorio Chorus, mixed voices as below. "Hallelujah Chorus"--Edison 80292, January 19, 1916.
The probable members of this small ad hoc ensemble were as follows:
Soprano Mary Carson (ca. late 1800s - 1951) was born in Millican, Texas as Mary Carson Kidd and spent her youth in Houston. As a professional she dropped the surname. Following training in New York and at the New England Conservatory she went abroad to study in Italy. In Europe she performed principal roles like Gilda in Rigoletto and Juliet in Romeo and Juliet; as a measure of her standing, Richard Strauss often joined her as accompanist when she performed in Berlin. In the United States she was a member of the Century Opera Company, a New York operation dedicated to presenting opera at popular prices, active for two or three years just before World War I. She recorded frequently for Edison between 1913 and 1915, and one source claims she was the first Texas musician to make a recording. Her association with Edison, and her recording career, came to an acrimonious end when she sued the Edison label for refusing to pay her when not booked while forbidding her to work for others. She won $250,000, a substantial sum for the day; thereafter, she devoted herself to teaching in Houston.
Soprano Elizabeth Wheeler (1875-1971) was born in Kokomo, Indiana. She recorded for several companies, sometimes under the name Jane Kenyon, but primarily for Victor, often in duets with her husband, William Wheeler, or with Janet Spencer. Her recorded repertory centered on popular ballads and hymns with some forays into light opera.
Soprano Marie Kaiser recorded extensively for Edison and participated in the Tone Test program. She sang soprano but also sometimes in the contralto range. Moving to New York from Kansas City, she made her debut there in or about 1911 and developed a successful career there as a recitalist and oratorio singer. In 1913, Thomas Edison, mindful of the growing public antipathy toward Germany and its ruler, insisted she begin spelling her name "de Kyser." The point became moot in 1917, when she married broker Duncan Roderick Cumming and declared intent to continue her professional career as Marie Cumming.
Contralto Merle Alcock, nee Tillotson (prob. February 6, 1884 - March 1, 1975) was another of Edison's Tone Test artists. She also recorded for Victor and, early in her career, Columbia. After studying at the Drake Conservatory in Des Moines, Iowa, she made the obligatory pilgrimage to Europe, where her debut was in a 1914 London concert. Returning to the United States, she sang as soloist with the New York Symphony Orchestra in 1915 and then established herself as a recognized exponent of oratorio, particularly in music of Bach and Handel. From 1923 to 1929 she sang at the Metropolitan Opera in repertory ranging from La Gioconda and Rigoletto to Rimsky-Korsakov's Le Coq d'Or and Falla's La Vida breve. After a 1930 US tour with the San Carlo Opera Company she retired from the stage to teach voice in New York; among her students was Eileen Farrell.
Contralto Carolina Lazzari (December 27, 1891 - October 17, 1946) made numerous recordings for Edison. She was born in Milford, Connecticut, and studied in Italy and with William S. Brady in New York. Her US operatic career began in 1917 as a member of the Chicago Opera, her debut role being Giglietta in the US premiere of Mascagni's Isabeau; an engagement at the Met in 1920 yielded only one performance, as Amneris in Aida. She sang the same role in 1921 at the Teatro Colon in Buenos Aires. Thereafter she was active as a concert singer and voice teacher, for a while with a studio in the Met's building.
Tenor John Young, known as Harry Anthony of "Anthony and Harrison," sang with fellow "Oratorio Chorus" member bass-baritone Donald Chalmers in the Criterion and American Quartets.
Tenor Harvey Hindermyer (January 10, 1878 - October 27, 1957) was born in Doylestown, Pennsylvania. He recorded widely for a variety of labels from the first decade of the 20th century through the mid-1920s and then turned to singing on the radio. His repertory included light operas, concert ballads, popular songs, and oratorios. In addition to solo performances, he sang with the Shannon, Knickerbocker, Orpheus, and Metropolitan Quartets.
Bass Donald Chalmers (1878 - 1937) made records for Edison and was active on the concert platform. Over a span of two decades he was a frequent soloist with the Ocean Grove Auditorium Choir, for which he served as director from around 1930 to 1932.
Now, it's time for music. For your viewing and listening pleasure, here's "An Edison Messiah":
As a bonus, here's Harry E. Humphrey's "explanatory talk" about "Why Do the Nations":
Please note that no electrons were in any way molested during the recording or playback of these Edison diamond discs.
___________________
DISCLAIMER. TNT-Audio is a 100% independent magazine that neither accepts advertising from companies nor requires readers to register or pay for subscriptions. After publication of reviews, the authors do not retain samples other than on long-term loan for further evaluation or comparison with later-received gear. Hence, all contents are written free of any "editorial" or "advertising" influence, and all reviews in this publication, positive or negative, reflect the independent opinions of their respective authors. TNT-Audio will publish all manufacturer responses, subject to the reviewer's right to reply in turn.

© Copyright 2019 David Hoehl - drh@tnt-audio.com - www.tnt-audio.com
[ Home | Staff & Contacts | HiFi Playground | Listening tests | DIY & Tweakings | Music & Books ]