[ Home | Staff & Contacts | HiFi Playground | Listening tests | DIY & Tweakings | Music & Books ]
On an Overgrown Pathé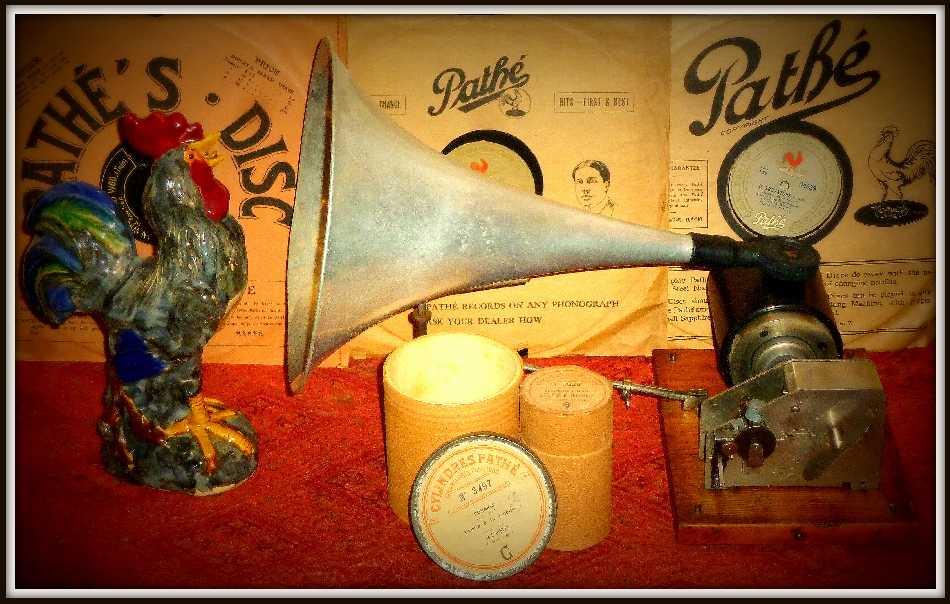 Thai without Padding: The Meloclassic Label
[Italian version here]
Official Label Website Meloclassic - USA

Reporter: David Hoehl - TNT USA
Published: November, 2015
I never cease to marvel at how the world has opened up since the advent of the Internet. Who would have thought a top-notch historical reissue label, focused on unissued European radio studio performances by top-tier classical artists in the years immediately after World War II, would emerge from Thailand? And yet here it is: Melo Classics, primarily operating by direct Internet sales at www.meloclassic.com. Apparently in business for less than two years, this little independent operation from an unexpected corner of the world has already amassed an enviable catalogue of historical material, particularly piano literature but also some cello, violin, and chamber music and a bit of orchestral literature under Russian conductors. I imagine these latter categories will expand as the label matures. Here's how the label describes itself:
Meloclassic is owned and operated by Mrs. Lynn Ludwig, as a non-profit organization dedicated to informal education in the arts, established in Germany in 2013. We are dedicated to releasing previously unissued historical recordings of live radio performances and broadcasts. We include whenever possible the original radio announcements and applause. The recordings should be considered as historical documents
An impressive array of artists' estates has cooperated in this commendable venture. Note that while the operation is described as "established in Germany," and most of the recordings seem to derive from German radio studio tapes, the discs definitely come from Thailand. I'll confess it was a bit of a kick getting a package with Thai stamps and cancellation marks mixed into my more mundane bills and advertising flyers in the mail!
By which you will deduce that I actually bought a small sampling of discs from Melo. The prices are modest to begin with, a uniform 8.99 euro for single discs and 12.99 euro for two-disc sets,but Melo sweetens the deal with progressively larger discounts for orders of 5, 10, or 20 discs. Never having heard of, much less done business with, this label, I kept things conservative to start (as I'll outline later, I needn't have worried in the least, but naturally one is cautious on first acquaintance). At the outset, I ran into some technical problems getting the company's Web site to take my order, but eventually those were ironed out, and I placed my order for five discs at a 10% discount. When the package arrived, much to my surprise and delight, it contained an additional disc as a gift from the company. Better yet, it was one I'd seriously considered ordering but eventually excluded from the first try.
The packaging is not exactly spartan, but considering the postal travel required by the discs' origins and the modest prices asked, I'd describe it as "sensible": digipaks, uniformly colored by year of issue (2014 lavender, 2015 navy blue) with a photo of the performer on the front, track information on the rear, and a separate booklet with program notes in an interior pocket. I know digipaks are not uniformly popular with collectors, but they are less prone than jewel cases to cracking or breaking in transit, and I imagine they experience some fairly serious knocks en route from Thailand to buyers in distant markets. Photos appear in good quality black and white, probably the original guise for most or all of them, and printing quality is good. The discs themselves offer well-chosen selections and are well filled; no examples of the short bvmeasure sometimes offered by moderate to inexpensive issues.
From a sociological standpoint, my first group of discs offers an interesting cross section of the classical music world of the day: of the six headliners, two had been unabashed supporters of the Nazis; one went into voluntary exile, at considerable personal hardship and irreparable career damage, to protest the Nazis; one, as a Jew, was forced to flee into exile when Hungary joined the Axis; one, likewise Jewish, lost most of his family and himself survived imprisonment in several Nazi concentration camps; and one rode out the War in safety as a resident of the United States. Here are some remarks about five of the discs, each highlighting a single pianist. To keep things at a nice, round number and to preserve some level of musical consistency, about the sixth I'll merely note that it features a late concert by the Busch Quartet, the voluntary exiles during the war, in music of Beethoven and Brahms.

MC 1023, Friedrich Wuhrer. Beethoven: Piano Sonata no. 29 in B-Flat, op. 106, "Hammerklavier"; Schubert: Fantasy in C, D. 769, "Wanderer Fantasie"; Beethoven: 12 Variations on a Russian Dance from Wranitzky's "Das Waldmädchen," WoO 71. (mono; 72:52)
All are drawn from master radio studio recordings made at Stuttgart-Untertürkheim, Alte Krone, Süddeutscher Rundfunk; the sonata dates to 17 November 1952 and the other two works to 5 April 1954. None has been released on record before.
Friedrich Wuhrer (1900-1975) was an Austrian pianist and, during the Interwar period, an advocate for cutting edge "Second Viennese School" modern music. At that time he made a few 78 RPM records for HMV, including music of Scriabin and Reger and Beethoven's "Rage over a Lost Penny." Following the Anschluss, he fell in with the Nazis, an association that severed his ties to several leading musicians, such as the Busch family, with whom he formerly performed chamber music; at least some questioned the degree to which he was simply naïve rather than a true believer, but regardless his wartime behavior was a black mark on his biography.
Nonetheless, after the war Wuhrer's recording career shifted into high gear, with extensive LP issues mostly for American Vox but with the odd record on Remington, Deutsche Grammophon, and Club National du Disque. His recorded legacy is most notable for the first approximately complete cycle of Schubert sonatas on record, initially issued by Vox largely or entirely as single records and then collected into three three-record VoxBox LP sets (eventually reissued in some of the most ghastly fake stereo it has ever been my displeasure to hear), but it extended to concerti, solo music, and chamber music by the likes of Rubinstein, Weber, Tchaikowsky, Dvorak, Prokofiev, Brahms, Liszt, Schumann, and Beethoven. Reissues of these early LPs on CD have been spotty at best, and the Schubert cycle remains stubbornly missing in action except in unofficial dubs.
I find Wuhrer could be uneven, but at his best he is among my absolute favorite pianists, able to bring out a melody and milk it for all it was worth and sporting a left hand that drew rich, huge, even thunderous bass from the instrument with nary a bang. Indeed, it was through a happenstance Google search for his recordings that I stumbled onto the existence of Meloclassic when this disc turned up in the results. It's a fine recording,certainly a welcome addition to Wuhrer's very limited representation on CD, and my experience with it reveals a lot to be admired about Melo, too.
When I received my copy, I hastened to put it into my player. The sonata and the Wanderer Fantasy were fine, but the variations set displayed noticeable digital artifacts. Having tried the disc on other players with the same result, I wrote the company with an inquiry and received a prompt response from none other than Lynn Ludwig, the moving force behind this operation, who indicated that upon inspection a number of the discs on hand displayed the same issue, theorized it was a problem with the pressing run, and promised me a replacement as soon as one could be produced. Sure enough, a few weeks later a padded envelope from Thailand dropped through my mail slot bearing another copy, this time perfect, of the Wuhrer disc. I was not asked to return the defective one. To my way of thinking, everyone involved demonstrated a commitment to quality and ideal customer service in every way; a real class act. I wouldn't hesitate to recommend anyone doing business with Melo.
But to return to the music, Wuhrer was, to my mind, at his best in Schubert, and this Wanderer Fantasy makes an excellent supplement to the sonata set. It starts off rather slowly, but the artist builds power as he goes and makes the most of every melody, all the while putting on full display that deep, beautiful piano tone that I mentioned above. The performance is compelling and utterly Schubertian. In Beethoven, I've never felt that Wuhrer was quite at his best; maybe he needed beautiful melody, whereas Beethoven works more in motifs and particles. No matter, as rendered here, the Beethoven "Hammerklavier" is a noble account, by no means taken up to the composer's rapid metronome marks but powerful in all the right places, suitably skittishin the scherzo, and, again, tonally lush. The high point, for me, is Wuhrer's heartfelt account of the slow movement. This selection is also a good supplement to the pianist's commercial discography, mating nicely with his record of the last three Beethoven sonatas on Vox, reissued on CD by Tahra a few years back. The early variations setis lighter weight fare, and Wuhrer gives it a deft, charming performance, a nice musical sorbet after the heavier fare that makes up the bulk of the disc. Here's hoping Melo will bring us more treasures by this neglected artist.
MC 1016, Annie Fischer. Beethoven: Piano sonata no. 8 in C Minor, op. 13, "Pathetique"; Mozart: Piano Sonata in F, K 332; Handel: Chaconne in G, HWV 435; Beethoven: Piano Sonata no. 24 in F-Sharp, op. 78; Schubert: Impromptus, D. 935 nos. 1 in F Minor, 2 in A-Flat, and 4 in F Minor; Bartok: 15 Hungarian Peasant Songs, Sz.71. (mono; 79:20)
All are radio studio recordings previously unreleased on record. Venue for the "Pathetique" and Mozart sonatas was Frankfurt, Hessischer Rundfunk, Raum 3/C on 14 February 1957; that for the rest was Paris, Studio 107, Radiodiffusion-Television Francaise on 2 January 1959.
Annie Fischer (1914-1995) was born in Hungary and in her youth studied with Ernst von Dohnanyi. At age 19 she won the Franz Liszt International Competition in Budapest. As a Jew, she was forced to flee to neutral Sweden from her native country when it sided with Germany during World War II, but after the war she returned and centered her activities there for the rest of her life. She made few appearances in the United States. Fischer was not enthusiastic about recordings, which she thought to freeze an art form that should be spontaneous. The foundation of her recorded legacy is a complete cycle of the Beethoven piano sonatas that she constantly revised from its inception in the 1970s until her death; it was released only posthumously but has achieved at least cult status (and usually commands premium prices).
The celebrated conductor Erich Kleiber, father of Carlos Kleiber, supposedly once remarked, "The conductor must live in his house like a lion with its claws in its prey." And so it is with this disc: the words I would choose to describe Fischer's approach to these pieces are "fierce" or even "ferocious." The two Beethoven sonatas make an interesting companion to those in her heavily edited complete set, and the "Pathetique," in particular, takes no prisoners. The Mozart sonata is no Dresden china doll; it's muscular and powerful. The Handel chaconne, which may well be my favorite selection in the program, is not for the Baroque purists, but it communicates passion and conviction, two qualities that I find frequently in short supply in more "correct" interpretations of that master's scores. For once, this is not just "Handel, the Water Music Guy," it's capital-G-Great capital-M-Music played for everything it's worth by one raised in the Romantic tradition. And so it goes. If you want to hear what real passion at the keyboard sounds like, I urge you not to miss this disc.
MC 1029, Elly Ney. Schumann: Piano Quintet in E-Flat, op. 44 (with Hoffmann String Quartet); Mozart: Piano Concerto no. 15 in B, K. 450 (with Kammerorchester des Deutschen Opernhauses Berlin under Ernst Schrader); Schubert: 14 German Dances, D. 783. (mono; 67:56)
The Schumann is a radio studio recording made 14 March 1944 at Breslau, Senderaum, Reichssender Breslau; the other two recordings were made at Funkhaus Masurenallee, Reichssender Berlin, the Mozart as a live performance in Saal 1 on 19 October 1944 and the Schumann as a radio studio recording in Saal 2 on 1 December 1944. The recordings are from original masters and appear on record for the first time.
Elly Ney (1882-1968) is not much remembered today outside historical record collectors' circles, but in her day she was a major figure on the musical scene. The daughter of a piano teacher, she was recognized in childhood as unusually gifted and, at an early age, studied with not only Theodor Leschititzky but also with Liszt's pupil Emil von Sauer, exposing her to both the principal lines of Romantic era pedagogy. From there, she went on to win the Mendelssohn prize and to become a well-received soloist and chamber music player both in Europe and in the United States. Ney, however, came to admire Adolf Hitler and to share the anti-Semitism of his party, which she joined in 1937, thereafter closely associating herself with the regime to the extent she received a decoration for her efforts on its behalf. Her wartime associations led to her blacklisting immediately after the war, and although they did not entirely curtail her performing career once she finally received permission to resume playing in public, they largely restricted it to Germany and hindered it even there.
The program notes include a quotation in which Ney dismisses overfast playing as technically exciting but unmusical, and these performancesare in keeping with that sentiment. The Schumann is warm and nicely shaped, an effective but moderate account of the score. Similarly, the Mozart is well within the interpretive "mainstream," at least for the period; it can't be mistaken for a modern "period practice" performance, to be sure, but it maintains a sense of propriety while projecting the music's beauty. In other words, the music making is highly satisfying; just don't expect Annie Fischer's level of determination and drive. Ney must really have loved this concerto, by the by; some years earlier, she recorded it commercially with her then-husband, Dutch conductor Willem van Hoogstraaten, of whom the notes accompanying Victor's issue of that set stated, "Of those who perform it it is not necessary to speak in detail. The whole musical world knows Willem van Hoogstraten, and America particularly remembers him for his activities as conductor here." Maybe true back then, but definitely not so today!
What I found particularly remarkable about this disc was the recorded sound. It dates, of course, to late in the Second World War; Germany surrendered six months after the Schumann was taken down. Sonically, however, the disc is about as good as all the others, recordings that date to a good decade later. I've seldom heard a wartime recording of such quality, and my hat's off to Melo for its good production work in making the transfers.
MC 1033, Shura Cherkassky. Haydn: Piano Sonata in E Minor, Hob. XVI no. 34; Chopin: 4 pieces (Ballade no. 1 in G Minor, op. 23; Impromptus nos. 3 in G-Flat, op. 51, and 4 in C-Sharp Minor, op. 66; Scherzo no. 1 in B Minor, op.20); Chasins: 3 Chinese Pieces; Poulenc: 3 Pieces—no. 2, Toccata; Rachmaninov: Rhapsody on a Theme of Paganini, op. 43 (with Sinfonieorchester des Süddeutschen Rundfunk under Hans Müller-Kray). (mono; 74:55)
All are radio studio recordings issued for the first time on record. The solo pieces, except for the Poulenc, were made 27 February 1958 at Bremen, Funksaal, Radio Bremen; the Poulenc 1 February 1952 at Bremen, Studio J, Radio Bremen; and the Rachmaninoff 23 March 1954 at Stuttgart, Villa Berg, Süddeutscher Rundfunk.
Even had Shura Cherkassky (1911-1995) not been a supreme poet and technician of the piano, he would have been remarkable for the longevity of his recording career, which spanned all the technologies of the 20th century. His first records were several acoustic 78 RPM sides cut for the Victor Talking Machine Company as a child prodigy in October, 1923; his last was made for issue on CD a few months before his death. In between, he made electrically recorded 78s, mono and stereo LPs, and CDs for a host of labels large and small, including American Vox, Concert Hall Society, HMV, English Decca, and Nimbus. He also made at least one reproducing piano roll for the DuoArt system. Nonetheless, like Annie Fischer, he disliked the "frozen" character of recordings and preferred issues of concert performances.
Cherkassky was born in what is now Ukraine, but his family emigrated to the United States to escape the Russian revolution when he was only six. After his arrival in the United States, he studied under Josef Hofmann. As a US citizen residing in California during World War II he avoided the sorts of disruptions visited on the other pianists under discussion here. He is also the sole member of this group whom I heard in person. The recital, at Orchestra Hall in Chicago in April 1994, included a sonata by Paul Hindemith, and for once that composer's music seemed anything but dry. The program also included the same Haydn sonata reproduced here; it was nice to renew my acquaintance with his way of playing it.
I've seldom heard a Cherkassky recording that wasn't a pleasure, and the selections on this disc are no exception. He takes the Haydn seriously but still manages to be playful. His meat and potatoes, however, are the Chopin and Rachmaninoff selections. I guess the best way to describe Cherkassky's Chopin is that it breathes. Constantly on display is complete control of dynamics, especially notable in his delicate pianissimos, and the music in general has a sense of ebb and flow that are natural and songful. The Rachmaninoff at first listen seemed a bit less incisive than Cherkassky's commercial recording with the London Symphony Orchestra under Herbert Menges, but I think that's at least in good part because the Menges is a more forward recording.
MC 1026, Marian Filar. Chopin recital (Ballades nos. 1 in G Minor, op. 23, and 2 in F, op. 38; Polonaise in B-Flat, op. 71 no. 2; Barcarolle in F-Sharp Major, op. 60; Scherzo no. 2 in B-Flat Minor, op. 31; Impromptu no. 1 in A-Flat, op. 29; Preludes nos. 1-12, op. 28); Brahms, 3 Intermezzi (in B, op. 76 no. 4; in A, op. 118 no. 2; in C, op. 119 no. 3). (mono; 67:51)
The notes to this disc, unlike those of the others, make no claim these radio studio recordings are issued for the first time, although the cover indicates first CD release. The Chopin Ballades, Polonaise, and Barcarolle were recorded 19 September 1949 atStuttgart, Altes Funkhaus, Studio VI, Suddeutscher Rundfunk; the remaining pieces were recorded at Frankfurt, Altes Funkhaus Eschersheimer Landstraße, Hessischer Rundfunk on (Scherzo and Impromptu) 8, (Brahms pieces) 9, and (Preludes) 10 July 1952.
World War II was a greater ordeal for Polish-born Marian Filar (1917-2012) than for any of the others here. Son of a musical Jewish family, he began as a child prodigy, giving his first public concert at age six. With the German occupation of Poland, however, he was sent to a succession of seven concentration camps, where most of his family perished. Despite already having a public career, after the war he sought out Walter Gieseking, who invited Filar to study with him after hearing his Chopin. In 1950 Filar moved to the United States, at first as a touring recitalist but eventually becoming chair of the piano department at Temple University.
I have a terrible confession to make: Filar's Chopin didn't do a lot for me. Compared to, say, Cherkassky's, it seems very "straight" and "modern," and I like an older approach. For those who do like the more objective way with Chopin, however, it's admirable of its kind. What did grab my attention were the Brahms Intermezzi at the end of the disc, which were very much to my taste, really beautifully played. Perhaps it's the Gieseking influence; he was was never particularly noted for his Chopin but was celebrated for his Brahms.
In summary, then, I would say that Meloclassic is a valuable addition to the world of historically oriented classical labels, indeed to the world of classical labels generally. The performances are generally first rate, the production values are good, and the sound quality is top notch for historical material. I'd encourage anyone interested in fine piano performance, historical or not, to explore its catalogue.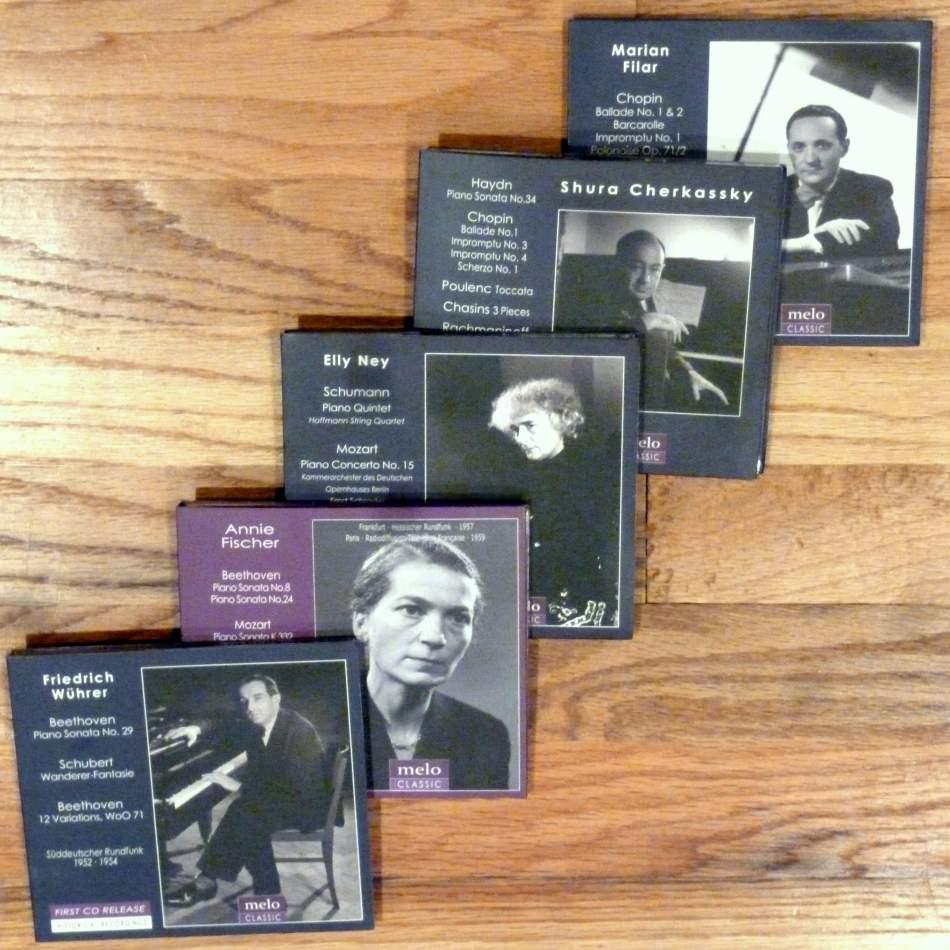 Copyright 2015 David Hoehl - drh@tnt-audio.com - www.tnt-audio.com
[ Home | Staff & Contacts | HiFi Playground | Listening tests | DIY & Tweakings | Music & Books ]