[ Home | Staff & Contacts | HiFi Playground | Listening tests | DIY & Tweakings | Music & Books ]
nuforce DDA-100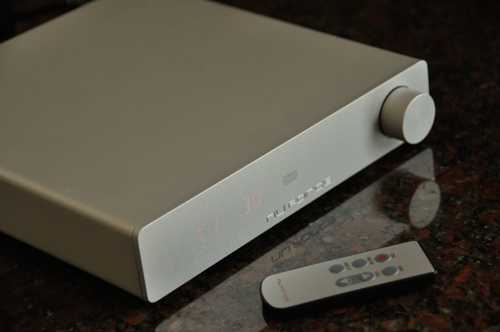 De do do do, de dda
[Italian version]
Product name: DDA-100 Integrated DAC and amplifier
Manufacturer: nuforce - USA
Cost: 549$ (USD) (Currency conversion) (YMMV)
Reviewer: Andy Norman - TNT UK
Reviewed: September, 2012
Introduction
Nuforce designs equipment in the US and manufactures it in Taiwan. It is known for its digital amplification and integrated DAC/Headphone amps. And, by the way, I've not lost my shift key. The nuforce branding is all lower case 'n'. Anyway...the unit under review today is an integrated amplifier with only digital inputs. This makes it a pretty new and rather specialised device.
The amplifier takes a different approach to any I've seen before. Normally the journey that data takes to a loudspeaker is by being converted to a small analogue signal by the DAC then being switched, amplified via a preamp and finally stepped up to the voltage necessary to drive loudspeakers by a power amplifier. The nuforce dispenses with most of those stages. It has a front end that will take and switch only between digital inputs then performs the digital to analogue conversion at the final stage by using a converter that directly modulates the speaker output level signal. And does it sound different? Yes indeed it does.
What You Get
The DDA100 is a two thirds width, half height aluminium box. The front carries a volume control and displays the choice of input and the output level via an unusual and rather attractive dot matrix display. Round the back there are two optical, a coaxial and a USB input along with a single pair of speaker terminals. There's also an optical output which passes through the data stream. It would be necessary to use this if you wanted to add further output possibilities as there are no analogue inputs or outputs. This would be pretty restrictive, for instance, if you wanted to add a headphone amplifier – that would need to have its own DAC (nuforce can, of course, supply just such a headphone amp...). It's connected to the mains by a regular kettle lead – no noisy wall wart here.
Material Quality
For a budget model, the quality is exceptional. It's made of brushed aluminium. The review unit is in silver although it's also available in black. The uncluttered facia has something of the Apple i-series devices about it (though not close enough for nuforce to get sued...). There's something about the width relative to the height that gives it, to my eye, a classier appearance than many of its potential competitors in the budget DAC/integrated market. The power lead supplied is very much better quality than usual, a hefty cable, decent plugs and a substantial ferric ring to reduce RFI being picked up by the cable. But it's not all good news. The remote control is a credit card type. It feels a bit cheap compared to the casework of the unit itself but it works well enough. The speaker terminals are only of average quality (the holes for a bare wire connection are unusually small, so spades or banana plugs would be recommended for anything other than thin wire). I spoke to nuforce about these elements. Apparently the cost of tooling up for custom remotes is prohibitive for smaller manufacturers, which I'm sure is correct and they considered the terminals reasonable for a budget unit – which they are. They too work fine. These are small criticisms and don't affect the sound or effective operation so I guess it's the cost of using a budget item from a smaller manufacturer. The benefit is the sound/cost equation –and I'll come back to that shortly. First let's look at the specs.
Specification
nuforce tell us the following:
Input:
• Digital: 2 x TOSLINK, 1 x RCA Coaxial 75-Ohm, 1 x USB2.0 adaptive mode
Sampling rates:
• USB: 44.1, 48, and 96kHz
• S/PDIF: 44.1, 48, 88.2, 96, 176.4kHz
• Resolution: 16-24-bits
Output: • Speaker Output Power: 75W x 2 (4 Ohm), 50W x 2 (8 Ohm), 250W peak.
• THD+N = 0.07% @ 15W
• Frequency response: 20 to 20kHz +/- 0.1dB
• SNR > 95dB A-weighted
• Power: 100-240VAC worldwide auto switch
Dimensions
• 9" x 8.5" x 2"
• Weight: 2.64 lb. Shipping weight 5 lb.
There are a few things to note in the specification. The first is the sampling rates. The listed rates do not include 192 kHz and the USB input does not support 88.2 kHz (although the other inputs do). The lack of 88.2 may be an issue for some people as this is a common rate for material from, say, HDTracks, although it is fairly simple to work around by upsampling on the computer (or using one of the other inputs). It would also be possible to work around the lack of 192Khz but this would be irritating of you'd spent money on premium downloads.
The total distortion figure in the output stats is higher than I'd expect but there was no hint of distortion in my listening so I suspect this is more an issue in theory than practice. Frequency response is very linear so we'd expect a very even handed sound and this again proved true in the listening tests.
The conversion within the amp upsamples to what seems an astonishing 3GB/s. I've not seen upsampling quoted in Gigabits per second before though so it's difficult to make comparisons (it's normally in cycles per second). Nevertheless it is claimed that this gives a very natural sound, and since that is definitely a characteristic I'll highlight when I get on to talking about how it sounded, I thought it worth a mention.
The output is rated at 50 watts into 8ohms. It wasn't enough to drive my low sensitivity Usher standmounts but that's not a fair test. It was easily able to drive my Acoustic Energy AE509's (91dB efficient) to uncomfortable levels without evidence of strain. It does offer 250 watt peak output, so with the right speakers there should be no lack of dynamic capability although the listening tests suggest that dynamism may be constrained by the amp's speed of delivery. As ever, speaker matching is important and I suspect, the more sensitive the speakers the better the DDA-100 will perform.
Installation & Set Up
Installation was straightforward. Mercifully (and unusually for me) there were no driver issues. Windows recognised the amplifier and it was ready to go within seconds. Connections were simple and everything worked as it should. I thought the USB input gave a more dynamic presentation than the S/PDIF but there wasn't a lot to choose.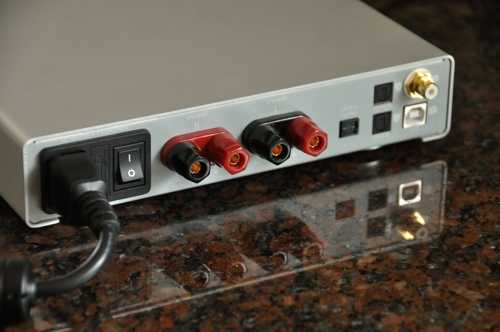 Listening Test
Natural is the first word that comes to mind from the period I spent with this amp in my system. It didn't sound like vinyl but neither was it hard or etched as budget digital can sometimes be. It was fairly dynamic without being overly forward and smooth without lacking detail. Overall, an exceptionally refined and well-judged sound.
OK, onto some examples. The 96kHz version of Sonny Rollin's St Thomas swung nicely, with the cymbals suitably metallic and the percussive interludes dynamic with good depth. The sax was smooth but with enough edge to keep it expressive. Plenty of detail. Mary Chapin Carpenter's albums are always exemplary recordings and her new album, Ashes and Roses is no exception. The nuforce rendered the guitars sweetly and the intimate vocals with nuances intact. Onto some rockier stuff – I've been listening to a lot of guitarists lately and Eric Johnson has been near the top of my list of regulars. The 2010 album "Up Close" has the most astonishing playing even if, to my mind, the vocals let the album down a bit (Frank Zappa had a good point when he said "shut up and play 'yer' guitar"). But the bluesy Stratocaster tones cut through perfectly and the rock backing was delivered intact.
As the sounds get heavier – and sticking with a guitar theme I tried some Steve Vai, the Passion and Warfare album. Listening to that I wondered if the sound was not as dynamic as I know it can be. It's maybe a little bit polite. I know the bass and snare drums on this material can really kick – and on the most dynamic systems that can be quite tangible. But here it seemed a little evened out. The bass went deep and there was plenty of power there but it didn't really kick. By comparison to the incredibly dynamic Wyred4Sound integrated I reviewed recently, it didn't have the ability to deliver changes in dynamics in a nanosecond. When you listen to a live band, the speed and intensity of the snare and bass drum have a physical impact that it is difficult to reproduce with a hi-fi. The W4S kit can come close because of the speed of its transient response. But this is setting the bar very high for the nuforce which has compensating strengths in terms of its natural, easy presentation.
That ease really brought out the beauty of the piano tone on the Alessio Bax album, Baroque Reflections, that I like to use to test piano sound. The nuforce rendered the reverberations in the recording venue and the lyrical quality of the playing. Again it wasn't the last word in capturing leading edge transients but there was no sense of anything lacking and it made for a very pleasant listen. The range of the piano really tested the claims of the frequency response – and it passed with flying colours, the bass deep and rich and the highs present and correct without harshness.
Playing to the little amp's strengths I put on the album Silencio by the violinist Gidon Kremer and it delivered the warmth and naturalness of the string sections beautifully. Having said that, it wasn't smoothing out the detail. I tested the string sound again with Michael Nyman's film soundtrack "Drowning by Numbers" which has some more edgy string tones and these were presented intact.
All in all this was an impressive sonic performance from a moderately priced amplifier. I would suggest that if your main interests lie in the heavier end of the rock spectrum you might look elsewhere but if you find a lot of digital too edgy then you may well be enchanted by the naturalness of the nuforce's sound.
Conclusion
At US prices, especially, this amplifier is exceptionally good value. It delivers a truly enchanting sound with the right speakers and programme material. And it's perfectly capable with a wide range of music, just showing a slight preference for vocal and orchestral sounds over heavier rock. It's a slick design that works well and looks great. If you can live with its lack of analogue inputs and slightly fussy approach to data rates then it's definitely one for a short list.
© Copyright 2012 Andy Norman - andy@tnt-audio.com - www.tnt-audio.com
[ Home | Staff & Contacts | HiFi Playground | Listening tests | DIY & Tweakings | Music & Books ]