[ Home | Staff & Contacts | DIY & Tweaks | Listening tests | HiFi Playground | Music & Books ]
Swiss Precision: The Story of the Thorens TD 124 and Other Classic Turntables - Book by J. Bung
Precise, Arresting and Inspiring: A Tribute to Thorens' Finest Turntables
[Italian version]
Product: Swiss Precision: The Story of the Thorens TD124 and other Classic Turntables,
Author: Joachim Bung
Book details: Revised and Expanded Second Edition, Schmitten: Verlags-Service Angelika Bung, 2008
Available from: Joachim Bung, Redaktionsbuero, Stichelwiese 2 b, 61389 Schmitten, GERMANY
Tel. +49(0)6084-3764
Price: 59 Euros, plus postage (17 Euros for registered airmail to the UK) YMMV
Orders can be made via email to: info@redaktionsbuero-bung.de
Payment via Paypal welcomed to save bank money transfer costs
Reviewer: David Holgate - TNT UK
Reviewed: May, 2008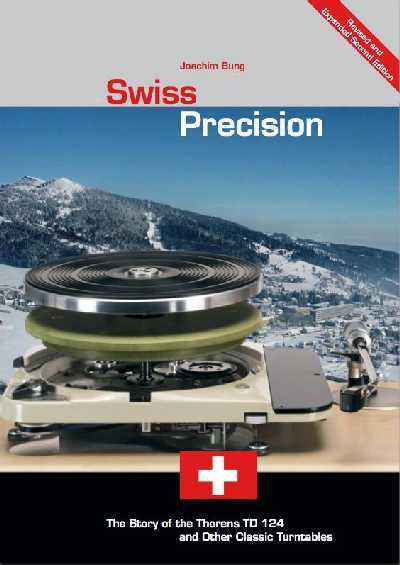 Apart from the valuable work of Ken Kessler on Quad and McIntosh*, there have been few serious works of reference on classic hifi published in English over the past decade. The wealth of information available on the internet and various smaller works of reference books (in print or on CD-ROM) does not compensate for this, excellent though some web-sites are. And, in the field of classic idler drive turntables, there is simply nothing that compares with the depth and quality of this book. If you want a recent book on the classic idler drive turntables of the late 50s and 60s, this is it! Apart from the value of the content, it is beautifully produced and sure to become a collectors' item.
One question I had whilst reading it is: who is it intended for? Assuming that it will be of principal interest to present or future owners of one of Thorens' idler classics (the TD 121, 124, 134, 135, 184 or 224), what does it offer them? Well, Sections 1, 3 and 5 seem to me to be essential reading for all in this category.

Section 1, The Hi-Fi Turntables by Thorens in Sainte-Croix (pages 13-76) offers a rich record of the history, development, production and distribution of Thorens belt-and-idler drive turntables made by Thorens in Sainte-Croix between 1957 and 1967. A knowledgeable UK-based Thorens enthusiast commented to me, "It is the interviews with surviving Thorens family members, and then the interviews with surviving employees of the workshops in Sainte-Croix that really validate this book." The fascinating slice of 20th century European manufacturing history given here also includes a great deal of information about the decks themselves. As throughout the book, the text here is enhanced by a superb collection of pictures, all in full colour, except where the original is in black and white. This section enables the owner or prospective buyer of a Thorens idler-wheel deck (in my case a TD 135 MkI) to place their model within the overall production history of these turntables, thereby understanding and appreciating them better.
Section 1 should be read together with Section 5, The Rediscovery of the Thorens TD124 (pages 255-285). This is a fantastic resource for all TD124 owners, and by extension owners of the other classic idler drive decks from this period. It reports on the rediscovery of the TD124 in the 80s and 90s and offers guidance on how to buy and restore such turntables, on your own or with help from the specialists whose contact details are listed in the back. There is guidance here too on buying or building the right plinth for these and other idler-drive decks. From a UK perspective, I was pleased to see reference to Dr Martin Bastin who is one of the experts on restoring and re-plinthing Garrard 310 and 401 decks as well as those in the Thorens belt-and-idler drive family. (The other is Terry Sullivan of Loricraft.) As you would expect, there is some discussion of the most suitable classic tonearms and cartridges to use with the TD124, apart from the factory tonearms produced by Thorens and EMT. There is a wealth of information on the service and replacement parts offered by Schopper, as well as some very useful guidance on how to service the motor and turntable yourself. This section, which ends with a complete component list for the TD124 and contact details of service agents, is probably alone worth the price of the book.
Between these two parts, which focus on the Thorens belt-and-idler drive models, there is a mine of information for all lovers of classic idler-drive decks. But Section 3, Tonearms, Cartridges and Record Accessories from the 1960s (pages 173-216) is the next section for TD124 owners to study carefully. While the five pages on record accessories is of novelty or nostalgia value only--no serious audiophile today would use a dustbug, and the Garrard SPG3 stylus pressure gauge is no longer suitable for setting stylus pressure precisely (though it is fun to use)--the discussion of the tonearms and cartridges produced by Ortofon, SME and Shure are detailed and informative. This section has an historical orientation though: don't necessarily expect recommendations on which cartridge to use with your TD124 - SME3012 combination today, except perhaps the Ortofon SPU.
Section 2, The competitors of the TD124 (pages 119-170) will be of interest to a wide range of readers. This looks at the classic idler-drives produced by Lenco in Switzerland, Garrard and Sugden in the UK, Jobo and Acoustical in Holland and Rek-O-Kut and Empire in the USA. Inevitably, these parts are less detailed and fans of some of these makes and models may find that they already know what is presented here. But, there is considerable interest in seeing all this information presented together so that one is able to get an overview of the leading turntable technology of the period. Again this book offers material that cannot be found elsewhere. The part on the Jobo 2600 and the Acoustical 2800 and 3100 contained information that was completely new to me, and the author is right, Rek-O-Kut and Empire are 'Practically Unknown in Europe'.
Finally, Section 4 (219-252) paints a picture of High Fidelity's First Steps in Germany between 1959 and 1964. While this is a fascinating segment of technical and commercial history, it should not be skipped by readers interested in classic hifi. The treatment of some classic valve amplifiers, German as well as US imports, and the discussion of high quality automatic turntables made by Elac, Perpetuum-Ebner and Dual is likely to be new to many readers who do not have access to German hifi publications.
So, this is a superb book. It is visually arresting, entertaining, practical and even inspiring. Are there any weaknesses? Well, those with special knowledge of these decks may find tiny details to correct, e.g. Ken Kessler's chapter on the TD160 Super implies that the TD160S is a 'super' model, though this deck is a variant of the TD14x line of semi-automatic turntables. But we should remember that this book is intended for pleasure and general reference and is not a product catalogue or workshop manual. What is missing from this information-rich book is an index. This would be really useful for locating information quickly, e.g. to compare the specifications of different turntables or models. It is also a pity that there is no bibliography. There is not even publication information about the first German edition and the only text referred to at the end is Gerhard Weichler's Thorens--Faszination einer lebenden Legende, yet also without publication details.
But these omissions do not reduce the value of this book. There is nothing else like this available in English and Thorens lovers are indebted to Joachim Bung for the precision of his own research. Now we need people to do similar work for other classic brands such as Tannoy, Garrard, Marantz and SME.
___

*Ken Kessler has published work on Quad (Quad: The Closest Approach (see review here on TNT-Audio), Cambridge: International Audio Group, 2003), McIntosh (McIntosh: ...for the love of music... McIntosh Laboratory, Inc., 2006) and most recently an overview of hifi history (Sound Bites: 50 Years of HiFi News, IPC Media Focus Network, 2008)


Copyright © 2008 David Holgate - www.tnt-audio.com
[ Home | Staff & Contacts | DIY & Tweaks | Listening tests | HiFi Playground | Music & Books ]