[ Home | Staff & Contacts | DIY & Tweaks | Listening tests | HiFi Playground | Music & Books ]
An Interview with Kusunoki San, initiator of non-oversampling DACs theory
[Italian version]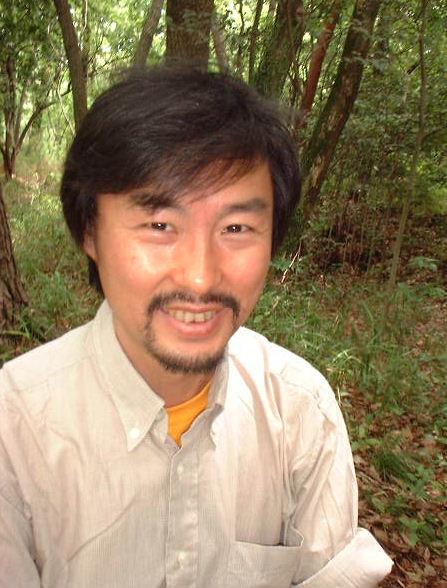 Profiles of Ryohei Kusunoki
(NB: The following is an excerpt from Ryohei Kusunoki's article "Building a House Dedicated to an Audio Room" appeared in the March 1999 issue of MJ. The author notes that he spent more than 100 hours to write this painstaking article).
Ryohei Kusunoki was born in Osaka., Japan January 1956.
Young Ryohei was fascinated with his elder brother's graceful moves when he plays a disc, but his attention was focused on astronomy, rather than electronics.
He came back to the audio world during his college years, when the Japanese Audio Industry was at the zenith of its prosperity. His major interest was physical science, but his private life was dedicated to music. He enjoyed listening to various kinds of music and tried some live recordings with his new portable tape recorder.
Next, he builds a small preamp based on the circuit diagram published on MJ. He tried to improve the amp's sound with higher-quality wires and parts and made a phenomenal success.
After graduation, he joins an automobile manufacturer in Osaka as an engine designer. Busy, with this totally different life, his attention to music and audio, is suspended temorarily until he marries. The youny newly weds move into a small apartment.
Unsatisfied with the acoustics of his new appartment, Kusunoki purchases a Technics SH-8000 sound analyzer and begins to investigate the reasons.
The SH-8000 and an equalizer unit flattened the frequency response to +/- 0.5dB, but, still dissatisfied with the results he tried to find new clues that would improve sonic performane by going to the concerts held at The Osaka Symphony Hall.
This led him to investigations in sound stage and newly rising audio-visual trend. In his pursuit to reproduce a "sound stage" just like that of concert halls, he tries almost anything available at the time.
As a result, Kusunoki finds out that the key to his quest is in fact sound "reflection". At that time, the Japanese "economic bubble" had burst and with it brought unexpected falls in the property prices. Kusunoki now decides to build his own house dedicated to audio.
He now commits his research to reading through heaps of architectural magazines and finds a very good design in the end. The design objective for Kusunoki's audio room was to implement a full-volume listening auditorium at night time without disturbing his family. As a result, his audio room had a similar construction to that of recording studios: i.e. double walls with double laminated windows and a door within a totally floated inner room.
Looking back his life as an audiophile, Kusunoki's interests in audio was not centered at equipment or music.
He notes:
The essence of my audio life is comprised of questions, such as "Why something sounds good?" "Why the sound has improved?" "Why we feel that certain sounds are good?" and so on. From reading books and magazines, analyzing something, thinking about most things, be troubled with everything, and building stuff with substance, audio can exist in various perspectives.
It is also quite enjoyable to talk about these with my friends.
TNT-AUDIO >
Which kind of music do you prefer?
KUSUNOKI SAN >
I used to listen to Japanese folk songs, and my tastes have changed to classical music, jazz music and then to pop music. Avant-gardes such as Geinou Yamashirogumi are my favorites, too. My latest preferred player is Chie Ayado, Japan's female jazz singer. Her powerful voice is really fascinating.
TNT-AUDIO >
How did you begin designing audio systems?
KUSUNOKI SAN >
I started to build my own system during my college days. Like most students, I didn't have money for fancy equipment. So I decided to build my own system to maximize the limited funds.
TNT-AUDIO >
What do you think of tubes vs solid state? And of digital vs analog? What do you prefer?
KUSUNOKI SAN >
Both, tube amps and solid-state amps have their own distinctive sound. I'm using a tube amp for TV at my home, because the amp helps me to listen quite relaxed. I also use a solid-state amp for pure audio reproduction. If I have to choose one between these two, I would pick the tube amp. I like the rich and crisp sound from tube amps.
TNT-AUDIO >
You are generally recognized as the initiator of the zero-oversampling theory. How did you make up that kind of idea?
KUSUNOKI SAN >
Non-oversampling was a popular technique on early CD players, usually came equipped with a high-order Chebychev filter. My method substitutes the Chebychev filter with human ear's intrinsic "filter function," and this is the method's distinctive aim.
I believe that audio components should not conclude by themselves; instead, they must be designed with how the user actually listens in mind. I have been strongly interested in this particular aspect, so the idea of my non-oversampling design was a sort of inevitable consequence.
TNT-AUDIO >
We are not going to ask you about your philosophy just because you made it perfectly clear in the MJ article, which is available on the Web in English. Have you anything to add or change?
KUSUNOKI SAN >
I have made some additions to the MJ articles in my interview published on the volume 6 of Audio Amigo magazine. (NB: Here's an excerpt I've added to Audio Amigo magazine.)
I have been paying attention to the digital filters these days. I have described my DAC design as a "non-oversampling" in the MJ articles, and the appellation got out of control thereafter. Among those DAC components, the digital filters should be more important -- that's what I think at this moment.
The choice of Philips's TDA-1543 to the non-oversampling DACs published on MJ was a pure coincidence, but anyhow the DAC chip had one unique quality: a very high output. This helped to use discrete passive I/V conversion circuit rather than IC chips. The discrete I/V circuit sounds much better than the ICs.
The non-oversampling DACs have distinctive tonal quality, but I couldn't figure out the reasons in the early stages. I found the answer after listening to a DAC using eight DAC ICs to bring about 8-times oversampling without digital filter. The DAC's sound clearly indicated that oversampling was not the culprit of sound degrading, but the real offender was the digital filter.
Digital filters cut off signals beyond 20kHz with a very steep curve, but needs around 2msec of time to calculate the enormous data. I think this is the reason of "diffusion of sound coherence", the characteristic tonal quality of the oversampling DAC.
There is a slight possibility that a digital filter-less DAC's intrinsic quantizing noise, existing beyond the audible range, can badly influence the sound. In my experiments, however, the noise is effectively eliminated with a first-order low-pass filter.
The original Compact Disc format was based on the assumption that a "human can hear up to 20kHz" in essence. So why bother oversampling and cutting off the "inaudible sounds" generated by oversampling? I hope my readers to be skeptical on this methodological inconsistency.
So, what is the sampling frequency in essence? Sampling the sound with 44.1kHz means that the CD can "differentiate the sound up to 25 microseconds." Raising the sampling frequency to 96kHz, for example, should not be considered as an extended frequency range up to 48kHz; it should be regarded as an "enhanced precision - over time domain," instead.
TNT-AUDIO >
There are studies showing the human ear sensitivity is extended to frequencies higher than 20kHz, at least in dynamic situations. This seems to contradict your theory. Our ears, anyway, tell us that you cannot be far from being right. What do you think about this?
KUSUNOKI SAN >
My theory is based on the assumption that our audible range is limited to 20kHz, as I have explained in the Audio Amigo interview. Therefore, if we can hear the sound beyond 20kHz and be influenced by it, this would be inconsistent to my theory.
TNT-AUDIO >
Listening to zero oversampling offers a lot of different and opposed experiences at the same time. On one side the sound appears much richer in harmonics than other CD players. Do you agree with this?
KUSUNOKI SAN >
I think there are no differences among them regarding the harmonics. However, I think my DAC can reproduce the transition of harmonics quite accurately. With my DAC for example, you can hear the subtle details of the artist's performance.
TNT-AUDIO >
One possible explanation is that the ear can perceive ultrasounds, but cannot recognize the pitch, so the brain figures out they are harmonics. Could you comment on this point?
KUSUNOKI SAN >
The assumption doesn't sound wrong, however, very high-frequency sounds are easily attenuated in the air. Therefore, we can hear only those ultrasonic notes existing very close to our ears, and this assumption cannot be regarded as a valid contention.
TNT-AUDIO >
On the other side there is an audible loss in high frequencies, a few dBs at around 20KHz. According to you, is the drop in high frequency response an advantage or a shortcoming?
If you consider this a limiting factor, have you ever tried to solve it?
KUSUNOKI SAN >
Certainly there is such loss when you measure the frequency response. However, the loss can be detected only by those people who are very sensitive to high-frequencies, and most listeners cannot differentiate the attenuation of sound. The loss is not favorable, but I think it is not that important.
TNT-AUDIO >
There are also at least a few design (some industrial, some DIY) filters that in some way introduce a drop in high frequencies minimizing phase rotation. Do you consider this a reasonable way to eliminate digital sources edginess?
KUSUNOKI SAN >
With my experience in building DACs, there are no direct relationship among the edgy, harsh sound of the digital source and its frequency response and phase characteristics. The edginess of sound is generated at different places - the DAC's mechanical construction is particularly important.
TNT-AUDIO >
Which is the story of your designs? We know at least two schematics, one with a quadruple TDA1543 converter, and one with a single TDA1543 with a re-clocking system based on a 50MHz local clock. In which order were they published, and is there anything else we do not know?
KUSUNOKI SAN >
There are three DACs that I have published so far. They are:
The first one used four TDA1543s with which I have entered MJ's DAC Contest. This one was intended specifically for the contest with painstaking work and utilized unusual technical features. So I did not fully explain the details in the article. The DAC˛ is also known as the "Bucket DAC," because I did use a bucket as the power supply unit's casing. The article appeared on November 1996 issue of MJ.
This is the simplified version of the "Bucket DAC." Its basic configuration utilizing the TDA1543 and passive I/V conversion remains the same, but I've limited the power supply to 5 volts, so the output level went down to 0.9Vrms. This one is known as the "Simple DAC." The article appeared on March 1997 issue of MJ.
This one is essentially the "Simple DAC" fitted with an independent, non-PLL clock. I also made some tonal fine adjustments. Regarding the layout of the circuit board, I think the Simple DAC is better because the third one was a sort of evolution model of the Simple DAC. This one is known as the "Improved Simple DAC." The article appeared on December 1997 issue of MJ.
TNT-AUDIO >
Could you explain, how does your re-clocking system work?
KUSUNOKI SAN >
The operation of the system is quite simple: to rectify the clock signal generated by the DAI-IC, such as a CS8412, with another free-running clock. The problem here is the reason why we feel the expansion of sound stage? Other friends and myself verified the existence of this phenomenon. My presumption is that the clock signal generated by the existing DAIs contain jitter that correlate to the source signal, and the re-clocking breaks up this correlation.
TNT-AUDIO >
You take a great care in designing the layout of your systems. How much do you think the result depends on the care in these details?
KUSUNOKI SAN >
This is a very important aspect in digital circuitry, and its magnitude far exceeds that of the analogue circuits. The DACs built without careful attention to the layout tend to reproduce cold, irritating "digital" sound.
TNT-AUDIO >
Your designs make use of a high value I/V conversion resistor, so that the output value can directly drive the pre-amplifier. Isn't there a dynamic problem, in this way?
KUSUNOKI SAN >
If the "dynamic problem" means distortion at high output levels, the DAC used here (TDA1543) is the one only chip without any problem. Unfortunately, other DAC chips can cause a serious problem.
TNT-AUDIO >
What do you think of new digital technologies, SACD and DVD?
KUSUNOKI SAN >
The new technologies are welcome and I'm quite interested in them. But if the reasons to alter the original CD format are to expand frequency range and dynamic range, I must say, they are barking up the wrong tree. This is why the new technologies can provide just a tiny improvement to the sound quality compared to using better quality capacitors and resistors. I think the multi-channel system is the only sole hope remaining.
TNT-AUDIO >
Are you interested or active in other audio areas, apart DACs?
KUSUNOKI SAN >
I haven't published anything other than DACs, but I'm interested in all areas of audio. I make cables and assemble speaker systems quite often. I believe making any possible component gives much more fun and satisfaction than simply buying audio equipment over the counter.
In my opinion, Audio would have to be one of the Worlds best hobbies... even for the professionals.

TNT-AUDIO >
Are you working on any new design?
KUSUNOKI SAN >
There are so many things I'm planning to build, thereÕd need to be ten Kusunokis though, even, this wouldnÕt be not enough. If I am planning to publish one of these projects and somebody asks me that "when can we expect the next tocome out?" This question would be the most discouraging to me. When I'm finished with something that leads to new findings... I will positively publish it.

Courtesy by Kusunoki San for TNT-Audio.

Copyright © 2002 TNT-Audio - http://www.tnt-audio.com
Editorial works and English translation: Hiroshi Iwata, TNT Japan - Supervisor: Tony Ricciotti - HTML: Giorgio Pozzoli
[ Home | Staff & Contacts | DIY & Tweaks | Listening tests | HiFi Playground | Music & Books ]