[ Home | Staff & Contacts | HiFi Playground | Listening tests | DIY & Tweakings | Music & Books ]
Styl:us Vinyl Show, Manchester 2017
Needle Talk & Vinyl Frontiers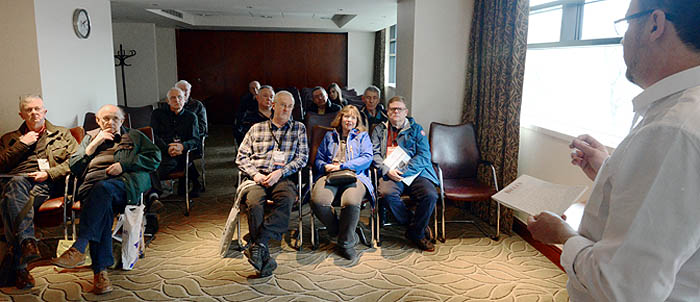 Author: Mark Wheeler - TNT UK
Another opportunity to spend money on vinyl visited by TNT-Audio, 2017

Turned out nice again in t'Rainy City
"We hope The Old Scribe isn't going to adopt a fake Lancastrian accent and pepper this with puns", Complain the Plebs' Chorus, stage left
Well the Styl:us Show started it with that punning title, incorporating as it does, the vinyl tracking ploughshare and the implication of this being the home of style, in the name alone.
Styl:us 2017 is a new type of audio show, dedicated to one format but incorporating hardware and software exhibitors side-by-side. Aimed as much at the newcomer, or returner, to vinyl, as to the diehard vinyl junkie, Styl:us offers stuff to play, things to play it on and equipment to restore and maintain those precious black discs.
Traditional audiophile trade and enthusiast shows have often foregrounded the playback equipment at the expense of the material the equipment is designed to play. At tradional "Hi-Fi Shows" music recordings on diverse formats are often relegated to the basement or the foyer, while hardware gets pride of place. Regular audio events might reinforce the public prejudice that audiophiles are more concerned with changing bits of wire than with enjoying listening to music, but Styl:us is different.
Organised by Justin Bird's Chester Group, over two days, in one corridor of a Manchester hotel there were enough rooms to entertain the casual visitor for half a day. Additionally, visitors could enjoy a full programme of talks and demonstrations throughout the weekend and staying to chat and enjoy the music and equipment in any of the demonstration rooms soon turns the visit into a full day.
Arriving on Saturday, for this, the second annual vinyl revivalist meeting Styl:US 2017 your Old Scribe soon encountered unfamiliar exhibitors alongside some of the usual suspects from the audio show circuit. It was a joy to find a splendid range of flight case record boxes for 7inch and 12inch and a room full of juke boxes and retro-styled loudspeakers that would look at home on the set of American Graffiti. This is Styl:us unique attraction.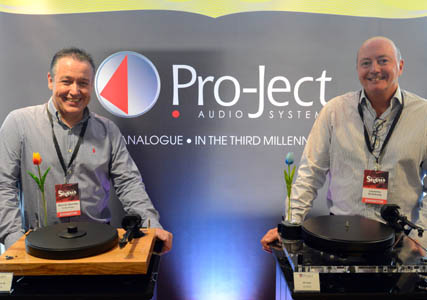 From the main hallway, one of the first rooms to encounter featured several exhibitors of record cleaners.
"Vinyl record cleaners?" Question the Plebs' Chorus, stage left, in an incredulous but ironic tone, "They're not going to set our underpants on fire, are they?"
That record cleaners were head to head in the first room behind reception seems like a good priority. No matter how good the system, or how rare the vinyl, record cleaners are essential for software maintenance. Given how many collectors are now buying old vinyl, it makes sense to clean it thoroughly before allowing the hot stylus tip to burn filth into the groove surface of that rare purchase. Pristine Vinyl had useful promo drinks coasters printed that found their way into several rooms, symbolically keeping contamination from furniture. Their Vivac cleaning machine must win the award for looking most like a turntabe. This room also hosted purveyors of replacement inner sleeves and Covers33 aim to have that market covered from the inner sleeve to the outer mail-order protective cardboard packaging.
Project, now the world's biggest (by volume) supplier of turntables, had the biggest and most impressive display of models from entry level to high-end. The diversity of their range means that there are models for every décor taste, every realistic price point and every vinyl voice to suit every musical genre. Their vertical model playing on entering the room, reminded your old scribe of similar demonstrations by Dual back in the day, which apparently inmspired this one too. It transpires that there is a historic Dual connection with the Project team who admit some inspiration. Henley Designs' MD Laurence Armstrong was on hand to answer questions and further promote Project, probably the most successful brand of turntables in the UK and, led by determined boss Heinz Lichtenegger possibly in many other world markets, the biggest manufacturer of vinyl spinners globally Project find that they are now picking up new customers who have bought the supermarket suitcase LP spinners, only to be quickly disappointed and wanting the real deal. Project are perfectly placed to meet this demand, offering ready to play entry level proper turntables.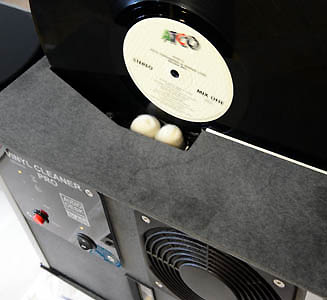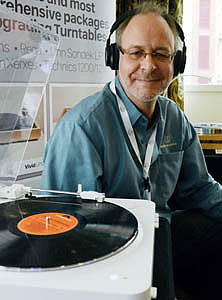 Northern British representation (this is Manchester after all) was strong, beginnong with Longdog Audio from Halifax, named for their rescued lurcher dogs. As well as some serious valve (tube) amplifiers (valve regulated 300B anyone?) they make a range of PSU for servers and for turntables including Garrard, Lenco and Technics. Longdog Audio tie in with. Huddersfield's MCRU on mains filters too. MCRU (Mains Cables R Us) also sell audio accessories and have a retail showroom for selected new HiFi component purchases (including the Canor products favourably reviewed here). Hull's Fanthorpe's HiFi ("sounding great since 1948") showed the Avid Acutus with SME Series V and a classic looking Luxman PD171A and the Bryston BLP1 turntable (Bryston's first spinner) feeding not a Bryston but an Avid phono-stage hosted by David Matthewson, Bryson amps & PMC loudspeakers complemented these fine sounding front ends
Soundleisure Classic Jukeboxes are made from scratch in Leeds; the group of Leeds manufacturing companies includes patternmakers, vacuum formers, play equipment manufacturers and audio & lighting design for retail environments including window speaker drivers. Who better to make these wild evocations of classic jukeboxes, customisable to customers' desires.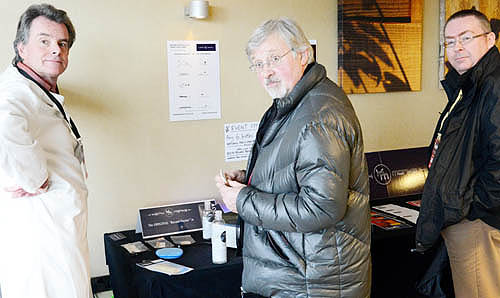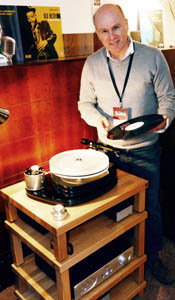 Some exhibitors remained as long as there were visitors, like Mario of Audio Note UK, who remain one of the most committed audio show exhibitors, taking rooms at the smallest and largest of the UK shows. The target demographic of visitors to this show were effectively targeted by Audio Note's two rooms. Their 'big system' room held their Level 2 products with the entry level range in their adjacent smaller room. The entry level Audio Note system room broke all the rules with the newly aligned for corners type ll loudspeakers, now a long way evolved from their Snell ancestors.
The Audio Note TT2 now seems to be better fulfilling its potential with a new tapered aluminium tube arm and full 2 motor drive. Played at Styl:us with the optional bigger power supply its improvements were clearly audible through the Andy Grove designed all valve electronics and the latest iteration of the Audio Note Type 2 loudspeakers. Evolved from the high-sensitivity, but somewhat ragged by modern standards, Snell Type 2 model, the Audio Note Type 2 now feature significant improvements. An evolutionary, rather than revolutionary redesign, the bass-mid driver now features a hemp cone and improved motor. There are obvious benefits from hemp fibre in place of wood pulp (smoking it is not one of the benefits), producing a lighter stiffer cone. The loudspeaker system now has a bass alignment designed for wall proximity, enabling corner placement to drive the room more effectively. The trade-offs are that early reflections affect soundstage but accurate room driving should improve in-room linearity, which is what was heard here. The Audio Note Level 2 system finally seems to have reached its potential, your old scribe having been a critic of the old turntable and loudspeakers letting the side down in the past.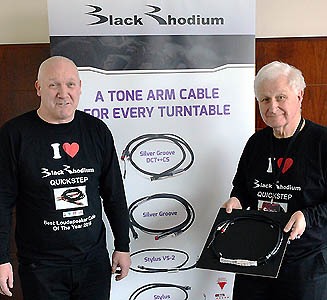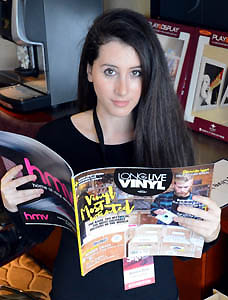 Moving South from God's own county, to Derbyshire, Derby's Black Rhodium showing two new very high-end turntable cables, and giving out their new "11 Highly Essential Steps to take Before You Buy Cables" which avoids mercilessly plugging (groan - Plebs Chorus overcome by pun fatigue) his own products but emphasises finding a good dealer and listening carefully, and that cables will only be part of system tuning. Being a vinyl based show, Black Rhodium's two new flagship high-end Phono cables, optimised for the low signal levels of cartridge outputs, made their debut at Styl:us. These retail at more than the cost of many turntables, so are targeted at the most resolving systems and the deepest pockets. Also from Derbyshire, Vinyl Passion and Missing Link Cables deomonstrated their dedication to shows, bringing products ranging from their VP DustBuster (globally premiered in these pages) to their well-known Linn Sondek upgrades. Further South, also familiar for their Linn Sondek LP12 servicing and upgradinging activities, The Audio File were showing their upgraded Audio Technica LP5, withRega derived arm and some structural modifications. This is a 'next step up' turntable from popular entry level models, with a line stage and a USB output and a review will be here soon.
Audio Technica have an eye on this market too, offering doesn't-need-a-plug'n'play Bluetooth turntable and cordless headphone combination for the iPhone generation.
"What else were they plugging?" ask Plebs, stage left, pre-empting the pun they could see coming like an oncoming train.
They were also here to plug (groan) their new streamlined range of magnetic cartridges, with just two bodies and 7 styli to choose from to meet the needs of any popular moving magnet demands. They were also evident in the Vinyl Passion room, and the Audio Files room.
Planalogue are based in Oxfordshire, is a one man one turntable specialist maker. The artisan end of the market featuring Peter Laitt's unique vision of large surface area bearing and , stage left) priced to compete in the most competitive sector of the market at just over 2k (ymmv).
"That birch-ply and acrylic plinth is a recipe the Old Scribe will be biased favour", challenge Plebs Chorus, stage left.
Air audio distribution also hail from Oxfordshire with everything from Abis pickup arms to Hama cartridges (not a long journey then, quoth plebs stage left) but also reel-to-reel pre recorded audiophile tapes and audiophile vinyl. Also hailing from Oxford, the aforementioned massive Henley Designs display, showing their Project turntable range, could not be more different, from Planalogue, which is the joy of this show.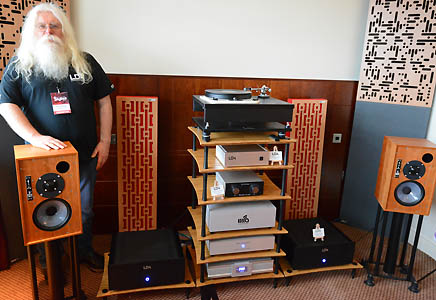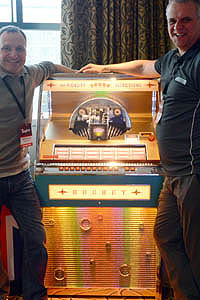 Justin Bird has observed that the high end audiophile show market is probably saturated and is sensibly diversifying. The old guard of punters willing to upgrade with monotonous (and many are going back to mono) regularity attracts fewer new members than the old ones dying off or suffereing incipient deafness. Justin, never standing still in the marketplace, has identified where potential markets might lie, and where the newcomers might come from. A straw poll of friends of the Old Scribe, all under 30, some of whom are now buying 'vinyls' as artefacts, by their favourite bands (as fogeys bought posters) explained why they weren't at Styl:us in droves.
"Pay how much" they challenged, "To get into a trade show; why would anyone do that?
To ensure that visitors are potential customers and not just sheltering from the rain, suggested your Old Scribe. Exhibitors need to know that those coming thorough the door are hot leads, not just people who were bored with training round Marks & Sparks on a Saturday afternoon.
"Then they must be garranteed goodie bags worth more than the price of admission", countered the young urban sophisticates who might become future members of the Plebs Chorus and earn the red typeface.
Younger music enthusiasts, used to carrying their tunes around in the same device on which they take calls, book tickets and use as shop, library, TV station, cinema, and communications hub, buy vinyl as a thing as much as a medium. They may be ready to buy even more, and to buy equipment to play it on. They're not used to paying for music, but will buy 'vinyls' as special objects that they can play as well as enjoy pride of ownership. Attracting them to attend shows is the next challenge if the industry is to survive. The music industry will start getting some revenue again after its stupid decisions to make it easy to avoid paying by creating cheap formats that weren't worth paying for.
Conclusion
Styl:us aims to attract newcomers to vinyl and quality audio as well as the established marke. Shows like this are essential if the hobby and the companies who supply the hobby's consumables, are to survive and prosper. From the entry level to the artisanal high-end, this show has everything, demonstrated by the two Audio Note rooms and the Oxfordshire delegates, from Project to Planalogue. Sadly the attendance was predominantly male and middle-aged upwards. For the future, we need to be offering something to attract more of the download generation to want to hold physical media and listen to music through high quality systems. These shows are effectively trade shows and need the unique offers that have driven the success of Record Store Day and goodie bags of loveliness to make the trip seem worthwhile.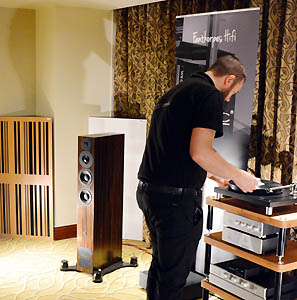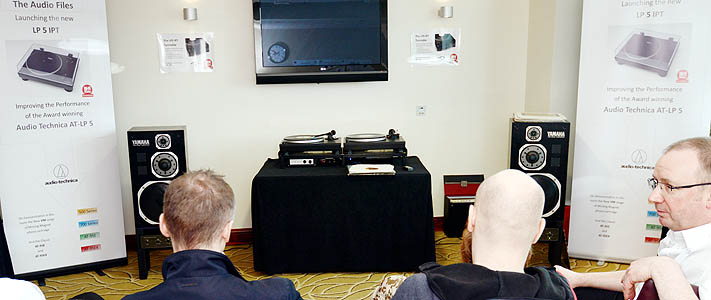 Music enjoyed while writing this editorial
Pink Floyd: Intersteller Overdrive, record store day special release
Julian Cope: Drunken Songs, record store day special release
T. Rex: Electric Warrior, gold vinyl record store day special release
David Bowie: Cracked Actor (live LA 1974), record store day special triple vinyl release
Chemical Brothers: C-H-E-M-I-C-A-L, record store day special release
Future Sound of London: Archived: Environmental: Views, record store day special release
Lou Reed: Perfect Night: Live in London, record store day special release
Jefferson Airplane: Surrealistioc Pillow, 180g reissue bought the day before Record Store day
Various: Northern Soul: keeps on burning, record store day special release sounding much better than Old Scribe's worn 7-inchers
Go out of your house/apartment/tent and buy more records NOW!
If you are confined to your house, factory or office, go online to independent records shops and labels and buy vinyl and hi-res downloads; Don't waste my time, or yours, thinking about it. Just buy more stuff to play on your hifi!!!
Take something previously unheard to your record shop counter and listen to it.

Copyright © 2017 Mark Wheeler - mark@tnt-audio.com - www.tnt-audio.com
[ Home | Staff & Contacts | HiFi Playground | Listening tests | DIY & Tweakings | Music & Books ]