[ Home | Staff & Contacts | DIY & Tweaks | Listening tests | HiFi Playground | Music & Books ]
Harmony Design DA9 - 24 bit D/A converter
Plug & Play!
Product: Harmony Design DA9 24 bit D/A converter
Manufacturer: Harmony Design - Sweden
Approx. price: 464 € - 686 € with FIFO module
Reviewer: Lucio Cadeddu - TNT Italy
Reviewed: June, 2005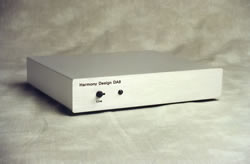 Harmony Design is a small Swedish Company which makes some pretty interesting, down-to-Earth priced HiFi components: a preamp, a pair of monoblock amps, a headphone amp and this DA9 24 bit D/A converter. Besides being reasonably priced (less than 500 € for the DA9!) Harmony Design components are very SMALL, much smaller than usual and, surprisingly - considering their low price - they are entirely designed and manufactured in Sweden.
The Company - owned by Mattias Stridbeck - started in 1994 in Gotheborg and at that time only modifications, upgrades and tweaks to existing HiFi components were made. Then came the first preamp (model 906), fully customizable following owner's needs and wishes. This peculiar "feature" is still available on Harmony Design products. On the DA9 DAC you can ask for an optional FIFO module, a reclocking system and you can even choose the opamp to be used on your own component, depending on the sound you wish to obtain and the tonal balance of your system. Neat!
The DA9 is an extremely small component (24.4 W x 20.4 D x 5 H) with several interesting and unusual features. First of all it has both balanced XLR and unbalanced RCA outputs, then both SP/DIF and TOSlink inputs, a FIFO module and audiophile-class AD845 opamp. A AD743 (or AD 826) opamp is also supplied and this can be installed directly by the customer (plug & play, no solder). The DA9 is based around a Crystal CS4390 D/A chipset (the same spec'd on the Lehmann DAC+ D/A & preamp.
The power supply section is quite sophisticated, with several filters on the mains and three separated "lines" for:
Analog output stages and lowpass filter.
Analog sections in the dac and input receiver.
Digital section in the input receiver, toslink input and, when supplied, the FIFO unit.
The analog and digital sections are linked via a balanced connection. The digital input uses a transformer to avoid interferences reach the receiver. Every effort has been made to suppress interferences and noise that may corrupt the signal.
The optional FIFO module is a jitter reducing memory.
The DA9 is available both in silver and black finish. A switch in the front panel activates the unit while another switch in the rear makes you select the input (RCA or toslink). An IEC standard mains inlet is also available, for easier mains cable future upgrades.
Summarizing, it seems every aspect of the design has been taken under extreme care and this is, again, surprising, if one considers the very low price of the DA9.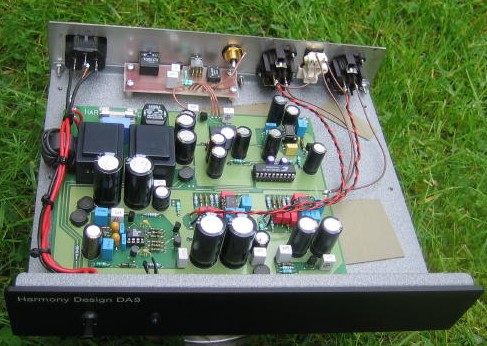 Harmony Design DA9 DAC - inside view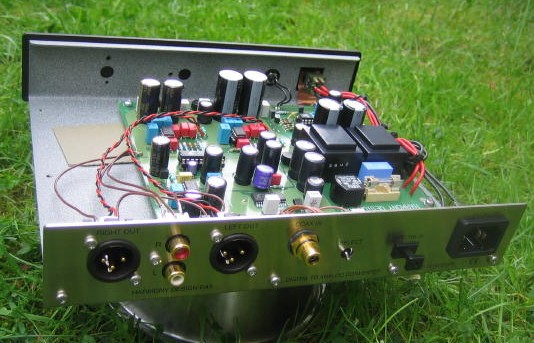 Harmony Design DA9 DAC - rear & inside view
These are the claimed tech specs (no other data were supplied):
D/A conversion: 24 bit via Crystal CS4390
Power consumption: 8 watt
Size: 24.4 W x 20.4 D x 5 H
The Harmony Design DA9 DAC has been tested over a long period of time with many different ancillaries, including the Harmony Design Pre9 (review soon). A Linn Karik transport has been used. I have tested the unit with the FIFO module installed.
Plug & Play!
Despite the minimalist size and weight, this Harmony Design DA9 delivers a really full-scale sound, tonally well-balanced and very rich in harmonic content. It sounds quite on the neutral side, with a very good mid and high range. Indeed, voices - especially female ones - appear sensual and natural, with a very good sense of presence and pathos. Not exactly forgiving (e.g. with sibilants) the DA9 favours presence and precision instead of euphony.
On complex choirs the DA9 tends to "glue" and blend voices together: the effect is definitely not bad at all and though one may desire a better voices separation, the "unifying" effect remains still enjoyable.
Piano textures are reproduced with that kind of precision which preserves the complex harmonic structure of this instrument. Left hand parts are a little bit less "precise" than right hand ones but - overall - the performance ranges from good to very good.
In the bass the DA9 sounds quite powerful and "in tune". Drums and bass rythmic patterns are reproduced without any kind of hesitation. Actually, electric bass notes remains always intelligible, even among very complex musical structures (many instruments playing at the same time). Furthermore, during guitar solos the rythmic bass line can be followed with extreme ease.
Frequency response is well extended till its deeper end while the weight of the first octave has to be considered appropriate.
In the mid-high range, depending on the overall tonal balance of your system, you may find the DA9 a bit "dry" or hard. If that's the case, you can experiment a warmer sound with the other set of opamps.
Micro & macro dynamics
This is a very dynamic performer: pace, rhythm and timing are preserved and even complex signals flow effortlessly. Especially drums and electric bass are reproduced with the correct timing: if you add the good performance (in terms of quantity and depth) of the bass range you get a top-class result in this area. You have impact, bass slam and punch. In spades.
I wasn't expecting such a level of performance from this quite inexpensive unit. For sure, rock fans won't be disappointed. The same applies to Classical Music fans as well: this DAC can follow any dynamic variation with ease, from pianissimo's to fortissimo's, without losing the plot. Perhaps it lacks the natural breath of better DACs but its dynamic performance is clearly on a par with more expensive competitors.
Soundstage
Precision and respect of the correct proportions of the stage are two aspects where the DA9 excels. Perhaps the 3D stage isn't extremely wide or deep but - at least - it is geometrically correct. Even the height of the stage is preserved. The space surrounding players and singers is adequate, though one may wish for some extra "air", again. When compared with better DACs (for example a "brilliant" Karik SMPS) some of the natural breath of the Music is missing but without direct comparison one may find the DA9 performance absolutely enjoyable.
Some advice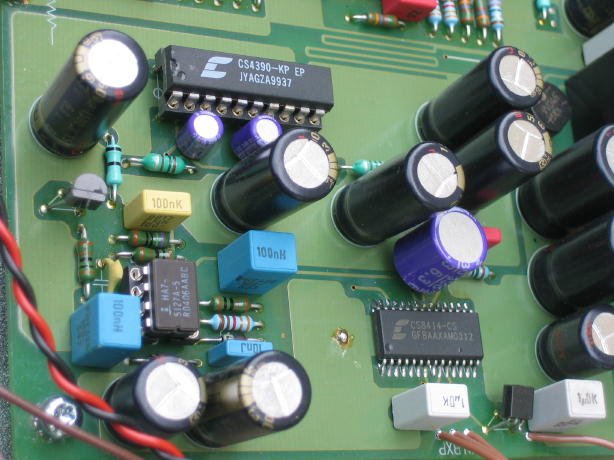 Harmony Design DA9 DAC - D/A chipset
Some break-in seems necessary, I'd recommend 30 hours at least. The DAC is pretty lightweight, so a careful choice of absorbing feet is mandatory. A set of four Brightstar IsoNodes proved to be a very good mechanical "interface" and improved musicality and soundstaging.
Don't be afraid to experiment: different opamps, a different mains cable, balanced outputs etc. There's plenty of room for spending some serious fun time together with the DA9. Eventually ask the designer/manufacturer for further mods and upgrades that can be applied to this very versatile DAC.
If you own a cheap CD (or DVD) player with digital output this DA9 might represent one of the most clever upgrades (sound-wise and price-wise) you can perform on your system.
If possible, always use the coaxial digital input, as the TOSlink is slightly worse sounding (as usual).
Complaints
Manufacturing and finish.
Not very much to say from this end. The unit is nicely built and finished, even without considering the low price tag. The inside view unveils a very clean layout and some attempt to damping cabinet resonances.
Perhaps a balanced AES/EBU digital input should be included, just to improve versatility. The DA9 is very small and lightweight, perhaps a beefier and heavier cabinet should be planned and designed. Indeed, with heavy and rigid cables (mains, digital and interconnects) the DA9 tends to "take off".... :-)
A good passive volume control might add extra versatility as well. Take a cheap CD or DVD player with digital output, a DA9 with volume control, a T-Amp :-) or any other minimalist power amplifier (o even small active loudspeakers) and you have built a minimalist system that for a reasonable amount of money can give you a touch of high-end.
Sound.
It may lack the "breath" of better converters and even show some edginess in the upper mids. 3D soundstage isn't impressive, though still precise and proportionally correct. Depending on the tonal balance of your system you may prefer the other set of opamps (warmer and softer sound).
Conclusions
Not only Chinese HiFi gear can have a very good quality/price ratio. This DA9 by Harmony Design proves that very good results can be achieved even with limited funds and "local" employees. At 460 € (without FIFO module) this is one of the less expensive DACs in the market. Even at 680 €, with the FIFO option, competitors are scarce.
Considering its musical performance and the high class of the components, its quality/price ratio has to be classified as excellent. For sure, one of the best choices for upgrading a cheap (or a very old) CD player one can think of. At this price it's (very) hard to beat.

© Copyright 2005 Lucio Cadeddu - www.tnt-audio.com
[ Home | Staff & Contacts | DIY & Tweaks | Listening tests | HiFi Playground | Music & Books ]